Vice Chancellor for Information Services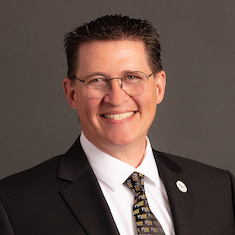 Offices & Phone
Westville: Technology Building 221
Hammond: Lawshe Hall 356A
Phone: 219-989-8185
Email: winders@pnw.edu
Tim Winders serves as the vice chancellor for Information Services (VCIS) at Purdue University Northwest. He also serves as assistant vice president, Distributed Campus Services and Deputy Chief Information Officer (CIO) for Purdue system-wide.
In his expanded role, Winders is a key leader in Purdue IT's Distributed Campus Services organization, reporting directly to Ian Hyatt, vice president of Information Technology and Chief Information Officer at Purdue in West Lafayette
As PNW's VCIS, Winders has implemented IT strategic planning, zero-based budgeting and IT governance. He established the IT Security department, implemented digital accessibility standards and training, established student employee standards and benchmarks, and hosted the first-ever Northwest Indiana CIO Roundtable at PNW. Winders is an executive sponsor of system-wide IT initiatives and was instrumental in the success of the Purdue System Cloud (PSC) resulting in system-wide savings of more than $4 million.
Winders earned a bachelor's degree in Biology and a master's degree in Business, Information Technology Management, both from Johns Hopkins University. He earned his Doctor of Philosophy (Ph.D.) in Technology, Leadership and Innovation from Purdue West Lafayette.
Prior to joining PNW, Winders served as associate dean of Information Technology at South Plains College in Levelland, Texas. He has more than 30 years of experience in technology and business, including more than 25 years in executive and hands-on leadership in higher education technology management.
Winders has presented at higher education and information technology conferences and is actively engaged in the Northwest Indiana arts community.