John J. Durocher, Ph.D., ACSM-EP, CSCS
Nils K. Nelson Endowed Professor of Integrative Human Health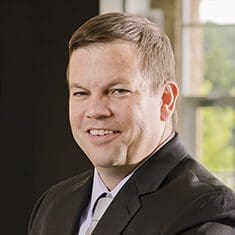 Introduction
Durocher focuses on teaching, research and service in biological sciences, health sciences and integrative human health.
Research Overview
Durocher's research focuses on exercise and other lifestyle interventions that can improve human health and performance. Currently funded projects are focusing on how meditation and different types of exercise effect blood pressure, sympathetic nerve activity, arterial stiffness and anxiety.
I was a non-traditional college student with five part-time jobs. My goal is to help students to be persistent and resilient, in addition to learning content. The greatest success for me as a professor is to help students reach their career goals, and to teach valuable life skills during the process.
Select Publications
Elmer SJ and Durocher JJ. Moving Student Research Forward During the COVID-19 Pandemic. Advances in Physiology Education 44(4): 741-743, 2020.
Greenlund IM, Cunningham HA, Tikkanen AL, Bigalke JA, Smoot CA, Durocher JJ, and Carter JR. Morning Sympathetic Activity after Evening Binge Alcohol Consumption. American Journal of Physiology: Heart and Circulatory Physiology, Online ahead of print on Nov. 13, 2020.
Greenlund IM, Suriano PE, Elmer SJ, Carter JR, and Durocher JJ. Chronic Standing Desk Use and Arterial Stiffness. Journal of Physical Activity and Health 16(11): 1022-1028, 2019.
Teaching Focus
Integrative Human Health
Human Physiology
I was very lucky to have outstanding undergraduate and graduate teachers and advisors. I aim to provide similar opportunities for my students in the classroom, in the laboratory and with outreach projects.