Mary J. Didelot, Ph.D.
Associate Professor of Education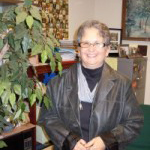 Introduction
Mary J. Didelot, Ph.D., is an associate professor of education, School of Education and Counseling. Her teaching and research centers on the implementation of counseling techniques in addictions and art.
Research Overview
Didelot's research interests are grounded in techniques and philosophical foundations of addictions treatment, particularly in the social-emotional realm. Of particular importance are the attitudinal values she teaches/stresses at both national and international conferences, research writing and training seminars. She sees her most important mission as ridding society of the current myths of addiction.
I am a firm believer in the philosophy of 'no mud, no lotus.' I have a most beautiful lotus garden!
Select Publications
Didelot, M.J. & Hollingsworth, L.A. (2018). Refuting negativity in addictions: "Hitting Bottom" as a myth. Paper presented at the International Conference for Social Sciences and Humanities: Munich, Germany.
Didelot, M.J., & Hollingsworth, L.A. (2017). The addicted adolescent: A matter of emptiness. Humanities and Social Science Review, 7(2), n.p.
Diderot, M.J., & Hollingsworth, L.A. (2013). Compassion fatigue in family members of individuals with addictions: A path to renewed meaning. International Journal of Arts & Sciences 6(2), pp. 603-13.
Teaching Focus
Didelot's teaching focuses mainly on Jungian Theory (neo-psychoanalytic) in the counseling process. Of particular importance is the social-emotional impact of addictions upon those suffering with addictions, their families and friends. There is an emphasis on how the clinical expressive arts effect the healing process. Symbolism and dream analysis are of particular vehicles to understanding and healing.
Previous Roles
Secondary Educator, Gary Public Schools
Psychotherapist and Clinical Hypnotherapist in private practice, addictions specialty
Academic Advisor/Director of Advising, School of Liberal Arts and Sciences Assistant Dean of Students, PUC