Mialauni T. Griggs-Holke, M.S.
Visiting Instructor & Core Faculty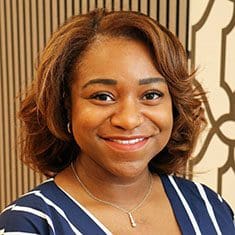 Introduction
Mialauni "Mia" Griggs-Holke (she/her) Visiting Instructor for the 2022-2023 academic year. She earned both her Bachelors in Psychology and Masters in Child Development and Family Studies from PNW. Mia currently holds her LMFT in the state of Illinois and will soon hold a dual license in the state of Indiana.
Research Overview
Mia's research areas focus on historical trauma influence on BIPOC interpersonal relationship configurations and conflict resolution. She also examines sexual wellness, chronic illness, and bipolar disorder treatment from a systemic and relational perspective.
Select Publications
Mia's most recent publication, Evaluating Structural Therapy from a Consensual Nonmonogamy Lens, clinically addresses consensual nonmon from a Structural Family Therapy perspective.
Teaching Focus
Mia joined the PNW faculty during Summer 2022 as a Limited Term Lecturer for the Couple and Family Therapy Graduate Program and will continue to serve as a Visiting Instructor during the 2022-23 academic year.
About Mialauni "Mia" Griggs-Holke
She has served various intersectional populations in her clinical work and has a strong focus on the relational impacts of social justice issues among individuals, families, and those in romantic relationships. She is currently in the process of obtaining her American Association of Marriage and Family Therapy (AAMFT) Approved Supervisor credentials in addition to her Sex Therapy certification through the American Association of Sex Educators, Counselors, and Therapists (AASECT). Mia is in the dissertation phase of her doctoral studies at Adler University (Ph.D. in Couples and Family Therapy) and will complete her degree requirements in 2023.