Shontrai Irving, J.D., M.B.A.
Clinical Associate Professor of Business Law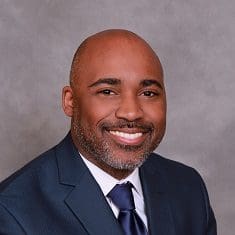 Introduction
Professor Irving teaches business law in both the undergraduate and graduate programs. He is licensed to practice law in both Indiana and Illinois.
I love to play tennis and would like to attend all four of the Grand Slams in my lifetime as a spectator, of course. I have attended Wimbledon, the US Open and the French Open. The Australian Open is last on my bucket list.
Teaching Focus
Business Law Ethics Law and Legal Reasoning Courts-Practices and Procedures Contracts Legal Issues with Starting a Business Agency Employment Law Employment Discrimination Liability Torts Intellectual Property
Previous Roles
Director-MBA Program-Purdue Northwest Attorney-State Farm Litigation Counsel Lake County Deputy Prosecutor Governor's Fellow