PNW Clinical Associate Professor Shontrai D. Irving awarded Sagamore of the Wabash
June 29, 2022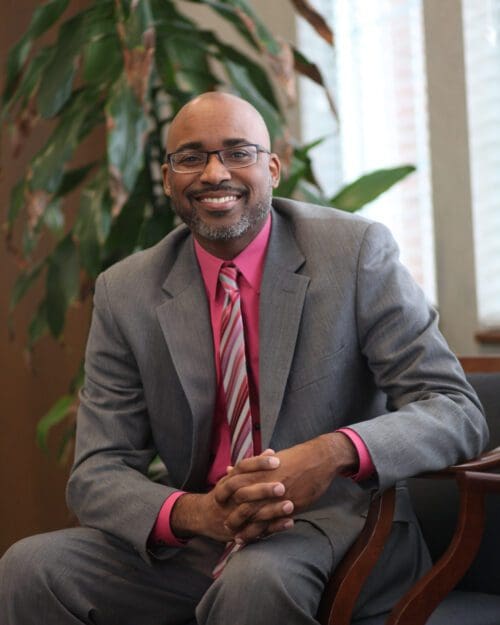 Purdue University Northwest (PNW) Clinical Associate Professor of Business Law Shontrai D. Irving was honored Tuesday, July 28 with the Sagamore of the Wabash award for his career as an attorney, involvement with the local community and academics, and role as a foster parent.
The Sagamore of the Wabash is one of the highest civilian honors bestowed by the sitting Indiana governor in recognition of service to the state or the governor. Irving was recognized during a reception by the Lake County Bar Association at the Hellenic Cultural Center in Merrillville.
"Shontrai is a very intelligent and charismatic person who has a great sense of service and leadership," said Ind. State Rep. Vernon Smith, who nominated Irving for the award. "He's committed to reaching back and helping others. Shontrai is also probably one of the most inviting professors I've run across. He knows how to connect with his students, engage them, and build relevance and rigor into the classroom." Since 2006, Irving has served as either a foster parent or respite for more than 40 children.
"I'm super humbled and honored to be a recipient," said Irving. "I'm aware of Hoosiers and other distinguished leader who have received this honor. It means a lot to be in that company and be recognized by Gov. Holcomb in that respect."
Shontrai is a very intelligent and charismatic person who has a great sense of service and leadership.




Irving has taught at PNW's College of Business since 2014. His coursework focuses on areas including business law, litigation, ethics, justice, and courts. He likes to take his students to join him in courtrooms to see real-life examples of case arguments. He has also helped bring "Appeals on Wheels" to PNW for the campus community to observe Indiana Court of Appeals judges.
Irving earned his Master of Business Administration (MBA) from PNW. He earned bachelor's degrees in Criminal Justice and Afro-American Studies, a master's degree in Criminal Justice, and a Doctor of Jurisprudence degree from Indiana University Bloomington.
Irving was recognized at PNW's 2022 Founders Day program for the Outstanding Faculty Engagement award. He also served as a Scholarship of Engagement Fellow during the 2020-21 academic year.
"I am thrilled that Professor Irving is being recognized with this distinguished honor," said Rachel Clapp-Smith, interim dean of the College of Business. "He is truly a servant leader, who brings his whole self to everything he does. I believe most would agree that his genuine and generous way of interacting with students, colleagues, clients, and community partners puts everyone at ease and invites authentic dialogue."
Outside of PNW, Irving is a public defender in the Lake County juvenile court system, an associate with Semko Law in Schererville, and an active member of the Lake County, Indiana State, and Kimbrough Bar associations.