W.T. Evert Ting, Ph.D.
Professor of Biological Sciences and Graduate Program Coordinator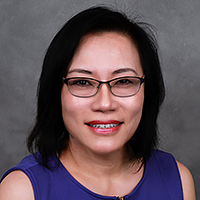 Introduction
My research interests are in applied food and environmental microbiology.
Research Overview
Prof. Ting is a food microbiologist by training. However she is always interested in solving environmental problems using microbial approach.
Her current projects include screening bacterial strains and protective materials for making self-healing concrete, and studying methods to control mycotoxins in oil seeds.
Microorganisms fascinate me because they are everywhere and impact us every day in many different ways. I always tell my students that knowledge in microbiology can benefit them throughout their lives. For example, they will know how to avoid infectious diseases and how to handle food properly to reduce food spoilage and foodborne illnesses.
Select Publications
• W.T. E. Ting, C-H. Chang*, B. Szonyi, and D. Gizachew. 2020. The growth and aflatoxin B1, B2, G2, and G2 production by Aspergillus flavus and A. parasiticus on ground flax seeds (Linum usitatissimum). J. of Food Protection (Accepted on Feb.1, 2020 for publication)
• Gizachew, D., Y-C Hsu*, B. Szonyi, and W.T.E. Ting. 2019. Effect of water activity, temperature and incubation period on fungal growth and ochratoxin A production on Nyjer seeds. Mycotoxin Research. 35:1-8. https://doi.org/10.1007/s12550-018-0325-2
• Ting, W.T.E., C-H. Chiu*, and C.-C. Chen, 2018 Screening of sporulation media for concrete healing bacteria. Proceeding of The Final Conference of Microorganisms-Cementitious Materials Interactions. ISBN: 978-2-35158-210-7 (Volume 2) 491-500. *Graduate students
Teaching Focus
In addition to Introductory and Basic Microbiology courses, Prof. Ting teaches advanced microbiology courses such as Food, Medical and Environmental Microbiology. She has mentored many graduate (thesis and non-thesis) and undergraduate students conducting research in her lab, and encouraged them to disseminated their research results through conference presentations and journal publications.
Previous Roles
• Graduate Program Coordinator, Department of Biological Sciences, Purdue University Calumet/ Northwest, Hammond, Indiana, 2013-present.
• Interim Head, Department of Biological Sciences, Purdue University Calumet, Hammond, Indiana, 2006 and 2011-2016