PNW staff members' startup recognized by Indiana Economic Development Corporation
December 2, 2022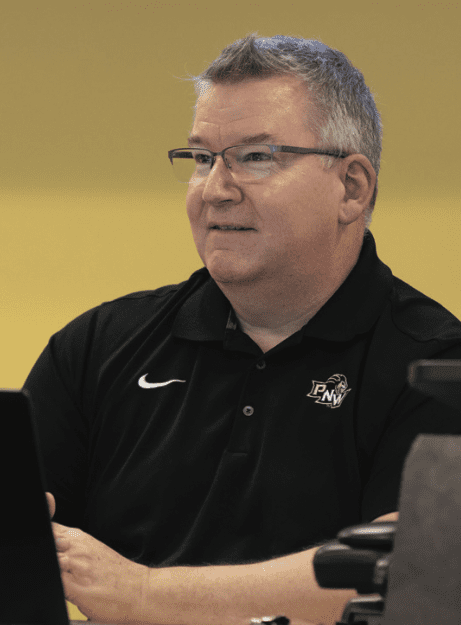 Plantennas may be a startup, but co-founders Mont Handley and Alexandra (AJ) Moran are not new to entrepreneurship. Plantennas is a solution that helps them realize significant labor cost savings and increase supply chain transparency.
Handley, a previous "Shark Tank" winner, is also the entrepreneur-in-residence at the Purdue University Northwest (PNW) Commercialization and Manufacturing Excellence Center. Moran, a fellow agri-entrepreneur, also works at PNW as a clinical instructor of Entrepreneurship. The two collaborated on projects for years before Handley approached Moran about Plantennas. The rest, as they say, is history.
Invented by Handley in 2020, Plantennas is an automated solution for plant propagation, life cycle inventory, and data management, based in Chesterton, IN. Sensor-enabled, biodegradable fiber pots are embedded with Radio Frequency Identification (RFID), providing each plant with a unique ID number. Plants—much like merchandise from an online big box retailer— can then be categorized, handled, and tracked. As a result, consumers have more information about their plants and commercial horticulture operators can be more efficient and profitable. Hadley and Moran knew they had a winner when a nursery owner came up with more uses for the application than they themselves had come to pitch.
"There are second-, third-, and fourth-generation greenhouses closing up shop because they do not have automated systems and cannot afford the necessary labor," says Moran. "Plantennas is a solution that helps them realize significant labor cost savings and increase supply chain transparency."
The company works with clients in Indiana and Illinois, but Handley and Moran have plans to expand. Next year, they want to help clients integrate more software and robotics into their operations. They also plan to raise Series A funding. Fortunately, they already have the support of Purdue University, AgriNovus Indiana, and Elevate Ventures.
"When you look at Mont and me, together, we have unique backgrounds and the combined experience it takes to be successful," says Moran. "Now we are ready to use our knowledge and Plantennas to transform horticulture through automation."
The text was composed and provided by the Indiana Economic Development Corporation (IEDC) for its annual Entrepreneurship Indiana publication. This is an entrepreneurial yearbook, published in partnership with PATTERN, honoring Indiana's entrepreneurial ecosystem and to inspire future founders.