PNW Strategic Plan and Acknowledgments
October 1, 2020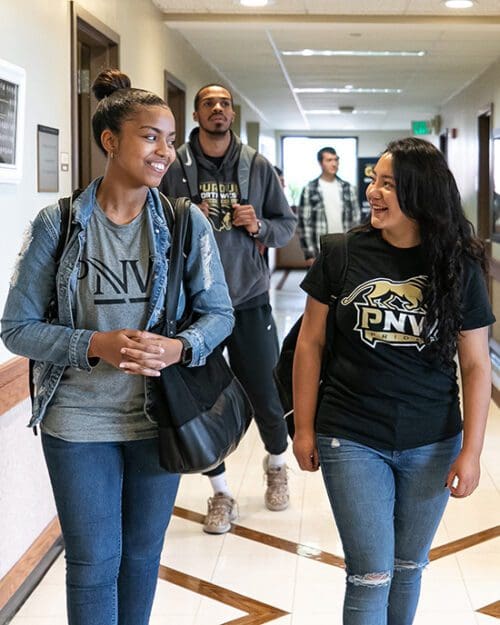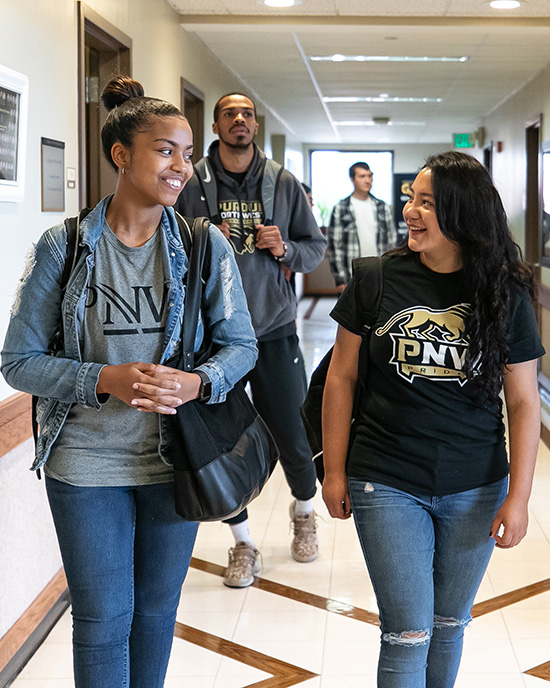 We are very excited to share the final draft of the PNW Strategic Plan for 2020-2025 with the PNW community and our stakeholders in Northwest Indiana and beyond.
It represents a clear statement about who we are and what we are becoming, and secures our future as a leading metropolitan university in the changing landscapes of higher education and our regional economy. It is the culmination of more than a year of analyses, debate, listening, and writing by the Strategic Planning Task Force and the University community.
Strategic Planning Process
As we have previously shared, the development process began with engagement sessions which included participation from over 1,500 faculty, staff members, students, alumni and members of the Northwest Indiana community. The data gathered from these sessions were analyzed, and the task force identified the strategic themes that appear in the document, along with our vision, mission, and values statements.
These were shared with the campus community, along with a survey soliciting feedback, in March of 2020.  A completed draft was presented to the Senior Leadership Team in July, and a final draft was approved in September.
We invite you to view the Strategic Plan at PNW Strategic Plan 2020-2025.
Acknowledgements and Gratitude
We extend our sincere thanks to the many members of the Strategic Planning Task Force, but especially to Karen Stachyra and Colin Fewer, who served as the co-chairs. Their tireless efforts stewarded the process to this successful conclusion. Andy Pettee and Lori Feldman were the original co-chairs of the team and provided outstanding leadership in the early phases of the project.
Rebecca Stankowski and Michael Bourgeois made invaluable contributions to the writing team's work. Finally, thank you to everyone who took the time to provide insights and feedback throughout this year-long process.
We look forward to realizing the goals of the plan in the coming years and creating a bright future together for PNW and the communities we serve.
Kenneth C. Holford, Provost and Vice Chancellor for Academic Affairs
Stephen R. Turner, Vice Chancellor for Finance and Administration
Strategic Planning Task Force
Faculty Members
Michelle Block, College of Nursing
Renee Conroy, College of Humanities, Education, and Social Sciences
Colin Fewer, College of Humanities, Education, and Social Sciences
Cathy Gillotti, College of Humanities, Education, and Social Sciences
Patti Ludwig-Beymer, College of Nursing
Lash Mapa, College of Technology
Cheryl Moredich, College of Nursing
Russ Mulligan, College of Business
Megan Murphy, College of Humanities, Education, and Social Sciences
Karen O'Brien, College of Nursing
Yu Ouyang, College of Humanities, Education, and Social Sciences
Vanessa Quinn, College of Engineering and Sciences
Dietmar Rempfer, College of Engineering and Sciences
George Stefanek, College of Technology
Pitparnee Stompor, College of Business
Nicolae Tarfulea, College of Engineering and Sciences
Shengyong Zhang, College of Engineering and Sciences
Lin Zhao, College of Business
APSAC
Kathleen Williams, Associate Director of Enrollment Management Reporting, serving on behalf of APSAC
CSSAC
Rhonda Lanfear, Secretary for Athletics, serving on behalf of CSSAC
Academic Affairs
George Kacenga, Executive Director of Undergraduate Admissions
Matthew Wells, Executive Director of Strategic Partnerships, Engagement, and Legislative Liaison
Karen Stachyra, Executive Director of Student Success and Retention
Athletics
Julie Wiejak, Senior Executive Assistant for Strategic Initiatives
Information Services
Joe Coates, University Archivist
Enrollment Management and Student Affairs
Korey West, Associate Director, Housing and Residential Education
Heather Zamojski, Assistant Vice Chancellor, Student Success Technologies
Institutional Advancement
Ashley Gerodimos, Executive Director of the PNW Alumni Community
Jamie Manahan, Executive Director of Development
Finance and Administration
Omar Sahmoudi, Assistant Director, Budgets
Brian Miller, Director of Public Safety
Scott Parsons, Senior Director, Facilities and Grounds
Stephanie Blackstock, Executive Director, Gabis Arboretum
Office of the Chancellor
Sheila Brillson Matias, Executive Director, Leadership Institute at Purdue Northwest, and Executive Director, Society of Innovators at Purdue Northwest