Purdue Northwest faculty member appointed vice chancellor of Institutional Advancement
March 11, 2019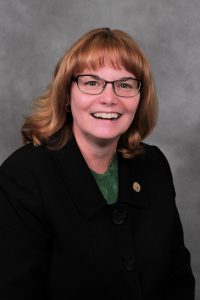 Lisa Goodnight brings student-centered vision and passion for PNW to role
Lisa Goodnight, Ph.D., a 25-year member of the Purdue University Northwest (PNW) faculty, has joined the senior leadership team as vice chancellor of Institutional Advancement.
"Dr. Goodnight's years of service to PNW and Northwest Indiana, uniquely equips Lisa to lead our advancement initiatives and play a key role on the university's Senior Leadership Team," said Chancellor Thomas L. Keon. "She cares deeply about our students, our alumni, our faculty and staff, and the university's impact on the Region, and she shares her advocacy for the future of PNW with our donors and partners."
As vice chancellor of Institutional Advancement, Goodnight is responsible for all development, marketing and communications, alumni relations and strategic events functions of the university. She serves on the Chancellor's Senior Leadership Team, chairs the Chancellor's NCAA Division II Intercollegiate Athletics Advisory Council and co-chairs the Multicultural Campus Council.
Goodnight started her journey as a freshman on Purdue Northwest's Hammond Campus in 1982. She went on to earn a Bachelor's of Arts in Communication at Purdue Northwest and received a Ph.D. in Communication from Purdue University in 1993.
As a faculty member of the PNW Department of Communication for the past 25 years, Goodnight made exceptional contributions in teaching, scholarship and service. She received PNW's Outstanding Teaching Award in 2007; co-authored "Communication: Embracing Differences," now in its fifth edition; and has been a member of the National Communications Association and National Association of Student Personnel Administrators.
Noted for her student-centered approach to teaching and learning, Goodnight was Purdue Northwest's associate vice chancellor of Student Affairs and senior dean of students. In the new role, she plans to provide donors with first-hand insights about the impact their generosity has on both future graduates and her faculty colleagues.
"I have been a member of the Purdue Northwest community since I was an undergraduate student. I've always sought to serve and contribute to the university and am delighted to have been appointed to serve in this new role in this institution that means so much to me," said Goodnight.
A lifelong resident of Northwest Indiana, Goodnight was nominated for the 2012 Influential Women of Northwest Indiana in Education and has been an advocate for mentoring women in the workplace and community.