Purdue Northwest Graduates Urged to Leverage Their "License to Learn"
May 17, 2021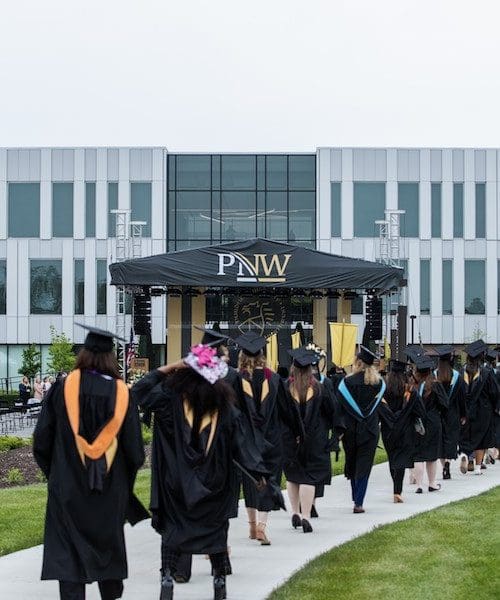 Class of 1,082 Graduates Honored During Two Commencement Exercises
Purdue University Northwest graduates have earned a "license to learn" that they should leverage wisely and with integrity as they embark on their careers, keynote speaker Stewart McMillan stated during two commencement ceremonies.
McMillan, chairman emeritus of Valparaiso-based Task Force Tips, Inc. and a 1977 graduate of PNW, shared his insights gained from a lifetime in the firefighting industry, as a business and community leader and philanthropist, and as a licensed pilot.
Flight instructors traditionally hand a newly licensed pilot the freshly earned license with the statement, "This is your license to learn," McMillan said. Earning their degrees gives graduates a license to learn that continues throughout life.
"School is very different from the real world. You are given inputs to a problem; you solve the problem and then you look up the answer to make sure you got it right," McMillan stated. "Everyday life is quite different. You are given lots of inputs – many you do not need. You must figure out how to solve the problem and then you wait to see if it was right, as there is no place to look up the answer.
"It requires some additional skills in the backpack to navigate it successfully and without regrets," he added. McMillan urged graduates to act with integrity, find strong mentors, be willing to be wrong, talk to everyone and anyone, and to be humble as they move forward in their careers and in life.
"Leaders are not expected to have all the answers, but they are expected to have the integrity to admit when they do not, and the integrity to admit when they are wrong," McMillan said. "The people you lead will follow you on your journey only if they have trust – trust that when you know the answer you will act, and trust that when you do not know the answer, you will ask for help."
PNW's 2021 spring graduating class consists of 1,082 candidates, including the conferring of one doctoral degree, 141 master's degrees and 940 baccalaureate degrees. Some 690 degree honorees planned to participate in the PNW commencement ceremonies. The university held in-person, outdoor ceremonies with the Nils K. Nelson Bioscience Innovation Building as a backdrop. The state-of-the-art building opened in August 2020.
The graduations also included presentation of a Chancellor Medallion to the graduating seniors in each of the university's five academic colleges with the highest grade point average.
Chancellor's Medallion Recipients
College of Business
Shelbi Clark (Moxee, WA)
Kyle Kelly (Schererville, IN)
College of Engineering and Sciences
College of Humanities, Education and Social Sciences
Amy Nieves (Chesterton, IN)
College of Nursing
Danielle Biancardi (Crown Point, IN)
Katrina Machtemes (Michigan City, IN)
College of Technology
Yash Patel (Oak Forest, IL)
Andrew Pierce (Valparaiso, IN)
Graduate Stories
Every graduate has a story – learn more about the spring 2021 PNW graduates.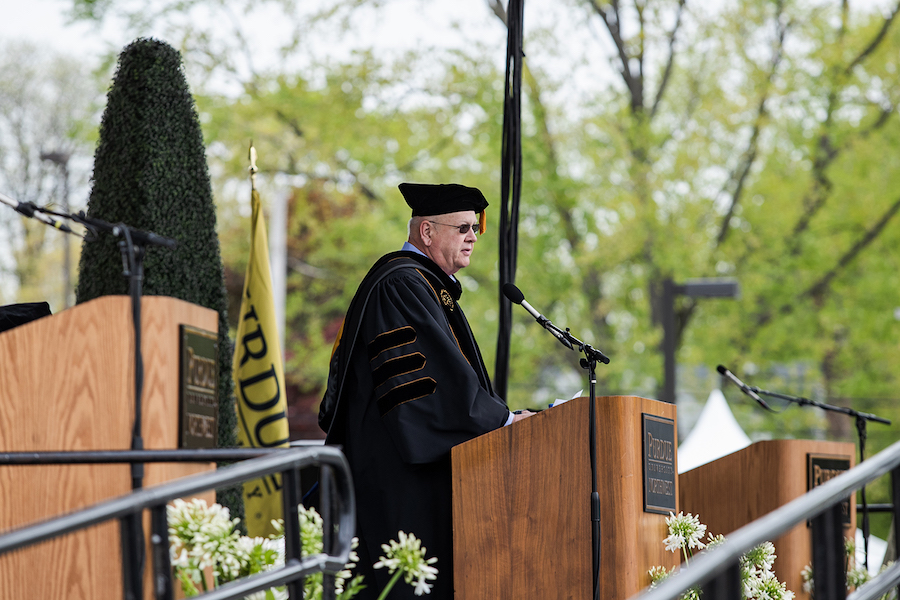 Relive Commencement
Graduates, friends and families alike were excited to gather safely outdoors for the Spring 2021 PNW commencement ceremonies.
List of Spring Graduates
| Full Name | Degree | College | City | State |
| --- | --- | --- | --- | --- |
| Abby Allen | MA | Graduate School | Crown Point | IN |
| Lucy Ashmore | MA | Graduate School | Hammond | IN |
| Alexis Carrizales | MA | Graduate School | Munster | IN |
| Raven Chant | MA | Graduate School | Munster | IN |
| Anna Marie Gianni | MA | Graduate School | Crown Point | IN |
| Kayla Greenwell | MA | Graduate School | Princeton | IL |
| Madina Karimova | MA | Graduate School | Hammond | IN |
| Eileen Long | MA | Graduate School | Michigan City | IN |
| Adam Mackey | MA | Graduate School | Lansing | MI |
| DeVante Pickett | MA | Graduate School | Merrillville | IN |
| Aric Rodriguez | MA | Graduate School | Schererville | IN |
| Michael Sbalchiero | MA | Graduate School | Griffith | IN |
| Nancy Singh | MA | Graduate School | Hammond | IN |
| Stephanie Sivak | MA | Graduate School | Crown Point | IN |
| Steven Stepnoski | MA | Graduate School | Griffith | IN |
| Jessica Vales | MA | Graduate School | Merrillville | IN |
| Jadrien Doss | MACC | Graduate School | Hammond | IN |
| Kaitlynn Gloff | MACC | Graduate School | Schererville | IN |
| Tairu Jozaitis | MACC | Graduate School | La Porte | IN |
| Michael Laffoon | MACC | Graduate School | Crown Point | IN |
| Danielle Page | MACC | Graduate School | Lowell | IN |
| Rebecca Rizer | MACC | Graduate School | Chesterton | IN |
| Skylar Vardaman | MACC | Graduate School | Portage | IN |
| Kevin Beckman | MBA | Graduate School | Michigan City | IN |
| Julia Cook-Jones | MBA | Graduate School | Gary | IN |
| Salvador Cordova | MBA | Graduate School | Hammond | IN |
| Amitav Goswami | MBA | Graduate School | Hammond | IN |
| Benjamin Haczynski | MBA | Graduate School | Crown Point | IN |
| Xavier Hallinan | MBA | Graduate School | Portland | OR |
| Dominique Harper | MBA | Graduate School | Dyer | IN |
| Zhiyu Hou | MBA | Graduate School | Hammond | IN |
| Alexis Mason | MBA | Graduate School | Highland | IN |
| Nick Sanchez | MBA | Graduate School | Dyer | IN |
| Kaitlyn Skarecky | MBA | Graduate School | Dyer | IN |
| Kimberly Smee | MBA | Graduate School | Lake Station | IN |
| Megan Spence | MBA | Graduate School | Munster | IN |
| Nicole Wright | MBA | Graduate School | Dyer | IN |
| Zaiyang Zhao | MBA | Graduate School | Highland | IN |
| Yu Zong | MBA | Graduate School | Hammond | IN |
| Garvit Agrawal | MS | Graduate School | Hammond | IN |
| Nasser Alanazi | MS | Graduate School | Griffith | IN |
| Amal Alhassan | MS | Graduate School | Hammond | IN |
| Ali Almiskeen | MS | Graduate School | Chicago | IL |
| David Alvarez | MS | Graduate School | Munster | IN |
| Chioma Anokwute | MS | Graduate School | Merrillville | IN |
| Sri Narmada Anumakonda | MS | Graduate School | Centennial | CO |
| Helen Curtis | MS | Graduate School | Dolton | IL |
| Robert Deere | MS | Graduate School | Lake Villa | IL |
| Aakanksha Dixit | MS | Graduate School | Hammond | IN |
| Ojesvi Dogra | MS | Graduate School | Chesterton | IN |
| Deekshita Reddy Gauravaram | MS | Graduate School | Newark | NJ |
| Megan Gliva | MS | Graduate School | Crown Point | IN |
| Phani Gottiparthi | MS | Graduate School | Vernon Hills | IL |
| Ramesh babu Govindula | MS | Graduate School | Hammond | IN |
| Tianyang Guan | MS | Graduate School | Highland | IN |
| Drew Johnson | MS | Graduate School | Highland | IN |
| Tejaswini Kunam | MS | Graduate School | Houston | TX |
| Shannan Lefever | MS | Graduate School | Wheaton | IL |
| Zhaoze Liu | MS | Graduate School | Hammond | IN |
| Zihao Liu | MS | Graduate School | Merrillville | IN |
| Xiaoyu Long | MS | Graduate School | Hammond | IN |
| Venkata Geetha Devi Mandala | MS | Graduate School | Hammond | IN |
| Carlos Martinez | MS | Graduate School | Saint John | IN |
| Jessica McGuire | MS | Graduate School | La Porte | IN |
| Sudha Reddy Mudhireddy | MS | Graduate School | Hammond | IN |
| Shane Murphy | MS | Graduate School | New Lenox | IL |
| Anitha Chowdary Mutyala | MS | Graduate School | Hammond | IN |
| Lance Natonski | MS | Graduate School | Munster | IN |
| Kartheek Pamarthi | MS | Graduate School | Hammond | IN |
| Samantha Peachey | MS | Graduate School | Cleveland | OH |
| Yvette Rarick | MS | Graduate School | Whiting | IN |
| Divya Ravindra | MS | Graduate School | West Lafayette | IN |
| Alan Rozenblit | MS | Graduate School | South Bend | IN |
| Nupoor Singh | MS | Graduate School | Hammond | IN |
| Marjan Sitnikoski | MS | Graduate School | Crown Point | IN |
| Yu Song | MS | Graduate School | Hammond | IN |
| Rishitha Sunduri | MS | Graduate School | Franklin | TN |
| Saad Saleem Syed | MS | Graduate School | Highland | IN |
| Nathaniel Tobey | MS | Graduate School | Portage | IN |
| Shubham Tripathi | MS | Graduate School | Hammond | IN |
| Sydney Vander Tuin | MS | Graduate School | Demotte | IN |
| Vaishali Varshney | MS | Graduate School | Hammond | IN |
| Dolores Wagner | MS | Graduate School | Munster | IN |
| Ziben Zhou | MS | Graduate School | Hammond | IN |
| Arturo Garcia | MSE | Graduate School | Hammond | IN |
| Angel Lozano Galarza | MSE | Graduate School | Griffith | IN |
| Junyi Chen | MSECE | Graduate School | Hammond | IN |
| Tingting Ge | MSECE | Graduate School | Hammond | IN |
| Andres Jara | MSECE | Graduate School | Hammond | IN |
| Chuchu Ji | MSECE | Graduate School | Hammond | IN |
| Syed Khaleelullah | MSECE | Graduate School | Highland | IN |
| Shahrukh Alam Khan | MSECE | Graduate School | Hammond | IN |
| Attila Lendek | MSECE | Graduate School | Chicago | IL |
| Zhankun Luo | MSECE | Graduate School | Hammond | IN |
| David Olson | MSECE | Graduate School | Chesterton | IN |
| Wen Ou | MSECE | Graduate School | Hammond | IN |
| Doga Ozgulbas | MSECE | Graduate School | Savoy | IL |
| Zhihua Pu | MSECE | Graduate School | Hammond | IN |
| Abel Reyes Angulo | MSECE | Graduate School | Hammond | IN |
| Wumeng Shi | MSECE | Graduate School | Hammond | IN |
| Dayana Villacres Paredes | MSECE | Graduate School | Hammond | IN |
| Stephanie Vinueza | MSECE | Graduate School | Hammond | IN |
| Xunan Yan | MSECE | Graduate School | Hammond | IN |
| Krishna Sai Spandana Yarlagadda | MSECE | Graduate School | Cape Girardeau | MO |
| Lei Zhao | MSECE | Graduate School | Hammond | IN |
| Steven Aguilera | MSED | Graduate School | Griffith | IN |
| Arminda Anguiano | MSED | Graduate School | Portage | IN |
| Kaitlin Barajas | MSED | Graduate School | Dyer | IN |
| Rhonda Chavez | MSED | Graduate School | Michigan City | IN |
| Kimberly Cunningham | MSED | Graduate School | Muncie | IN |
| Gina Curalli | MSED | Graduate School | Frankfort | IL |
| Sarah Deakin | MSED | Graduate School | Crown Point | IN |
| Shannon Dempsey | MSED | Graduate School | Munster | IN |
| Jennifer Gooldy | MSED | Graduate School | Crown Point | IN |
| Kelly Knickerbocker | MSED | Graduate School | Valparaiso | IN |
| Breanne Knopf | MSED | Graduate School | Valparaiso | IN |
| Bailey Lauritzen | MSED | Graduate School | Portage | IN |
| Natalie Melcher | MSED | Graduate School | Valparaiso | IN |
| Terri Nunnally | MSED | Graduate School | Hammond | IN |
| Isabella O'Shea-Childress | MSED | Graduate School | Michigan City | IN |
| Andrew Raelateju | MSED | Graduate School | Valparaiso | IN |
| Kelsey Rains | MSED | Graduate School | Clarksville | IN |
| Samantha Rich | MSED | Graduate School | Chesterton | IN |
| Sarah Serles | MSED | Graduate School | Michigan City | IN |
| Lori Utesch | MSED | Graduate School | Valparaiso | IN |
| Ivy Wilcher | MSED | Graduate School | Merrillville | IN |
| Courtney Withrow | MSED | Graduate School | Highland | IN |
| Anastasia Ahearn | MSME | Graduate School | Dyer | IN |
| Fuying Bai | MSME | Graduate School | Hammond | IN |
| Xiang Li | MSME | Graduate School | Hammond | IN |
| Congshan Mao | MSME | Graduate School | Hammond | IN |
| Samuel Nielson | MSME | Graduate School | Valparaiso | IN |
| Wenjie Yu | MSME | Graduate School | Hammond | IN |
| William Hennessy | MSMSV | Graduate School | Munster | IN |
| Barbara Nicolai | MSMSV | Graduate School | Hammond | IN |
| Kimberley Andrews | MSN | Graduate School | Chicago | IL |
| Julie Clouse | MSN | Graduate School | Lowell | IN |
| Loretta Keiner-Overholt | MSN | Graduate School | Fort Wayne | IN |
| Molly McMann | MSN | Graduate School | Frankfort | IL |
| Megan Slevnik | MSN | Graduate School | Saint John | IN |
| Carolynn Sprague | MSN | College of Business | Indianapolis | IN |
| Mitchell Ackerman | BS | College of Business | Saint John | IN |
| Hailey Arlis | BS | College of Business | Minooka | IL |
| Brianna Cardona-Arroyo | BS | College of Business | Merrillville | IN |
| Kayli Caudill | BS | College of Business | Michigan City | IN |
| Kyle Crider | BS | College of Business | Crown Point | IN |
| Brittany Delrose | BS | College of Business | New Lenox | IL |
| Steven Eloisa | BS | College of Business | Hammond | IN |
| Hannah Evatt | BS | College of Business | Plainfield | IL |
| Alexis Gorrell | BS | College of Business | Kouts | IN |
| Ian Hines | BS | College of Business | Valparaiso | IN |
| Jessica Lovell | BS | College of Business | East Chicago | IN |
| Noel Lulsdorf | BS | College of Business | Schererville | IN |
| Maharshi Patel | BS | College of Business | Hammond | IN |
| Lisa Pisowicz | BS | College of Business | Crown Point | IN |
| Christian Rosta | BS | College of Business | Valparaiso | IN |
| Nicole Santana | BS | College of Business | Michigan City | IN |
| Ally Szakacs | BS | College of Business | Schererville | IN |
| Elizabeth Al-Akel | BSA | College of Business | Highland | IN |
| Alexis Baker | BSA | College of Business | Michigan City | IN |
| Amanda Baker | BSA | College of Business | Schererville | IN |
| Christopher Baltages | BSA | College of Business | Munster | IN |
| Sally Bibb | BSA | College of Business | Michigan City | IN |
| Shae Buchanan | BSA | College of Business | Hammond | IN |
| Westley Bultema | BSA | College of Business | Cedar Lake | IN |
| Jazmine Chairez | BSA | College of Business | Whiting | IN |
| Marija Ivic | BSA | College of Business | Schererville | IN |
| David Long | BSA | College of Business | Highland | IN |
| Tricia Marlow | BSA | College of Business | Munster | IN |
| Anthony Marzilli | BSA | College of Business | Highland | IN |
| Daniel McGrath | BSA | College of Business | Crown Point | IN |
| Nikola Muvceski | BSA | College of Business | Crown Point | IN |
| Mishal Patel | BSA | College of Business | Merrillville | IN |
| Christian Pena | BSA | College of Business | East Chicago | IN |
| Karen Quintana | BSA | College of Business | Crown Point | IN |
| Brandon Ritter | BSA | College of Business | Crown Point | IN |
| Gerardo Rosas | BSA | College of Business | Hammond | IN |
| Will Simon | BSA | College of Business | Lansing | IL |
| Nicholas Sims | BSA | College of Business | Hammond | IN |
| Chris Snyder | BSA | College of Business | Munster | IN |
| Amber South | BSA | College of Business | Chesterton | IN |
| Thomas Speranza | BSA | College of Business | Munster | IN |
| Melodie Suvajac | BSA | College of Business | Hebron | IN |
| Melissa Symmes | BSA | College of Business | Hobart | IN |
| Allison Abraham | BSB | College of Business | Wanatah | IN |
| Gabriela Alvarez | BSB | College of Business | Hammond | IN |
| Phillip Applegate | BSB | College of Business | Hammond | IN |
| Jorge Arellano | BSB | College of Business | Munster | IN |
| Griselda Arguelles | BSB | College of Business | Oak Lawn | IL |
| Tyler Asche | BSB | College of Business | Hammond | IN |
| Matthew Bahena | BSB | College of Business | Alsip | IL |
| Christopher Baltages | BSB | College of Business | Munster | IN |
| Tylesha Bates | BSB | College of Business | East Chicago | IN |
| Felicia Bernstein | BSB | College of Business | Hammond | IN |
| Gerald Breese | BSB | College of Business | Hobart | IN |
| Hunter Bryak | BSB | College of Business | Highland | IN |
| Nicholas Buell | BSB | College of Business | Munster | IN |
| Westley Bultema | BSB | College of Business | Cedar Lake | IN |
| Andrew Bustillos | BSB | College of Business | Merrillville | IN |
| Zachary Butcher | BSB | College of Business | Saint John | IN |
| Orlando Cano | BSB | College of Business | Peotone | IL |
| Jose Carrero-Sayago | BSB | College of Business | South Bend | IN |
| Ricardo Cedeno | BSB | College of Business | Hobart | IN |
| Shelbi Clark | BSB | College of Business | Moxee | WA |
| Zachary Decker | BSB | College of Business | Rolling Prairie | IN |
| Gianna Demase | BSB | College of Business | Munster | IN |
| Nicholas Donsbach | BSB | College of Business | Merrillville | IN |
| Juliette Dozier | BSB | College of Business | Portage | IN |
| Andrew Farbak | BSB | College of Business | New Lenox | IL |
| Delmer Fleming | BSB | College of Business | Lowell | IN |
| Alexis Ford | BSB | College of Business | Hammond | IN |
| Jordan Gallardo | BSB | College of Business | Valparaiso | IN |
| Alexis Gallegos | BSB | College of Business | Saint John | IN |
| Christian Gamino | BSB | College of Business | Whiting | IN |
| Adriana Garcia | BSB | College of Business | Hammond | IN |
| Charles Gerstner | BSB | College of Business | Highland | IN |
| Brandon Glusak | BSB | College of Business | Demotte | IN |
| Anthony Golden | BSB | College of Business | Fishers | IN |
| Ethan Grove | BSB | College of Business | Highland | IN |
| Jonathan Grygus | BSB | College of Business | Palos Hills | IL |
| Justin Guebert | BSB | College of Business | Valparaiso | IN |
| Matthew Gunia | BSB | College of Business | Highland | IN |
| Marco Haddad | BSB | College of Business | Schererville | IN |
| Vanessa Herrera | BSB | College of Business | Hammond | IN |
| Bailey Holkan | BSB | College of Business | Trail Creek | IN |
| Elizabeth Huston | BSB | College of Business | Yale | MI |
| Marija Ivic | BSB | College of Business | Schererville | IN |
| Joseph Jamicich | BSB | College of Business | Munster | IN |
| Kennice Jamison | BSB | College of Business | Hammond | IN |
| Alyssa Javier | BSB | College of Business | Whiting | IN |
| Jacob Jimenez-Perez | BSB | College of Business | Chesterton | IN |
| Melissa Jones | BSB | College of Business | Hobart | IN |
| Kyle Kelly | BSB | College of Business | Schererville | IN |
| Patrick Konieczny | BSB | College of Business | La Porte | IN |
| Julia Kusiak | BSB | College of Business | Munster | IN |
| Madelyn Long | BSB | College of Business | Dyer | IN |
| Edgar Lopez | BSB | College of Business | Chicago | IL |
| Emilio Lopez | BSB | College of Business | Portage | IN |
| Lauren Mack | BSB | College of Business | Valparaiso | IN |
| Adam Madouros | BSB | College of Business | Crown Point | IN |
| Peyton Manns | BSB | College of Business | North Judson | IN |
| Tricia Marlow | BSB | College of Business | Munster | IN |
| Paige Martin | BSB | College of Business | La Porte | IN |
| William McClelland | BSB | College of Business | Cedar Lake | IN |
| David McCormick | BSB | College of Business | Hammond | IN |
| Daniel McGrath | BSB | College of Business | Crown Point | IN |
| Andrijana Mihajlovic | BSB | College of Business | Cedar Lake | IN |
| Kenneth Minich | BSB | College of Business | Saint John | IN |
| Porter Minix | BSB | College of Business | Plymouth | IN |
| Seth Moncado | BSB | College of Business | Demotte | IN |
| Nayia Moore | BSB | College of Business | Hammond | IN |
| Carlos Naranjo-Ceballos | BSB | College of Business | Lake Station | IN |
| Abigail Negri | BSB | College of Business | Crown Point | IN |
| Yahaira Negron | BSB | College of Business | East Chicago | IN |
| Priscilla Obeng Mensah | BSB | College of Business | Hammond | IN |
| Reily Opilka | BSB | College of Business | Crown Point | IN |
| Alena Packer | BSB | College of Business | Valparaiso | IN |
| Sarah Painter | BSB | College of Business | La Porte | IN |
| Michael Palmer | BSB | College of Business | Valparaiso | IN |
| Armando Perales | BSB | College of Business | Hammond | IN |
| Francisco Ramos | BSB | College of Business | Valparaiso | IN |
| Inna Maraine Ramos | BSB | College of Business | Dyer | IN |
| Cody Randall | BSB | College of Business | Woodville | AL |
| Nicolas Roker | BSB | College of Business | Calumet City | IL |
| Jacob Rubick | BSB | College of Business | Schererville | IN |
| Shear-Jashub Ruiz | BSB | College of Business | Hammond | IN |
| Victor Salgado | BSB | College of Business | Munster | IN |
| Frank Sek | BSB | College of Business | Dyer | IN |
| Michelle Serna | BSB | College of Business | Griffith | IN |
| Gavin Short | BSB | College of Business | Portage | IN |
| Zachary Siegmund | BSB | College of Business | Michigan City | IN |
| Megan Simons | BSB | College of Business | Valparaiso | IN |
| Nicholas Sims | BSB | College of Business | Hammond | IN |
| Marielle Smith | BSB | College of Business | Chicago | IL |
| Chris Snyder | BSB | College of Business | Munster | IN |
| Kristen Someson | BSB | College of Business | Portage | IN |
| Andrew Steingass | BSB | College of Business | Valparaiso | IN |
| Melodie Suvajac | BSB | College of Business | Hebron | IN |
| Melissa Symmes | BSB | College of Business | Hobart | IN |
| Jenelle Taylor | BSB | College of Business | Schererville | IN |
| Brandon Tomich | BSB | College of Business | Griffith | IN |
| Thuy Tran | BSB | College of Business | Beecher | IL |
| Wyatt Trevino | BSB | College of Business | Schererville | IN |
| Lena van Bergen | BSB | College of Business | Munster | IN |
| Brett Veltema | BSB | College of Business | Jenison | MI |
| Keely Verhaar | BSB | College of Business | South Holland | IL |
| Justin Walter | BSB | College of Business | Elkhart | IN |
| Ashley Wilkerson | BSB | College of Business | Valparaiso | IN |
| Daniel Wleklinski | BSB | College of Business | Munster | IN |
| Jacob Zasada | BSB | College of Business | Dyer | IN |
| Thomas Zimmerman | BSB | College of Business | Valparaiso | IN |
| Delfino Torres-Alvares | AS | College of Engineering and Sciences | Valparaiso | IN |
| Megan Abeyta | BS | College of Engineering and Sciences | Hammond | IN |
| Tiffanie Aguero | BS | College of Engineering and Sciences | Hammond | IN |
| Esmeralda Alvirde-Guzman | BS | College of Engineering and Sciences | Hammond | IN |
| Marwan Awadh | BS | College of Engineering and Sciences | Worth | IL |
| Timothy Bakas | BS | College of Engineering and Sciences | Schererville | IN |
| Connor Behrens | BS | College of Engineering and Sciences | Westfield | IN |
| Bianca Bernal | BS | College of Engineering and Sciences | Crown Point | IN |
| Amelia Black | BS | College of Engineering and Sciences | La Porte | IN |
| Madison Blythe | BS | College of Engineering and Sciences | Crown Point | IN |
| Diana Bolanos | BS | College of Engineering and Sciences | Dyer | IN |
| Christopher Boone | BS | College of Engineering and Sciences | East Chicago | IN |
| Emily Bratcher | BS | College of Engineering and Sciences | Dyer | IN |
| Sydnie Camacho | BS | College of Engineering and Sciences | Hobart | IN |
| Selena Canuto | BS | College of Engineering and Sciences | Hammond | IN |
| Rebecca Darlene Collins | BS | College of Engineering and Sciences | Valparaiso | IN |
| Joseph Cullinan | BS | College of Engineering and Sciences | Valparaiso | IN |
| Irina Dinu | BS | College of Engineering and Sciences | Michigan City | IN |
| Steven Donovan | BS | College of Engineering and Sciences | Munster | IN |
| Matthew Dorneanu | BS | College of Engineering and Sciences | Saint John | IN |
| Annabelle Engel | BS | College of Engineering and Sciences | Chesterton | IN |
| Yulong Fan | BS | College of Engineering and Sciences | Hammond | IN |
| Katlin Fletcher | BS | College of Engineering and Sciences | Knox | IN |
| Mittchell Forrester | BS | College of Engineering and Sciences | Portage | IN |
| Jessica Garcia | BS | College of Engineering and Sciences | Whiting | IN |
| Becky Gong | BS | College of Engineering and Sciences | Griffith | IN |
| Claudia Gonzalez | BS | College of Engineering and Sciences | Whiting | IN |
| Elizabeth Griffith | BS | College of Engineering and Sciences | Knox | IN |
| Daniel Herrera | BS | College of Engineering and Sciences | Chicago Heights | IL |
| Adam Hume | BS | College of Engineering and Sciences | Crown Point | IN |
| Geon Hyuk Im | BS | College of Engineering and Sciences | Hammond | IN |
| Thameenaa Julkes | BS | College of Engineering and Sciences | Merrillville | IN |
| Kristine Koch | BS | College of Engineering and Sciences | Valparaiso | IN |
| Matthew Kosloski | BS | College of Engineering and Sciences | Beecher | IL |
| Demetri Kounelis | BS | College of Engineering and Sciences | Munster | IN |
| Taylor Kroon | BS | College of Engineering and Sciences | Schererville | IN |
| Richard Larson | BS | College of Engineering and Sciences | Saint John | IN |
| Annabelle Makowski | BS | College of Engineering and Sciences | Highland | IN |
| Kristin Mann | BS | College of Engineering and Sciences | Chesterton | IN |
| Benjamin Miloshoff | BS | College of Engineering and Sciences | Crown Point | IN |
| Kayli Mitchell | BS | College of Engineering and Sciences | Valparaiso | IN |
| Ericka Moore | BS | College of Engineering and Sciences | Calumet City | IL |
| Jazmin Munoz | BS | College of Engineering and Sciences | Chicago | IL |
| Allen Murray | BS | College of Engineering and Sciences | Michigan City | IN |
| Nicholas Nelson | BS | College of Engineering and Sciences | Hammond | IN |
| Jordan Nikkel | BS | College of Engineering and Sciences | Hammond | IN |
| Nwamaka Nwannunu | BS | College of Engineering and Sciences | Saint John | IN |
| Yassmeen Odeh | BS | College of Engineering and Sciences | Hammond | IN |
| Seongeun Oh | BS | College of Engineering and Sciences | Chicago | IL |
| Brett Oppenhuis | BS | College of Engineering and Sciences | Lowell | IN |
| Madeline Palichuk | BS | College of Engineering and Sciences | Hobart | IN |
| Breanna Pardus | BS | College of Engineering and Sciences | Hobart | IN |
| Rachel Pash | BS | College of Engineering and Sciences | Crown Point | IN |
| Dhyey Patel | BS | College of Engineering and Sciences | Hammond | IN |
| Samantha Peach | BS | College of Engineering and Sciences | Crown Point | IN |
| Alexis Pepper | BS | College of Engineering and Sciences | Valparaiso | IN |
| Luis Raygadas-Lara | BS | College of Engineering and Sciences | Hammond | IN |
| Anna Reyes | BS | College of Engineering and Sciences | Lake Station | IN |
| Sydnie Roberson | BS | College of Engineering and Sciences | East Chicago | IN |
| Anthony Rodriguez | BS | College of Engineering and Sciences | Steger | IL |
| Antonio Rodriguez | BS | College of Engineering and Sciences | Dyer | IN |
| Samuel Rohrman | BS | College of Engineering and Sciences | Michigan City | IN |
| David Rosa | BS | College of Engineering and Sciences | Merrillville | IN |
| Zachary Rowe | BS | College of Engineering and Sciences | Hammond | IN |
| Jeremy Schultz | BS | College of Engineering and Sciences | Palos Heights | IL |
| Joel Schwartz | BS | College of Engineering and Sciences | Merrillville | IN |
| Karina Silva | BS | College of Engineering and Sciences | Griffith | IN |
| Daniel Smith | BS | College of Engineering and Sciences | Gary | IN |
| Jacob Smith | BS | College of Engineering and Sciences | Westmont | IL |
| William Stratton | BS | College of Engineering and Sciences | Crown Point | IN |
| Matthew Szala | BS | College of Engineering and Sciences | Munster | IN |
| Brooke Szczepanski | BS | College of Engineering and Sciences | Lake Village | IN |
| Johnathon Taylor | BS | College of Engineering and Sciences | East Chicago | IN |
| Serina Thomas | BS | College of Engineering and Sciences | Chicago | IL |
| Justin Tieri | BS | College of Engineering and Sciences | Hammond | IN |
| Levi Tompkins | BS | College of Engineering and Sciences | Demotte | IN |
| Christopher Turner | BS | College of Engineering and Sciences | Merrillville | IN |
| Danielle Whitten | BS | College of Engineering and Sciences | Valparaiso | IN |
| Hannah Wiesemann | BS | College of Engineering and Sciences | Highland | IN |
| Kaitlyn Wilcher | BS | College of Engineering and Sciences | Chesterton | IN |
| Crislyn Wilson | BS | College of Engineering and Sciences | Valparaiso | IN |
| Natasha Woodard | BS | College of Engineering and Sciences | Westville | IN |
| James Wright | BS | College of Engineering and Sciences | Highland | IN |
| Syed Arshiyan Zaidi | BS | College of Engineering and Sciences | South San Francisco | CA |
| Brigitte Zavaleta | BS | College of Engineering and Sciences | East Chicago | IN |
| Zachary Zirkle | BS | College of Engineering and Sciences | Hamlet | IN |
| Khadijah Mohammed Alshakhal | BSCE | College of Engineering and Sciences | Hammond | IN |
| Candace Chandler | BSCE | College of Engineering and Sciences | Middletown | IN |
| Trina Cook | BSCE | College of Engineering and Sciences | Portage | IN |
| Anthony Fadke-Giblin | BSCE | College of Engineering and Sciences | Lowell | IN |
| Bryce Gawronski | BSCE | College of Engineering and Sciences | Demotte | IN |
| Dylan Henson | BSCE | College of Engineering and Sciences | Lowell | IN |
| Sarah Hernandez | BSCE | College of Engineering and Sciences | Portage | IN |
| Karen Laboy | BSCE | College of Engineering and Sciences | Portage | IN |
| Aaron Lee | BSCE | College of Engineering and Sciences | Hammond | IN |
| Oscar Martinez | BSCE | College of Engineering and Sciences | Hammond | IN |
| Rebecca Matthys | BSCE | College of Engineering and Sciences | South Bend | IN |
| Matthew Mourillon | BSCE | College of Engineering and Sciences | Indianapolis | IN |
| Areej Saleh | BSCE | College of Engineering and Sciences | Munster | IN |
| Daniel Schreiner | BSCE | College of Engineering and Sciences | Whiting | IN |
| Anthony Smierciak | BSCE | College of Engineering and Sciences | Schererville | IN |
| James Stemper | BSCE | College of Engineering and Sciences | Demotte | IN |
| Jessika Valdez | BSCE | College of Engineering and Sciences | Hammond | IN |
| Sydney Valiska | BSCE | College of Engineering and Sciences | New Lenox | IL |
| Calvin Van Baren | BSCE | College of Engineering and Sciences | Cedar Lake | IN |
| Murtada Ibrahim Al Hussain | BSCH | College of Engineering and Sciences | Hammond | IN |
| Phillip Dinga | BSCH | College of Engineering and Sciences | Demotte | IN |
| Jacob Dockery | BSCH | College of Engineering and Sciences | Hobart | IN |
| Zakyra Jordan | BSCH | College of Engineering and Sciences | Hammond | IN |
| Nicholas Kizman | BSCH | College of Engineering and Sciences | Highland | IN |
| Tyberius Torres | BSCH | College of Engineering and Sciences | La Porte | IN |
| Abdullah Abdelghani | BSCMPE | College of Engineering and Sciences | Merrillville | IN |
| DeAndre Lynch | BSCMPE | College of Engineering and Sciences | Indianapolis | IN |
| Jonathan Nourie | BSCMPE | College of Engineering and Sciences | Crown Point | IN |
| Jeffrey Osmulski | BSCMPE | College of Engineering and Sciences | Schererville | IN |
| Miguel Palacios | BSCMPE | College of Engineering and Sciences | Dyer | IN |
| Jered Pawlak | BSCMPE | College of Engineering and Sciences | Crown Point | IN |
| Moises Picazzo | BSCMPE | College of Engineering and Sciences | East Chicago | IN |
| Christian Ramirez | BSCMPE | College of Engineering and Sciences | Hobart | IN |
| Eliasart Rodriguez | BSCMPE | College of Engineering and Sciences | Dyer | IN |
| Tyler Soffa | BSCMPE | College of Engineering and Sciences | Crown Point | IN |
| Matthew Wright | BSCMPE | College of Engineering and Sciences | Mishawaka | IN |
| Amjad Alshamaileh | BSEE | College of Engineering and Sciences | Munster | IN |
| Alejandro Alvarez | BSEE | College of Engineering and Sciences | Calumet City | IL |
| Jack Downs | BSEE | College of Engineering and Sciences | Chicago | IL |
| Mark Frost | BSEE | College of Engineering and Sciences | Hammond | IN |
| Brandon Haczynski | BSEE | College of Engineering and Sciences | Crown Point | IN |
| Guillermo Hernandez | BSEE | College of Engineering and Sciences | Hammond | IN |
| Isaiah Huppenthal | BSEE | College of Engineering and Sciences | Dyer | IN |
| Andrew Kane | BSEE | College of Engineering and Sciences | Portage | IN |
| Mike Lindeman | BSEE | College of Engineering and Sciences | Schererville | IN |
| Christian Medrano | BSEE | College of Engineering and Sciences | Aurora | IL |
| Hieu Nguyen | BSEE | College of Engineering and Sciences | Granger | IN |
| Ethan O'Riley | BSEE | College of Engineering and Sciences | Hammond | IN |
| Jered Pawlak | BSEE | College of Engineering and Sciences | Crown Point | IN |
| Alexander Plys | BSEE | College of Engineering and Sciences | Schererville | IN |
| Joshua Price | BSEE | College of Engineering and Sciences | Hammond | IN |
| Ridwan Rahman | BSEE | College of Engineering and Sciences | Bridgeview | IL |
| Brendan Rathbone-Desch | BSEE | College of Engineering and Sciences | Chicago | IL |
| Brennan Shank | BSEE | College of Engineering and Sciences | Elkhart | IN |
| Jalin Shavers | BSEE | College of Engineering and Sciences | Hammond | IN |
| Christian Simmons | BSEE | College of Engineering and Sciences | Chicago | IL |
| Regan Sink | BSEE | College of Engineering and Sciences | Chesterton | IN |
| Jose Abarca Martinez | BSME | College of Engineering and Sciences | Hammond | IN |
| Julia Brown | BSME | College of Engineering and Sciences | Griffith | IN |
| Kathryn Bryzgalski | BSME | College of Engineering and Sciences | Homewood | IL |
| Maxamillion Correa | BSME | College of Engineering and Sciences | Westville | IN |
| Pietro Coso | BSME | College of Engineering and Sciences | La Porte | IN |
| Nathaniel Doan | BSME | College of Engineering and Sciences | Bloomingdale | IN |
| Luis Enriquez | BSME | College of Engineering and Sciences | Saint John | IN |
| Jonathan Flores | BSME | College of Engineering and Sciences | Romeoville | IL |
| Jakob Hafer | BSME | College of Engineering and Sciences | Grant Park | IL |
| Dylan Hayes | BSME | College of Engineering and Sciences | Union Mills | IN |
| Mary Helton | BSME | College of Engineering and Sciences | Chesterton | IN |
| Emily Higley | BSME | College of Engineering and Sciences | Dyer | IN |
| Anthony Iacopelli | BSME | College of Engineering and Sciences | Canton | MI |
| Nisrin Issa | BSME | College of Engineering and Sciences | Crown Point | IN |
| Michael Jerde | BSME | College of Engineering and Sciences | La Porte | IN |
| James Kowalski | BSME | College of Engineering and Sciences | Crown Point | IN |
| Christine Leach | BSME | College of Engineering and Sciences | Plainfield | IL |
| Joseph Madrigal | BSME | College of Engineering and Sciences | Lake Village | IN |
| John McKee | BSME | College of Engineering and Sciences | Chesterton | IN |
| Matthew Michel | BSME | College of Engineering and Sciences | Munster | IN |
| Andrew Norvil | BSME | College of Engineering and Sciences | Lowell | IN |
| Nickolas Nykiel | BSME | College of Engineering and Sciences | Schererville | IN |
| Samuel Ophoff | BSME | College of Engineering and Sciences | Cedar Lake | IN |
| Timothy Petroulakis | BSME | College of Engineering and Sciences | Fort Wayne | IN |
| Zachary Pinkston | BSME | College of Engineering and Sciences | Tinley Park | IL |
| Andrew Riddle | BSME | College of Engineering and Sciences | Munster | IN |
| John Rosser | BSME | College of Engineering and Sciences | Portage | IN |
| Casper Rusin | BSME | College of Engineering and Sciences | Valparaiso | IN |
| Dakota Sampson | BSME | College of Engineering and Sciences | Merrillville | IN |
| Enrique Serna | BSME | College of Engineering and Sciences | Hammond | IN |
| Ross Smith | BSME | College of Engineering and Sciences | Griffith | IN |
| Michael Szumlas | BSME | College of Engineering and Sciences | Munster | IN |
| Violet Urban | BSME | College of Engineering and Sciences | Munster | IN |
| Trevor Van Overloop | BSME | College of Engineering and Sciences | Cedar Lake | IN |
| Luke Wadkins | BSME | College of Engineering and Sciences | Hammond | IN |
| Austin Wattles | BSME | College of Engineering and Sciences | Portage | IN |
| Jake Wiggins | BSME | College of Humanities, Education and Social Sciences | Schererville | IN |
| Anthony Agne | BA | College of Humanities, Education and Social Sciences | Plainfield | IL |
| Gerald Akujobi | BA | College of Humanities, Education and Social Sciences | Merrillville | IN |
| Eric Alaniz | BA | College of Humanities, Education and Social Sciences | Hammond | IN |
| Xavier Allison | BA | College of Humanities, Education and Social Sciences | Carlsbad | CA |
| Shadia Alnajjar | BA | College of Humanities, Education and Social Sciences | Highland | IN |
| Cassandra Andrews | BA | College of Humanities, Education and Social Sciences | Lowell | IN |
| Perla Arellano | BA | College of Humanities, Education and Social Sciences | Schererville | IN |
| Abbey Babe | BA | College of Humanities, Education and Social Sciences | Demotte | IN |
| Katerina Bakas | BA | College of Humanities, Education and Social Sciences | Valparaiso | IN |
| Brent Barton | BA | College of Humanities, Education and Social Sciences | Michigan City | IN |
| Brittnie Beach | BA | College of Humanities, Education and Social Sciences | Knox | IN |
| Tyshawn Beasley | BA | College of Humanities, Education and Social Sciences | Westville | IN |
| Hailey Bengtson | BA | College of Humanities, Education and Social Sciences | Crown Point | IN |
| Emma Bennett | BA | College of Humanities, Education and Social Sciences | Saint John | IN |
| Chrysta Bishop | BA | College of Humanities, Education and Social Sciences | Whiting | IN |
| Nemanja Bogunovic | BA | College of Humanities, Education and Social Sciences | Munster | IN |
| Maria Boose-Jones | BA | College of Humanities, Education and Social Sciences | Gary | IN |
| Savannah Braman | BA | College of Humanities, Education and Social Sciences | Michigan City | IN |
| Michelle Breslan | BA | College of Humanities, Education and Social Sciences | Hamlet | IN |
| Hector Cabrera | BA | College of Humanities, Education and Social Sciences | Hammond | IN |
| Gabriela Cains | BA | College of Humanities, Education and Social Sciences | Michigan City | IN |
| Emily Canning | BA | College of Humanities, Education and Social Sciences | Whiting | IN |
| Christian Castillo | BA | College of Humanities, Education and Social Sciences | East Chicago | IN |
| Sarah Cavazos | BA | College of Humanities, Education and Social Sciences | Griffith | IN |
| Maria Chaples | BA | College of Humanities, Education and Social Sciences | Michigan City | IN |
| Allison Chavez | BA | College of Humanities, Education and Social Sciences | Schererville | IN |
| Yolanda Chavez | BA | College of Humanities, Education and Social Sciences | Chicago | IL |
| Anna Cochrane | BA | College of Humanities, Education and Social Sciences | Gary | IN |
| Sarah Colby | BA | College of Humanities, Education and Social Sciences | Crown Point | IN |
| Lonzhane Coleman | BA | College of Humanities, Education and Social Sciences | Gary | IN |
| Natalie Conde | BA | College of Humanities, Education and Social Sciences | Hammond | IN |
| Amber Cooper | BA | College of Humanities, Education and Social Sciences | Lowell | IN |
| Gavin Coppage | BA | College of Humanities, Education and Social Sciences | Wheatfield | IN |
| Stephaine Cordova | BA | College of Humanities, Education and Social Sciences | Hammond | IN |
| Fabiola Cortes | BA | College of Humanities, Education and Social Sciences | Hammond | IN |
| Holly Coslet | BA | College of Humanities, Education and Social Sciences | Chesterton | IN |
| Mason Crist | BA | College of Humanities, Education and Social Sciences | Merrillville | IN |
| Shyleena Cruz | BA | College of Humanities, Education and Social Sciences | Hobart | IN |
| Robert Dillon | BA | College of Humanities, Education and Social Sciences | Crown Point | IN |
| Victoria Dobrowski | BA | College of Humanities, Education and Social Sciences | Hebron | IN |
| Anthony Drake | BA | College of Humanities, Education and Social Sciences | Highland | IN |
| Monica Duarte | BA | College of Humanities, Education and Social Sciences | La Porte | IN |
| Josephine Echegaray | BA | College of Humanities, Education and Social Sciences | East Chicago | IN |
| Jewel Elam | BA | College of Humanities, Education and Social Sciences | Hebron | IN |
| Joseph Ellison | BA | College of Humanities, Education and Social Sciences | Valparaiso | IN |
| Myiam Erwin | BA | College of Humanities, Education and Social Sciences | Park Forest | IL |
| Marcelina Espinosa | BA | College of Humanities, Education and Social Sciences | Gary | IN |
| Jennifer Evanich | BA | College of Humanities, Education and Social Sciences | Hobart | IN |
| Jessica Ferrell | BA | College of Humanities, Education and Social Sciences | Valparaiso | IN |
| Kameran Fleets | BA | College of Humanities, Education and Social Sciences | Gary | IN |
| Jasmine Flowers | BA | College of Humanities, Education and Social Sciences | East Chicago | IN |
| Alexandra Ford | BA | College of Humanities, Education and Social Sciences | Hammond | IN |
| Mariah Fowler | BA | College of Humanities, Education and Social Sciences | Griffith | IN |
| Madelynn Frump | BA | College of Humanities, Education and Social Sciences | Valparaiso | IN |
| Martha Gallegos Contreras | BA | College of Humanities, Education and Social Sciences | Hammond | IN |
| Emily Garwood | BA | College of Humanities, Education and Social Sciences | La Porte | IN |
| Kathleen Garza | BA | College of Humanities, Education and Social Sciences | Portage | IN |
| Marisa Gentry | BA | College of Humanities, Education and Social Sciences | Portage | IN |
| John Gleason | BA | College of Humanities, Education and Social Sciences | Grant Park | IL |
| Jenna Gloy | BA | College of Humanities, Education and Social Sciences | Michigan City | IN |
| Ruben Gonzalez | BA | College of Humanities, Education and Social Sciences | Hammond | IN |
| Brian Goodman | BA | College of Humanities, Education and Social Sciences | Dyer | IN |
| Selina Grankowski | BA | College of Humanities, Education and Social Sciences | Whiting | IN |
| Benjamin Grimler | BA | College of Humanities, Education and Social Sciences | Highland | IN |
| Claire Hagan | BA | College of Humanities, Education and Social Sciences | Portage | IN |
| Breanna Hamilton | BA | College of Humanities, Education and Social Sciences | Griffith | IN |
| Juli Hanna | BA | College of Humanities, Education and Social Sciences | Chesterton | IN |
| Porche Harrell | BA | College of Humanities, Education and Social Sciences | Chicago | IL |
| Stephanie Hernandez | BA | College of Humanities, Education and Social Sciences | Hammond | IN |
| Gabriella Hill | BA | College of Humanities, Education and Social Sciences | Hammond | IN |
| Kristie Hill | BA | College of Humanities, Education and Social Sciences | Portage | IN |
| Blair Hochstetler | BA | College of Humanities, Education and Social Sciences | Hammond | IN |
| Skyler Hosfeld | BA | College of Humanities, Education and Social Sciences | Crown Point | IN |
| Becca Jensen | BA | College of Humanities, Education and Social Sciences | Michigan City | IN |
| Ashantae Johnson | BA | College of Humanities, Education and Social Sciences | Merrillville | IN |
| LaRon Jones | BA | College of Humanities, Education and Social Sciences | Hobart | IN |
| Ismael Juarez | BA | College of Humanities, Education and Social Sciences | Cedar Lake | IN |
| Caitlyn Kalisik | BA | College of Humanities, Education and Social Sciences | Hobart | IN |
| Rhiannon Kaminski | BA | College of Humanities, Education and Social Sciences | Valparaiso | IN |
| Luke Karas | BA | College of Humanities, Education and Social Sciences | Hammond | IN |
| Gretchen Kasper | BA | College of Humanities, Education and Social Sciences | Hobart | IN |
| Mackenzie Keen | BA | College of Humanities, Education and Social Sciences | Demotte | IN |
| Darius-Jordan Kendall | BA | College of Humanities, Education and Social Sciences | Merrillville | IN |
| Addison Klausner | BA | College of Humanities, Education and Social Sciences | Hammond | IN |
| Danielle Kmiec | BA | College of Humanities, Education and Social Sciences | La Porte | IN |
| Bradley Knight | BA | College of Humanities, Education and Social Sciences | Hammond | IN |
| Emily Koditek | BA | College of Humanities, Education and Social Sciences | Fort Wayne | IN |
| Amy Kotaska | BA | College of Humanities, Education and Social Sciences | Michigan City | IN |
| Valerie Kozlowski | BA | College of Humanities, Education and Social Sciences | Cedar Lake | IN |
| Michaela Krysinski | BA | College of Humanities, Education and Social Sciences | Dyer | IN |
| Carlie Lancaster | BA | College of Humanities, Education and Social Sciences | Valparaiso | IN |
| Richelle Lehman | BA | College of Humanities, Education and Social Sciences | Valparaiso | IN |
| Nicole Leonard | BA | College of Humanities, Education and Social Sciences | Hobart | IN |
| Kira Lisle | BA | College of Humanities, Education and Social Sciences | Griffith | IN |
| Emily Long | BA | College of Humanities, Education and Social Sciences | Munster | IN |
| Paige Loredo | BA | College of Humanities, Education and Social Sciences | Crown Point | IN |
| William Maddy | BA | College of Humanities, Education and Social Sciences | Schererville | IN |
| Rebecca Magana | BA | College of Humanities, Education and Social Sciences | Hammond | IN |
| Nathan Marciniec | BA | College of Humanities, Education and Social Sciences | Crown Point | IN |
| Justin Martin | BA | College of Humanities, Education and Social Sciences | Michigan City | IN |
| Nancy Martinez | BA | College of Humanities, Education and Social Sciences | Hammond | IN |
| Raquel Mccafferty | BA | College of Humanities, Education and Social Sciences | Portage | IN |
| Jessica McLean | BA | College of Humanities, Education and Social Sciences | Wheatfield | IN |
| Coren Meister | BA | College of Humanities, Education and Social Sciences | North Judson | IN |
| Sarah Melton | BA | College of Humanities, Education and Social Sciences | Portage | IN |
| Brittany Mendoza | BA | College of Humanities, Education and Social Sciences | Crown Point | IN |
| Peter Merlo | BA | College of Humanities, Education and Social Sciences | Dyer | IN |
| Kaitlyn Meyer | BA | College of Humanities, Education and Social Sciences | Griffith | IN |
| Arnulfo Meza | BA | College of Humanities, Education and Social Sciences | Hammond | IN |
| Gillian Miller | BA | College of Humanities, Education and Social Sciences | Union Mills | IN |
| Tyler Miller | BA | College of Humanities, Education and Social Sciences | Rolling Prairie | IN |
| Petrina Monroe | BA | College of Humanities, Education and Social Sciences | Crown Point | IN |
| Cailie Morgan | BA | College of Humanities, Education and Social Sciences | Momence | IL |
| Christine Morikis | BA | College of Humanities, Education and Social Sciences | Hobart | IN |
| William Morris | BA | College of Humanities, Education and Social Sciences | Dyer | IN |
| Tina Morse | BA | College of Humanities, Education and Social Sciences | Michigan City | IN |
| Alicia Napules | BA | College of Humanities, Education and Social Sciences | Crown Point | IN |
| Jeremy Nicholson | BA | College of Humanities, Education and Social Sciences | Chesterton | IN |
| Jacob Nietfeldt | BA | College of Humanities, Education and Social Sciences | Peotone | IL |
| Natalie Nondorf | BA | College of Humanities, Education and Social Sciences | Portage | IN |
| Ivan Nunez | BA | College of Humanities, Education and Social Sciences | Chicago | IL |
| Shaina O'Connor | BA | College of Humanities, Education and Social Sciences | Highland | IN |
| Brian Oduor | BA | College of Humanities, Education and Social Sciences | South Bend | IN |
| Jacob Oviedo | BA | College of Humanities, Education and Social Sciences | Hammond | IN |
| Stephanie Parish | BA | College of Humanities, Education and Social Sciences | Michigan City | IN |
| Rachel Pennington | BA | College of Humanities, Education and Social Sciences | Circleville | OH |
| Lita Peters | BA | College of Humanities, Education and Social Sciences | Chesterton | IN |
| Skylar Petho | BA | College of Humanities, Education and Social Sciences | Hammond | IN |
| Shonali Pierce | BA | College of Humanities, Education and Social Sciences | Chicago | IL |
| Viviana Plaza | BA | College of Humanities, Education and Social Sciences | Portage | IN |
| Krystyna Plebanski | BA | College of Humanities, Education and Social Sciences | Highland | IN |
| Valerie Plinovich | BA | College of Humanities, Education and Social Sciences | Portage | IN |
| Lucas Pospychala | BA | College of Humanities, Education and Social Sciences | Griffith | IN |
| Leonard Powell | BA | College of Humanities, Education and Social Sciences | Gary | IN |
| Genesis Price | BA | College of Humanities, Education and Social Sciences | East Chicago | IN |
| Jacob Price | BA | College of Humanities, Education and Social Sciences | Hammond | IN |
| Brittany Privett | BA | College of Humanities, Education and Social Sciences | Chesterton | IN |
| Erik Prokop | BA | College of Humanities, Education and Social Sciences | Crown Point | IN |
| Mitchell Prorwicz | BA | College of Humanities, Education and Social Sciences | Chesterton | IN |
| Kelly Read | BA | College of Humanities, Education and Social Sciences | Dyer | IN |
| Emma Ritchie | BA | College of Humanities, Education and Social Sciences | Schererville | IN |
| Carrington Ritter | BA | College of Humanities, Education and Social Sciences | Griffith | IN |
| Kady Salapatas | BA | College of Humanities, Education and Social Sciences | Crown Point | IN |
| Sonny Santana | BA | College of Humanities, Education and Social Sciences | Hammond | IN |
| Elbert Santare | BA | College of Humanities, Education and Social Sciences | Hammond | IN |
| Elisa Sauseda | BA | College of Humanities, Education and Social Sciences | Hammond | IN |
| Sarah Scasny | BA | College of Humanities, Education and Social Sciences | Crown Point | IN |
| Sarah Schoon | BA | College of Humanities, Education and Social Sciences | Saint John | IN |
| Elizabeth Schroeder | BA | College of Humanities, Education and Social Sciences | Valparaiso | IN |
| Elyse Schurg | BA | College of Humanities, Education and Social Sciences | Crown Point | IN |
| Sahia Serrano | BA | College of Humanities, Education and Social Sciences | Gary | IN |
| Tarah Shaw | BA | College of Humanities, Education and Social Sciences | East Chicago | IN |
| Eric Skenandore | BA | College of Humanities, Education and Social Sciences | Highland | IN |
| Lauren Skvorak | BA | College of Humanities, Education and Social Sciences | Whiting | IN |
| Wesley Smith | BA | College of Humanities, Education and Social Sciences | Valparaiso | IN |
| Rachel Smock | BA | College of Humanities, Education and Social Sciences | Portage | IN |
| Chandler Spring | BA | College of Humanities, Education and Social Sciences | Granger | IN |
| Taylor Stevens | BA | College of Humanities, Education and Social Sciences | Hebron | IN |
| Te'Aire Storm | BA | College of Humanities, Education and Social Sciences | Hammond | IN |
| Sabrina Swart | BA | College of Humanities, Education and Social Sciences | Cedar Lake | IN |
| Julia Swibes | BA | College of Humanities, Education and Social Sciences | Munster | IN |
| Amanda Swims | BA | College of Humanities, Education and Social Sciences | Hobart | IN |
| Eric Tanis | BA | College of Humanities, Education and Social Sciences | Gary | IN |
| Karrie Thibideau | BA | College of Humanities, Education and Social Sciences | Lowell | IN |
| Paola Torres Mancilla | BA | College of Humanities, Education and Social Sciences | Highland | IN |
| Taylor Tracy | BA | College of Humanities, Education and Social Sciences | Crown Point | IN |
| Jamie Trunick | BA | College of Humanities, Education and Social Sciences | Valparaiso | IN |
| Ashlee Turnbough | BA | College of Humanities, Education and Social Sciences | Schererville | IN |
| Kayla Vasilko | BA | College of Humanities, Education and Social Sciences | Crown Point | IN |
| Nancy Vega | BA | College of Humanities, Education and Social Sciences | Saint John | IN |
| David Ventura | BA | College of Humanities, Education and Social Sciences | Saint John | IN |
| Shekinah Walton | BA | College of Humanities, Education and Social Sciences | Munster | IN |
| Hannah Watts | BA | College of Humanities, Education and Social Sciences | Hammond | IN |
| Deanna Weldon | BA | College of Humanities, Education and Social Sciences | Hobart | IN |
| Jessica Wood | BA | College of Humanities, Education and Social Sciences | Valparaiso | IN |
| Tianqi Zhu | BA | College of Humanities, Education and Social Sciences | Highland | IN |
| Kalina Ziemlo | BA | College of Humanities, Education and Social Sciences | Demotte | IN |
| Summer Bakker | BLS | College of Humanities, Education and Social Sciences | Schererville | IN |
| Julie Cash | BLS | College of Humanities, Education and Social Sciences | Chesterton | IN |
| Danica Charnetzky | BLS | College of Humanities, Education and Social Sciences | Portage | IN |
| Paige Dombrowski | BLS | College of Humanities, Education and Social Sciences | Saint John | IN |
| Caragh Emmet | BLS | College of Humanities, Education and Social Sciences | Portage | IN |
| Alexis Frame | BLS | College of Humanities, Education and Social Sciences | La Porte | IN |
| Tyler Goodman | BLS | College of Humanities, Education and Social Sciences | Portage | IN |
| Paul Hohos | BLS | College of Humanities, Education and Social Sciences | Crown Point | IN |
| Nicholas Luna Jr. | BLS | College of Humanities, Education and Social Sciences | Schererville | IN |
| Jada Major | BLS | College of Humanities, Education and Social Sciences | Portage | IN |
| Andrey Musallyamov | BLS | College of Humanities, Education and Social Sciences | Valparaiso | IN |
| Sabina Noel | BLS | College of Humanities, Education and Social Sciences | Hebron | IN |
| Jeremy Ogrizovich | BLS | College of Humanities, Education and Social Sciences | Dyer | IN |
| Griffin Rhyne | BLS | College of Humanities, Education and Social Sciences | St John | IN |
| Aleksi Selby | BLS | College of Humanities, Education and Social Sciences | Portage | IN |
| Taylor Small | BLS | College of Humanities, Education and Social Sciences | Michigan City | IN |
| David Uremovich | BLS | College of Humanities, Education and Social Sciences | Roswell | GA |
| Samuel Wagner | BLS | College of Humanities, Education and Social Sciences | Munster | IN |
| Daniel Waller | BLS | College of Humanities, Education and Social Sciences | Michigan City | IN |
| Lucinda Appelman | BS | College of Humanities, Education and Social Sciences | Portage | IN |
| Samantha Bruscemi | BS | College of Humanities, Education and Social Sciences | Crown Point | IN |
| Esmie Chavez | BS | College of Humanities, Education and Social Sciences | Portage | IN |
| Meghan Courts | BS | College of Humanities, Education and Social Sciences | Riverdale | IL |
| Kimberly De Santiago | BS | College of Humanities, Education and Social Sciences | East Chicago | IN |
| Emma DeGroot | BS | College of Humanities, Education and Social Sciences | Saint John | IN |
| Jessica Fleming | BS | College of Humanities, Education and Social Sciences | Westville | IN |
| Cathryn Hampton | BS | College of Humanities, Education and Social Sciences | Argos | IN |
| Raymond Hansen | BS | College of Humanities, Education and Social Sciences | Chicago | IL |
| Rebecca Hasley | BS | College of Humanities, Education and Social Sciences | Dyer | IN |
| Brehana Johnson | BS | College of Humanities, Education and Social Sciences | Michigan City | IN |
| Nicole Kelly | BS | College of Humanities, Education and Social Sciences | Crown Point | IN |
| Shania Lubarski | BS | College of Humanities, Education and Social Sciences | Chesterton | IN |
| Tristan Murphy | BS | College of Humanities, Education and Social Sciences | Hammond | IN |
| Amy Nieves | BS | College of Humanities, Education and Social Sciences | Chesterton | IN |
| Ian Norris | BS | College of Humanities, Education and Social Sciences | Valparaiso | IN |
| Brennon Palmer | BS | College of Humanities, Education and Social Sciences | Fullerton | CA |
| Marie Puente | BS | College of Humanities, Education and Social Sciences | Highland | IN |
| Dillon Quinones | BS | College of Humanities, Education and Social Sciences | Portage | IN |
| Nicole Reichert | BS | College of Humanities, Education and Social Sciences | Thornton | IL |
| Ashley Ripley | BS | College of Humanities, Education and Social Sciences | Crown Point | IN |
| Olivia Rivera | BS | College of Humanities, Education and Social Sciences | Michigan City | IN |
| Caitlyn Rogers | BS | College of Humanities, Education and Social Sciences | Sevierville | TN |
| Erin Shine | BS | College of Humanities, Education and Social Sciences | Portage | IN |
| Shannon Smyth | BS | College of Humanities, Education and Social Sciences | Crown Point | IN |
| Jami Spiegel | BS | College of Humanities, Education and Social Sciences | Chesterton | IN |
| Dino Topcagic | BS | College of Humanities, Education and Social Sciences | Valparaiso | IN |
| Diane Torres | BS | College of Humanities, Education and Social Sciences | Griffith | IN |
| Madisson Westlund | BS | College of Humanities, Education and Social Sciences | Union Mills | IN |
| Taylor Wheeler | BS | College of Humanities, Education and Social Sciences | Valparaiso | IN |
| Jennifer Wittmer | BS | College of Humanities, Education and Social Sciences | Kouts | IN |
| Loyane Abreu | BSN | College of Nursing | New Albany | OH |
| Kidist Achenef | BSN | College of Nursing | Chicago | IL |
| Alexander Alonso | BSN | College of Nursing | Orland Park | IL |
| Caitlin Anker | BSN | College of Nursing | Cedar Lake | IN |
| Alexandra Aragon | BSN | College of Nursing | Palatine | IL |
| Jacob Atchison | BSN | College of Nursing | Crown Point | IN |
| Kathleen Aton | BSN | College of Nursing | Merrillville | IN |
| Alaska Austin | BSN | College of Nursing | Valparaiso | IN |
| Senami Avoseh | BSN | College of Nursing | Markham | IL |
| Amir Awwad | BSN | College of Nursing | Burbank | IL |
| Anjulee Bakshi | BSN | College of Nursing | Michigan City | IN |
| Helena Banach | BSN | College of Nursing | Aurora | IL |
| Leah Barkley | BSN | College of Nursing | Glen Ellyn | IL |
| Alissa Bartlett | BSN | College of Nursing | Plano | IL |
| Hannah Bass | BSN | College of Nursing | Ada | OH |
| Dane Baugh | BSN | College of Nursing | Hoffman Estates | IL |
| Demitria Beach | BSN | College of Nursing | Lafayette | IN |
| Danielle Biancardi | BSN | College of Nursing | Crown Point | IN |
| Madeline Biancardi | BSN | College of Nursing | Crown Point | IN |
| Ashley Biro | BSN | College of Nursing | Hammond | IN |
| Anne Boucher | BSN | College of Nursing | Highland Park | IL |
| Kristina Branoska | BSN | College of Nursing | Crown Point | IN |
| Haley Bronk | BSN | College of Nursing | La Porte | IN |
| Abigail Brown | BSN | College of Nursing | Chesterton | IN |
| Jessica Brownfield | BSN | College of Nursing | Forsyth | IL |
| Sandra Buckner | BSN | College of Nursing | Knoxville | TN |
| Brooke Bunchek | BSN | College of Nursing | Wheatfield | IN |
| Maria Bura | BSN | College of Nursing | Lincolnwood | IL |
| Stephanie Burge | BSN | College of Nursing | Lake Station | IN |
| Allison Burger | BSN | College of Nursing | Bourbonnais | IL |
| Brianna Camacho | BSN | College of Nursing | Hammond | IN |
| Jebory Capungan | BSN | College of Nursing | Arlington Heights | IL |
| Lisa Carbone | BSN | College of Nursing | Round Lake Beach | IL |
| Genessis Carvajal | BSN | College of Nursing | Indianapolis | IN |
| Samantha Chappell | BSN | College of Nursing | Michigan City | IN |
| Esther Chisani | BSN | College of Nursing | South Bend | IN |
| Ieva Ciccio | BSN | College of Nursing | New Lenox | IL |
| Kama Clapper-Erpelding | BSN | College of Nursing | Laotto | IN |
| Madison Clark | BSN | College of Nursing | Philo | IL |
| Daniel Colin | BSN | College of Nursing | Chicago | IL |
| Dianne Cometa | BSN | College of Nursing | Dyer | IN |
| Meda Comnoiu | BSN | College of Nursing | Mundelein | IL |
| Gabriela Contreras-Gomez | BSN | College of Nursing | Cicero | IL |
| Katheryn Cooprider | BSN | College of Nursing | Gurnee | IL |
| Kelly Cournane | BSN | College of Nursing | Oak Forest | IL |
| Jennifer Crague | BSN | College of Nursing | Schererville | IN |
| Jacob Crepinsek | BSN | College of Nursing | Fishers | IN |
| Phalla Cristancho | BSN | College of Nursing | Chicago | IL |
| Cheryl Crozier | BSN | College of Nursing | Gary | IN |
| Maggie Curran | BSN | College of Nursing | Lake in the Hills | IL |
| Ayyob Dahmash | BSN | College of Nursing | Bridgeview | IL |
| Phea Dam | BSN | College of Nursing | Harwood Heights | IL |
| Brenda Delgado | BSN | College of Nursing | Morris | IL |
| Raphaela Diawatan | BSN | College of Nursing | Westmont | IL |
| Amanda Dickerson | BSN | College of Nursing | Terre Haute | IN |
| Mikaela Didier | BSN | College of Nursing | Saint Charles | IL |
| Suzana Djordjevic | BSN | College of Nursing | Saint Charles | IL |
| Paul Doan | BSN | College of Nursing | Plainfield | IL |
| Kaitlyn Dombrowsky | BSN | College of Nursing | La Porte | IN |
| Karolina Dudzinski | BSN | College of Nursing | Arlington Heights | IL |
| Yoana Dzhugdanova | BSN | College of Nursing | Schaumburg | IL |
| Marcy Evans | BSN | College of Nursing | Lansing | IL |
| Rebecca Feucht | BSN | College of Nursing | Fostoria | OH |
| Brenda Fiechter | BSN | College of Nursing | Leo | IN |
| Allie Fiedler | BSN | College of Nursing | Clarendon Hills | IL |
| Anna Finnell | BSN | College of Nursing | Merrill | WI |
| Kaylie Fisher | BSN | College of Nursing | Park Forest | IL |
| Charlotte Fletcher | BSN | College of Nursing | Naperville | IL |
| Erika Fortes | BSN | College of Nursing | Downers Grove | IL |
| Jacqui Foshee | BSN | College of Nursing | Rossville | IN |
| Christina Foy | BSN | College of Nursing | Hebron | IN |
| Elena Garabajiu | BSN | College of Nursing | Lemont | IL |
| Amalin Garcia | BSN | College of Nursing | Aurora | IL |
| David Garcia | BSN | College of Nursing | Crown Point | IN |
| Larissa Garcia | BSN | College of Nursing | Crown Point | IN |
| Madison Gehring | BSN | College of Nursing | Rensselaer | IN |
| Stephanie Gibb | BSN | College of Nursing | Sheridan | IL |
| Leah Graff | BSN | College of Nursing | Brooklyn | WI |
| Taylor Graham | BSN | College of Nursing | Beecher | IL |
| Tammy Groshek | BSN | College of Nursing | Amherst | WI |
| Anne Charmine Guerrero | BSN | College of Nursing | River Grove | IL |
| Layla Hamad | BSN | College of Nursing | Berwyn | IL |
| Mallory Hanewich | BSN | College of Nursing | Rensselaer | IN |
| Renee Hansen | BSN | College of Nursing | Woodstock | IL |
| Lilybeth Haque | BSN | College of Nursing | Itasca | IL |
| Krista Hart | BSN | College of Nursing | Sleepy Hollow | IL |
| Justine Heggem | BSN | College of Nursing | Cary | IL |
| Samantha Hehr | BSN | College of Nursing | Chesterton | IN |
| Alyssa Heider | BSN | College of Nursing | Tonica | IL |
| Brianna Henderson | BSN | College of Nursing | Chicago | IL |
| Nydia Hernandez | BSN | College of Nursing | Chicago | IL |
| Jesus Herrera | BSN | College of Nursing | Montgomery | IL |
| Lee Herschberger | BSN | College of Nursing | Granger | IN |
| Stephen Heyward | BSN | College of Nursing | Awendaw | SC |
| Maria Higer | BSN | College of Nursing | Colfax | IN |
| Alyssa Hilker | BSN | College of Nursing | Waupaca | WI |
| Grace Hoeller | BSN | College of Nursing | Tinley Park | IL |
| Regan Hooper | BSN | College of Nursing | Manhattan | IL |
| Kristin Jacobson | BSN | College of Nursing | Frankfort | IL |
| Megan James | BSN | College of Nursing | Highland | IN |
| Krista Jewel | BSN | College of Nursing | Elkhart | IN |
| Shana Johnson | BSN | College of Nursing | Hoffman Estates | IL |
| Simone Johnson | BSN | College of Nursing | Chicago Heights | IL |
| Anna Jones | BSN | College of Nursing | Valparaiso | IN |
| Serene Jones | BSN | College of Nursing | Crest Hill | IL |
| Laura Kanis | BSN | College of Nursing | Downers Grove | IL |
| Leslie Kaniuk | BSN | College of Nursing | Valparaiso | IN |
| Laura Kavitz | BSN | College of Nursing | Hammond | WI |
| Margaret Kazmer | BSN | College of Nursing | Carol Stream | IL |
| Larissa Kile | BSN | College of Nursing | Plano | IL |
| HeeJung Kim | BSN | College of Nursing | Los Angeles | CA |
| Qia King | BSN | College of Nursing | Hammond | IN |
| Benjamin Kluck | BSN | College of Nursing | Rosholt | WI |
| Joyce Koenig | BSN | College of Nursing | Woodridge | IL |
| Lauren Konczal | BSN | College of Nursing | Chicago Heights | IL |
| Megan Korous | BSN | College of Nursing | Whitestown | IN |
| Jacob Koselke | BSN | College of Nursing | Wanatah | IN |
| Hannah Kraus | BSN | College of Nursing | Elk Grove Village | IL |
| Sarah Kraut | BSN | College of Nursing | Chicago | IL |
| Rachel Kruhaj | BSN | College of Nursing | Griffith | IN |
| Gintare Kucinske | BSN | College of Nursing | Orland Park | IL |
| Lauren Kueteman | BSN | College of Nursing | Earlville | IL |
| Jasmine Kuro | BSN | College of Nursing | Bartlett | IL |
| Kandice Kuypers | BSN | College of Nursing | Valparaiso | IN |
| Keri Lamb | BSN | College of Nursing | Catlin | IL |
| Edward Lambert | BSN | College of Nursing | Saint John | IN |
| Catina LaMotte | BSN | College of Nursing | Garrett | IN |
| Toby Lamp | BSN | College of Nursing | Leesburg | IN |
| Abigail Langlotz | BSN | College of Nursing | Schaumburg | IL |
| Ariel Lara | BSN | College of Nursing | Schererville | IN |
| Jennifer Lee | BSN | College of Nursing | Wilmette | IL |
| Amanda Leever | BSN | College of Nursing | Bartlett | IL |
| Sheron Lewis | BSN | College of Nursing | South Holland | IL |
| Jennifer Libers | BSN | College of Nursing | Deforest | WI |
| Nicole Longdon | BSN | College of Nursing | Arlington Heights | IL |
| Caitlyn Love | BSN | College of Nursing | Schofield | WI |
| Elizabeth Love | BSN | College of Nursing | Wadsworth | IL |
| Al'lena Lovelace | BSN | College of Nursing | Gary | IN |
| Jordan Lunara | BSN | College of Nursing | Hillsboro | VA |
| Katrina Machtemes | BSN | College of Nursing | Michigan City | IN |
| Jonas Malabunga | BSN | College of Nursing | Skokie | IL |
| Hannah Malekow | BSN | College of Nursing | Lockport | IL |
| Christian Manaois | BSN | College of Nursing | Morton Grove | IL |
| Donna Mannion | BSN | College of Nursing | Chesterton | IN |
| Xenia Manov | BSN | College of Nursing | Evanston | IL |
| Sara Martinez | BSN | College of Nursing | Hebron | IN |
| Kyle Mathews | BSN | College of Nursing | Brownsburg | IN |
| Toni Matzke | BSN | College of Nursing | De Pere | WI |
| Kyria McAllister | BSN | College of Nursing | Cedar Lake | IN |
| Aimee McMillin | BSN | College of Nursing | Lafayette | IN |
| Lauren McNellis | BSN | College of Nursing | Joliet | IL |
| Jeri Nichole McVey | BSN | College of Nursing | Geneva | IL |
| Brianna Meade | BSN | College of Nursing | Valparaiso | IN |
| Liliana Medina | BSN | College of Nursing | Chicago | IL |
| Jessica Mendoza | BSN | College of Nursing | Griffith | IN |
| Dawn Merrill | BSN | College of Nursing | Danville | IL |
| Jayden Minix | BSN | College of Nursing | North Judson | IN |
| Christabel Mintah | BSN | College of Nursing | Oakland | CA |
| Bonivenger Misiko | BSN | College of Nursing | Fort Wayne | IN |
| Agnieszka Ewelina Mokrzycka | BSN | College of Nursing | Gurnee | IL |
| Vianey Moncada | BSN | College of Nursing | Vernon Hills | IL |
| Yeonjung Moon | BSN | College of Nursing | Deerfield | IL |
| Jorge Morales | BSN | College of Nursing | Schererville | IN |
| Patricia Morgan | BSN | College of Nursing | Evergreen Park | IL |
| Julia Moroz | BSN | College of Nursing | Hammond | IN |
| Munkhdul Munkhbaatar | BSN | College of Nursing | Cedar Lake | IN |
| Verna Murphy | BSN | College of Nursing | Chicago | IL |
| Jayla Muse | BSN | College of Nursing | Homewood | IL |
| Allison Myers | BSN | College of Nursing | Wheatfield | IN |
| Julieth Neira | BSN | College of Nursing | Cudahy | WI |
| Amy Nelson | BSN | College of Nursing | Lowell | IN |
| Rosie Nguyen | BSN | College of Nursing | Carol Stream | IL |
| Brynn Nichol | BSN | College of Nursing | Griffith | IN |
| Cyle Nicholls | BSN | College of Nursing | Griffith | IN |
| Elena Nicola | BSN | College of Nursing | Chicago | IL |
| Mary Ann Nightingale | BSN | College of Nursing | Hammond | IN |
| Skyla Nikollaj | BSN | College of Nursing | Hobart | IN |
| Kristina Norton | BSN | College of Nursing | Round Lake | IL |
| Amy Norwich | BSN | College of Nursing | Frankfort | IL |
| Natasha Oehlerking | BSN | College of Nursing | Montgomery | IL |
| Elizabeth Olivarri | BSN | College of Nursing | Portage | IN |
| Julie Olnas | BSN | College of Nursing | Lake Bluff | IL |
| Melika Panahi | BSN | College of Nursing | Saint Charles | IL |
| Lindsey Pane | BSN | College of Nursing | Mount Prospect | IL |
| Jennifer Pavlinac | BSN | College of Nursing | Lowell | IN |
| Kendyl Pearson | BSN | College of Nursing | Crawfordsville | IN |
| Aminat Pedro | BSN | College of Nursing | Chicago | IL |
| Massielle Pena | BSN | College of Nursing | Chicago | IL |
| Grace Persion | BSN | College of Nursing | Des Plaines | IL |
| Amber Peterson | BSN | College of Nursing | La Porte | IN |
| John Phillips | BSN | College of Nursing | Ellettsville | IN |
| Karina Pina | BSN | College of Nursing | Chicago | IL |
| Patrycja Polkowska | BSN | College of Nursing | Des Plaines | IL |
| Emma Powell | BSN | College of Nursing | Philo | IL |
| Eve Powell | BSN | College of Nursing | Aurora | IL |
| Danielle Prchal | BSN | College of Nursing | Arlington Heights | IL |
| Heather Price | BSN | College of Nursing | Michigan City | IN |
| Marjorie Quilapio | BSN | College of Nursing | Wood Dale | IL |
| Sheilah Ramos | BSN | College of Nursing | Peoria | IL |
| Chelsea Reis | BSN | College of Nursing | Portage | IN |
| Victoria Rico | BSN | College of Nursing | Cedar Lake | IN |
| Brenda Riley | BSN | College of Nursing | La Porte | IN |
| McKenna Robbins | BSN | College of Nursing | Ashland | WI |
| Natasha Rodwell | BSN | College of Nursing | Chicago | IL |
| Janessa Rojas | BSN | College of Nursing | Griffith | IN |
| Jasmine Roman | BSN | College of Nursing | Portage | IN |
| Mallory Royer | BSN | College of Nursing | Marshall | IL |
| Steven Rozhon | BSN | College of Nursing | Lafayette | IN |
| Alexander Ruffetti | BSN | College of Nursing | New Lenox | IL |
| Paige Rybicki | BSN | College of Nursing | Hammond | IN |
| Suzanne Jan Saballa | BSN | College of Nursing | Bolingbrook | IL |
| Nicole Salemi | BSN | College of Nursing | Naperville | IL |
| Tabitha Sanders | BSN | College of Nursing | Chesterton | IN |
| Holly Santaguida | BSN | College of Nursing | Crown Point | IN |
| Arlene Santos | BSN | College of Nursing | Evanston | IL |
| Gregory Scherzinger | BSN | College of Nursing | Highland | IN |
| Bernadine Schwegman | BSN | College of Nursing | Batesville | IN |
| Chance Shea | BSN | College of Nursing | Lake Forest | IL |
| Liljana Shero | BSN | College of Nursing | Chicago | IL |
| Jessica Shope | BSN | College of Nursing | Lowell | IN |
| Kate Sienkowski | BSN | College of Nursing | Mishawaka | IN |
| Megan Siminski | BSN | College of Nursing | Palm Harbor | FL |
| Angela Smith | BSN | College of Nursing | Danville | IL |
| Paige Smith | BSN | College of Nursing | Valparaiso | IN |
| Matthew Solis | BSN | College of Nursing | Portage | IN |
| Nataliya Sosnova | BSN | College of Nursing | Lisle | IL |
| Deborah Stangle | BSN | College of Nursing | Saint Charles | IL |
| Sarah Stanton | BSN | College of Nursing | Antigo | WI |
| Alexis Starkey | BSN | College of Nursing | Munster | IN |
| Allyson Stater | BSN | College of Nursing | Hebron | IN |
| Maricela Stephens | BSN | College of Nursing | Schererville | IN |
| Haley Stevers | BSN | College of Nursing | Valparaiso | IN |
| Kristin Straley | BSN | College of Nursing | Chicago | IL |
| Loren Streeter | BSN | College of Nursing | Lowell | IN |
| Aleksandra Suleski | BSN | College of Nursing | Crown Point | IN |
| Nicole Swartz | BSN | College of Nursing | Batavia | IL |
| Lucina Tan | BSN | College of Nursing | Merrillville | IN |
| Jaime Taulbee | BSN | College of Nursing | Knox | IN |
| Logan Theisen | BSN | College of Nursing | Highland | IN |
| Danielle Tognocchi | BSN | College of Nursing | Lake Villa | IL |
| Stephanie Towey | BSN | College of Nursing | Mount Prospect | IL |
| Teal Turvey | BSN | College of Nursing | San Diego | CA |
| Marcello Urbanowicz | BSN | College of Nursing | Munster | IN |
| Veronica Vargas | BSN | College of Nursing | Chicago Heights | IL |
| Tayler Vauters | BSN | College of Nursing | Rockville | IN |
| Jamilexy Vazquez | BSN | College of Nursing | La Porte | IN |
| Naiomi Velasco | BSN | College of Nursing | Crown Point | IN |
| Silvia Vendel | BSN | College of Nursing | Schaumburg | IL |
| Jennifer Venice | BSN | College of Nursing | Union Mills | IN |
| Teague Walker | BSN | College of Nursing | Genoa | IL |
| Stefanie Wallace | BSN | College of Nursing | Harvard | IL |
| Dana Walters | BSN | College of Nursing | Fort Wayne | IN |
| Jason Wang | BSN | College of Nursing | Claremont | CA |
| Carla Westby | BSN | College of Nursing | Chicago | IL |
| Tyler Widger | BSN | College of Nursing | Beecher | IL |
| Heather Wilkinson | BSN | College of Nursing | Geneseo | IL |
| Tanya Wilson | BSN | College of Nursing | Country Club Hills | IL |
| Taylor Wilson | BSN | College of Nursing | Valparaiso | IN |
| Bobbi Wimmer | BSN | College of Nursing | Tomahawk | WI |
| Sabrina Young | BSN | College of Nursing | Wyandotte | OK |
| Ewa Zapart Placek | BSN | College of Nursing | Bloomingdale | IL |
| Rajaei Mohammed Al Ali | BS | College of Technology | Griffith | IN |
| Mujtaba Ibrahim K Alajmi | BS | College of Technology | Hammond | IN |
| Bassam Albukhaytan | BS | College of Technology | Hammond | IN |
| Abdulelah Yousef Albukshshim | BS | College of Technology | Highland | IN |
| Ahmed Alhakeem | BS | College of Technology | Portage | IN |
| Hassan Yousef Almaskeen | BS | College of Technology | Hammond | IN |
| Ahmed Mohammed Almohsin | BS | College of Technology | Portage | IN |
| Montadar Mahdi Almutawa | BS | College of Technology | Merrillville | IN |
| Donald Arnold | BS | College of Technology | Demotte | IN |
| Kyle Augun | BS | College of Technology | Calumet City | IL |
| Abdulmalik Bakhashwain | BS | College of Technology | Chicago | IL |
| Brandon Barehead | BS | College of Technology | Schererville | IN |
| Dakota Barnes | BS | College of Technology | Crown Point | IN |
| Ethan Bartlett | BS | College of Technology | Lowell | IN |
| Jeremy Batterbee | BS | College of Technology | Merrillville | IN |
| Andrew Blonn | BS | College of Technology | Kouts | IN |
| Adam Boloz | BS | College of Technology | Chicago | IL |
| Jeremy Booker | BS | College of Technology | Valparaiso | IN |
| Jake Bottari | BS | College of Technology | Portage | IN |
| Kaitlyn Boyd | BS | College of Technology | Valparaiso | IN |
| Alexander Brown | BS | College of Technology | La Porte | IN |
| Darrin Brown | BS | College of Technology | Crown Point | IN |
| Austin Carlos | BS | College of Technology | Michigan City | IN |
| Andrew Collins | BS | College of Technology | Hamlet | IN |
| Jacob Collins | BS | College of Technology | Portage | IN |
| Jonah Crafton | BS | College of Technology | Valparaiso | IN |
| Thomas Cross | BS | College of Technology | La Porte | IN |
| Jonathan Dinga | BS | College of Technology | Cedar Lake | IN |
| Jonathan Dodd | BS | College of Technology | Frankfort | IL |
| Lacey Doyle | BS | College of Technology | Lowell | IN |
| Mark Dudash | BS | College of Technology | New Lenox | IL |
| Cesar Egure Gonzalez | BS | College of Technology | Demotte | IN |
| Jason Ernst | BS | College of Technology | Dyer | IN |
| Patrick Espinosa | BS | College of Technology | Brookfield | IL |
| Chyanne Evans | BS | College of Technology | Westville | IN |
| Thomas Evans | BS | College of Technology | Chesterton | IN |
| John Frantom | BS | College of Technology | Valparaiso | IN |
| Daniel Garcia | BS | College of Technology | Munster | IN |
| Mario Gomez | BS | College of Technology | East Chicago | IN |
| Kendra Goodwin | BS | College of Technology | Wanatah | IN |
| Neol Goveas | BS | College of Technology | Clovis | CA |
| Stephen Gries | BS | College of Technology | Oak Forest | IL |
| Jason Grischkat | BS | College of Technology | Hinsdale | IL |
| Brylle Keane Handang | BS | College of Technology | Orland Park | IL |
| Jelani Hardy | BS | College of Technology | Lynwood | IL |
| Zachary Heiner | BS | College of Technology | Chesterton | IN |
| Zachary Held | BS | College of Technology | Munster | IN |
| Alejandro Hernandez | BS | College of Technology | Hammond | IN |
| Felipe Hernandez | BS | College of Technology | Hammond | IN |
| Noah Holderman | BS | College of Technology | Highland | IN |
| Kyle Horlacher | BS | College of Technology | Peotone | IL |
| Joshua Howard | BS | College of Technology | Valparaiso | IN |
| Mac Howard | BS | College of Technology | Wheatfield | IN |
| Jazmin Hubbard | BS | College of Technology | Gary | IN |
| Dallin Iler | BS | College of Technology | Crown Point | IN |
| Davina Jackson | BS | College of Technology | Portage | IN |
| Michael Johnson | BS | College of Technology | Plymouth | IN |
| Michael Justin | BS | College of Technology | Alsip | IL |
| Zachary Kall | BS | College of Technology | Munster | IN |
| Emilio Kanaya | BS | College of Technology | Schererville | IN |
| Alexander Kapote | BS | College of Technology | Chesterton | IN |
| Tyler Karnavas | BS | College of Technology | Rolling Prairie | IN |
| Benjamin Klebs | BS | College of Technology | Saint John | IN |
| Alex Kleine | BS | College of Technology | Cedar Lake | IN |
| Christopher Koenig | BS | College of Technology | Crown Point | IN |
| Daniel Kubiak | BS | College of Technology | Cedar Lake | IN |
| Galymjohn Kuras | BS | College of Technology | River Grove | IL |
| Nicholas Lau | BS | College of Technology | Westville | IN |
| Ezra Liston | BS | College of Technology | Wheatfield | IN |
| Tyler Lyons | BS | College of Technology | Valparaiso | IN |
| Meagan Mahoney | BS | College of Technology | Crown Point | IN |
| Matthew Manns | BS | College of Technology | Monterey | IN |
| Justin Gabriel Mariano | BS | College of Technology | Hobart | IN |
| Jasmine Marquez | BS | College of Technology | Lake Station | IN |
| Conlan Martinez | BS | College of Technology | Michigan City | IN |
| Ivan Martinez | BS | College of Technology | La Porte | IN |
| Daniel McEvilly | BS | College of Technology | Alsip | IL |
| Cruz Medina | BS | College of Technology | Munster | IN |
| Noah Mescal | BS | College of Technology | Hebron | IN |
| James Michaels | BS | College of Technology | Union Mills | IN |
| Christian Miller | BS | College of Technology | Valparaiso | IN |
| Matthew Moats | BS | College of Technology | Valparaiso | IN |
| Salomon Moreno | BS | College of Technology | Hammond | IN |
| Juaquin Muro | BS | College of Technology | Highland | IN |
| Teagan Murphy | BS | College of Technology | Cedar Lake | IN |
| Adrian Nevarez | BS | College of Technology | Hammond | IN |
| Marshall Newton | BS | College of Technology | Valparaiso | IN |
| Nicholas Newton | BS | College of Technology | Manhattan | IL |
| Zachary Nippert | BS | College of Technology | Crown Point | IN |
| Jordan Olsen | BS | College of Technology | La Porte | IN |
| Leoncio Ortiz | BS | College of Technology | Munster | IN |
| Nicholas Packwood | BS | College of Technology | Crown Point | IN |
| Tadas Palinauskas | BS | College of Technology | Valparaiso | IN |
| Yash Patel | BS | College of Technology | Oak Forest | IL |
| Adrienne Petty | BS | College of Technology | Schererville | IN |
| Andrew Pierce | BS | College of Technology | Valparaiso | IN |
| Darek Pioro | BS | College of Technology | Monterey | IN |
| Ryan Piper | BS | College of Technology | Bridgeview | IL |
| Maxwell Pundrich | BS | College of Technology | Westville | IN |
| Jacob Rada | BS | College of Technology | Highland | IN |
| Jon Ramirez | BS | College of Technology | Hobart | IN |
| Christopher Ramos | BS | College of Technology | La Porte | IN |
| Andrew Rodawold | BS | College of Technology | Wilmington | IL |
| Miguel Rodriguez | BS | College of Technology | Griffith | IN |
| Jonah Rudzinski | BS | College of Technology | Schneider | IN |
| Cora Sakal | BS | College of Technology | Schererville | IN |
| Kyle Schaaf | BS | College of Technology | Lansing | IL |
| Jarred Seitzinger | BS | College of Technology | Merrillville | IN |
| Kyle Shidler | BS | College of Technology | Portage | IN |
| Steven Shields | BS | College of Technology | Hebron | IN |
| Nathan Shinn | BS | College of Technology | Michigan City | IN |
| Christopher Shudick | BS | College of Technology | Merrillville | IN |
| Sidney Smith | BS | College of Technology | Warsaw | IN |
| Ryan Sparling | BS | College of Technology | Lowell | IN |
| Clayton Spencer | BS | College of Technology | Valparaiso | IN |
| Owen Starr | BS | College of Technology | Bourbonnais | IL |
| Brett Stevens | BS | College of Technology | Rolling Prairie | IN |
| Jacob Stewart | BS | College of Technology | Valparaiso | IN |
| Zachary Szymanek | BS | College of Technology | New Lenox | IL |
| Michael Talaga | BS | College of Technology | Plymouth | IN |
| Joshua Thomas | BS | College of Technology | Gary | IN |
| Hunter Thorn | BS | College of Technology | Portage | IN |
| Jacquelyn Tirado | BS | College of Technology | Hammond | IN |
| Kyle Trajkovski | BS | College of Technology | Winamac | IN |
| Pedro Trujillo | BS | College of Technology | Nappanee | IN |
| John Unmisig | BS | College of Technology | Merrillville | IN |
| Brandon Waldschmidt | BS | College of Technology | La Porte | IN |
| Trenton Walstra | BS | College of Technology | Wheatfield | IN |
| Feiyuan Wang | BS | College of Technology | Highland | IN |
| Michael Willing | BS | College of Technology | Kankakee | IL |
| Dylan Wriston | BS | College of Technology | Hobart | IN |
| Jakub Wrobel | BS | College of Technology | Dyer | IN |