Purdue Northwest Sinai Forum announces 68th season featuring Deborah Birx, Steve Wozniak, Bryan Stevenson, and more
June 25, 2021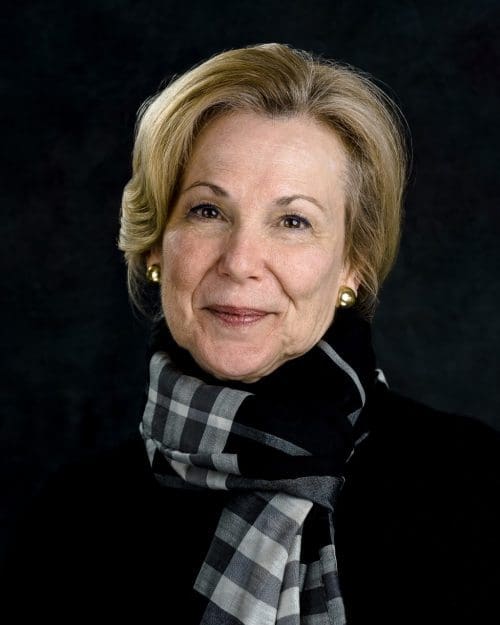 The Purdue University Northwest (PNW) Sinai Forum announced a series of notable speakers for the upcoming season covering topics ranging from the pandemic response to justice issues to climate change.
The forum's 68th season will kick off at 4 p.m. on Sunday, Oct. 17 with Deborah Birx, MD, world-renowned medical expert and former White House Coronavirus Response Coordinator. 
In addition to Birx, the acclaimed speakers series will feature Silicon Valley icon Steve "The Woz" Wozniak, civil rights lawyer and social justice activist Bryan Stevenson, Holocaust survivor Max Eisen, and internationally acclaimed nature photographer Paul Nicklen.
"We are pleased to be able to provide a forum for these leaders, entrepreneurs and activists who will inspire, educate, enlighten and entertain," said Leslie Plesac, director of the Purdue Northwest Sinai Forum. "We are grateful to our generous sponsors for helping us bring these world-renowned speakers to Northwest Indiana."
Tickets for the general public go on sale starting Tuesday, July 13 at pnw.edu/sinai-forum. This season will be offered in person and provide an option of attending the programs virtually. PNW will follow all state, local and university health and safety protocols for the in-person events. 
Hosting prominent and thought-provoking speakers has been the cornerstone of the Sinai Forum's distinguished history. The forum is designed to provide audiences with a unique opportunity to hear noted speakers and pose questions in a town-hall style format.
The season runs from October 2021 through February 2022. All programs, with the exception of An Afternoon with Steve Wozniak, will be held at the Purdue Northwest James B. Dworkin Student Services and Activities Complex on PNW's Westville Campus, 1401 S. U.S. 421, Westville, Ind. The Feb. 6 program with Steve Wozniak will be hosted at the Stardust Event Center at Blue Chip Casino, Hotel & Spa, 777 Blue Chip Dr., Michigan City, Ind.
All programs will begin at 4 p.m. CT, with doors opening at 3 p.m. CT.
The Sinai Forum season speakers are:
Deborah Birx, MD – Sunday, Oct. 17, 2021
"An Overview of the Pandemic from the Inside"
Deborah Birx, MD, is a world-renowned medical expert and leader whose long career has focused on clinical and basic immunology, infectious disease, pandemic preparedness, vaccine research and global health. She began her career serving the United States as a colonel in the Army, and later ran some of the most high-profile and influential programs at the U.S. Centers for Disease Control and Prevention (CDC) and the U.S. Department of State.
Dr. Birx most recently served as the White House Coronavirus Response Coordinator where she used complex data integration to drive decision-making, providing recommendations to then-Vice President Mike Pence and working closely with state officials to provide state-specific advice and guidance.
Max Eisen – Sunday, Nov. 7, 2021
"By Chance Alone: A Remarkable True Story of Courage and Survival at Auschwitz"
Max Eisen is a Holocaust survivor, passionate speaker and educator who will share his story of courage to warn of the dangers of hatred and discrimination in society and to promote understanding. Born in Moldava, Czechoslovakia in 1929 into a large orthodox Jewish family, at the age of 15, he and his family were taken from their home and sent to the Auschwitz-Birkenau death camp.
His extended family including parents, two younger brothers and baby sister, paternal grandparents, uncles, aunts and cousins all perished there in May 1944. The maternal side of his family deported from Slovakia in 1942 to the Majdanek-Lublin death camp, where they also perished.
Bryan Stevenson – Sunday, Dec. 5, 2021
"On Justice and Mercy"
Bryan Stevenson is the founder and executive director of the Equal Justice Initiative (EJI), a human rights organization in Montgomery, Ala. Under his leadership, EJI has won major legal challenges eliminating excessive and unfair sentencing, exonerating innocent death row prisoners, confronting abuse of the incarcerated and the mentally ill, and aiding children prosecuted as adults.
Stevenson has initiated major new anti-poverty and anti-discrimination efforts that challenge inequality in America. He led the creation of two highly acclaimed cultural sites which opened in 2018: the Legacy Museum and the National Memorial for Peace and Justice. These new national landmark institutions chronicle the legacy of slavery, lynching, and racial segregation, and the connection to mass incarceration and contemporary issues of racial bias. Stevenson is also a professor of law at the New York University School of Law.
Paul Nicklen – Sunday, Jan. 9, 2022
"Into the Icy Realm"
Paul Nicklen is a Canadian photographer, filmmaker and marine biologist who has documented the beauty and the plight of our planet for over 20 years. In addition to being one of the world's most acclaimed nature photographers, he is a sought-after speaker, TED Talks legend, author and National Geographic Fellow.
In the past two decades, he has collaborated with scientists, filmmakers, conservationists and explorers to create awareness and inspire action for global issues like climate change. As an assignment photographer for National Geographic magazine, Nicklen captures the imagination of a global audience.
Steve "The Woz" Wozniak – Sunday, Feb. 6, 2022
"An Afternoon with Steve Wozniak"
A Silicon Valley icon and philanthropist for more than 30 years, Steve Wozniak has helped shape the computing industry with his design of Apple's first line of products – the Apple I and II. In 1976, Wozniak and Steve Jobs founded Apple Computer Inc. The Apple II was integral in launching the personal computer industry.
For his achievements at Apple, he was awarded the National Medal of Technology by the president of the United States in 1985, the highest honor bestowed on America's leading innovators. In December 2020 Wozniak launched his company Efforce, which aims to use cryptocurrency and blockchain technology to make it cheaper and easier for companies to fund green projects.
Purchasing Tickets
Tickets can be purchased online at pnw.edu/sinai-forum starting July 13.
Regular season series tickets with general seating for all five programs are $175. Patron season series tickets, including reserved seating and an exclusive reception with speakers before each program are $300. Both patron and regular level season tickets will include a link for each program to allow for virtual viewing, if preferred. Virtual tickets are $100 and will allow for virtual viewing only via a link provided for each program.
Sponsors
This year's sponsors include: Urschel Laboratories, Inc.; The Times Media Company; Healthcare Foundation of La Porte; John W. Anderson Foundation; Blue Chip Casino, Hotel & Spa; the Bankoff Family; Horizon Bank; La Porte County Herald-Dispatch; Crown Point Community Foundation; Legacy Foundation; Porter County Community Foundation; Unity Foundation; Harbour Trust & Investment Management Company; the Leonard J. & Irene Brown Foundation; and HealthLinc.
Detailed information about the Purdue Northwest Sinai Forum is available at pnw.edu/sinai-forum.
Purdue Northwest Sinai Forum
The Sinai Forum has brought world-renowned scholars, leaders, dignitaries, artists and personalities to Northwest Indiana since 1953. Founded by Sylvia and Dr. Milton Bankoff with a mission to enlighten, inspire and entertain, the revered speakers' series came under the stewardship of Purdue University Northwest in 2006.