Purdue Northwest Sinai Forum announces 70th season to feature Mitch Daniels, David Ross, Bruce Perry and more
July 13, 2023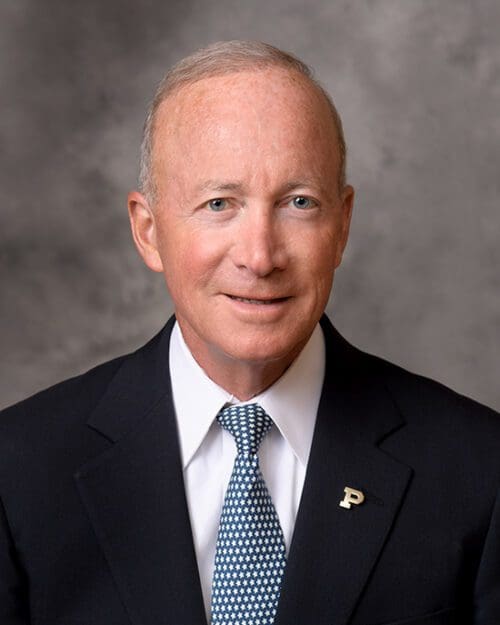 The Purdue University Northwest (PNW) Sinai Forum announced the series of notable speakers to headline its milestone 70th season. The series will feature topics ranging from global affairs and politics to journalism, mental health and more. More than 300 speakers have engaged and inspired our communities and students since the forum's inception in 1953.
The season begins on Sunday, Sept. 17 at 4 p.m. with the former President of Purdue University and two-term Indiana Governor Mitch Daniels. Daniels' political background brought a unique perspective to the realm of academia. During his tenure he prioritized affordability, innovation and student success while championing online education and technological advancements.
In addition to Daniels, the acclaimed speaker series will feature Chicago Cubs field manager David Ross; New York Times bestselling author Anthony Ray Hinton; journalists Jennifer Griffin and Benjamin Hall; Dr. Bruce D. Perry, Principal of Neurosequential Network, teacher, clinician and researcher in children's mental health and the neurosciences; and geopolitical strategist and author Peter Zeihan.
"The Sinai Forum at Purdue Northwest serves as a significant platform for distinguished professionals to share their insights, advice and predictions for humanity's contemporary issues," says Leslie Plesac, executive director of the Sinai Forum at Purdue University Northwest. "We are immensely proud to celebrate seven decades of Sinai Forum programming allowing Northwest Indiana community members to gather together to listen and engage with accomplished and compelling speakers in their respective fields."
Tickets are available at pnw.edu/sinai-forum. This season will again provide both in-person and virtual viewing options.
Hosting prominent and thought-provoking speakers has been the cornerstone of the Sinai Forum's distinguished history for seven decades. The forum is designed to provide audiences with a unique opportunity to listen to notable personalities and pose questions in a town-hall format.
To help celebrate the Purdue Northwest Sinai Forum's 70th season, season ticket holders will receive exclusive access to select archived speakers' programs on the virtual platform.
All Sinai Forum programs will be held at the James B. Dworkin Student Services and Activities Complex on PNW's Westville branch campus, 1401 S. U.S. 421, Westville, Ind., and will begin promptly at 4 p.m. CST, with doors opening at 3 p.m.
---
The 2023 Sinai Forum Speaker Series
The 2023 Purdue Northwest Sinai Forum speakers are:
Mitch Daniels — Sunday, Sept. 17, 2023
"Never Park the Car: Making Change When Change Says No"
Mitchell E. Daniels, Jr. served as a two-term governor of the state of Indiana and as the 12th president of Purdue University. His political background brought a unique perspective to the realm of academia. During his tenure, Daniels prioritized affordability, innovation and student success. Daniels championed online education and technological advancements, expanding Purdue's global reach and accessibility. Known for his pragmatic leadership style and commitment to fiscal responsibility, he left a lasting impact on the university, fostering a culture of excellence and entrepreneurship.
---
Jennifer Griffin & Benjamin Hall — Sunday, Oct. 1, 2023
"Protecting Journalists and Journalism in Today's World"
Jennifer Griffin is an accomplished journalist and a prominent figure in the world of broadcast news. As a national security correspondent for Fox News, she brings extensive expertise and deep insights into international and military affairs.
Benjamin Hall is a seasoned journalist who has covered numerous high-profile stories, providing in-depth analysis and firsthand accounts from war zones and areas of political unrest. In March 2022, he sustained serious injuries while on the front lines in Ukraine.
Griffin and Hall share a connection through the dangers they have faced in their careers. After Hall was injured, Griffin worked collaboratively to coordinate and facilitate Hall's evacuation from a war zone. Their firsthand experiences and unwavering determination exemplify the sacrifices made by journalists around the world and highlight their shared commitment in bringing truth to light through journalism and the pursuit of objective reporting.
---
Bruce D. Perry, M.D., Ph.D. — Sunday, Oct. 15, 2023
"What Happened to You? A Conversation on Trauma, Resilience and Healing"
Dr. Bruce D. Perry is the Principal of the Neurosequential Network, a Professor (Adjunct) in the Departments of Psychiatry and Behavioral Sciences at the Feinberg School of Medicine at Northwestern University in Chicago and the School of Allied Health in the College of Science, Health and Engineering at La Trobe University in Melbourne, Victoria, Australia. Over the last thirty years, Dr. Perry has been an active teacher, clinician and researcher in children's mental health and the neurosciences holding a variety of academic positions. His work on the impact of abuse, neglect and trauma on the developing brain has impacted clinical practice, programs and policy across the world. Dr. Perry is the author of several books. His most recent book, What Happened to You? Conversations on Trauma, Resilience, and Healing, co-authored with Oprah Winfrey, was released in 2021.
---
Peter Zeihan — Sunday, Nov. 5, 2023
"The End of the World…And Other Opportunities"
Peter Zeihan is a renowned geopolitical strategist and author known for his astute analysis of global affairs. With expertise in demography, energy, and security, Zeihan offers unique insights into the future of nations and the global landscape. Through his captivating speaking engagements and best-selling books like The Accidental Superpower and The End of the World is Just the Beginning: Mapping the Collapse of Globalization, he presents a compelling narrative on the impact of geography and shifting geopolitical dynamics. Zeihan's concise and thought-provoking assessments have earned him recognition as a trusted voice in the field, enabling individuals and organizations to navigate an ever-changing world with clarity and foresight.
---
Anthony Ray Hinton — Sunday, Nov. 19, 2023
"The Sun Does Shine: How I Found Life and Freedom on Death Row"
Anthony Ray Hinton survived for 30 years on Alabama's death row. His story is a decades-long journey to exoneration and freedom. In 1985, Mr. Hinton was convicted of the unsolved murders of two fast-food restaurant managers based on the testimony of ballistics experts for the State who claimed that the crime bullets came from a dusty revolver found in Mr. Hinton's mother's closet. Without the benefit of a competent expert to challenge the State's theory, an all-white jury convicted Mr. Hinton and he was sentenced to death. After years of petitioning to have the revolver re-analyzed, and with the assistance of the Equal Justice Initiative, led by attorney Bryan Stevenson, Mr. Hinton was freed in 2015. Since his release, Mr. Hinton has traveled the world sharing his story and discussing the changes that need to be made to prevent similar injustices from happening to other people. 
---
David Ross — Sunday, Dec. 3, 2023
"Talking Baseball with Chicago Cubs Manager David Ross"
David Ross is an integral part of Chicago Cubs baseball lore. Ross had an illustrious career as a catcher that spanned 15 seasons in the Major Leagues. His journey culminated with the Cubs, where he played from 2015 to 2016 and helped lead the team to their historic World Series victory in 2016. Ross's leadership, veteran presence, and exceptional defensive skills endeared him to both teammates and fans. After retiring as a player, Ross transitioned into coaching and currently serves as the manager of the Cubs, bringing his invaluable experience to guide the team's success. Join David Ross and moderator, Dan Plesac, an 18-year MLB Veteran and MLB Network Analyst, for an afternoon talking baseball.
---
Purchasing Tickets
Tickets are sold as a season series for all programs and can be purchased online at pnw.edu/sinai-forum.
Regular season series tickets with general seating for all five programs are $175. Patron season series tickets, including a reserved seating section and an exclusive reception with speakers before each program, are $300. Both patron and regular series season tickets will include a link for each program to allow for virtual viewing, if preferred.
Virtual season tickets are $125. These tickets will allow only for virtual viewing via a weblink for each program and will not grant in-person attendance.
College and high school students can attend Sinai Forum events for free by showing a valid student ID. Registration is required at pnw.edu/sinai-forum due to limited seating availability that varies by program.
---
Sponsors
The Purdue Northwest Sinai Forum thanks the following sponsors for their generous support that helps make this engaging programming possible.
Season sponsors include Urschel Laboratories, Inc.; David and Billie Bankoff; the McMillan Family Foundation; the John W. Anderson Foundation; the Bankoff Family; The Times Media Co.; and the Center for Justice and Post-Exoneration Assistance at Purdue University Northwest.
Reception sponsors include Ivy Tech; First Things First Porter County; Porter County Community Foundation; Harbour Trust & Investment Management Company; and The Brown Foundation.
Additional sponsors include Blue Chip Casino, Hotel & Spa; Crown Point Community Foundation; Horizon Bank; Herald-Dispatch; La Porte County Symphony Orchestra; Legacy Foundation; Markeys Rental & Staging; Porter County Community Foundation; and Unity Foundation.