Purdue University Northwest celebrates the spring Class of 2020
May 14, 2020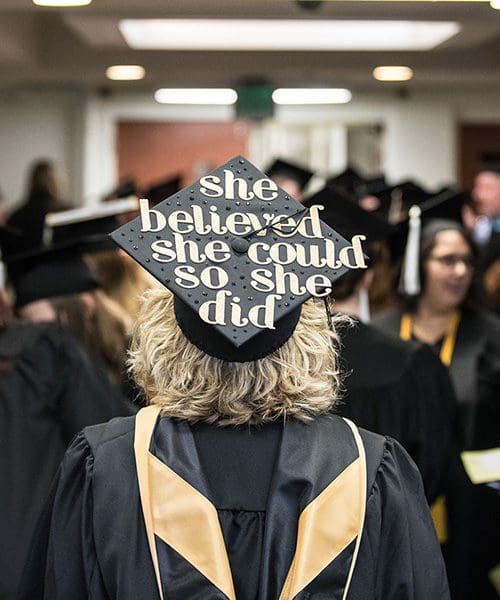 Nearly 1,200 Purdue University Northwest (PNW) students have successfully completed the requirements of their undergraduate and graduate degrees as the spring 2020 semester draws to a close.
PNW celebrates with its graduates their determination in persisting to earn their degrees. Chancellor Thomas L. Keon and PNW Student Government Association President Oriana White will present their messages to the graduates virtually via the website at pnw.edu/commencement. Graduating students and their families are encouraged to watch this site starting May 15.
White completed her undergraduate degree in Communications with a minor in Human Resources, and will go on to graduate school at PNW in the fall to work toward a master's degree in business administration. She recently was reelected as president of the student body.
During her undergraduate years, in addition to her work with Student Government, White served as president of the Public Relations Club, a campus ambassador, and worked on campus. This spring she received PNW's Outstanding Undergraduate Student Service Award and she is a member of Lambda Pi Eta, the communications honor society.
Chancellor's Medallion honorees
Fourteen graduating seniors have earned the Chancellor's Medallion by achieving the highest grade point average from each college. Recipients of this distinguished honor are as follows:
College of Business
Rafida Ahad (Hammond)
Noel M. Keeble (Dyer)
Randy Tadros (Crown Point)
College of Engineering & Sciences
Thomas Biancardi (Griffith)
Autumn I. Duley (Crown Point)
Joel E. Moore (Saint John)
College of Humanities, Education & Social Sciences
Joshua W. Koepke (Kouts)
Claire E. Miller (Lowell)
Ashley R. Oh (Portage)
Sarah Soliday (Valparaiso)
Hilary K. VanderVelde (Schererville)
College of Nursing
Jacinda D. Hinten (Valparaiso)
Ruth J. Ryder (La Porte)
College of Technology
Damian Podgorski (Franklin Park, Ill.)
By the numbers
PNW's 2020 spring graduating class of 1,172 is comprised of 145 master's degree candidates and 1,027 prospective baccalaureate graduates. According to PNW's Office of the Registrar, the candidates earning bachelor's degrees represent the College of Business with 182; 204 in the College of Engineering & Sciences; 228 from the College of Humanities, Education & Social Sciences; 274 from the College of Nursing; and the College of Technology has 139.
Advanced Degrees
Master of Accountancy
| Name | City | State |
| --- | --- | --- |
| Nicole Blakeley | Munster | IN |
| Katelyn Crose | Dyer | IN |
| Courtney Crowder | Munster | IN |
| John Curtin | Crown Point | IN |
| Brandon Martin | Valparaiso | IN |
| Dominic Witkowski | Tinley Park | IL |
Master of Arts
| Name | City | State |
| --- | --- | --- |
| Andrew Collins | Highland | IN |
| Samuel Dobberstein | Schererville | IN |
| Michael Duda | East Chicago | IN |
| Selenay Heper | Hammond | IN |
| Amy Howard | Valparaiso | IN |
| Brooke Kiran | Crown Point | IN |
| Erin Lain | Merrillville | IN |
| Sau Kuen Lo | Hammond | IN |
| Casey Martin | Chesterton | IN |
| Jason Miller | Griffith | IN |
| Maria Miller | Michigan City | IN |
| Guadalupe Ramirez | Munster | IN |
| Joanne Romero | Hammond | IN |
| Jessica Streeter | Westville | IN |
| Sergio Valdes | Highland | IN |
| Jessica Vales | Merrillville | IN |
Master of Business Administration
| Name | City | State |
| --- | --- | --- |
| Katie Bowers | Crown Point | IN |
| Erdenesuvd Bukhbayar | Glenview | IL |
| Matthew Chabes | Crown Point | IN |
| Daniel Ciecierski | Crown Point | IN |
| Blessing Emeraghi | Michigan City | IN |
| William Foy | Hebron | IN |
| Niyah Hall | Gary | IN |
| Brian Hixon | Hebron | IN |
| James Jozaitis | La Porte | IN |
| Thomas McNicholas | Highland | IN |
| Jerald Morgan | Hammond | IN |
| Omolara Olayinka | Hammond | IN |
| Quinlan Phalen | Dyer | IN |
| Maria Rocheleau | Hebron | IN |
| Paul Skellenger | Munster | IN |
| Courtney Smith | Hobart | IN |
| Jason Stypula | Saint John | IN |
| Carlie Thornber | Peterborough | ON |
| Sara Voss | Dyer | IN |
Master of Science
| Name | City | State |
| --- | --- | --- |
| Hassan Al Alshaikh | Griffith | IN |
| Ahmad Al bader | Hammond | IN |
| Venkata Manvitha Ala | Hammond | IN |
| Ryan Alexander | Hammond | IN |
| Dorota Allen | Hobart | IN |
| Omar Alolayan | Chicago | IL |
| Mohammad Mubark Alsuwailem | Merrillville | IN |
| Sachin Arora | Hammond | IN |
| Ravindra babu Badineedi | Hammond | IN |
| Saikiran Basanaboyina | Hammond | IN |
| Gabriella Boeger | Highland | IN |
| Samuel Bukowski | Boulder | CO |
| Harshini Byreddy | Hammond | IN |
| Suchendra Chandra | Hammond | IN |
| Chih-Hsuan Chang | Hammond | IN |
| Yen Hao Chiao | Hammond | IN |
| Tri Dinh | Dyer | IN |
| Shawn Ebel | Munster | IN |
| Natalia Esper | Crown Point | IN |
| Kristina Fairbanks | Saint John | IN |
| Noah Feldman | Munster | IN |
| Kaitlyn Gantz | Rockford | MI |
| John Hageman | Valparaiso | IN |
| Chen-Hao Hung | Hammond | IN |
| Syed Jafri | Canton | MI |
| Samantha Jurecki | Lake Station | IN |
| Ajay Prabanjan Kante | Hammond | IN |
| Eswar Teja Kodati | Hammond | IN |
| Navya Deepthi Kolla | Inkster | MI |
| Yu shan Lee | Hammond | IN |
| Jacob Lindsey | La Porte | IN |
| Robert Moreno | Hammond | IN |
| Aaron Muir | Crown Point | IN |
| Shane Murphy | New Lenox | IL |
| Vikesh Narayanaswamy | Hammond | IN |
| Christina Nelson | Walkerton | IN |
| Catalina Pelaez | Chicago | IL |
| Michael Phillips | Fort Wayne | IN |
| Anusree Poduval | Merrillville | IN |
| Nathan Poling | Union Mills | IN |
| Samia Pyzel | Woodbridge | VA |
| Nasser Qahhat | Hammond | IN |
| Swathi Sanginedi | Hammond | IN |
| Sumendra Singh | Highland | IN |
| Sierra Stein | Merrillville | IN |
| Zhibo Sun | Munster | IN |
| Anas Syed | Highland | IN |
| Lexie Unhjem | Crosby | ND |
| Smit Madhukar Vaity | Hammond | IN |
| Briana Walker | Crown Point | IN |
| Shilpa Yalla | Hammond | IN |
| Aquilla Young | Hammond | IN |
| Dingkai Zhang | Hammond | IN |
Master of Science in Education
| Name | City | State |
| --- | --- | --- |
| Brittany Avery | Chicago | IL |
| Jacob Biscan | Saint John | IN |
| Taylor Blue | Dyer | IN |
| Brian Harvey | Hobart | IN |
| Michael Hazy | Portage | IN |
| Colette Herald-Lambert | Schererville | IN |
| Jesse Ingle | Michigan City | IN |
| In Hye Jang | Michigan City | IN |
| Shannon Kiley | Michigan City | IN |
| Maria Machura | Hammond | IN |
| Devin Moore | Crown Point | IN |
| David Prokop | Valparaiso | IN |
| Tracey Reynolds | Valparaiso | IN |
| Christine Rosenbaum | La Porte | IN |
| Rachael Welch | Valparaiso | IN |
| Lori Wilson-Patterson | Michigan City | IN |
Master of Science in Engineering
| Name | City | State |
| --- | --- | --- |
| Jephunneh Bonsafo-Bawuah | Hammond | IN |
| Daniel Dandurand | Chicago | IL |
| Kyle Deutsch | Lowell | IN |
| Mitra Khanibaseri | Westville | IN |
| Zhihao Meng | Hammond | IN |
| Mark Peters | Beecher | IL |
| Venkata Randhi | Hammond | IN |
| Daniel Valverde Castillo | Hammond | IN |
Master of Science in Electrical and Computer Engineering
| Name | City | State |
| --- | --- | --- |
| Venkatanaga Aryasomayajula | Carmel | IN |
| Gabriel Castro Aguayo | Hammond | IN |
| Troy Harnish | South Bend | IN |
| Samera Hossain | Munster | IN |
| Jintao Hou | Munster | IN |
| Shuning Jin | Hammond | IN |
| Xintong Liu | Schererville | IN |
| Alex Raynor | Valparaiso | IN |
| Tianshu Ruan | Highland | IN |
| Benhao Wang | Highland | IN |
| Xiewen Wang | Highland | IN |
| Iman Yazdansepas | Westville | IN |
| Xinrun Zhang | Hammond | IN |
| Yaan Zhang | Hammond | IN |
Master of Science in Mechanical Engineering
| Name | City | State |
| --- | --- | --- |
| Obinna Aronu | Hammond | IN |
| Hugo Cedeno | Highland | IN |
| Dilifeila Dilixiati | Hammond | IN |
| Arturo Garcia | Hammond | IN |
| Haneef Khan | Highland | IN |
| Jan Patrick Manlapig | Beecher | IL |
| Edwin Mosquera Salazar | Hammond | IN |
| David Okposio | Hammond | IN |
| John Resa | Whiting | IN |
| Sergio Reyes Jurado | Hammond | IN |
| Mudassir Ahmed Shaik | Highland | IN |
| Chanakya Varma Surapaneni | Hammond | IN |
| Shaoguang Wang | Hammond | IN |
| Joseph Wcisel | Hammond | IN |
Master of Science in Modeling, Simulation and Visualization
| Name | City | State |
| --- | --- | --- |
| Timothy Migliore | Fort Leavenworth | KS |
| Kyle Yanowski | King George | VA |
Graduate Certificate
| Name | City | State |
| --- | --- | --- |
| Omar Alolayan | Chicago | IL |
| Mohammad Mubark Alsuwailem | Merrillville | IN |
| Brittany Altimus | Wolcottville | IN |
| Erika Arnold | Fort Wayne | IN |
| Sachin Arora | Hammond | IN |
| Katelyn Crose | Dyer | IN |
| Kesha Molden | Wheatfield | IN |
| Stephan Piggee II | Gary | IN |
| Vasanthan Ramakrishnan | Hammond | IN |
College of Business
Bachelor of Science
| Name | City | State |
| --- | --- | --- |
| Sandy Abbassi | Schererville | IN |
| Christopher Aifuwa | Highland | IN |
| Jordan Al-Nimri | Crown Point | IN |
| Elizabeth Andree | Highland | IN |
| Jose Angulo | Hobart | IN |
| Alexander Bales | Valparaiso | IN |
| Lauren Bobinski | Valparaiso | IN |
| Michael Brownsea | Hammond | IN |
| Brooke Carter | Chicago | IL |
| Derek Castro | Cedar Lake | IN |
| Angela Chinn | Portage | IN |
| Agustina Cuadra | East Chicago | IN |
| Tristan Cummings | Griffith | IN |
| Camryn Fary | Hammond | IN |
| Savannah Kurgan | Munster | IN |
| Kayla Lain | North Judson | IN |
| Olivia Lukasik | Lowell | IN |
| Julia Lynum | Crown Point | IN |
| Jocelyn Martinez | Munster | IN |
| Nicole McGee | Valparaiso | IN |
| Nivia Mercado | Hammond | IN |
| Ivana Micic | Cedar Lake | IN |
| Dylan Parks | Wheatfield | IN |
| Kelly Patrick | Chesterton | IN |
| Sarah Pearson | Lisle | IL |
| Corrine Skaggs | Cedar Lake | IN |
| Tiffany Staley | Gary | IN |
| Jordan Sweet | Chesterton | IN |
| Jake Turngren | Cedar Lake | IN |
| Joel Van Driel | Lansing | IL |
| Lukas Vilkovsky | Lafayette | IN |
| Zachary VonHuben | Valparaiso | IN |
| Hanna Westphal | Michigan City | IN |
Bachelor of Science in Accounting
| Name | City | State |
| --- | --- | --- |
| Kennedie Anderson | Walkerton | IN |
| Michael Armstrong | Saint John | IN |
| Alex Batistatos | Hobart | IN |
| Zachary Bieniak | Munster | IN |
| Brogan Briggs | La Porte | IN |
| Daisja Burns | Chicago | IL |
| Sergio Castillo | Gary | IN |
| Robert Chihara | Dongola | IL |
| Leslie Esquivel | Hammond | IN |
| MacKenna Evans | Wheatfield | IN |
| Brendon Fitzgerald | Lake in the Hills | IL |
| Miranda Fontecchio | Hebron | IN |
| David Gajewski | Highland | IN |
| Ann Gambini | Crown Point | IN |
| Gregory Gómez Morales | Highland | IN |
| Andrea Gonzalez | East Chicago | IN |
| Brandon Grabarek | Schererville | IN |
| Jonathan Grygus | Palos Hills | IL |
| Edward Halbe | Schererville | IN |
| Omar Hamed | Dyer | IN |
| Carlos Hart | Hobart | IN |
| Amreen Hossain | Munster | IN |
| Casey Jamrock | Dyer | IN |
| James Jewison | Chesterton | IN |
| Jane-Ellen Keeble | Griffith | IN |
| Noel Keeble | Dyer | IN |
| Zachary Kennedy | Munster | IN |
| Young Jae Lee | Valparaiso | IN |
| Jerald Lyda III | Valparaiso | IN |
| Joseph Maggio | Chesterton | IN |
| Mia Malan | Schererville | IN |
| Hirenkumar Mangukiya | Valparaiso | IN |
| Cole Matthys | Cedar Lake | IN |
| Lorenzo Mendoza | Hammond | IN |
| Lorenzo Mendoza, Jr. | Hammond | IN |
| Patrick Messer | Cedar Lake | IN |
| Paul Nelson | Valparaiso | IN |
| Jack O'Halloran | New Buffalo | MI |
| Jonathan Paschen | Walkerton | IN |
| Danielle Pedersen | Crown Point | IN |
| Armie Quinn | Dyer | IN |
| Abdul Rahman Rana | Hammond | IN |
| Daniel Schneberger | Palatine | IL |
| Ashley Smith | Crown Point | IN |
| Jasmyne Suggs | Gary | IN |
| Grant Ugarte | Oak Lawn | IL |
| Karlie Van Autreve | Crown Point | IN |
| Jose Villarreal | Munster | IN |
| Leah Willis | La Porte | IN |
| Matthew Zipko | East Chicago | IN |
Bachelor of Sciences in Business
| Name | City | State |
| --- | --- | --- |
| Mohammad Abdelrazzaq | Schererville | IN |
| Grace Adnson | South Bend | IN |
| Rafida Ahad | Hammond | IN |
| Zahra Ahmed Alabdulmuhsin | Hammond | IN |
| Kawthar Alaoui | Michigan City | IN |
| Nicholas Albanese | Algonquin | IL |
| Jacob Albon | Knox | IN |
| Caitlin Allen | Crown Point | IN |
| Kennedie Anderson | Walkerton | IN |
| Miikelle Bailey | Merrillville | IN |
| Sarah Balboa | Griffith | IN |
| Eliseth Barajas | Hammond | IN |
| Alex Batistatos | Hobart | IN |
| Caden Bell | Hammond | IN |
| Noland Belt | Portage | IN |
| Michael Blackmon | Gary | IN |
| Guy Blessing | Schererville | IN |
| Migdalia Blount | Portage | IN |
| Brian Brzycki | Griffith | IN |
| Alexis Bunch | Hobart | IN |
| Lydia Buskill | Crown Point | IN |
| Taylor Campbell | Lowell | IN |
| Erika Campos | Hammond | IN |
| Celine Certa | Crown Point | IN |
| Trevor Cieslak | Schererville | IN |
| Nicholas Conner | Valparaiso | IN |
| Jonathan Culver | Saint John | IN |
| Trevor Doogan | Dyer | IN |
| Karla Dunn | Crown Point | IN |
| Connor Felton | Lowell | IN |
| Emily Fiorio | Saint John | IN |
| Shytasha Foster | Hammond | IN |
| Ashley Fuller | Hobart | IN |
| Ann Gambini | Crown Point | IN |
| Jie Gao | Hammond | IN |
| Jaime Garcia | Elkhart | IN |
| Lauren Gargano | Demotte | IN |
| Tyler Geeve | Crown Point | IN |
| Miranda Gibbs | Gary | IN |
| Bayley Goodman | Fowler | IN |
| Jonathan Grygus | Palos Hills | IL |
| Selina Guerrero | Hobart | IN |
| Luke Hackett | Munster | IN |
| Omar Hamed | Dyer | IN |
| Cody Highlan | Portage | IN |
| Amanda Hutchinson | Lowell | IN |
| Ning Jia | Chicago | IL |
| Erica Jones | Hammond | IN |
| Noel Keeble | Dyer | IN |
| Walid Kehail | Munster | IN |
| Zachary Kennedy | Munster | IN |
| Allison Kolanowski | Saint John | IN |
| Bryce Lasky | La Porte | IN |
| Jonathan Lozano | East Chicago | IN |
| John Mamelson | Saint John | IN |
| Hannah McCormick | Lansing | IL |
| Lorenzo Mendoza | Hammond | IN |
| Heather Mock | Hobart | IN |
| Lucas Moore | La Porte | IN |
| Lawrence Morency II | Whiting | IN |
| Tiffani Myvett | Crown Point | IN |
| Samantha Nauracy | East Chicago | IN |
| Amanda Packer | Valparaiso | IN |
| Riley Parks | Saint John | IN |
| Jonluke Passett | Orland Park | IL |
| Bradley Peete | Hammond | IN |
| Anna Pinkus | Schererville | IN |
| Janie Ramirez | Hammond | IN |
| Abdul Rahman Rana | Hammond | IN |
| Alexis Reichart | Schererville | IN |
| Ethan Robles | Chesterton | IN |
| Selena Santana | Highland | IN |
| Alyssa Schoof | La Porte | IN |
| Luis Serrano | Hammond | IN |
| Richard Serrano | Portage | IN |
| Rahul Shah | Dyer | IN |
| Ali Shahid | Dyer | IN |
| Ruhani Sharma | Schererville | IN |
| Hunter Smith | Hobart | IN |
| Payton Smith | Cedar Lake | IN |
| Alexia Soto | Whiting | IN |
| Brett Stanley | Valparaiso | IN |
| Sarah Stewart | La Porte | IN |
| Alyssa Sullivan | Crown Point | IN |
| Griffin Swick | Dyer | IN |
| Randy Tadros | Crown Point | IN |
| Genesis Tarver | Hammond | IN |
| Austin Taylor | Dyer | IN |
| Kelsey Travis | Michigan City | IN |
| Alissa Tucker | Wanatah | IN |
| Grant Ugarte | Oak Lawn | IL |
| Brooke Van Kuiken | Cedar Lake | IN |
| Michael Vukas | Lafayette | IN |
| Kaitlyn Wiening | Hammond | IN |
| Dariush Wilkowski | Glenwood | IL |
| Rheanne Wippo | Crown Point | IN |
| Matthew Zipko | East Chicago | IN |
Associate of Science
| Name | City | State |
| --- | --- | --- |
| Will Lewis III | Gary | IN |
Undergraduate Certificate
| Name | City | State |
| --- | --- | --- |
| Alexander Bales | Valparaiso | IN |
| Michael Brownsea | Hammond | IN |
| Brooke Carter | Chicago | IL |
| Hannah Carter | Merrillville | IN |
| Juan Soto | Hammond | IN |
| Jake Turngren | Cedar Lake | IN |
College of Engineering & Sciences
Bachelor of Science
| Name | City | State |
| --- | --- | --- |
| Aliya Adams | East Chicago | IN |
| Jessica Aguilar | Crown Point | IN |
| Brooke Ahrens | Highland | IN |
| Jamie Allen | Michigan City | IN |
| Abigail Anderson | Crete | IL |
| Bertha Andrade | Hammond | IN |
| Alexander Archer | Chesterton | IN |
| Brianna Baez | Hammond | IN |
| Madison Barber | La Porte | IN |
| Bryce Barnett | Munster | IN |
| Victoria Bengston | Valparaiso | IN |
| Kane Bentley | Michigan City | IN |
| Madison Berg | Coatesville | IN |
| Maxwell Boonstra | Crete | IL |
| Rayyah Bradley | Chicago | IL |
| Elah Brooks | Valparaiso | IN |
| Lauren Brown | Dyer | IN |
| Yvette Cajigas | Cambridge | MA |
| Vanessa Cardoso | Hammond | IN |
| Vanessa Castro | Hobart | IN |
| Christian Cervantes | Portage | IN |
| Joseph Chapa | Crown Point | IN |
| Megan Cleland | Lowell | IN |
| Victoria Conn | Valparaiso | IN |
| Isis Curiel | Highland | IN |
| Sara Currier | Crete | IL |
| Hanna Damarjian | Cedar Lake | IN |
| Tiffany Dillner | Cedar Lake | IN |
| Katherine Doell | Valparaiso | IN |
| Gabrielle Dore | Munster | IN |
| Brianne Droste | Crown Point | IN |
| Autumn Duley | Crown Point | IN |
| Amber Earl | Hammond | IN |
| Kaitlyn Foust | Hobart | IN |
| Shannon Frasure | La Porte | IN |
| Vanessa Galbreath | Merrillville | IN |
| Patrick Glinski | Saint John | IN |
| Shawn Gomez | Hammond | IN |
| Sonia Guzman | La Porte | IN |
| Jawhara Haddad | Hammond | IN |
| William Harber | Beverly Shores | IN |
| Amanda Hargrove | Hobart | IN |
| Katelyn Harper | Gary | IN |
| Sean Hasse | Munster | IN |
| Kaitlyn Hayes | South Holland | IL |
| Michael Hayman | Michigan City | IN |
| Yazmin Hernandez | Whiting | IN |
| Bruno Hnatusko III | Crown Point | IN |
| Rachel Inglese | Crown Point | IN |
| Jessica Joy | Saint John | IN |
| Nikolay Lesiv | Dyer | IN |
| Benjamin Lewis | Portage | IN |
| Stephanie Magana | Hammond | IN |
| Lilean Mansour | Munster | IN |
| Alejandra Martinez | Hammond | IN |
| Kyle McGannon | Beecher | IL |
| Gabriela Menchaca | East Chicago | IN |
| Brittany Miller | Valparaiso | IN |
| Joel Moore | Saint John | IN |
| Jose Muniz | Lansing | IL |
| Paola Navarrete | East Chicago | IN |
| Samantha Oglesby | Hobart | IN |
| Lora Page | Michigan City | IN |
| Dhyey Patel | Hammond | IN |
| Elijah Pierce | Griffith | IN |
| Amber Plonka | Dyer | IN |
| Zachary Ploski | Lowell | IN |
| Preston Porter | Hammond | IN |
| China Powell | Gary | IN |
| Nina Preall | O'Fallon | MO |
| Jillian Quinn | La Porte | IN |
| Alejandra Ramos-Romero | Michigan City | IN |
| Deanna Reese | La Porte | IN |
| Nicholas Rettig | Crown Point | IN |
| Adam Rich | La Porte | IN |
| Angelique Riley | Merrillville | IN |
| Alan Rodriguez | Hammond | IN |
| Alejandra Rodriguez | Crown Point | IN |
| Rebecca Roe | Valparaiso | IN |
| Breanna Sanchez | Griffith | IN |
| Jamal Sheriff | Hobart | IN |
| Mia Skertich | Highland | IN |
| Lauren Slisher | Michigan City | IN |
| Darian Smith | Saint Joseph | MI |
| Stephanie Sotiropoulos | Manteno | IL |
| Meaghan Spalla | Crown Point | IN |
| Emily Stack | Griffith | IN |
| Chrystian Studzinski | Dyer | IN |
| Teresa Zofia Studzinski | Dyer | IN |
| Robin Tactaquin | Chicago | IL |
| Alexis Tavarez | Hammond | IN |
| Jacob Taylor | Saint John | IN |
| Joshua Timmons | Hammond | IN |
| Samantha Tokarz | Demotte | IN |
| Christopher Tucker | Hammond | IN |
| Schyler Tully | Crown Point | IN |
| David Vanderhere | Valparaiso | IN |
| Nikola Vuckovic | Saint John | IN |
| Blake Werner | Wanatah | IN |
| Merrick Westerfield | Saint John | IN |
| Alexandria Willis | Saint John | IN |
| Janna Witvoet | Wheatfield | IN |
| Yamani Woody | Crete | IL |
| Elizabeth Zambrano | Dyer | IN |
| Vincent Zamora | Dyer | IN |
Bachelor of Science in Chemistry
| Name | City | State |
| --- | --- | --- |
| Meghan Davis | Glenwood | IL |
| Alec Fiorio | Dyer | IN |
| Carlos Quinones | East Chicago | IN |
| Aryana Sayeed | Dhaka | Bangladesh |
| Alexander Smeets | La Porte | IN |
| Matthew Williams | Gary | IN |
| Catherine Ziebarth | Highland | IN |
Bachelor of Science in Civil Engineering
| Name | City | State |
| --- | --- | --- |
| Kawthar Ahmed Alahmed | Hammond | IN |
| Zhongkai Bai | Hammond | IN |
| Ashley Bellis | Rolling Prairie | IN |
| Kazimierz Boloz | Niles | IL |
| Martin Estrada | Gary | IN |
| Alonzo Garcia | Merrillville | IN |
| John Greaney | Crown Point | IN |
| Evan Hillier | Highland | IN |
| David Klein | Portage | IN |
| Sarah Litsheim | Portage | IN |
| Brittany McPherson | Hammond | IN |
| Ayodeji Ogunbona | Calumet City | IL |
| Nicholas Orbik | Homewood | IL |
| Daniel Perez | Griffith | IN |
| Peter Villanueva | Hammond | IN |
Bachelor of Science in Computer Engineering
| Name | City | State |
| --- | --- | --- |
| Javier Campos | Munster | IN |
| Somtoo Chukwurah | Hammond | IN |
| Christopher Doriety | Oak Forest | IL |
| Henry Dykhuizen | Joliet | IL |
| Abdulrahman Isegen | Hammond | IN |
| Jonathan Neeley | Merrillville | IN |
Bachelor of Science in Electrical Engineering
| Name | City | State |
| --- | --- | --- |
| Jacob Adams | Griffith | IN |
| Mohammad Ahmad | Chesterton | IN |
| Thomas Biancardi | Griffith | IN |
| Nathan Childress | La Porte | IN |
| Brandon Claussen | Wanatah | IN |
| Kimberely Foster | Michigan City | IN |
| Andrew Franco | Hobart | IN |
| Zachary Gilbert | Lake Station | IN |
| Jonathan Heintz | Crown Point | IN |
| Kristen Johnson | Plainfield | IL |
| Aaron Lariviere | Merrillville | IN |
| Pete Mamounas | Portage | IN |
| Jacob Munsie | Highland | IN |
| Jonathan Neeley | Merrillville | IN |
| David Olson | Chesterton | IN |
| Staci Roesch | Chicago Heights | IL |
| Carly Souder | New Lenox | IL |
| Morgan Swanson | La Porte | IN |
| Sara Irene Toepper | Cedar Lake | IN |
| Robert Vaccaro | Hammond | IN |
| Vinh Vo | Crown Point | IN |
| Brandon West | Rolling Prairie | IN |
| Nicholas Wilczewski | La Porte | IN |
Bachelor of Science in Mechanical Engineering
| Name | City | State |
| --- | --- | --- |
| Anastasia Ahearn | Dyer | IN |
| Shmuel Ament | South Bend | IN |
| Scott Ashcraft | Lake Station | IN |
| David Bateman | Hebron | IN |
| Ronald Bonnell | Hammond | IN |
| Brady Cristancho | Richland | MI |
| William Dearinger | Flora | IN |
| Luis Enriquez | Saint John | IN |
| Steven Fisher | Valparaiso | IN |
| Branden Fortner | Lowell | IN |
| Stephan Foy | Hebron | IN |
| Chris Gallo | Valparaiso | IN |
| Ethan Gniadek | Valparaiso | IN |
| Christian Gutierrez | Hoffman Estates | IL |
| Bradley Hill | Portage | IN |
| Jacob Hill | Fort Wayne | IN |
| Thomas Hubbard | Mishawaka | IN |
| Matthew Jackson | Cedar Lake | IN |
| Juan Jacobo | Chicago | IL |
| Evan Jamrok | Chesterton | IN |
| Roderick Jones | Milpitas | CA |
| Spencer Jones | Valparaiso | IN |
| Bradley Kieltyka | Whiting | IN |
| Johnathon Kopij | Dyer | IN |
| Nicholas Kymakis | Crown Point | IN |
| Jacob Mack | Hammond | IN |
| Akshar Patel | Hanover Park | IL |
| Vishakha Patel | La Porte | IN |
| Robert Ponziano | Crown Point | IN |
| Stephen Rosser | Portage | IN |
| Carlos Salgado | Hobart | IN |
| Dillon Shepherd | Knox | IN |
| Brandon Smith | Lowell | IN |
| Blake Soffa | La Porte | IN |
| Hailey Souder | New Lenox | IL |
| Bane Stayrook | North Judson | IN |
| Joseph Stewart | Valparaiso | IN |
| KaitLyn Teubert | Portage | IN |
| Steven Thurman | Valparaiso | IN |
| Alana Todd | Elkhart | IN |
| Philipp Tolxdorf | Fernandina Beach | FL |
| Daniel Updyke | Schererville | IN |
| Isaac Van Baren | Cedar Lake | IN |
| Andrew Van Milligan | Lansing | IL |
| Sarah Vavrek | Valparaiso | IN |
| Matthew Williamson | Hobart | IN |
| Israel Yagoda | La Porte | IN |
| Matthew Young | La Porte | IN |
College of Humanities, Education & Social Sciences
Bachelor of Arts
| Name | City | State |
| --- | --- | --- |
| Faten Abdelrazzaq | Schererville | IN |
| Mason Addis | Valparaiso | IN |
| Anthony Allison | La Porte | IN |
| Mohammed Alsulaiman | Highland | IN |
| Sarah Arrigo | Chesterton | IN |
| Bianca Avila | Crown Point | IN |
| Kayla Aytes | Valparaiso | IN |
| Shelese Baiyee | Indianapolis | IN |
| Joshua Balcerak | Griffith | IN |
| Gabrielle Barrett | Crown Point | IN |
| Chelsea Barzycki | Saint John | IN |
| Madison Bell | Valparaiso | IN |
| Annmarie Bender | Hebron | IN |
| Zackery Bevins | Lake Village | IN |
| Samantha Bilinski | Monee | IL |
| Amanda Biro | Hammond | IN |
| Rebecca Block | Portage | IN |
| Heather Born | Munster | IN |
| Melanie Brokke | Schererville | IN |
| Emily Brooks | Whiting | IN |
| Summer Brown | Gary | IN |
| Tyler Brown | Valparaiso | IN |
| Katrina Brownewell | Crown Point | IN |
| Brianna Buckner | Crown Point | IN |
| Emily Bugarin | Whiting | IN |
| Laura Bukala | South Bend | IN |
| Marisol Bustos | Hammond | IN |
| Mariah Cabrales | Munster | IN |
| Hector Cabrera | Hammond | IN |
| Jacqueline Cabrera | Hammond | IN |
| Anansi Carmichael | Hammond | IN |
| Nicole Carmona | Hammond | IN |
| Bretta Carney | Michigan City | IN |
| Sarah Childress | La Porte | IN |
| Zachary Claahsen | Chesterton | IN |
| Chinelle Clark | Hobart | IN |
| Jay Coben | East Chicago | IN |
| Mackenzie Covault | Highland | IN |
| Christina Crisman | Highland | IN |
| Tatiana Cruz | Munster | IN |
| Alexander Cunningham | Chesterton | IN |
| Meghan Davis | Chesterton | IN |
| Amanda De Jesus | Highland | IN |
| Andrea De Jesus | Highland | IN |
| Margaret Delis | Crown Point | IN |
| Angelina Diaz | Portage | IN |
| Krystal Dickens | Lawrence | MI |
| Auburn Dodd-Golston | Chicago | IL |
| Makenzie Dross | Crown Point | IN |
| Safa Enayeh | Hammond | IN |
| Brandon Fetters | La Porte | IN |
| Alexis Fitzsimons | Crown Point | IN |
| Shelby Fleming | Westville | IN |
| Matthew Flores | Hammond | IN |
| Kathleen Franklin | Crown Point | IN |
| Nancy Frausto | Lake Station | IN |
| Alyssa Freestone | Westville | IN |
| Leah Gallo | Chesterton | IN |
| Karina Garcia | Munster | IN |
| Shawn Garcia | Hammond | IN |
| Zachary Geiselman | Portage | IN |
| Chase Ginaven | Munster | IN |
| Kayla Gomez | Crown Point | IN |
| Amie Goulet | Schererville | IN |
| Ashley Granados | Highland | IN |
| Carrie Griffin | Michigan City | IN |
| Emma Grube | Demotte | IN |
| Jace Haddon | Monee | IL |
| Tarah Hamby | Dyer | IN |
| Meagan Hanchar | Wanatah | IN |
| Kate Hasier | Highland | IN |
| Alex Heaton | Crown Point | IN |
| Tarra Heckman | La Porte | IN |
| Riley Hendron | Griffith | IN |
| Jahrod Henry | Hammond | IN |
| Tatiana Hernandez | Griffith | IN |
| Gerald Hollowell | Merrillville | IN |
| Kristi Hotter | | |
| Victoria Hughes | Nappanee | IN |
| Kevin Isaacs | Lowell | IN |
| Martina James | Schererville | IN |
| Rita Jimenez | Hammond | IN |
| Andrianna Johnson | Gary | IN |
| Brianna Kamleiter | Crown Point | IN |
| Hannah Kamps | South Holland | IL |
| Taylor Kazmer | Crown Point | IN |
| Mallory Keller | Lowell | IN |
| Bailey Kien | Lowell | IN |
| Joshua Koepke | Kouts | IN |
| Jasmyne Kohler | Hammond | IN |
| Jared Kortokrax | Cedar Lake | IN |
| Rachel Kubisz | Chicago | IL |
| Abigail Lagestee | Dyer | IN |
| Elaina Lanter | Hammond | IN |
| Hannah Laux | Michigan City | IN |
| Gabrielle Leal | New Carlisle | IN |
| Kalyn Learnard | Fairmount | IL |
| Katelyn LeCroy | Lake Station | IN |
| Yuijin Lee | Hammond | IN |
| Katlyn Lipke | Hammond | IN |
| Danika Loeffler | La Porte | IN |
| Skyler Long | La Porte | IN |
| Jillian Loughran | Hebron | IN |
| Lauren MacKenzie | Hobart | IN |
| Khristine Mak | Demotte | IN |
| Monserrate Maldonado | Crown Point | IN |
| Jordan Manuel | Hammond | IN |
| Yariz Martinez | East Chicago | IN |
| Ryan McCallister | Dyer | IN |
| Isis McCann | Lake Station | IN |
| Kathleen McNamara | Crown Point | IN |
| Rachel Meinecke | Portage | IN |
| Lucas Michel | Highland | IN |
| Claire Miller | Lowell | IN |
| Maya Montoya | Munster | IN |
| Kimberlee Mooney | Lowell | IN |
| Tyler Moskalick | Whiting | IN |
| Dana Mosley | Merrillville | IN |
| Dyanna-Rose Munoz | Schererville | IN |
| Estrella Munoz | Chicago | IL |
| Magan Murphy | Portage | IN |
| Adam Novak | South Holland | IL |
| Alexis Nowatzke | Michigan City | IN |
| Franklin Nunn | Alexandria | IN |
| Ashley Oh | Portage | IN |
| Meghan O'Hearn | Highland | IN |
| Alicia Osborn | Hammond | IN |
| Brandi Panozzo | Crown Point | IN |
| Jacob Paulsen | Munster | IN |
| Joslyn Perez | Hammond | IN |
| Steven Petty | Calumet City | IL |
| Amber Plonka | Dyer | IN |
| Breanna Pluimer | La Porte | IN |
| Tara Radziwiecki | East Chicago | IN |
| Bianca Ramos | South Holland | IL |
| Joseph Ramos | Gary | IN |
| Camryn Rassbach | Valparaiso | IN |
| Maycen Raycroft | Highland | IN |
| David Reding | Hammond | IN |
| Rebecca Regan | Midlothian | IL |
| Brea Regula | Lowell | IN |
| Ryan Reynolds | Valparaiso | IN |
| Julia Richardson | Hammond | IN |
| Valentine Rios | Hammond | IN |
| Charles Rosiar | Valparaiso | IN |
| Darriel Ross | Hammond | IN |
| Lauren Ruffin | Merrillville | IN |
| Alejandra Santacruz | Hammond | IN |
| Tyler Schmid | Cedar Lake | IN |
| Jessica Schubert | Hobart | IN |
| Alex Scott | Highland | IN |
| Elizabeth Searle | La Porte | IN |
| Ryan Seneczko | Crown Point | IN |
| Jocelyn Serna | Griffith | IN |
| Rebecca Sharp | Munster | IN |
| Levaughn Sims | Hammond | IN |
| Samantha Skomac | Hobart | IN |
| Nicholas Skurka | Hammond | IN |
| Kristen Smith | La Porte | IN |
| Leanna Smith | La Porte | IN |
| Sarah Soliday | Valparaiso | IN |
| Kiana Sopkowski | Valparaiso | IN |
| Brooke Sotelo | Schererville | IN |
| Juan Soto | Hammond | IN |
| Logan Soto | Crown Point | IN |
| Tatiana Spak | Hobart | IN |
| Morgan Spencer | Oswego | IL |
| Allison Stephen | Highland | IN |
| Ryan Stephens | East Chicago | IN |
| Kayla Sullivan | Valparaiso | IN |
| Kelsey Sullivan | New Buffalo | MI |
| Caitlyn Swan | La Porte | IN |
| Julia Swibes | Munster | IN |
| Jason Tharp | Highland | IN |
| Brenna Uporsky | Portage | IN |
| Frankie Valdivia | Hebron | IN |
| Hilary VanderVelde | Schererville | IN |
| Kathryn Walsh | Schererville | IN |
| Jennifer Walton | Munster | IN |
| Emma Washo | Valparaiso | IN |
| Carli Watkins | Crown Point | IN |
| Karly Wcisel | Beecher | IL |
| Oriana White | Dyer | IN |
| Trevor Wiesemann | Wheatfield | IN |
| Alana Williams | Portage | IN |
| Shaherah Winters | Westville | IN |
| Abigail Witte | Walkerton | IN |
| Jade Wright | Highland | IN |
| Brianna Zimmerman | Demotte | IN |
Bachelor of Liberal Studies
| Name | City | State |
| --- | --- | --- |
| Nicolle Babbitt | Demotte | IN |
| Riley Bello | La Porte | IN |
| Carrie Dailey | Chesterton | IN |
| Natalie Darnell | Hammond | IN |
| Haley Earl | Crown Point | IN |
| Daniel Freedman | Hammond | IN |
| Jodie Gaines | La Porte | IN |
| Tessie Hill | Hammond | IN |
| Daniel Johnson | Chesterton | IN |
| Teresa Kistner | Saint John | IN |
| Justin Lara | Hammond | IN |
| Louis Longo | Saint John | IN |
| Jessica Mann | Wanatah | IN |
| Garry McVay | Union Mills | IN |
| Benjamin Mecyssine | Munster | IN |
| Jakob Mergenthaler | Kouts | IN |
| Shannon Najar | Saint John | IN |
| Madeline Rodriguez | Hammond | IN |
| Jesse Smith | Griffith | IN |
| Scott Urbanski | La Porte | IN |
| Yasmin Yasin | Merrillville | IN |
Bachelor of Science
| Name | City | State |
| --- | --- | --- |
| Hayley Asher | Michigan City | IN |
| Nicole Batres | Crown Point | IN |
| Nichelle Bradley | Michigan City | IN |
| Robin Fraley | Westville | IN |
| Chloee Garay | La Porte | IN |
| Timothy Gilmore | Reseda | CA |
| Miranda Green | Wanatah | IN |
| Michael Greer | Lowell | IN |
| Jacob Jordan | Rolling Prairie | IN |
| Kyle Karpinski | Michigan City | IN |
| Jocelyn Langford | Michigan City | IN |
| Jordan Lopez | Valparaiso | IN |
| Crystal Magallanes | Portage | IN |
| Zachary Manoski | Valparaiso | IN |
| Hailey Moye | Michigan City | IN |
| Meagan Pierce | Chesterton | IN |
| Alexandria Schooley | Michigan City | IN |
| April Sirbas | Crown Point | IN |
Undergraduate Certificate
| Name | City | State |
| --- | --- | --- |
| Bianca Ramos | South Holland | IL |
College of Nursing
Bachelor of Science in Nursing
| Name | City | State |
| --- | --- | --- |
| Shannon Abraham | Valparaiso | IN |
| Samuel Aco | Chicago | IL |
| Andreea Adam | Carpentersville | IL |
| Ji Eun Ahn | Chicago | IL |
| Carly Aiardo | Grayslake | IL |
| Samantha Albers | La Porte | IN |
| Elizanda Alcala | Aurora | IL |
| Keara Anderson | Oak Lawn | IL |
| Valentina Anigbo | Schererville | IN |
| Wendy Arnone | Chicago | IL |
| Mitzi Austin | Terre Haute | IN |
| Stephen Ayers | Chesterton | IN |
| Jessica Bachner | Cary | IL |
| Roxann Back | Knox | IN |
| Esther Bair | Churubusco | IN |
| Dustin Baldwin | Taylor | AZ |
| Kimberly Baney | Mentone | IN |
| Mirona Barac | Hoffman Estates | IL |
| Joseph Barrell | La Porte | IN |
| Shannon Barrett | Montgomery | IL |
| Michael Bartsch | Northbrook | IL |
| Krista Bauer | Fort Wayne | IN |
| Brandi Bechtel | Des Plaines | IL |
| Samantha Berango | Elgin | IL |
| Jonathon Bigger | Demotte | IN |
| Jonathon Bills | Fort Wayne | IN |
| Nina Bivol | Crown Point | IN |
| Maneepan Blanchard | Highland Park | IL |
| MacKenzie Boberg | Savoy | IL |
| Olga Bojanic | Aurora | IL |
| Evett Borojan | Des Plaines | IL |
| Matthew Braun | Chicago | IL |
| Beatriz Bravo | Oak Lawn | IL |
| Jason Bronzo | Morton | IL |
| Jodi Brose | Roselle | IL |
| Julia Burns | Delaware | OH |
| Elizabeth Buskirk | Michigan City | IN |
| Kristine Campbell | Richton Park | IL |
| Logan Castro | Chesterton | IN |
| Kristen Cavanaugh | McHenry | IL |
| Jeff Challender | Traverse City | MI |
| Jason Chau | Carol Stream | IL |
| Cerissa Chin | La Grange Park | IL |
| Abby Cleminson | Tucson | AZ |
| Rikki Collins | Elkhart | IN |
| Nicole Cooper | Skokie | IL |
| Katie Cornelius | Lafayette | IN |
| Cynthia Cortez | Skokie | IL |
| Jasmina Coseska | Crown Point | IN |
| Haley Cox | Demotte | IN |
| Emma Crager | Fairborn | OH |
| John Cranor | Anderson | IN |
| Michelle Crawley | Fort Wayne | IN |
| Carrie Cruse | Portage | IN |
| Kevin Cruz | Schaumburg | IL |
| Jesse Curtis | Fort Wayne | IN |
| Carl Patrick Cuta | Hickory Hills | IL |
| Brittany Cutlip | Columbus | OH |
| Assata Dabner | Gary | IN |
| Julianna Daniel | Chesterton | IN |
| Justin Daverin | Kankakee | IL |
| Ruth Davis | Franklin | OH |
| Nicholas Deering | Wheatfield | IN |
| Kieffer Delaney | Valparaiso | IN |
| Raymond Delgado | Gilbert | AZ |
| Emma DeYoung | Cedar Lake | IN |
| Alia Donald | Gary | IN |
| Lindsey Drafke | Romeoville | IL |
| James Drudge | Grand Junction | CO |
| Stefanie Duros | Madison | WI |
| Brittany Eisensee | Lowell | IN |
| Mehrnoosh Ejlali | Mount Prospect | IL |
| Alexander Engler | Pingree Grove | IL |
| Shelby English | Worthington | IN |
| Bianca Farfan | Schererville | IN |
| Sherron Farmer | Joliet | IL |
| Jacob Fillippo | Portage | IN |
| Mikayla Fisher | Bradley | IL |
| Carrie-Anne Fitzhugh | La Porte | IN |
| Elise Foran | Mahomet | IL |
| Sidnee Frasure | Winamac | IN |
| Jillary Freese | Bloomington | IN |
| Christina Fries | Leland | IL |
| Rachel Gacioch | Chesterton | IN |
| Samantha Gajewski | Hoffman Estates | IL |
| Katherine Galazka | Oswego | IL |
| Jessica Gallup | Joliet | IL |
| Samantha Gannon | Milford | MI |
| Mayra Garcia | Elgin | IL |
| Sindy Garcia Tellez | Berwyn | IL |
| Ruzanna Gavriliyan | Palatine | IL |
| Danielle Gaylord | Bluffton | IN |
| Jency George | Lake Zurich | IL |
| Brianna Gieseler | Clarksville | IN |
| Natalia Godlewski | Arlington Heights | IL |
| Mari Gomez-Zaragoza | Demotte | IN |
| Brandon Goodman | Westfield | IN |
| Rachel Gottschalk | Madison | WI |
| Sarah Gourdier | Wilmington | NC |
| Elena Gozadinos | Niles | IL |
| Angela Grande | Arlington Heights | IL |
| Michael Grimes | Chicago | IL |
| Audrey Grube | Kenosha | WI |
| Ashley Gualberto | Wheeling | IL |
| Lyndi Joyce Gubaton | Carpentersville | IL |
| Michelle Hackworth | Marysville | OH |
| Heather Halminiak | Chicago | IL |
| Katherine Hanna | Oswego | IL |
| Pamela Hayes | Mokena | IL |
| Michelle Haynes | Kendallville | IN |
| Matthew Healy | Newburgh | IN |
| Cody Helms | Jasper | IN |
| Kathleen Hickey | Cary | IL |
| Sophie Hillis | Warsaw | IN |
| Jacinda Hinten | Valparaiso | IN |
| Jasmine Hobbs | Valparaiso | IN |
| Brianne Homrich | Highland | IN |
| Stephanie Houts | Joliet | IL |
| Marta Hristova | Lincolnwood | IL |
| Lenae Hunt | Glenwood | IL |
| Seleana Isaacs | Elburn | IL |
| Mary Isho | Skokie | IL |
| Haejin Jack | Columbus | OH |
| Melissa Janisch | Elk Grove Village | IL |
| Maheen Jeewa | Chicago | IL |
| Karie Johnson | Plainfield | IL |
| Summer Johnson | Fort Atkinson | WI |
| Jasmine Jones | Calumet City | IL |
| Tarlochan Kaur | Valparaiso | IN |
| Dakota Kennedy | East Chicago | IN |
| Michelle Kennell | Fort Wayne | IN |
| Upexa Kevat | Harwood Heights | IL |
| Evgeniya Khen | Oconomowoc | WI |
| Bobah Kim | Fishers | IN |
| Victoria Klahn | Portage | WI |
| Yelena Kokhanyuk | Buffalo Grove | IL |
| Aneta Kolanko | Buffalo Grove | IL |
| David Kordik | West Chicago | IL |
| Holly Krieg | Park Ridge | IL |
| Naomi Kroncke | South Elgin | IL |
| Kirsten Krueger | Madison | WI |
| Kristina Lapienyte | Palos Hills | IL |
| Lynzy Lathro | Mishawaka | IN |
| Mary Lazarraga | Round Lake Beach | IL |
| Denise Leslie | Des Plaines | IL |
| Christian Lilliebridge | Chicago | IL |
| Laura Lindquist | Lakemoor | IL |
| Renata Lozinski | Chicago | IL |
| Milissa S. Lundy | Merrillville | IN |
| Kelly Lusco | Michigan City | IN |
| Emily Lussky | Milwaukee | WI |
| Toriana Mabon | Portage | IN |
| Christine Mack | Roselle | IL |
| Tracy Manns | Winamac | IN |
| Catherine Marcelo | Des Plaines | IL |
| Irena Markova | Hanover Park | IL |
| Betty Marling | Grayslake | IL |
| Maryann Marshall | Oswego | IL |
| Tiffany Martin | Lafayette | IN |
| Karl Maurer | Peoria | IL |
| Lorraine Mayberry | Oolitic | IN |
| Phillip Mayville | Marshfield | WI |
| Lauren McCullough | Andrews | IN |
| Shannon McGlothlin | Bloomington | IN |
| Jeannine McGreevy | South Bend | IN |
| Michele Meister | Merrillville | IN |
| Ana Mendez | East Chicago | IN |
| Rosa Mercado | Algonquin | IL |
| Jennifer Mesina | Minooka | IL |
| Cindy Meyers | Elkhart | IN |
| Nichole Misiak | Highland | IN |
| Rubi Morales-Salinas | Evanston | IL |
| Dinetta Morris | Chicago | IL |
| Meghan Muldoon | Homewood | IL |
| Brittany Nelson | Chicago | IL |
| Anais Nova | Joliet | IL |
| Lisa O`Rourke | La Grange Park | IL |
| Taylor O'Gara | Chicago | IL |
| Sydney Oliver | Wausau | WI |
| Emily O'Reilly | Warrenville | IL |
| Argelia Ortiz | Minooka | IL |
| Patricia Ortiz | Hebron | IL |
| Andrea Osborne | Newberry | IN |
| Vanessa Pain | Sycamore | IL |
| Victoria Palonis | Crown Point | IN |
| Claudia Paniagua | Chicago | IL |
| Maryann Park | Alsip | IL |
| Jack Pearson | Palatine | IL |
| Elizabeth Perez | Munster | IN |
| Sulona Perteet | Chicago | IL |
| Meagan Petersen | Sellersburg | IN |
| Rebecca Peterson | Hilliard | OH |
| Margaret Phillips | Palatine | IL |
| Megan Phillips | Asheville | NC |
| Yvonne Poku | Homewood | IL |
| Zachary Polich | Lowell | IN |
| Krystal Porter | Wheatfield | IN |
| Fallon Pugh | La Porte | IN |
| Kimberly Quinn | Grayslake | IL |
| Petya Radoeva | Rolling Meadows | IL |
| Autumn Reese | Rolling Prairie | IN |
| Yesenia Regino | Elgin | IL |
| Michelle Rickabaugh | Portage | IN |
| Lisa Rinker | Hartford City | IN |
| Tierra Robinson | Chicago | IL |
| Lori Roby | Plain City | OH |
| Kay Roda | Peru | IL |
| Venus Rosendo | Tinley Park | IL |
| Michelle Ruffing | Middleville | MI |
| Megan Ryan | Mount Prospect | IL |
| Taylor Ryckman | Highland | IN |
| Ruth Ryder | La Porte | IN |
| Marie Salahou | Romeoville | IL |
| Dori Salinas | Portage | IN |
| Amanda Salzman | Chicago | IL |
| Rey San Pedro | Bartlett | IL |
| Jacob Sanders | Portage | IN |
| Mihaela Sandulescu | Saint Charles | IL |
| Briana Satoski | La Porte | IN |
| Bertie Schlossberg | Willowbrook | IL |
| Kathryn Schneider | Demotte | IN |
| Barbara Schultz | DeKalb | IL |
| Ashley Sheehan | Paxton | IL |
| Crystal Shepard | Plainfield | IL |
| Tannes Shmagranoff | Munster | IN |
| Alexis Singer | Griffith | IN |
| Morgan Skube | Chesterton | IN |
| Gabrielle Smit | Peoria | IL |
| Dominique Smith | Chicago | IL |
| Jessica Smith | Mount Prospect | IL |
| Samantha Smith | Dekalb | IL |
| Timothy Stacy | Joliet | IL |
| Kayla Stadt | Beecher | IL |
| Amy Stromer | Reynoldsburg | OH |
| Meghan Sullivan | Valparaiso | IN |
| Morgan Switalla | Dyer | IN |
| Sylwia Szczepanski | Hanover Park | IL |
| Megan Targun | Chicago | IL |
| Rachel Taylor | San Jose | CA |
| Taylor Tealakh | Mechanicsville | VA |
| Tania Tellez | Ingleside | IL |
| Marvin Thompson | Chicago | IL |
| Milton Torres-Hage | Prairie View | IL |
| Jennifer Towne | Ottawa | IL |
| Brittany Townsend | South Elgin | IL |
| Heather Treest | Ottawa | IL |
| Apexa Trivedi | Lewis Center | OH |
| Karina Tweed | Yorkville | IL |
| Dianna Underwood | Hobart | IN |
| Araceli Urquizo | Crete | IL |
| Alona Ushomirsky | Skokie | IL |
| Tajae' Vallot | Crete | IL |
| Jennifer Van Beynen | Chicago | IL |
| Carol Vanderwal | Lindenhurst | IL |
| Alicja Walkosz | Justice | IL |
| Tamara Waninger | Lebanon | IN |
| Stephanie Ware | Columbus | OH |
| Ashley Waters | Valparaiso | IN |
| Theresa Watkins | Sun River Terrace | IL |
| Karly Wauro | Crown Point | IN |
| Amy Weaver | Lisle | IL |
| Amanda Weed | Streamwood | IL |
| Katie Welcome | Evergreen Park | IL |
| Stephanie Wheeler | Ottawa | IL |
| Hope Wickersham | Saint Paris | OH |
| Brian Wilkins | Highland | IN |
| Lorena Williams | Chicago | IL |
| Tina Williams | Merrillville | IN |
| Tiffany Winchell | Hammond | IN |
| Heather Wiser | Elmwood Park | IL |
| Jessica Wisniewski | Saint John | IN |
| Melissa Wojnowski | Carpentersville | IL |
| Stephanie Wolfe | Mount Sterling | OH |
| Takiela Wyatt | Homewood | IL |
| Kimberly Zielinski | Palos Hills | IL |
College of Technology
Bachelor of Science
| Name | City | State |
| --- | --- | --- |
| Michael Acosta | Valparaiso | IN |
| Saleh Alaqiel | Munster | IN |
| Abdullah Mohammed M. Alkhaldi | Highland | IN |
| Ismael Ibrahim Almashama | Hammond | IN |
| Ali Almiskeen | Highland | IN |
| Abdulmohsen Ali Almutawah | Munster | IN |
| Mustafa Adel Alsadah | Hammond | IN |
| Jonathan Arranaga | Hobart | IN |
| Jonathon Baccino | Griffith | IN |
| Sarah Bach | Portage | IN |
| Ryan Barnes | Crown Point | IN |
| Jason Beezhold | Dyer | IN |
| Blake Benedict | Saint Augustine | FL |
| Samantha Bensema | Munster | IN |
| Jacob Bible | Crown Point | IN |
| Jacob Bieszczak | Crown Point | IN |
| Christian Bland | Chicago | IL |
| Cody Blankman | Chesterton | IN |
| Daniel Bogs | Valparaiso | IN |
| Seth Boniface | New Carlisle | IN |
| Jeremy Booker | Valparaiso | IN |
| Jeffrey Bowen | Valparaiso | IN |
| Kaitlyn Boyd | Valparaiso | IN |
| Evan Brady | Schererville | IN |
| Nolin Bruns | Westville | IN |
| Caleb Bublitz | La Porte | IN |
| Jonathan Buehler | Chesterton | IN |
| Mitchell Burk | Griffith | IN |
| Todd Burns | Hobart | IN |
| Paulo Campos | Munster | IN |
| Michael Canino | La Grange Park | IL |
| Michael Carnahan | Westville | IN |
| Alexander Charriere | Westville | IN |
| Giana Ciuffetelli | Portage | IN |
| Nathan Combs | La Porte | IN |
| Paul Cooper | La Porte | IN |
| Jered Daniels | Crown Point | IN |
| Benjamin Deeb | Michigan City | IN |
| Jeremy Diederich | La Porte | IN |
| Bradon Downing | Winamac | IN |
| Jeffrey Eaton | La Porte | IN |
| Christian Eggers | Hammond | IN |
| Kyle Emenaker | Plymouth | IN |
| Simon Engel | Westville | IN |
| Kyle Erminger | Munster | IN |
| Vaughn Falkenberry | Plainfield | IL |
| Zihao Fang | Hammond | IN |
| Federico Flores | Hammond | IN |
| Daniel Forsythe | New Carlisle | IN |
| Christopher Frederick | Michigan City | IN |
| Alex Front | Michigan City | IN |
| Peter Frystak | Calumet City | IL |
| Heriberto Gomez | Chicago Heights | IL |
| Dominic Guevara | Crown Point | IN |
| Benjamin Guse | Michigan City | IN |
| Sawyer Hallas | Chesterton | IN |
| Jordon Hampel | Michigan City | IN |
| Grant Hultman | Chesterton | IN |
| Caitlynn Hunt | Highland | IN |
| Drew Johnson | Highland | IN |
| Joshua Judge | Griffith | IN |
| Robin Kendrick | Gary | IN |
| Daniel Kuckuck | Crown Point | IN |
| Daniel Kwak | Burbank | IL |
| Natalee Kwiatkowski | Valparaiso | IN |
| Blake Lewis | Westville | IN |
| Brayton Lewis | Kouts | IN |
| Xin Li | Hammond | IN |
| Brian Long | Westville | IN |
| Kyle Lumbarkoski | Crown Point | IN |
| Ekaterina Maidanik | Hammond | IN |
| Michael Matykiewicz | Hammond | IN |
| Calvin-Charles Mead | Gary | IN |
| Ever Melendez | Chicago | IL |
| Emily Merritt | Plymouth | IN |
| Corey Meyers | Crown Point | IN |
| Zachary Minchuk-Bielawski | Kouts | IN |
| Andres Minton | Griffith | IN |
| Gregory Myers | LaPorte | IN |
| Elder Navarrete | Hammond | IN |
| Devin Nelson | Rolling Prairie | IN |
| Tommye Nelson | Crown Point | IN |
| Garrett Nisle | Crown Point | IN |
| Turki Ali Olyan | Fort Wayne | IN |
| Connie Orozco Huerta | East Chicago | IN |
| Gabrielle Osteen | Hobart | IN |
| Steven Otte | Highland | IN |
| Daniel Owen | Valparaiso | IN |
| Robert Pace | Crown Point | IN |
| Omar Padilla | Hammond | IN |
| Daksh Patel | Greenwood | IN |
| Tirth Patel | Michigan City | IN |
| Jonathan Pavlinac | Lowell | IN |
| Raul Pena | Momence | IL |
| Deshawn Peterson | Alsip | IL |
| John Petryszyn | Chesterton | IN |
| Luis Pineda | Hammond | IN |
| Damian Podgorski | Franklin Park | IL |
| Jacob Powers | Munster | IN |
| Joseph Proby | Flossmoor | IL |
| Hardik Ramparia | South Bend | IN |
| Joseph Repya | Michigan City | IN |
| Trenton Rhodes | Valparaiso | IN |
| Dean Ricciardi | Dyer | IN |
| Neil Riley | Morocco | IN |
| Dino Rinaldi | Saint John | IN |
| Irving Rocha | Hammond | IN |
| Luis Romero | Hammond | IN |
| Arthur Rosales | Valparaiso | IN |
| Haley Sandman | Hammond | IN |
| Marquis Schieber | Westville | IN |
| Andrew Schmied | Schererville | IN |
| Jeffery Scott | Crown Point | IN |
| Nathaniel Sekuloski | Crown Point | IN |
| Jiadong Shao | Hammond | IN |
| Ethan Shindle | Wheatfield | IN |
| Latrese L. Simmons | Hammond | IN |
| Sean Slouber | Monticello | IN |
| William Smith | La Porte | IN |
| Uthman Solebo | Hammond | IN |
| Nathan Solich | Hobart | IN |
| Kevin Sparks | Portage | IN |
| Philip Sterchele | Orland Park | IL |
| Dekota Szparaga | Westville | IN |
| Shakira Taylor | Decatur | IL |
| Brandon Thongsawath | Hammond | IN |
| Alex Torres | Lowell | IN |
| Matthew Trimble | Valparaiso | IN |
| Tyler Tucker | Culver | IN |
| Chad Van Drunen | Lansing | IL |
| Julian Van Wijngaarden | Hobart | IN |
| Ivan Vega | Hammond | IN |
| Matthew Vetor | Valparaiso | IN |
| Vince Watkins | Winamac | IN |
| Jonathan White | Hammond | IN |
| Aaron Wiening | Cedar Lake | IN |
| Jeanine Williams | East Chicago | IN |
| Changshi Yang | Hammond | IN |
| Kevin Young | Valparaiso | IN |
| Max Young | Highland | IN |