PNW Communication students earn script writing award from national competition
May 28, 2020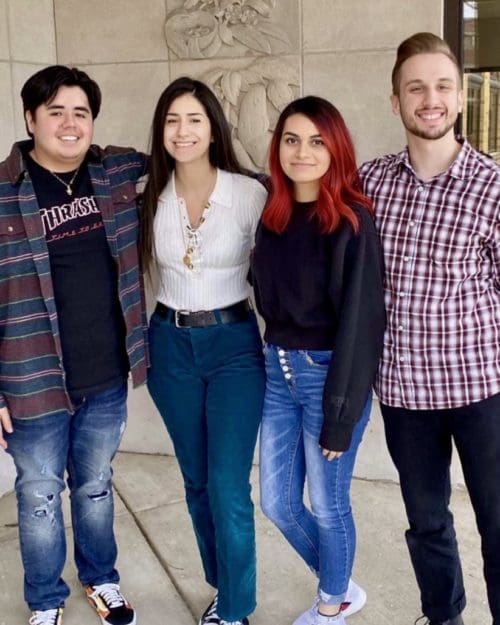 A team of four Purdue University Northwest (PNW) Communication students has earned second place in the Television Spec category of the Broadcast Education Association Festival of Media Arts student scriptwriting competition.
Nicole Carmona of Hammond, Stephaine Cordova of Griffith, Ismael Juarez of Highland, and Bradley Knight of Hammond tirelessly worked to write an episode titled, "The Tell-Tale Heart" from the Netflix series "You," with guidance from Associate Professor of Communication, Mary Beth O'Connor, who instructs the Script Writing course.
Dissecting the Story
"The story was about a man who would literally kill for love…His past comes back to bite him, and he needs to get out of New York City before more people get hurt," Cordova stated. "Everyone in my group played an essential role."
"We really dissected the show and made sure that the characters acted as they were written," said Juarez, regarding what he thought led to their success over other competitors. "Script writing has really shown me how much work goes into a show or movie before it goes into production, which was an eye-opener into the industry."
A Shared Commitment
While proper research and character development is vital for a successful script, another important aspect is the team's commitment to the assignment and one another.
Script writing helped me see how valuable team members are in group work. My group members have become more than friends...they're family and I feel like we could accomplish anything we work on together.




The immense joy of earning a national award was felt throughout the entire team. "I was so ecstatic and couldn't wait to celebrate with my group members because we had worked so hard on our script," said Carmona. "A few valuable techniques I have learned in the Script Writing course were: always be prepared, research everything before you do anything, work as a team, think of your class as a whole, and lastly, always remember that anything is possible if you try hard enough."
O'Connor concluded, "It was my privilege to mentor these talented students as they wrote their winning script. I'm so very proud of them, not just for winning the award but for their dedication to learning the complex art of visual storytelling."
For more about script writing and various course options in the department of Communication and Creative Arts, visit: https://www.pnw.edu/communications-creative-arts/.