Purdue University Northwest Graduates Encouraged to Remember Civics at Spring Commencement
May 8, 2023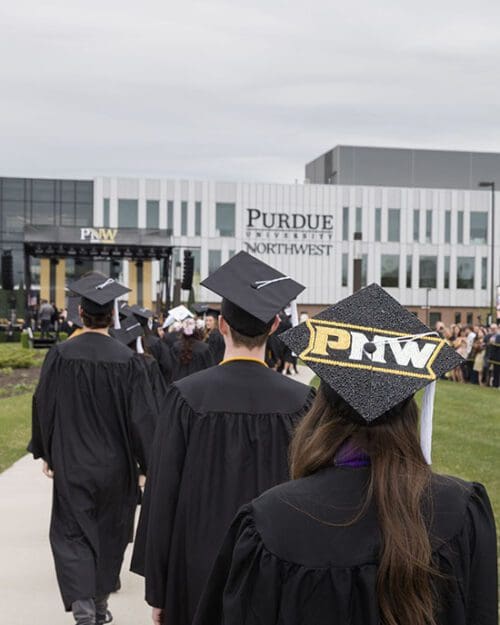 Purdue University Northwest (PNW) graduates were urged to uphold the values and freedoms afforded to them as U.S. residents and exhibit service to others as exemplary, participatory civilians in a democracy, during PNW's spring commencement Saturday, May 6.
Judge Diane Kavadias Schneider delivered those and other important messages as the keynote speaker during the outdoor commencement ceremony. Schneider, now retired after 33 years of service in the courts, became the first female judge of the Civil Division of the Lake Superior Court in 2000.
She previously served as court administrator in the Juvenile Division and magistrate in the County Division. She earned her bachelor's degree in English in 1971 from PNW and her Juris Doctor from the Valparaiso University School of Law in 1982. Judge Schneider was awarded her master's degree in English during Saturday's commencement exercises.
Schneider recalled her own career in the Indiana judicial system and role in upholding the rule of law. She challenged PNW's graduates to join in maintaining their rights and freedoms through civic participation. She remarked that she has observed attacks on civil liberties and freedom of speech, as well as outspoken denials of history and science, are prevalent.
"It now falls to you to continue the important mission of protecting and defending our freedoms," Schneider said. "Today you become the guardians of democracy and the rule of law. Count your blessings. There is not a day that I do not realize how my life would have been different if I had been born in another place or time. Here in the United States I have enjoyed opportunities and freedoms that people, especially women, do not enjoy in many other countries."
Schneider additionally urged the graduates to take up service in their community. Quoting former U.S. Supreme Court Justice Ruth Bader Ginsburg, she said; "If you are a true professional you will do something outside yourself, something to repair tears in your community — something to make life a little better for people less fortunate than you. One lives not just for oneself but for one's community."
Be grateful. Always show gratitude to those who support and assist you. Be proud of your heritage and never forget your roots.




Schneider additionally imparted her advice for graduates going forth into the world, noting their careers will not come without challenges or mistakes.
"For me every day was a learning experience," Schneider said. "You will also learn that failure is sometimes good. I often failed in what I tried to accomplish but that never deterred my resolve to try again. The road to success is not always a straight line.
"Be grateful. Always show gratitude to those who support and assist you. Be proud of your heritage and never forget your roots."
PNW's spring 2023 graduating class includes 889 candidates, with 755 earning baccalaureate degrees and 134 earning master's degrees. See the full listing of graduates!
Read more stories featuring PNW graduates at pnw.edu/commencement.
---
Chancellor Medallion Recipients
Nine students were presented a Chancellor Medallion during commencement for earning the highest grade point average in each of PNW's five academic colleges.
The medallion recipients are:
College of Business
Colton Dougherty, Schererville, Indiana
Riley Gallagher, Bloomington, Indiana
Ryan Sues, St. John, Indiana
College of Engineering and Sciences
Theodore Mantis, Crown Point, Indiana
Elizabeth Pucher, Griffith, Indiana
College of Humanities, Education and Social Sciences
Tyler Nimon, Hebron, Indiana
Janelle Turner, Hammond, Indiana
College of Nursing
Bozana Cucuz, Schererville, Indiana
College of Technology
Sharyl Riley, Granger, Indiana
---
Relive Commencement
PNW Commencement in Photos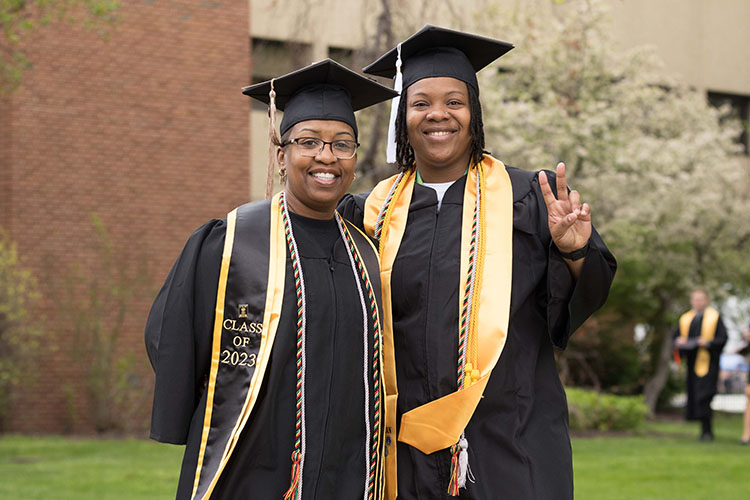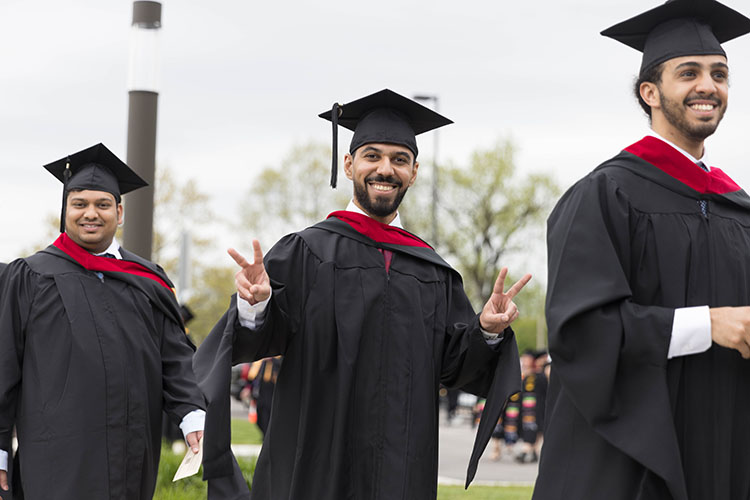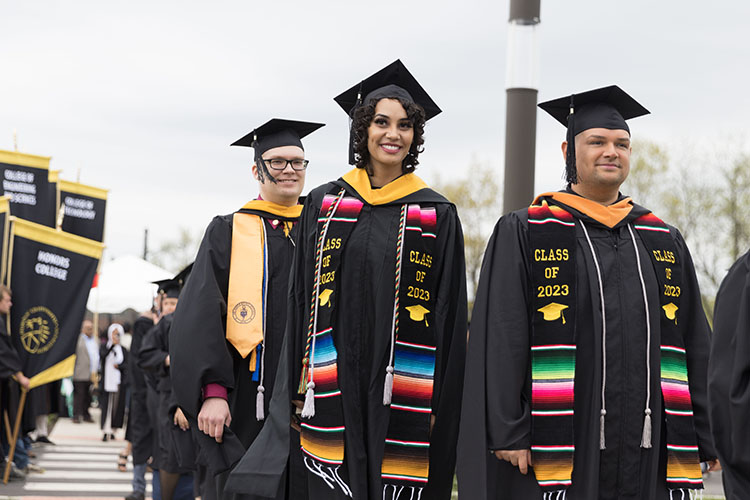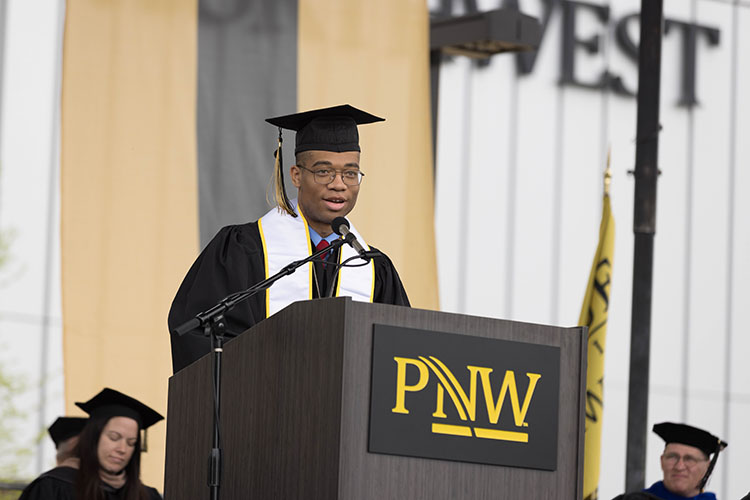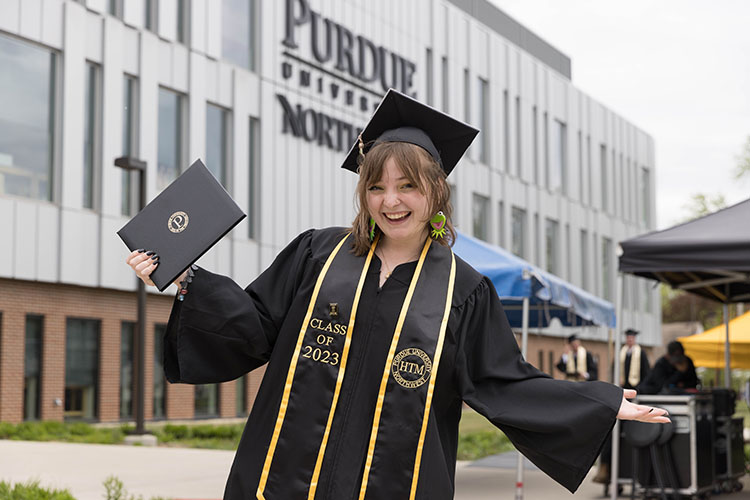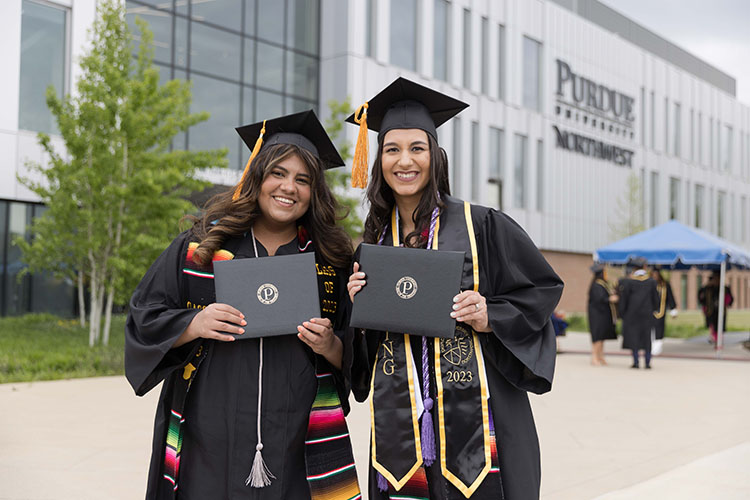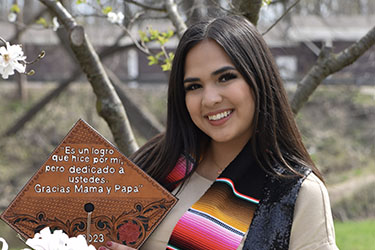 Meet the Spring 2023 Graduates
Discover what inspires our remarkable Spring 2023 graduates—and how they are Powering Onward to their futures.
List of Spring 2023 Degree Candidates
| Full Name (Preferred Name plus Last Name | DEGREE | COLLEGE | CITY | STATE |
| --- | --- | --- | --- | --- |
| Saad Ahmed | MS | Graduate Studies | Highland | IN |
| Kunle Akanbi | MBA | Graduate Studies | Hammond | IN |
| Rashed Al Manasir | MSME | Graduate Studies | Hammond | IN |
| Stacy Alfredson | MSN | Graduate Studies | Panama City | FL |
| Mohammed AlHamad | MS | Graduate Studies | Portage | IN |
| Mustafa Alkhatib | MSECE | Graduate Studies | Appleton | WI |
| Xavier Allison | MA | Graduate Studies | Schererville | IN |
| Malik Bakhashwain | MS | Graduate Studies | Chicago | IL |
| Malik Bakhashwain | Post-Baccalaureate Certificate | Graduate Studies | Chicago | IL |
| Spero Batistatos | MBA | Graduate Studies | Saint John | IN |
| Kathryn Baum | MBA | Graduate Studies | Griffith | IN |
| Samer Bedaywi | MS | Graduate Studies | Suwanee | GA |
| Samer Bedaywi | Post-Baccalaureate Certificate | Graduate Studies | Suwanee | GA |
| Tiffany Bennett | MSN | Graduate Studies | Chicago | IL |
| Akash Bhargava | MSECE | Graduate Studies | Los Altos | CA |
| Veera Venkata Ramarao Bikkina | MS | Graduate Studies | Hammond | IN |
| Reagan Bishop | MS | Graduate Studies | Granger | IN |
| Vishwa Bollepally | MSECE | Graduate Studies | Hammond | IN |
| Tina Bowman | MSN | Graduate Studies | Grovertown | IN |
| Neel Busa | MSME | Graduate Studies | Hammond | IN |
| Cristina Cabascango | MBA | Graduate Studies | Hammond | IN |
| Tabitha Callahan | MSN | Graduate Studies | Michigan City | IN |
| Cecilia Cardenas | MBA | Graduate Studies | Munster | IN |
| Bhargavaram Chalasani | MS | Graduate Studies | Hammond | IN |
| Wenliang Chen | MS | Graduate Studies | Hammond | IN |
| Austin Chentnik | MS | Graduate Studies | Valparaiso | IN |
| Baba Ranga Ratan Chitluri | MS | Graduate Studies | Hammond | IN |
| Szymon Cias | MSME | Graduate Studies | Dyer | IN |
| Heather Clark | MA | Graduate Studies | Valparaiso | IN |
| Jordan Cole | Post-Baccalaureate Certificate | Graduate Studies | Munster | IN |
| Michelle Cowles | MACC | Graduate Studies | Valparaiso | IN |
| Karen Cruz Copado | MSN | Graduate Studies | Evanston | IL |
| Rachel Dalton | MSN | Graduate Studies | North Port | FL |
| Princess Wednesday Daniels-Porter | MS | Graduate Studies | Valparaiso | IN |
| Christina Dennie | MSN | Graduate Studies | Portage | IN |
| Emelie Ehrlich | MSN | Graduate Studies | Whiting | IN |
| Ifeatu Ezenwe | MSME | Graduate Studies | Hammond | IN |
| Yulong Fan | MS | Graduate Studies | Crown Point | IN |
| Zihao Fang | MS | Graduate Studies | Hammond | IN |
| Melanie Ferguson | MSN | Graduate Studies | Lombard | IL |
| Emily Fernandez | MSEd | Graduate Studies | Valparaiso | IN |
| Tatiana Flores | MBA | Graduate Studies | Valparaiso | IN |
| Evan Fus | MSECE | Graduate Studies | Munster | IN |
| Jessica Gipp | MSEd | Graduate Studies | Griffith | IN |
| Jessica Gipp | Post-Masters Certificate | Graduate Studies | Griffith | IN |
| Jessica Gipp | Post-Masters Certificate | Graduate Studies | Griffith | IN |
| Brian Goodman | MA | Graduate Studies | Dyer | IN |
| Daniel Gyekye | MA | Graduate Studies | Hammond | IN |
| Mark Harnew | MA | Graduate Studies | Portage | IN |
| Karen Harshman | MSN | Graduate Studies | Indianapolis | IN |
| Gabrielle Harth | MSEd | Graduate Studies | Merrillville | IN |
| Ryan Hayes | MBA | Graduate Studies | Westmont | IL |
| Bruno Hnatusko | MS | Graduate Studies | Crown Point | IN |
| Ajitsingha Jagtap | MSME | Graduate Studies | Hammond | IN |
| Mohana Krishna Janmanchi | MS | Graduate Studies | | |
| Alyssa Javier | MS | Graduate Studies | Whiting | IN |
| Alyssa Javier | Post-Baccalaureate Certificate | Graduate Studies | Whiting | IN |
| Shawnice Johns | MSEd | Graduate Studies | Bloomington | IN |
| Nikki Kamos | MSN | Graduate Studies | Lawrenceburg | IN |
| Khushbukumari Kantaria | MS | Graduate Studies | Munster | IN |
| Rubab Karim | MS | Graduate Studies | Chicago | IL |
| Rusaf Karim | MS | Graduate Studies | Chicago | IL |
| Sylvia Kelechi | MSE | Graduate Studies | Hammond | IN |
| Jessica Klemz | MSEd | Graduate Studies | Valparaiso | IN |
| Jessica Klemz | Post-Masters Certificate | Graduate Studies | Valparaiso | IN |
| Jessica Klemz | Post-Masters Certificate | Graduate Studies | Valparaiso | IN |
| Abbi Kosteba | MSEd | Graduate Studies | Crown Point | IN |
| Jen Kucan | MSN | Graduate Studies | Huntley | IL |
| Christian Lilliebridge | MSN | Graduate Studies | Niles | IL |
| Jordan Lopez | MS | Graduate Studies | Valparaiso | IN |
| Ravi Shankar Madiraju | MS | Graduate Studies | Hyderabad | IA |
| Ravi Shankar Madiraju | Post-Baccalaureate Certificate | Graduate Studies | Hyderabad | IA |
| Rosalyn Manurung | MSEd | Graduate Studies | Munster | IN |
| Shashindhar Mara | MSME | Graduate Studies | Hammond | IN |
| Humberto Martinez Alvarez | MS | Graduate Studies | Crown Point | IN |
| Humberto Martinez Alvarez | Post-Baccalaureate Certificate | Graduate Studies | Crown Point | IN |
| Jen McIlrath | MSN | Graduate Studies | Hoffman Estates | IL |
| Alex McNamara | MBA | Graduate Studies | Saint John | IN |
| Rohith Medisetty | MS | Graduate Studies | Hammond | IN |
| Ryan Milly | MS | Graduate Studies | Crown Point | IN |
| Ryan Milly | Post-Baccalaureate Certificate | Graduate Studies | Crown Point | IN |
| Venkata Mogali | MS | Graduate Studies | Valparaiso | IN |
| Arbaz Mohammed | MS | Graduate Studies | Chicago | IL |
| Shabaz Mohammed | MS | Graduate Studies | Chicago | IL |
| Zeeshan Mohammed | MSECE | Graduate Studies | Chicago | IL |
| Derek Moore | MSN | Graduate Studies | Delphos | OH |
| Muqtadir Mujtaba | MS | Graduate Studies | Chicago | IL |
| Vijaynath Mula | MS | Graduate Studies | Hammond | IN |
| Mohammad Nayfeh | MSECE | Graduate Studies | Hammond | IN |
| Authoi Neelima | MSECE | Graduate Studies | Hammond | IN |
| Johnny Neely | MBA | Graduate Studies | Gary | IN |
| Sawyer Newman | MS | Graduate Studies | Warsaw | IN |
| Sai Nishit Reddy Pabbathi | MS | Graduate Studies | Hammond | IN |
| Vicky Palonis | MSN | Graduate Studies | Crown Point | IN |
| Tarang Panchal | MSME | Graduate Studies | Hammond | IN |
| Vimal Patel | MS | Graduate Studies | Hammond | IN |
| Vrund Patel | MS | Graduate Studies | Munster | IN |
| Vimal Patel | Post-Baccalaureate Certificate | Graduate Studies | Hammond | IN |
| Ninad Patil | MSME | Graduate Studies | Hammond | IN |
| Paige Peters | MSN | Graduate Studies | Munster | IN |
| Sai Krishna Pochampally | MS | Graduate Studies | Hammond | IN |
| Prudhvi kumar Pokala | MS | Graduate Studies | Hammond | IN |
| Joshua Price | MSECE | Graduate Studies | Hammond | IN |
| Dinesh Pulluru | MS | Graduate Studies | Hammond | IN |
| Christopher Rasmussen | MS | Graduate Studies | Hammond | IN |
| Carson Rhodes | MS | Graduate Studies | Valparaiso | IN |
| Maria Ripple-Keller | MSN | Graduate Studies | Evansville | IN |
| Julie Rivera | MS | Graduate Studies | Cedar Lake | IN |
| Ryan Rosenbrock | MA | Graduate Studies | Beecher | IL |
| Sarah Rosser | MS | Graduate Studies | Portage | IN |
| Maria Rounds | MSN | Graduate Studies | Richton Park | IL |
| Michelle Sacramento | MBA | Graduate Studies | Dyer | IN |
| Greg Safstrom | MSME | Graduate Studies | Tinley Park | IL |
| Arshad Salman | MSME | Graduate Studies | Highland | IN |
| Sushma Sanisetty | MS | Graduate Studies | Hammond | IN |
| Joe Santos | MS | Graduate Studies | Hobart | IN |
| Joe Santos | Post-Baccalaureate Certificate | Graduate Studies | Hobart | IN |
| Joel Schwartz | MS | Graduate Studies | Highland | IN |
| Emily Sellers | MSN | Graduate Studies | Mazomanie | WI |
| Zila Serna | MACC | Graduate Studies | Hammond | IN |
| Arshad Shaik | MSME | Graduate Studies | Highland | IN |
| Gabriel Silva | MSECE | Graduate Studies | Valparaiso | IN |
| Ravi Singhal | MS | Graduate Studies | Hammond | IN |
| Caleigh Smith | MSME | Graduate Studies | Marengo | IA |
| Cody Snoreck | MS | Graduate Studies | Saint John | IN |
| Cody Snoreck | Post-Baccalaureate Certificate | Graduate Studies | Saint John | IN |
| Shannon Marie Sobolewski | MBA | Graduate Studies | Crown Point | IN |
| Blake Soffa | MSME | Graduate Studies | La Porte | IN |
| Suresh Radhakrishna Sripathi Panditha | MS | Graduate Studies | Hammond | IN |
| Althera Steenes | MSEd | Graduate Studies | Hammond | IN |
| Kerry Steffes | MSN | Graduate Studies | Mansfield | IL |
| Melodie Suvajac | MBA | Graduate Studies | Hebron | IN |
| Jansen Tan | MSECE | Graduate Studies | Merrillville | IN |
| Krishnajith Theril | MSME | Graduate Studies | Hammond | IN |
| Thuy Tran | MBA | Graduate Studies | Beecher | IL |
| Jennifer Turpin | MSN | Graduate Studies | Bedford | IN |
| Alan Vale | MA | Graduate Studies | Lake Station | IN |
| Kayla Vasilko | MA | Graduate Studies | Crown Point | IN |
| Nikitha Veludandi | MS | Graduate Studies | Hammond | IN |
| Keely Verhaar | MBA | Graduate Studies | South Holland | IL |
| Wahajuddin Wahajuddin | MS | Graduate Studies | Bolingbrook | IL |
| Christopher Weliczko | MS | Graduate Studies | Michigan City | IN |
| Katelyn Williams | MS | Graduate Studies | Crete | IL |
| Raja Mahith Athreya Yelishetty | MSME | Graduate Studies | Hammond | IN |
| Aleeha Zafar | MS | Graduate Studies | Hammond | IN |
| Guanhua Zhu | MSECE | Graduate Studies | Hammond | IN |
| Mohammad Abueid | BSB | College of Business | Merrillville | IN |
| Dylan Adair | BSB | College of Business | Manhattan | IL |
| Tom Aguilar | BSB | College of Business | Valparaiso | IN |
| Aleksa Andjelic | BSB | College of Business | Cedar Lake | IN |
| Caleb Ashworth | BSB | College of Business | Elkhart | IN |
| Cameron Banks | BSB | College of Business | Munster | IN |
| Crystal Barrios | BSA | College of Business | Whiting | IN |
| Cathleen Barthel | BSB | College of Business | Portage | IN |
| Joshua Bartoszek | BSB | College of Business | Saint John | IN |
| Marine Bauwens | BSB | College of Business | Trail Creek | IN |
| Navi Beesetti | BSB | College of Business | Hammond | IN |
| Tyler Bender | BSB | College of Business | Valparaiso | IN |
| Jack Berry | BSB | College of Business | Mokena | IL |
| Petar Bogunovic | BSB | College of Business | Crown Point | IN |
| Jordyn Bosserman | BSA | College of Business | Michigan City | IN |
| Jordyn Bosserman | BSB | College of Business | Michigan City | IN |
| Steven Bozacki | BSA | College of Business | Schererville | IN |
| Steven Bozacki | BSB | College of Business | Schererville | IN |
| Madison Bydalek | BS | College of Business | Lowell | IN |
| Juana Castillo | BSA | College of Business | Highland | IN |
| Kane Clendenen | BSB | College of Business | Mendota | IL |
| Jake Collins | BSB | College of Business | Griffith | IN |
| Antonio Contreras | BSB | College of Business | Hammond | IN |
| Nathan Cook | BSB | College of Business | Lowell | IN |
| Marquis Crawford | BSA | College of Business | Gary | IN |
| Kacey Cummins | BSB | College of Business | Saint John | IN |
| Edwin De Jesus | BSB | College of Business | Dyer | IN |
| Antonio DeCrescenzo | BSA | College of Business | Schererville | IN |
| Vanessa Del Real | BSA | College of Business | Valparaiso | IN |
| Vanessa Del Real | BSB | College of Business | Valparaiso | IN |
| Caleb Dillingham | BSB | College of Business | Valparaiso | IN |
| Colton Dougherty | BSA | College of Business | Schererville | IN |
| Colton Dougherty | BSB | College of Business | Schererville | IN |
| Paige Dozier | BSA | College of Business | Demotte | IN |
| Harlie Durham | BSB | College of Business | Hammond | IN |
| Cole Evans | BSB | College of Business | Valparaiso | IN |
| Levent Evyapan | BSB | College of Business | Hammond | IN |
| Steven Fadke | BSA | College of Business | Lowell | IN |
| Steven Fadke | BSB | College of Business | Lowell | IN |
| Bailey Fehrman | BSB | College of Business | Griffith | IN |
| Matthew Florida | BSB | College of Business | Saint John | IN |
| Jonas Franssen | BSB | College of Business | Hammond | IN |
| Riley Gallagher | BSA | College of Business | Bloomington | IN |
| Riley Gallagher | BSB | College of Business | Bloomington | IN |
| Noemi Garcia | BSB | College of Business | Hammond | IN |
| Jocey Gault | BS | College of Business | West Lafayette | IN |
| Jocey Gault | Certificate | College of Business | West Lafayette | IN |
| Collin Geary | BSB | College of Business | Granger | IN |
| Alex Gomez | BSB | College of Business | Hammond | IN |
| Andrea Gonzalez | BSA | College of Business | East Chicago | IN |
| Mark Gourley | BSB | College of Business | Knox | IN |
| Bobbi Gruca | BSA | College of Business | Highland | IN |
| Kyle Hallberg | BSB | College of Business | Dyer | IN |
| Paul Hawes | BSB | College of Business | Marco Island | FL |
| Karlo Heade | BS | College of Business | Gary | IN |
| Karlo Heade | BSB | College of Business | Gary | IN |
| Victor Hernandez | BSA | College of Business | Hammond | IN |
| Aylin Hernandez | BSB | College of Business | Dyer | IN |
| Morgan Hickey | BSB | College of Business | Lowell | IN |
| Cooper Hochstedler | BSA | College of Business | Winamac | IN |
| Alan Hunter | BSB | College of Business | Lowell | IN |
| Matt Iwinski | BS | College of Business | Lowell | IN |
| Kennedy Jackson | BS | College of Business | Lawndale | CA |
| Kennedy Jackson | Certificate | College of Business | Lawndale | CA |
| Patrick Jones | BSA | College of Business | Huntsville | AL |
| Araceli Juarez | BSA | College of Business | Joliet | IL |
| Alexis Kaczmarzewski | BSB | College of Business | Dyer | IN |
| Cynthia Kaldon | BSB | College of Business | Cedar Lake | IN |
| Noah Kebschull | BSB | College of Business | South Bend | IN |
| Livia Kegley | BSB | College of Business | Valparaiso | IN |
| Finn Kiger | BSB | College of Business | Crown Point | IN |
| Luca Kirchhoff | BSB | College of Business | Hammond | IN |
| Kaylynn Klein | BSB | College of Business | Crown Point | IN |
| Marko Kolundzija | BSB | College of Business | Schererville | IN |
| Keith Koontz | BSB | College of Business | Dyer | IN |
| Rylee Kuiken | BSA | College of Business | Cedar Lake | IN |
| Rylee Kuiken | BSB | College of Business | Cedar Lake | IN |
| Matt Lagestee | BSA | College of Business | Dyer | IN |
| Tyler Lavin | BSA | College of Business | Schererville | IN |
| Lexi Lawley | BSB | College of Business | Dyer | IN |
| Kentreace Lee | Certificate | College of Business | Hammond | IN |
| Jamie Lencioni | BS | College of Business | Saint John | IN |
| Alyssa Maldonado | BS | College of Business | Crown Point | IN |
| Toi Malone | BS | College of Business | Merrillville | IN |
| Royal Manley | BSB | College of Business | Hammond | IN |
| Joshua Manzo-Pavich | BS | College of Business | Cedar Lake | IN |
| Joshua Manzo-Pavich | Certificate | College of Business | Cedar Lake | IN |
| Alyssa Marrero | BS | College of Business | Hammond | IN |
| Jazmine Martinez | BS | College of Business | Hammond | IN |
| Evan Momcilovic | BSA | College of Business | Crown Point | IN |
| Cindy Mora | BSB | College of Business | East Chicago | IN |
| Michelle Morfin | BSA | College of Business | Whiting | IN |
| Michelle Morfin | BSB | College of Business | Whiting | IN |
| Thomas Morrissy | BSA | College of Business | Hammond | IN |
| Terri Nichols-Bullock | BS | College of Business | Merrillville | IN |
| Carley Noble | BS | College of Business | Lake Station | IN |
| Alexander Oehrlein | BSA | College of Business | Vernon Hills | IL |
| Alexander Oehrlein | BSB | College of Business | Vernon Hills | IL |
| Jacob Ogiego | BSB | College of Business | Valparaiso | IN |
| Bruno Omanga | BSB | College of Business | Hammond | IN |
| Chandra Ostrander | BSB | College of Business | Hobart | IN |
| Anthony Paganelli | BSB | College of Business | Crown Point | IN |
| Andrew Panozzo | BSA | College of Business | Crown Point | IN |
| Cameron Parker | BSB | College of Business | Hebron | IN |
| Arti Patel | BSA | College of Business | Chesterton | IN |
| Bojana Pavic | BSB | College of Business | Saint John | IN |
| Heather Reichert | BSB | College of Business | Thornton | IL |
| Heather Reichert | BSB | College of Business | Thornton | IL |
| Alexis Rhoades | BSA | College of Business | Hebron | IN |
| Alexis Rhoades | BSB | College of Business | Hebron | IN |
| Jenna Roberson | BSB | College of Business | Crown Point | IN |
| Christian Rocha | BSA | College of Business | Lake Station | IN |
| Ariel Rohe | BSB | College of Business | Chesterton | IN |
| Fidel Ruiz | BSA | College of Business | Hammond | IN |
| Madison Sarkey | BSB | College of Business | Dyer | IN |
| Noah Sauter | BSA | College of Business | Crown Point | IN |
| Joey Schmidt | BSA | College of Business | Dyer | IN |
| Megan Schubert | BSB | College of Business | Hobart | IN |
| August Schuck | BSB | College of Business | Rolling Prairie | IN |
| Kristin Sell | BSA | College of Business | Munster | IN |
| Ryan Sues | BSB | College of Business | Saint John | IN |
| Mitch Switalla | BSB | College of Business | Dyer | IN |
| Matt Szmajda | BSA | College of Business | Port Barrington | IL |
| Sara Timmons | BSB | College of Business | Portage | IN |
| Tyler Trottier | BSB | College of Business | Valparaiso | IN |
| Dylan Van Drunen | BSA | College of Business | Cedar Lake | IN |
| Dylan Van Drunen | BSB | College of Business | Cedar Lake | IN |
| Cassie VanCuren | BSB | College of Business | Hammond | IN |
| AJ Vazquez | BSB | College of Business | Hammond | IN |
| Akash Vyas | BSB | College of Business | La Porte | IN |
| Christina Wall | BSB | College of Business | East Chicago | IN |
| Nick Wilcox | BSA | College of Business | Portage | IN |
| Nick Witham | BSB | College of Business | Highland | IN |
| Isabella Wolski | BSB | College of Business | Munster | IN |
| Audry Wright | BS | College of Business | Wheatfield | IN |
| Jason Zajac | BSB | College of Business | Munster | IN |
| Sandy Abu-Lail | BS | College of Engineering and Sciiences | Hammond | IN |
| Akram Al huthari | BSCE | College of Engineering and Sciiences | Palos Hills | IL |
| Justin Albin | BS | College of Engineering and Sciiences | Saint John | IN |
| Kristina Aleksic | BSCE | College of Engineering and Sciiences | Lyons | IL |
| Nina Aleksic | BSCE | College of Engineering and Sciiences | Lyons | IL |
| Waleed Alqarni | BSME | College of Engineering and Sciiences | Hammond | IN |
| Naba Alsalem | BSCE | College of Engineering and Sciiences | Chicago | IL |
| Sergio Alvarez | BSME | College of Engineering and Sciiences | Worth | IL |
| Luis Alvear | BS | College of Engineering and Sciiences | Hammond | IN |
| Pau Aran Miguel | BS | College of Engineering and Sciiences | Hammond | IN |
| Diego Arana | BSME | College of Engineering and Sciiences | Oak Lawn | IL |
| Trinidad Arteaga | BSME | College of Engineering and Sciiences | Oak Lawn | IL |
| Nancy Avina | BS | College of Engineering and Sciiences | Michigan City | IN |
| Jason Bader | BS | College of Engineering and Sciiences | Schererville | IN |
| Alex Baginski | BS | College of Engineering and Sciiences | Crete | IL |
| Anthony Banuelos | BS | College of Engineering and Sciiences | East Chicago | IN |
| Abraham Bautista | BS | College of Engineering and Sciiences | Griffith | IN |
| Hussam Baydoun | BSCE | College of Engineering and Sciiences | Michigan City | IN |
| Abbie Bobele | BS | College of Engineering and Sciiences | Valparaiso | IN |
| Tatiana Brito | BSEE | College of Engineering and Sciiences | East Chicago | IN |
| Joe Buikema | BSCE | College of Engineering and Sciiences | Chicago | IL |
| Lauren Bulf | BS | College of Engineering and Sciiences | Schererville | IN |
| Baylee Byford | BS | College of Engineering and Sciiences | Scipio | IN |
| Luke Camerano | BSEE | College of Engineering and Sciiences | Dyer | IN |
| Braidy Ceh | BS | College of Engineering and Sciiences | Huntley | IL |
| Paul Chaffins | BSME | College of Engineering and Sciiences | Knox | IN |
| Louie Cioe | BS | College of Engineering and Sciiences | Schererville | IN |
| Aaron Clarkson | BS | College of Engineering and Sciiences | Merrillville | IN |
| Samantha Colbert | BSCH | College of Engineering and Sciiences | Highland | IN |
| Casie Cordova | BSME | College of Engineering and Sciiences | Lowell | IN |
| Payton Courier | BS | College of Engineering and Sciiences | Rockford | IL |
| Taylor Craig | BSEE | College of Engineering and Sciiences | South Bend | IN |
| Erin Crawford | BS | College of Engineering and Sciiences | Hammond | IN |
| Michael Crook | BS | College of Engineering and Sciiences | Indianapolis | IN |
| Hayden Crymes | BSME | College of Engineering and Sciiences | Channahon | IL |
| Nolan Culp | BS | College of Engineering and Sciiences | Saint John | IN |
| Jacquelyn Davidson | BS | College of Engineering and Sciiences | Highland | IN |
| Jordan Davis | BSCE | College of Engineering and Sciiences | Gary | IN |
| Natalie Deel | BS | College of Engineering and Sciiences | Cedar Lake | IN |
| Yulissa Delgado | BS | College of Engineering and Sciiences | Hammond | IN |
| Ben Dierking | BSCmpE | College of Engineering and Sciiences | Crown Point | IN |
| Josh Dodson | BSCE | College of Engineering and Sciiences | Demotte | IN |
| Brice Doescher | BSME | College of Engineering and Sciiences | Schererville | IN |
| Max Drayton | BS | College of Engineering and Sciiences | Griffith | IN |
| Pedro Duarte | BSEE | College of Engineering and Sciiences | Northlake | IL |
| Tim Dugan | BSEE | College of Engineering and Sciiences | Crown Point | IN |
| Aidan Dunleavy | BS | College of Engineering and Sciiences | Saint Paul | MN |
| Mya Elf | BS | College of Engineering and Sciiences | Crown Point | IN |
| Kayla English | BS | College of Engineering and Sciiences | Cedar Lake | IN |
| Colin Epler | BSCE | College of Engineering and Sciiences | Valparaiso | IN |
| Jose Figueroa | BS | College of Engineering and Sciiences | Hammond | IN |
| Logan Fischer | BS | College of Engineering and Sciiences | Valparaiso | IN |
| Tyler Fiske | BS | College of Engineering and Sciiences | Crown Point | IN |
| Tom Flisk | BSCE | College of Engineering and Sciiences | Tinley Park | IL |
| Jonathon Flores | BSCE | College of Engineering and Sciiences | Lockport | IL |
| Jonathan Fowler | BS | College of Engineering and Sciiences | Hammond | IN |
| Brandt Fraser | BS | College of Engineering and Sciiences | Crown Point | IN |
| Katherine Frederich | BS | College of Engineering and Sciiences | La Porte | IN |
| Matt Frieling | BS | College of Engineering and Sciiences | Lansing | IL |
| Aveni Gabino | BS | College of Engineering and Sciiences | Munster | IN |
| Piotr Gago | BS | College of Engineering and Sciiences | Chicago | IL |
| Jack Gallagher | BSCE | College of Engineering and Sciiences | Bloomington | IN |
| Raul Garcia | BSCH | College of Engineering and Sciiences | Cedar Lake | IN |
| Joel Gaudio | BS | College of Engineering and Sciiences | Highland | IN |
| Joan Giner Rodriguez | BSME | College of Engineering and Sciiences | Hammond | IN |
| Peter Granato | BS | College of Engineering and Sciiences | Orland Park | IL |
| Luke Haan | BSCE | College of Engineering and Sciiences | Munster | IN |
| Morgan Hamilton | BSME | College of Engineering and Sciiences | Knox | IN |
| Nicholas Harrison | BSME | College of Engineering and Sciiences | Cedar Lake | IN |
| Ari Hayes | BS | College of Engineering and Sciiences | Chesterton | IN |
| Jadon Hearns | BS | College of Engineering and Sciiences | Portage | IN |
| Brinley Hefty | BS | College of Engineering and Sciiences | Belvidere | IL |
| Alexis Hernandez | BS | College of Engineering and Sciiences | Crown Point | IN |
| Noemi Herrera | BSEE | College of Engineering and Sciiences | Portage | IN |
| Emma Hill | BSCE | College of Engineering and Sciiences | Holmes Beach | FL |
| Zachary Hillman | BS | College of Engineering and Sciiences | Highland | IN |
| Marilynn Hoang | BS | College of Engineering and Sciiences | Merrillville | IN |
| Ray Hoitsma | BS | College of Engineering and Sciiences | Munster | IN |
| KeAyzia Holliday | BS | College of Engineering and Sciiences | Crown Point | IN |
| Harry Hooper | BS | College of Engineering and Sciiences | Hammond | IN |
| Rico Hunter | BSCmpE | College of Engineering and Sciiences | Lansing | IL |
| Vy Ai Huynh | BSCH | College of Engineering and Sciiences | Hammond | IN |
| Ben Ipema | BSCE | College of Engineering and Sciiences | Lansing | IL |
| Farah Issa | BS | College of Engineering and Sciiences | Dyer | IN |
| Zach Jaeger | BSME | College of Engineering and Sciiences | Chesterton | IN |
| Chad Jamrock | BS | College of Engineering and Sciiences | Dyer | IN |
| Sara Jerde | BS | College of Engineering and Sciiences | La Porte | IN |
| Abby Johansen | BS | College of Engineering and Sciiences | Valparaiso | IN |
| Shandan Johnson | BS | College of Engineering and Sciiences | Lowell | IN |
| Trenton Jones | BSME | College of Engineering and Sciiences | Culver | IN |
| ian Joy | BSME | College of Engineering and Sciiences | Hammond | IN |
| Mihir Kansara | BSEE | College of Engineering and Sciiences | Dyer | IN |
| Chris Karakozis | BSCE | College of Engineering and Sciiences | Crown Point | IN |
| Frank Keller | BSCE | College of Engineering and Sciiences | Crown Point | IN |
| Daniel Kerrick | BSME | College of Engineering and Sciiences | Hammond | IN |
| Joshua Kirksey | BSCmpE | College of Engineering and Sciiences | Merrillville | IN |
| Kelly Koester | BS | College of Engineering and Sciiences | Crown Point | IN |
| Reece Kral | BS | College of Engineering and Sciiences | Crown Point | IN |
| Shania Kresel | BSCH | College of Engineering and Sciiences | Westville | IN |
| Katherine Kus | BS | College of Engineering and Sciiences | Highland | IN |
| Zachary Lahners | BSEE | College of Engineering and Sciiences | Highland | IN |
| Anthony Latronica | BSME | College of Engineering and Sciiences | Frankfort | IL |
| Latrell Lee | BSME | College of Engineering and Sciiences | Elgin | IL |
| Aranza Leon | BSEE | College of Engineering and Sciiences | Walkerton | IN |
| Scott Lesczynski | BS | College of Engineering and Sciiences | Griffith | IN |
| Joe Lesniak | BSME | College of Engineering and Sciiences | Munster | IN |
| Josh Lindeman | BSCE | College of Engineering and Sciiences | Crown Point | IN |
| Nathan Little | BSME | College of Engineering and Sciiences | Saint John | IN |
| Damaris Loe | BS | College of Engineering and Sciiences | East Chicago | IN |
| Ruben Lopez | BS | College of Engineering and Sciiences | Lansing | IL |
| Shiyan Lowe | BS | College of Engineering and Sciiences | Danville | IL |
| Mackenzie MacRoberts | BS | College of Engineering and Sciiences | Schererville | IN |
| Theodore Mantis | BS | College of Engineering and Sciiences | Crown Point | IN |
| Eileen Martinez | BS | College of Engineering and Sciiences | Whiting | IN |
| Morgan Massey | BSME | College of Engineering and Sciiences | Hammond | IN |
| Braxton Maxwell | BS | College of Engineering and Sciiences | Martinsville | IN |
| Valerio Mazzotta | BSME | College of Engineering and Sciiences | Crown Point | IN |
| Marcel McCormick | BSCmpE | College of Engineering and Sciiences | Portage | IN |
| Seamus McShane | BS | College of Engineering and Sciiences | Crown Point | IN |
| Jennifer Menatos | BS | College of Engineering and Sciiences | Crown Point | IN |
| Damien Morales | BSEE | College of Engineering and Sciiences | Crown Point | IN |
| Matt Nahnsen | BSEE | College of Engineering and Sciiences | Munster | IN |
| Steven Novorita | BSCmpE | College of Engineering and Sciiences | Kalamazoo | MI |
| Eddie Ornelas | BS | College of Engineering and Sciiences | Lake Station | IN |
| James Otic | BS | College of Engineering and Sciiences | Saint John | IN |
| Morgan Overschmidt | BS | College of Engineering and Sciiences | Valparaiso | IN |
| Karolina Palinauskaite | BS | College of Engineering and Sciiences | Valparaiso | IN |
| Abigail Phillips | BS | College of Engineering and Sciiences | Portage | IN |
| Zach Piunti | BS | College of Engineering and Sciiences | Saint John | IN |
| Alexis Pivovarnik | BS | College of Engineering and Sciiences | Dyer | IN |
| Elizabeth Pucher | BS | College of Engineering and Sciiences | Griffith | IN |
| Alex Quilty | BSCmpE | College of Engineering and Sciiences | Midlothian | IL |
| Alex Quilty | BSEE | College of Engineering and Sciiences | Midlothian | IL |
| Shivansh Singh Rajput | BSCE | College of Engineering and Sciiences | Navsari | |
| Carlos Reyes | BS | College of Engineering and Sciiences | Hammond | IN |
| Lennon Reyes | BSCmpE | College of Engineering and Sciiences | Hobart | IN |
| Dajae Rosenthal | BS | College of Engineering and Sciiences | Blue Island | IL |
| Juan Ruiz | BSME | College of Engineering and Sciiences | Lansing | IL |
| Adam Safi | BSEE | College of Engineering and Sciiences | Munster | IN |
| Sammy Sandoval | BS | College of Engineering and Sciiences | Addison | IL |
| Alex Santana | BSCH | College of Engineering and Sciiences | Crown Point | IN |
| Hannah Santos | BS | College of Engineering and Sciiences | Hammond | IN |
| Christian Schubert | BS | College of Engineering and Sciiences | Portage | IN |
| Patrick Schulte | BSEE | College of Engineering and Sciiences | La Porte | IN |
| Olivia Sheldon | BS | College of Engineering and Sciiences | Valparaiso | IN |
| Ian Shingler | BS | College of Engineering and Sciiences | Valparaiso | IN |
| Isaac Sikma | BSCmpE | College of Engineering and Sciiences | Schererville | IN |
| Isaac Sikma | BSEE | College of Engineering and Sciiences | Schererville | IN |
| Langston Stalling | BSCH | College of Engineering and Sciiences | Gary | IN |
| Baylee Steele | BS | College of Engineering and Sciiences | Valparaiso | IN |
| Aleksandar Stojov | BS | College of Engineering and Sciiences | Munster | IN |
| Jacob Stone | BS | College of Engineering and Sciiences | Midland | MI |
| Gabrielle Szumlas | BS | College of Engineering and Sciiences | Munster | IN |
| Foivi Triantafyllou | BS | College of Engineering and Sciiences | Schererville | IN |
| Karson Trzeciak | BSCmpE | College of Engineering and Sciiences | Lowell | IN |
| Nolan Turoci | BS | College of Engineering and Sciiences | Schererville | IN |
| Jeremy Urdiales | BS | College of Engineering and Sciiences | Lansing | IL |
| Sara Van den Akker | BS | College of Engineering and Sciiences | Saint Charles | IL |
| Brandon Venegas | BS | College of Engineering and Sciiences | Lowell | IN |
| Savannah Viking | BS | College of Engineering and Sciiences | Lowell | IN |
| Brittney Vroom | BS | College of Engineering and Sciiences | Schererville | IN |
| Payton Walker | BSCE | College of Engineering and Sciiences | Highland | IN |
| Chris Wayman | BS | College of Engineering and Sciiences | Schererville | IN |
| Matthew Wirth | BSME | College of Engineering and Sciiences | Valparaiso | IN |
| Tayler Woods | BS | College of Engineering and Sciiences | La Porte | IN |
| Savannah Yamat | BS | College of Engineering and Sciiences | Schererville | IN |
| Tyler Zega | BS | College of Engineering and Sciiences | Dyer | IN |
| Mark Zyskowski | BSEE | College of Engineering and Sciiences | Frankfort | IL |
| Hallee Agelson | BA | College of Humanities, Education and Social Sciences | Saint John | IN |
| Eric Alegre | BA | College of Humanities, Education and Social Sciences | Highland | IN |
| Emily Alpers | BS | College of Humanities, Education and Social Sciences | Valparaiso | IN |
| Tyler Anderson | BA | College of Humanities, Education and Social Sciences | Highland | IN |
| Daisy Araiza | BLS | College of Humanities, Education and Social Sciences | East Chicago | IN |
| V Archuleta | BA | College of Humanities, Education and Social Sciences | Merrillville | IN |
| Cory Auguano | BA | College of Humanities, Education and Social Sciences | Lowell | IN |
| Tristan Baker | BA | College of Humanities, Education and Social Sciences | Anderson | IN |
| Hunter Balazs | BA | College of Humanities, Education and Social Sciences | Crown Point | IN |
| Summer Baxter | BS | College of Humanities, Education and Social Sciences | Highland | IN |
| Joshua Becerra | BS | College of Humanities, Education and Social Sciences | East Chicago | IN |
| Michael Beemsterboer | BA | College of Humanities, Education and Social Sciences | Saint John | IN |
| Charlene Benoit | BA | College of Humanities, Education and Social Sciences | Michigan City | IN |
| Luke Bensing | BA | College of Humanities, Education and Social Sciences | Valparaiso | IN |
| Brianna Black | BS | College of Humanities, Education and Social Sciences | Westville | IN |
| Olivia Blakeley | BLS | College of Humanities, Education and Social Sciences | Munster | IN |
| Tessa Bodish | BA | College of Humanities, Education and Social Sciences | Valparaiso | IN |
| Rachel Bowman | BA | College of Humanities, Education and Social Sciences | Valparaiso | IN |
| Ashley Bravo | BS | College of Humanities, Education and Social Sciences | Chicago | IL |
| Daniel Bredicean | BA | College of Humanities, Education and Social Sciences | Lake Station | IN |
| Justin Breuker | BA | College of Humanities, Education and Social Sciences | Crown Point | IN |
| Aaron Buechley | BA | College of Humanities, Education and Social Sciences | Wanatah | IN |
| Heather Burkus | BA | College of Humanities, Education and Social Sciences | Chesterton | IN |
| Nikolas Cabela | BA | College of Humanities, Education and Social Sciences | Michigan City | IN |
| Sieanna Caldwell | BLS | College of Humanities, Education and Social Sciences | Plymouth | IN |
| Ladreida Camarillo | BA | College of Humanities, Education and Social Sciences | East Chicago | IN |
| Megan Casillas | BA | College of Humanities, Education and Social Sciences | Hammond | IN |
| Natalie Castellano | BLS | College of Humanities, Education and Social Sciences | Munster | IN |
| Gwen Caston | BA | College of Humanities, Education and Social Sciences | Lake Station | IN |
| Gabi Castro | BS | College of Humanities, Education and Social Sciences | Portage | IN |
| Cali Christopherson | BA | College of Humanities, Education and Social Sciences | Michigan City | IN |
| Mollie Clark | BA | College of Humanities, Education and Social Sciences | Munster | IN |
| Kell Cooper | BA | College of Humanities, Education and Social Sciences | Milwaukee | WI |
| Brooke Cornett | BS | College of Humanities, Education and Social Sciences | Merrillville | IN |
| Jacquelyn Corral | BA | College of Humanities, Education and Social Sciences | Lake Station | IN |
| Carmen Cruz | BLS | College of Humanities, Education and Social Sciences | Valparaiso | IN |
| Thelma Darkis | BA | College of Humanities, Education and Social Sciences | La Porte | IN |
| Stephania De La Fuente | BA | College of Humanities, Education and Social Sciences | Portage | IN |
| Savannah DeBoer | BS | College of Humanities, Education and Social Sciences | Hammond | IN |
| Kara DeGard | BS | College of Humanities, Education and Social Sciences | Knox | IN |
| Drew Deyoung | BA | College of Humanities, Education and Social Sciences | Merrillville | IN |
| Bianca DiCera | BA | College of Humanities, Education and Social Sciences | Hammond | IN |
| Josh Dickson | BS | College of Humanities, Education and Social Sciences | La Porte | IN |
| McKenzie Dinga | BA | College of Humanities, Education and Social Sciences | Demotte | IN |
| Kylee Donnella | BA | College of Humanities, Education and Social Sciences | Chesterton | IN |
| Carley Eagan | BA | College of Humanities, Education and Social Sciences | Schererville | IN |
| Amanda Eason | BA | College of Humanities, Education and Social Sciences | Valparaiso | IN |
| Najwa El-Amin Muhammad | BA | College of Humanities, Education and Social Sciences | Chicago | IL |
| Miranda Escobedo | BS | College of Humanities, Education and Social Sciences | Dyer | IN |
| Nathan Esquivel | BS | College of Humanities, Education and Social Sciences | Dyer | IN |
| Keondra Exford | BA | College of Humanities, Education and Social Sciences | Gary | IN |
| Pedro Flores | BA | College of Humanities, Education and Social Sciences | East Chicago | IN |
| Ceara Floyd | BA | College of Humanities, Education and Social Sciences | Whiteman AFB | MO |
| Alina Franco | BA | College of Humanities, Education and Social Sciences | Hammond | IN |
| Louie Gagner | BA | College of Humanities, Education and Social Sciences | Dyer | IN |
| Veronica Gallardo | BLS | College of Humanities, Education and Social Sciences | Munster | IN |
| Kaila Gallina | BS | College of Humanities, Education and Social Sciences | Valparaiso | IN |
| Elise Garcia | BA | College of Humanities, Education and Social Sciences | Munster | IN |
| Iris Garnett | BA | College of Humanities, Education and Social Sciences | Gary | IN |
| Myleesa Gaston | BS | College of Humanities, Education and Social Sciences | Hammond | IN |
| Jessie Gideon | BA | College of Humanities, Education and Social Sciences | Valparaiso | IN |
| Richard Goggin | BA | College of Humanities, Education and Social Sciences | Saint John | IN |
| Angela Golub | BA | College of Humanities, Education and Social Sciences | Highland | IN |
| Morgan Goodrich | BS | College of Humanities, Education and Social Sciences | Valparaiso | IN |
| Emma Green | BA | College of Humanities, Education and Social Sciences | Fairview | TN |
| Kayla Green | BA | College of Humanities, Education and Social Sciences | East Chicago | IN |
| Bela Green | BS | College of Humanities, Education and Social Sciences | Freeport | IL |
| Abigail Gutierrez | BA | College of Humanities, Education and Social Sciences | Hammond | IN |
| Aaron Hardison | BA | College of Humanities, Education and Social Sciences | Valparaiso | IN |
| Jenna Harrell | BA | College of Humanities, Education and Social Sciences | Demotte | IN |
| Esaleigh Hauptli | BA | College of Humanities, Education and Social Sciences | Westville | IN |
| Mikayla Hayes | BA | College of Humanities, Education and Social Sciences | Munster | IN |
| Ray Hilbrich | BA | College of Humanities, Education and Social Sciences | Schererville | IN |
| Anna Hooks | BA | College of Humanities, Education and Social Sciences | Lake Village | IN |
| Shanee' Howleit | BA | College of Humanities, Education and Social Sciences | Highland | IN |
| Mason Janik | BA | College of Humanities, Education and Social Sciences | La Porte | IN |
| George Kacenga | BA | College of Humanities, Education and Social Sciences | Denver | CO |
| Jen Kawa | BLS | College of Humanities, Education and Social Sciences | Michigan City | IN |
| Jacquie Kennedy | BA | College of Humanities, Education and Social Sciences | Griffith | IN |
| Phillip King | BA | College of Humanities, Education and Social Sciences | Demotte | IN |
| Eric Klocek | BA | College of Humanities, Education and Social Sciences | East Chicago | IN |
| Conner Kohen | BS | College of Humanities, Education and Social Sciences | Cedar Lake | IN |
| Kendall Kopta | BS | College of Humanities, Education and Social Sciences | Michigan City | IN |
| Kinsey Krachinski | BA | College of Humanities, Education and Social Sciences | Michigan City | IN |
| Kaitlin Kupiec | BLS | College of Humanities, Education and Social Sciences | Valparaiso | IN |
| Sebastian Landa-Miranda | BA | College of Humanities, Education and Social Sciences | Indianapolis | IN |
| Kenya Lile | BA | College of Humanities, Education and Social Sciences | Merrillville | IN |
| Katie Little | BA | College of Humanities, Education and Social Sciences | Munster | IN |
| Cooper Lloyd | BA | College of Humanities, Education and Social Sciences | Westerville | OH |
| Morgan Lloyd | BS | College of Humanities, Education and Social Sciences | Michigan City | IN |
| Cristina Lopez | BS | College of Humanities, Education and Social Sciences | Whiting | IN |
| Diabolique Maddox | BA | College of Humanities, Education and Social Sciences | Highland | IN |
| Kelia Malone | BA | College of Humanities, Education and Social Sciences | Merrillville | IN |
| Brooke Manhatton | BA | College of Humanities, Education and Social Sciences | Crown Point | IN |
| Daphne Marmolejo | BS | College of Humanities, Education and Social Sciences | Hammond | IN |
| Sheocki Martin | BA | College of Humanities, Education and Social Sciences | South Holland | IL |
| Abbie May | BS | College of Humanities, Education and Social Sciences | La Salle | IL |
| Steven Mayersky | BA | College of Humanities, Education and Social Sciences | Chesterton | IN |
| Erica McDermott | BA | College of Humanities, Education and Social Sciences | Crown Point | IN |
| Mark Michael | BA | College of Humanities, Education and Social Sciences | Highland | IN |
| Laura Mielke | BA | College of Humanities, Education and Social Sciences | Hamlet | IN |
| Elizabeth Mitchell | BA | College of Humanities, Education and Social Sciences | Lowell | IN |
| Sam Momcilovic | BA | College of Humanities, Education and Social Sciences | Crown Point | IN |
| Latonya Montgomery | BLS | College of Humanities, Education and Social Sciences | Gary | IN |
| Cheyanne Montozzi | BA | College of Humanities, Education and Social Sciences | Hebron | IN |
| Chloe Mounts | BA | College of Humanities, Education and Social Sciences | Chesterton | IN |
| Gabriella Muniz | BA | College of Humanities, Education and Social Sciences | Cedar Lake | IN |
| Amber Murray | BA | College of Humanities, Education and Social Sciences | Saint John | IN |
| Kara Murray | BA | College of Humanities, Education and Social Sciences | Valparaiso | IN |
| Stephanie Narantic | BA | College of Humanities, Education and Social Sciences | Highland | IN |
| Tyler Nimon | BA | College of Humanities, Education and Social Sciences | Hebron | IN |
| Jasmine Noble | BLS | College of Humanities, Education and Social Sciences | Hammond | IN |
| Cora Nygra | BA | College of Humanities, Education and Social Sciences | Westville | IN |
| Mary Oberlander | BLS | College of Humanities, Education and Social Sciences | Chesterton | IN |
| Adam Odar | BA | College of Humanities, Education and Social Sciences | Valparaiso | IN |
| Rafael Oliveras | BS | College of Humanities, Education and Social Sciences | East Chicago | IN |
| Andrea Peck | BS | College of Humanities, Education and Social Sciences | Chesterton | IN |
| Bethany Peek | BA | College of Humanities, Education and Social Sciences | Hobart | IN |
| Stefanee Phelps | BS | College of Humanities, Education and Social Sciences | Hammond | IN |
| Tae Phillips | BA | College of Humanities, Education and Social Sciences | Indianapolis | IN |
| Julia Piers | BA | College of Humanities, Education and Social Sciences | Valparaiso | IN |
| Ryan Pleckham | BA | College of Humanities, Education and Social Sciences | Valparaiso | IN |
| Emily Poortenga | BS | College of Humanities, Education and Social Sciences | Lansing | IL |
| Madi Pulley | BA | College of Humanities, Education and Social Sciences | Crown Point | IN |
| Alejandra Quezada | BS | College of Humanities, Education and Social Sciences | Hammond | IN |
| Madison Quinones | BA | College of Humanities, Education and Social Sciences | Portage | IN |
| Jenn Rakoczy | BLS | College of Humanities, Education and Social Sciences | Fort Wayne | IN |
| Joy Rhodes | BS | College of Humanities, Education and Social Sciences | Homewood | IL |
| Kathryn Risner | BA | College of Humanities, Education and Social Sciences | Demotte | IN |
| Haydin Rivera | BA | College of Humanities, Education and Social Sciences | Chesterton | IN |
| Mia Rivera | BA | College of Humanities, Education and Social Sciences | Saint John | IN |
| Elexah Roepke | BS | College of Humanities, Education and Social Sciences | Versailles | IN |
| Emily Ross | BA | College of Humanities, Education and Social Sciences | Port Huron | MI |
| Lauren Ruffin | BS | College of Humanities, Education and Social Sciences | Indianapolis | IN |
| Jake Ryan | BA | College of Humanities, Education and Social Sciences | Portage | IN |
| Colie Satka | BA | College of Humanities, Education and Social Sciences | Crown Point | IN |
| Marla Scofield | BLS | College of Humanities, Education and Social Sciences | Portage | IN |
| Christina Shaginaw | BA | College of Humanities, Education and Social Sciences | Hobart | IN |
| Holly Shaginaw | BA | College of Humanities, Education and Social Sciences | Hobart | IN |
| Brooke Shasteen | BA | College of Humanities, Education and Social Sciences | Schererville | IN |
| Hannah Sikma | BA | College of Humanities, Education and Social Sciences | Schererville | IN |
| Danielle Simmons | BA | College of Humanities, Education and Social Sciences | Montgomery | IL |
| Ben Slack | BA | College of Humanities, Education and Social Sciences | Chesterton | IN |
| Heidi Smith | BA | College of Humanities, Education and Social Sciences | Union Mills | IN |
| Taylor Smith | BA | College of Humanities, Education and Social Sciences | Marengo | IA |
| Katelyn Smith | BS | College of Humanities, Education and Social Sciences | Gary | IN |
| Krystal Sorensen | BA | College of Humanities, Education and Social Sciences | Portage | IN |
| Laquinta Spears | BLS | College of Humanities, Education and Social Sciences | Gary | IN |
| Kaleigh Stack | BS | College of Humanities, Education and Social Sciences | Crown Point | IN |
| Hannah Steepleton | BA | College of Humanities, Education and Social Sciences | Griffith | IN |
| Katie Stegenga | BS | College of Humanities, Education and Social Sciences | Lowell | IN |
| Tiffani Steinhagen | BA | College of Humanities, Education and Social Sciences | Elkhart | IN |
| Hannah Stombaugh | BA | College of Humanities, Education and Social Sciences | New Carlisle | IN |
| Addisen Stone | BA | College of Humanities, Education and Social Sciences | Crown Point | IN |
| Nina Stosic | BA | College of Humanities, Education and Social Sciences | Griffith | IN |
| Terrell Sucre | BA | College of Humanities, Education and Social Sciences | Hammond | IN |
| Joshua Taylor | BA | College of Humanities, Education and Social Sciences | Gary | IN |
| Chrissie Tian | BA | College of Humanities, Education and Social Sciences | Munster | IN |
| Alexander Tinoco | BA | College of Humanities, Education and Social Sciences | East Chicago | IN |
| Marnette Tipton | BA | College of Humanities, Education and Social Sciences | Gary | IN |
| Ranen Toosley | BA | College of Humanities, Education and Social Sciences | Crown Point | IN |
| Janelle Turner | BA | College of Humanities, Education and Social Sciences | Hammond | IN |
| Jenna Turner | BA | College of Humanities, Education and Social Sciences | Merrillville | IN |
| Laila Verduin | BA | College of Humanities, Education and Social Sciences | Cedar Lake | IN |
| Julia Villalpando | BA | College of Humanities, Education and Social Sciences | Hammond | IN |
| Amber Voss | BA | College of Humanities, Education and Social Sciences | Thornton | IL |
| Jonas Wald | BA | College of Humanities, Education and Social Sciences | Valparaiso | IN |
| Brittani Watson | BA | College of Humanities, Education and Social Sciences | Saint Joseph | MI |
| Caroline Weber | BLS | College of Humanities, Education and Social Sciences | Michigan City | IN |
| Sydney Wehde | BA | College of Humanities, Education and Social Sciences | Valparaiso | IN |
| Sam Weller | BLS | College of Humanities, Education and Social Sciences | Valparaiso | IN |
| Zareah White | BA | College of Humanities, Education and Social Sciences | Chicago Ridge | IL |
| Raven White | BS | College of Humanities, Education and Social Sciences | Crown Point | IN |
| Mia Yoshikane | BS | College of Humanities, Education and Social Sciences | Hammond | IN |
| Sam Zaborowski | BLS | College of Humanities, Education and Social Sciences | Munster | IN |
| Reyes Zamora | BA | College of Humanities, Education and Social Sciences | Hammond | IN |
| Stephanie Abraham | BSN | College of Nursing | Valparaiso | IN |
| Kevin Acosta Reyes | BSN | College of Nursing | Hammond | IN |
| Jacelyn Agha | BSN | College of Nursing | Shorewood | IL |
| Casey Aguila | BSN | College of Nursing | Lindenhurst | IL |
| Maria A Aguilera Lemus | BSN | College of Nursing | Winfield | IL |
| Gladys Ahounou | BSN | College of Nursing | Yorkville | IL |
| Yasmeen Al-Azzah | BSN | College of Nursing | Valparaiso | IN |
| Sandra Albu | BSN | College of Nursing | Arlington Heights | IL |
| Hannah Aldridge | BSN | College of Nursing | Valparaiso | IN |
| Natasha Allen | BSN | College of Nursing | Merrillville | IN |
| Bhumi Amin | BSN | College of Nursing | Bartlett | IL |
| Misty Ammon | BSN | College of Nursing | Muncie | IN |
| Cristina Anaya | BSN | College of Nursing | Munster | IN |
| Taylor Bainbridge | BSN | College of Nursing | Beecher | IL |
| Shennen Ballo | BSN | College of Nursing | Mundelein | IL |
| Kendra Bickel | BSN | College of Nursing | Knox | IN |
| Kayla Bishop | BSN | College of Nursing | Bloomington | IN |
| Danielle Boyd | BSN | College of Nursing | Mishawaka | IN |
| Sydney Briel | BSN | College of Nursing | Valparaiso | IN |
| Stephanie Briseno | BSN | College of Nursing | Cicero | IL |
| Taylor Brosky | BSN | College of Nursing | Portage | IN |
| Ashley Bryant | BSN | College of Nursing | Lisle | IL |
| Cortnee Butler | BSN | College of Nursing | Denver | CO |
| Shantel Caccamo | BSN | College of Nursing | Washington | UT |
| Ally Caliban | BSN | College of Nursing | Saint John | IN |
| Viviana Canelo | BSN | College of Nursing | Saint John | IN |
| Michelle Canuto | BSN | College of Nursing | Hammond | IN |
| Jirah Capungan | BSN | College of Nursing | Arlington Heights | IL |
| Natalie Castillo | BSN | College of Nursing | Aurora | IL |
| Samantha Cernel | BSN | College of Nursing | La Porte | IN |
| Reed Champagne | BSN | College of Nursing | Wausau | WI |
| Ellen Cherkassky | BSN | College of Nursing | Des Plaines | IL |
| Carmen Cioc | BSN | College of Nursing | Morton Grove | IL |
| Stephanie Colbert | BSN | College of Nursing | Berwyn | IL |
| Emily Contreras | BSN | College of Nursing | Joliet | IL |
| Mason Cook | BSN | College of Nursing | Cedar Lake | IN |
| Holly Crisp | BSN | College of Nursing | Lyman | SC |
| Kim Crnkovich | BSN | College of Nursing | Kingston | TN |
| Bozana Cucuz | BSN | College of Nursing | Schererville | IN |
| Asti Danner | BSN | College of Nursing | Homewood | IL |
| Travis Davis | BSN | College of Nursing | Michigan City | IN |
| Jennifer DeFrank | BSN | College of Nursing | Beecher | IL |
| Tyler DeYoung | BSN | College of Nursing | Lockport | IL |
| Alexandra Diaz | BSN | College of Nursing | Hobart | IN |
| Heather Dombek | BSN | College of Nursing | Schaumburg | IL |
| Iuliia Dotsenko | BSN | College of Nursing | Schaumburg | IL |
| Paiton Downs | BSN | College of Nursing | Michigan City | IN |
| Erin Doyle | BSN | College of Nursing | Michigan City | IN |
| Svetlana Dubovikova | BSN | College of Nursing | Buffalo Grove | IL |
| Kenzie Duggan | BSN | College of Nursing | Bolingbrook | IL |
| Jenna Eassa | BSN | College of Nursing | Hammond | IN |
| Alexia Espino | BSN | College of Nursing | Palos Park | IL |
| Myra Evangelista | BSN | College of Nursing | Kokomo | IN |
| Holly Faley | BSN | College of Nursing | Hammond | IN |
| Erica Felix | BSN | College of Nursing | Highland | IN |
| Brooklyn Figueroa | BSN | College of Nursing | Portage | IN |
| Jessica Flores | BSN | College of Nursing | Elk Grove Village | IL |
| Nancy Galvez | BSN | College of Nursing | Cicero | IL |
| Lesley Garcia | BSN | College of Nursing | Crystal Lake | IL |
| Meghann Garcia | BSN | College of Nursing | La Porte | IN |
| Sabrina Garcia | BSN | College of Nursing | Griffith | IN |
| Harry Gegantenio | BSN | College of Nursing | Skokie | IL |
| Cheyanne Gerron | BSN | College of Nursing | Michigan City | IN |
| Melissa Godbolt | BSN | College of Nursing | Hammond | IN |
| Abigail Gomez Avila | BSN | College of Nursing | South Bend | IN |
| Michelle Gonzalez | BSN | College of Nursing | Valparaiso | IN |
| Bethany Good | BSN | College of Nursing | Fort Wayne | IN |
| Jessica Gorski | BSN | College of Nursing | Crown Point | IN |
| Madison Grcevich | BSN | College of Nursing | Crown Point | IN |
| Avery Green | BSN | College of Nursing | Yorkville | IL |
| Katie Gunderson | BSN | College of Nursing | Pine River | WI |
| Eva Gurevich | BSN | College of Nursing | Mount Prospect | IL |
| Alex Gurola | BSN | College of Nursing | Chicago | IL |
| Lisa Guzinski | BSN | College of Nursing | Cortland | IL |
| Gret Haas | BSN | College of Nursing | Wheeling | IL |
| Angelica Habas | BSN | College of Nursing | Burbank | IL |
| Bella Hathaway | BSN | College of Nursing | Cedar Lake | IN |
| Lisa Heilenbach | BSN | College of Nursing | Plainfield | IL |
| Kelly Helland | BSN | College of Nursing | Osseo | WI |
| Ariel Henry | BSN | College of Nursing | Forest Park | IL |
| Jessica Henson | BSN | College of Nursing | Crown Point | IN |
| Alejandra Herrera | BSN | College of Nursing | Evanston | IL |
| Celie Hewitt | BSN | College of Nursing | Fort Wayne | IN |
| Alina Hillegonds | BSN | College of Nursing | Munster | IN |
| Samantha Hockings | BSN | College of Nursing | Batavia | IL |
| DayLyn Hornbeck | BSN | College of Nursing | Fair Oaks | IN |
| Naliyah Howell | BSN | College of Nursing | Michigan City | IN |
| Katelyn Hudson | BSN | College of Nursing | La Porte | IN |
| Ifeyinwa Iloka | BSN | College of Nursing | South Holland | IL |
| Hayley Jenkins | BSN | College of Nursing | Carthage | TN |
| Jackelyn Jones | BSN | College of Nursing | Bourbonnais | IL |
| Kiearra Jones | BSN | College of Nursing | Lynwood | IL |
| Krasimira Karchovska-Petkov | BSN | College of Nursing | Hoffman Estates | IL |
| Hope Kessler | BSN | College of Nursing | Walkerton | IN |
| Sarya Kiran | BSN | College of Nursing | Tinley Park | IL |
| Ashley Knight | BSN | College of Nursing | La Porte | IN |
| Cheyenne Kretchmer | BSN | College of Nursing | Hammond | IN |
| Klaudia Kulik | BSN | College of Nursing | Crystal Lake | IL |
| Shanice Kuss | BSN | College of Nursing | Neenah | WI |
| Jessica La Galante | BSN | College of Nursing | Carpentersville | IL |
| Mackenzie Lich-Eenigenburg | BSN | College of Nursing | Crown Point | IN |
| Tiara Lockwood | BSN | College of Nursing | Highland | IN |
| Jordan Lott | BSN | College of Nursing | Crete | IL |
| Corina Love | BSN | College of Nursing | Cedar Lake | IN |
| Kimberly Lozano | BSN | College of Nursing | East Chicago | IN |
| Lupe Luevano | BSN | College of Nursing | Round Lake | IL |
| Nettie Lundy | BSN | College of Nursing | Chicago | IL |
| Megan Mace | BSN | College of Nursing | Cedar Lake | IN |
| Mikaela Macuga | BSN | College of Nursing | Hammond | IN |
| Crystal Magana | BSN | College of Nursing | Palatine | IL |
| Jasmine Martinez | BSN | College of Nursing | Waukegan | IL |
| Yaneth Martinez | BSN | College of Nursing | Chicago | IL |
| Aimee Masi | BSN | College of Nursing | Wheaton | IL |
| Maddi Mathison | BSN | College of Nursing | Crown Point | IN |
| Dhanrajie Matos | BSN | College of Nursing | Skokie | IL |
| Karen Mazur | BSN | College of Nursing | Richmond | IL |
| Mackenzie McCarty-Hubbard | BSN | College of Nursing | Portage | IN |
| Rebecca McDaniel | BSN | College of Nursing | Hammond | IN |
| Madison Merriman | BSN | College of Nursing | Lowell | IN |
| Andrew Meyer | BSN | College of Nursing | Champaign | IL |
| Michelle Meyer | BSN | College of Nursing | Hampshire | IL |
| Marta Mierzwinska | BSN | College of Nursing | Lyons | IL |
| Aga Mikolajczyk | BSN | College of Nursing | Barrington | IL |
| Magda Mikolajczyk | BSN | College of Nursing | Barrington | IL |
| Mitchell Miller | BSN | College of Nursing | Indianapolis | IN |
| Nancy Miranda | BSN | College of Nursing | Wheeling | IL |
| Anastasia Mistak | BSN | College of Nursing | Winfield | IL |
| Savaghna Moffett | BSN | College of Nursing | Joliet | IL |
| Maggie Moore | BSN | College of Nursing | La Porte | IN |
| Alexandra Morris | BSN | College of Nursing | Skokie | IL |
| Nahrain Moshi | BSN | College of Nursing | Niles | IL |
| Christa Mozdzien | BSN | College of Nursing | Davis Junction | IL |
| Megan Mullner | BSN | College of Nursing | Beecher | IL |
| Lauren Mulvey | BSN | College of Nursing | Joliet | IL |
| Sarah Munsie | BSN | College of Nursing | Highland | IN |
| Analia Myers | BSN | College of Nursing | East Chicago | IN |
| Nicole Naleck | BSN | College of Nursing | South Elgin | IL |
| Doreen Nalweyiso | BSN | College of Nursing | Schaumburg | IL |
| Miranda Neurohr | BSN | College of Nursing | Ottawa | IL |
| Caitlin O'Connell | BSN | College of Nursing | Berwyn | IL |
| Maggie O'Donnell | BSN | College of Nursing | Crystal Lake | IL |
| Tommy Oliver | BSN | College of Nursing | Sleepy Hollow | IL |
| Brenda Ortiz | BSN | College of Nursing | Prospect Heights | IL |
| Halie Ott | BSN | College of Nursing | Wheatfield | IN |
| Eros Padilla | BSN | College of Nursing | Hammond | IN |
| Kayla Pagani | BSN | College of Nursing | Beecher | IL |
| Andrea Paniagua | BSN | College of Nursing | Berwyn | IL |
| Danielle Partyka | BSN | College of Nursing | Farmington | MN |
| Khushbu Patel | BSN | College of Nursing | Orange | CA |
| Sofia Perez | BSN | College of Nursing | Murfreesboro | TN |
| Carli Piro | BSN | College of Nursing | Chesterton | IN |
| Abigail Pisinski | BSN | College of Nursing | Winamac | IN |
| Evan Pursley | BSN | College of Nursing | Valparaiso | IN |
| Ralph Ramos | BSN | College of Nursing | Orland Park | IL |
| Emily Rappe | BSN | College of Nursing | Plainfield | IL |
| Brooke Rassel | BSN | College of Nursing | Schererville | IN |
| Jennifer Reichard | BSN | College of Nursing | Tinley Park | IL |
| Stephanie Robles-Bobadilla | BSN | College of Nursing | Hammond | IN |
| Paige Rocco | BSN | College of Nursing | Chicago | IL |
| Caelah Rush | BSN | College of Nursing | Chicago Heights | IL |
| Heather Ryan | BSN | College of Nursing | Highland | IN |
| Hunter Rycerz | BSN | College of Nursing | Highland | IN |
| Gloria Salas | BSN | College of Nursing | Crown Point | IN |
| Sandra Salazar | BSN | College of Nursing | Whiting | IN |
| Kavita Sangalge | BSN | College of Nursing | Naperville | IL |
| Amelia Savarese | BSN | College of Nursing | Valparaiso | IN |
| Jessica Schaeffer | BSN | College of Nursing | Jasper | IN |
| Emmeline Schwarz | BSN | College of Nursing | Niles | MI |
| Tazneem Shaista | BSN | College of Nursing | Chicago | IL |
| Alyssa Sharp | BSN | College of Nursing | Highland | IN |
| Kara Sherman | BSN | College of Nursing | Crown Point | IN |
| Anette Skutnik | BSN | College of Nursing | Brookfield | IL |
| Marie Sliwa | BSN | College of Nursing | Long Beach | IN |
| Osvaldo Solano-Maria | BSN | College of Nursing | Wheeling | IL |
| Daisy Solano-Vargas | BSN | College of Nursing | Wheeling | IL |
| Shane Solberg | BSN | College of Nursing | Glen Ellyn | IL |
| Deseray Solmos | BSN | College of Nursing | La Porte | IN |
| Abbigail Stram | BSN | College of Nursing | Valparaiso | IN |
| Nicole Sykora | BSN | College of Nursing | Crown Point | IN |
| Sarah Taylor | BSN | College of Nursing | Plainfield | IN |
| Megan Teitge | BSN | College of Nursing | Kouts | IN |
| Zoe Thomas | BSN | College of Nursing | Crown Point | IN |
| Vanessa Thompson | BSN | College of Nursing | Palos Heights | IL |
| Veronica Thompson | BSN | College of Nursing | Chicago | IL |
| Kelsey Tiemens | BSN | College of Nursing | Lowell | IN |
| Natasa Tomic | BSN | College of Nursing | Schererville | IN |
| Jocelyn Trejo | BSN | College of Nursing | Bartlett | IL |
| Arissa Troche | BSN | College of Nursing | Chicago | IL |
| Adriana Uelman | BSN | College of Nursing | Green Bay | WI |
| Teresita Uribe | BSN | College of Nursing | Plainfield | IL |
| Bryce Utphall | BSN | College of Nursing | Cleveland | TN |
| Ashley VanVleet | BSN | College of Nursing | Thayer | IN |
| Nathalie Velazquez | BSN | College of Nursing | Hammond | IN |
| Alex Vendel | BSN | College of Nursing | Schaumburg | IL |
| Lisa Vogel | BSN | College of Nursing | DeKalb | IL |
| Erica Ward | BSN | College of Nursing | Gary | IN |
| Asia Weil | BSN | College of Nursing | Oswego | IL |
| Erin Weiss | BSN | College of Nursing | Bolingbrook | IL |
| Kelsie Weldon | BSN | College of Nursing | Hobart | IN |
| Kristen Westphal | BSN | College of Nursing | Chicago | IL |
| Haley Wilson | BSN | College of Nursing | La Porte | IN |
| Katie Wiselogel | BSN | College of Nursing | Chicago | IL |
| Danielle Wohlfeil | BSN | College of Nursing | Round Lake Beach | IL |
| Olivia Wood | BSN | College of Nursing | Portage | IN |
| Kajay Xiong | BSN | College of Nursing | Wausau | WI |
| Saba Zafar | BSN | College of Nursing | Palatine | IL |
| Lily Zelaya | BSN | College of Nursing | Crystal Lake | IL |
| Mariah Ziak | BSN | College of Nursing | Lowell | IN |
| Asma Abdul Majeeth | BS | College of Technology | Park Forest | IL |
| Ghadir Alfadhl | BS | College of Technology | Granger | IN |
| Nasser Alkhater | BS | College of Technology | Munster | IN |
| Stephen Allen | BS | College of Technology | Schererville | IN |
| Stacie Amsler | BS | College of Technology | Munster | IN |
| Danny Bahena | BS | College of Technology | Highland | IN |
| Alaina Bailey | BS | College of Technology | La Porte | IN |
| Hilary Baker | BS | College of Technology | Schererville | IN |
| Jordan Baker | BS | College of Technology | Hobart | IN |
| Alexander Balousek | BS | College of Technology | Saint John | IN |
| Ben Bartasiunas | BS | College of Technology | Mokena | IL |
| Allen Beeler | BS | College of Technology | Demotte | IN |
| Arriana Bolling | BS | College of Technology | Hammond | IN |
| Michael Borg | BS | College of Technology | Hinsdale | IL |
| Brandon Boyd | BS | College of Technology | Hammond | IN |
| Isaac Brummett | BS | College of Technology | Crown Point | IN |
| Jonathan Bugno | BS | College of Technology | Highland | IN |
| Nicholas Cantley | BS | College of Technology | Crown Point | IN |
| Ryan Capps | BS | College of Technology | Westville | IN |
| Maite Cardona | BS | College of Technology | Hammond | IN |
| Jared Carlson | BS | College of Technology | Chesterton | IN |
| Andrew Caroselli | BS | College of Technology | Cedar Lake | IN |
| David Cervantes | BS | College of Technology | La Porte | IN |
| Dakota Chavas | BS | College of Technology | Wanatah | IN |
| Josh Chew | BS | College of Technology | Chesterton | IN |
| Brandon Cory | BS | College of Technology | Lowell | IN |
| Jared De Laurentis | BS | College of Technology | Crown Point | IN |
| Jacob DeMuth | BS | College of Technology | Valparaiso | IN |
| Patricia Dizon | BS | College of Technology | Arlington Heights | IL |
| Jake Dyrkacz | BS | College of Technology | Crown Point | IN |
| Braiden Flick | BS | College of Technology | Wheatfield | IN |
| Armando Flores | BS | College of Technology | Lowell | IN |
| Sarah Forsythe | BS | College of Technology | Lake Station | IN |
| Arianna Freeman | BS | College of Technology | Griffith | IN |
| Ethan Furman | BS | College of Technology | Hammond | IN |
| Ziomara Garcia | BS | College of Technology | Chesterton | IN |
| Nathan Gawlinski | BS | College of Technology | Lansing | IL |
| Aaron Gonzalez | BS | College of Technology | Griffith | IN |
| Shawn Graf | BS | College of Technology | Hebron | IN |
| Jack Gutierrez | BS | College of Technology | Hammond | IN |
| Laquon Hamilton | BS | College of Technology | Griffith | IN |
| Kyle Hicks | BS | College of Technology | Union Mills | IN |
| David Higley | BS | College of Technology | Dyer | IN |
| Anthony Jamka | BS | College of Technology | Schererville | IN |
| Kyle Johnson | BS | College of Technology | Portage | IN |
| Kevin Karamacoski | BS | College of Technology | Crown Point | IN |
| Nathan Karnezis | BS | College of Technology | Munster | IN |
| Gaurav Khatri | BS | College of Technology | Hammond | IN |
| Michelle Klejka | BS | College of Technology | Palos Hills | IL |
| Jeffrey Kroll | BS | College of Technology | Highland | IN |
| Nikita Lyubashenko | BS | College of Technology | Park Ridge | IL |
| Autumn MacCartney | BS | College of Technology | Hammond | IN |
| Tyler Mack | BS | College of Technology | Valparaiso | IN |
| Giovanni Marin | BS | College of Technology | Whiting | IN |
| Paulina Martinez | BS | College of Technology | Merrillville | IN |
| Rachel McComb | BS | College of Technology | Gary | IN |
| Joanna Mendoza | BS | College of Technology | East Chicago | IN |
| Tristen Michael | BS | College of Technology | Hobart | IN |
| Jesus Miramontes | BS | College of Technology | Hammond | IN |
| Rick Montemayor | BS | College of Technology | Lake Station | IN |
| Hector Moya | BS | College of Technology | Valparaiso | IN |
| Michael Mrdak | BS | College of Technology | Saint John | IN |
| Cheryl Munchenburg | BS | College of Technology | Highland | IN |
| Mike Nickolaou | BS | College of Technology | Saint John | IN |
| Joey Petrucci | BS | College of Technology | Beecher | IL |
| Adrienne Petty | BS | College of Technology | Forest Park | IL |
| Kevin Philbin | BS | College of Technology | Crown Point | IN |
| Sharyl Riley | BS | College of Technology | Granger | IN |
| Sara Rodriguez | BS | College of Technology | Hammond | IN |
| Matthew Rogers | BS | College of Technology | Valparaiso | IN |
| Alex Ronquillo | BS | College of Technology | Hammond | IN |
| Fabian Rosado | BS | College of Technology | East Chicago | IN |
| Alexis Salazar | BS | College of Technology | Lowell | IN |
| Marcela Salazar | BS | College of Technology | Dyer | IN |
| Juan Salgado | BS | College of Technology | Munster | IN |
| Kevin Sandberg | BS | College of Technology | Hebron | IN |
| Tristan Schnick | BS | College of Technology | La Porte | IN |
| Nick Scott | BS | College of Technology | Michigan City | IN |
| Herminio Serguei | BS | College of Technology | Hammond | IN |
| Alexander Servin | BS | College of Technology | Whiting | IN |
| Muaaz Shad | BS | College of Technology | Munster | IN |
| Nic Silvey | BS | College of Technology | Glade Hill | VA |
| Orlando Soler | BS | College of Technology | Dyer | IN |
| Taylor Souris | BS | College of Technology | Hobart | IN |
| Jake Stewart | BS | College of Technology | Kouts | IN |
| Alexandria Stone | BS | College of Technology | Kingsford Heights | IN |
| Samuel Szala | BS | College of Technology | Munster | IN |
| Tristan Tayler | BS | College of Technology | Crown Point | IN |
| Brandon Taylor | BS | College of Technology | Crown Point | IN |
| Danielle Turner | BS | College of Technology | Crown Point | IN |
| Yuhao Wan | BS | College of Technology | Hammond | IN |
| Isaiah Woods | BS | College of Technology | Munster | IN |
| Hao Xu | BS | College of Technology | Marlette | MI |