Sister act: Four sisters find their future in PNW's College of Nursing
July 14, 2023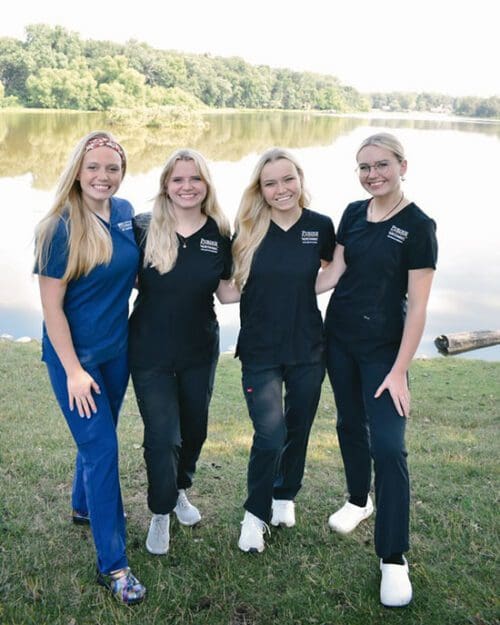 The Lenting sisters, Madeline, Karen, Sara and Amanda, not only share a bond as sisters, but also in their choices of career and university. All four sisters have either graduated or are currently enrolled in Purdue University Northwest's (PNW) College of Nursing.
All in the family
From a young age, the sisters often listened to their mother talk about her job as a nurse. Her enthusiasm for that job inspired each of the sisters to consider a career in nursing.
"She is always positive about her job and talks about how it's one of the most rewarding things she's ever done," says Karen, who is scheduled to graduate in December 2023 with a bachelor of Nursing degree.
Having all four of her daughters follow in her footsteps has made Tina Lenting an incredibly proud mother. "Influencing them by example and them following in my career path means I'm being a positive role model. Seeing them fill that role encourages me."
Choosing a path
Madeline (now Biancardi) led the way choosing both nursing and PNW. "I had heard good things about PNW from friends who were in the nursing program," says the Crown Point native and 2021 PNW College of Nursing graduate. "The program has a great reputation, was reasonably priced and close to home."
She initially decided to study nursing with the intent it be a steppingstone to medical school. After shadowing a few doctors and working in a medical office she found nursing more rewarding. Biancardi currently works as a registered nurse in the neonatal intensive care unit (NICU) at The University of Chicago Comer Children's Hospital.
While Karen had applied and was accepted into several different nursing programs, she ultimately chose PNW. "I already knew PNW had a great program and I believed it was the stronger nursing program," she says. "I was also able to watch Madeline go through the program and it gave me an idea of what was expected and that I could do it too."
Sara, a third-year nursing student, like Madeline, began college as a nursing major with the expectation of going to medical school, but also felt nursing was a better fit. Her choice of a university came down to her connection to the nursing community. "I'd always heard from other nurses about how PNW nursing students were the best students to have," she says. "If working nurses think that why would I go anywhere else?"
First-year nursing student and youngest sibling, Amanda, acknowledges her three sisters made a huge impact on her choice of PNW. "Seeing Madeline graduate and watching Karen about to graduate, I know I also want to graduate from PNW."
I'd always heard from other nurses about how PNW nursing students were the best students to have. If working nurses think that why would I go anywhere else?




Added benefits
Having sisters ahead of you in the same program has its benefits. "When I walked into PNW, I had my sisters but also all of their friends to support me from day one. It's really helpful having them by my side whenever I need them," says Amanda. Karen agrees, "If I'm stuck on something, it's nice to be able to get help from Madeline – it's like having a living study guide!"
Sara adds, "Any type of hard test or project that I have coming up, I like getting Madeline's and Karen's input. They have shared a lot of references and things that I would not have access to if I didn't have two sisters ahead of me in the program."
Professors and fellow students have also provided support for the sisters and proved to be among their favorite parts of PNW and the nursing program. "I had an absolutely amazing cohort," says Biancardi. "We still check in on each other two years later. The professors were outstanding. They offered extra time outside of office hours – they just really wanted us to succeed."
Looking to the future
While each of the sisters may be interested in different specialties, they share their love and enthusiasm for nursing with their mother.
"The nursing profession is vast," says Tina, in advice to her daughters. "Don't settle for an area of nursing you're not sure of – make sure you love your field."
Biancardi plans to pursue a master's degree in nursing and a doctorate in family practice with an eye toward working in an urgent care facility or office setting.
While preparing to graduate, Karen is still deciding between several specialties and will shadow Madeline and her aunt before making a decision. Eventually, she would like to return to PNW as a clinical professor of Nursing.
With two years left in her program, Sara is currently interested in pediatrics. After gaining a few years of nursing experience she would like to continue her education by pursuing her nurse practitioner's license.
"There's so much you can do with a bachelor's degree in nursing that I really don't know quite what I want to do," says Amanda.  "I'm just hoping to make a difference and I hope those I help remember me as a good nurse."
The Lenting sisters represent the second generation of nurses in the family. Aside from their mother, they also have an aunt who is a nurse. The sisters made note that Biancardi's daughter could become the family's third generation nurse. "PNW nursing graduate of 2050," jokes Amanda.