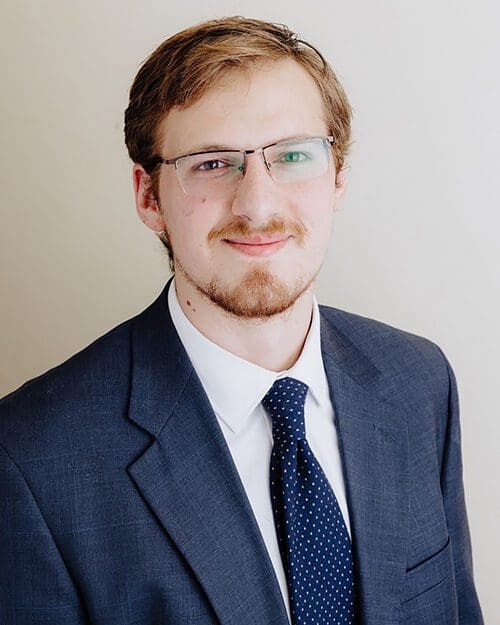 Alexander Quilty
The School of Engineering is #PNWEngineeringProud of Alexander CE Quilty. He is studying electrical engineering and computer engineering and will graduate in May 2023 with two bachelor's degrees.
January 12, 2023
Name: Alexander CE Quilty
Hometown: Midlothian, Illinois
High School: Bremen High School (Illinois), Class of 2017
PNW Degrees: Bachelor of Science in Electrical Engineering, May 2023 & Bachelor of Science in Computer Engineering, May 2023
Why did you choose your fields of study?
I was personally always interested in electronics. When I was a teenager, my older brother had taken his PS2 apart, and I saw the motherboard of the PS2. It was at that moment where I had wondered how THAT made all of the games I played, and all of the videos I watched, work. I was also heavily influenced by my parents to go into electrical engineering. My mother did lots of technical work with computers, and my father was a telecommunication technician for the Air Force.
Why did you choose PNW?
It was the only university that had accepted me at the time, and it was local. It was very convenient since I would not have to pay for room and board.
What has been your most rewarding academic experience at PNW?
The amount of students that tell me that I made a difference in their education is definitely undoubtedly the most rewarding achievement mentally to me as a tutor, there is nothing that makes me happier than making others successful too.
Any specific classroom projects/learning experiences that have been beneficial?
Senior Design was one of my favorite experiences where I got to propose an idea, design it, and bring it into fruition and to see it actually working as designed was very rewarding as an engineer in undergrad.
PNW activities/organizations/teams:
IEEE President, Student ABET Board, HKN (Eta Kappa Nu) Founder.
Faculty and/or staff members who have helped you along your journey at PNW:
Dr. Li-Zhe Tan has been a huge help in assisting me throughout my career. He is an amazing professor and advisor and has helped me throughout my junior and senior semesters.
I would also like to thank Dr. Khair Al Shamaileh for his help and patience for the IEEE organization at PNW.
Awards received at PNW:
Honor's College, Dean's List, Sydney Smith Memorial Endowed Scholarship, Sydney Smith Talent Scholarship.
What are your plans after graduation?
I am currently trying to get a full-time job with Raytheon Technologies or John Hopkins University Applied Physics Laboratory. As of right now, I am in the interview process for a Test Systems Engineer position with Raytheon Missiles and Defense in Tempe, Arizona.
Final thoughts about your PNW education:
I would like to thank all of the students that stuck with me throughout the school semesters. Never was it a burden to help anybody, and I will always continue to try and help as many people as I possibly can to further their understanding, knowledge, and perception of physics and electrical/computer engineering. Thank you all for supporting me in difficult times, and I hope all of you prosper in your respective career paths.