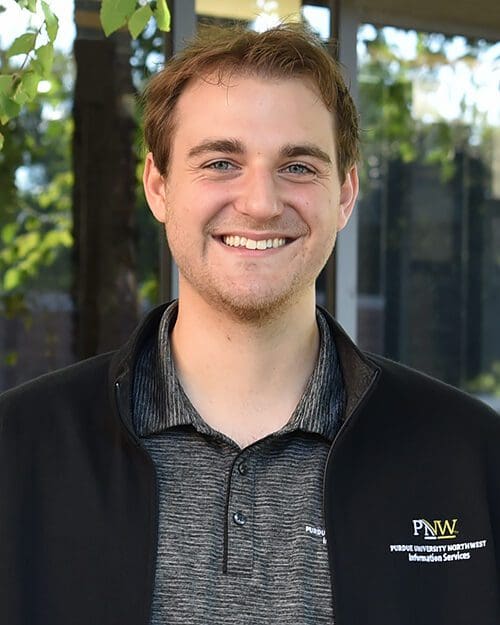 Chad Jamrock
The School of Engineering is #PNWEngineeringProud of Chad Jamrock. He is a Computer Science student who will graduate in May 2023 with his bachelor's degree.
October 6, 2022
Name: Chad Jamrock
Hometown: Dyer, Indiana
High School: Lake Central High School, Class of 2019
PNW Degree: Bachelor of Science in Computer Science, with minors in Applied Mathematics and Statistics, May 2023
Why did you choose your field of study?
Growing up I've always been very interested in technology and how it works, which led me to get my first computer when I was very young. Because of that, I've always had the opportunity to tinker with the hardware and software of a computer, and it has only made me more interested. Throughout high school, I noticed how fast the computer science field was growing, and I knew that computer science would be something that would be the perfect fit for me. Then throughout college, I became more and more interested in math and statistics, mainly because of the amazing math and stats professors that are at PNW. There are several very good professors in that area who are very passionate about what they teach who make it enjoyable to learn. Because of them, I'm also pursuing minors in applied mathematics and statistics.
Why did you choose PNW?
I chose to go to PNW because it was close to home and allowed me to save money while also pursuing my dream. I've met a lot of amazing people and have had a lot of great experiences at PNW, and I'm very happy I chose to come here.
What has been your most rewarding academic experience at PNW?
The most rewarding academic experience for me was back in Calculus 1 during my first semester of freshman year. Before that class, I've always had a generally good understanding of math, but it wasn't until that class that a lot of things started to click for me in the "math world". I had a professor that taught the math class and explained the material like I haven't had before, and it really made me understand so many things that are not only directly related to just math, but also in my computer science and stats classes. My way of thinking about math really changed after that class, and it made me realize so many amazing and interesting things you can learn from math.
Any specific classroom projects/learning experiences that have been beneficial?
I think some of the most beneficial projects have been ones that are related to data analysis. In my statistics courses and some of my computer science courses, I've had the opportunity to work on collecting data, cleaning data, inputting it into databases, and running different queries to observe different results. After working on some of these projects, I quickly realized the amazing things that you can do with data and just how much benefit it has. I learned that working with data allows you to produce a lot of meaningful information that we would've been unaware of.
Describe your student work in PNW Information Services
I originally started working in Information Services at the start of the 2020 Fall semester, where I worked in the Customer Service Center (CSC). During that time, I helped faculty, staff, and students with technology related issues they had around campus. I really enjoyed this experience because it gave me an opportunity to work on my customer service skills while always working in an IT environment. During the summer of 2021, I was promoted to student supervisor and had some more responsibilities such as training new team members and working on escalated issues.
After working in the CSC for some time longer, I moved to the desktop team, which is the more "hands-on" team that goes around to offices, labs, and anywhere else that has technology on campus. We are responsible for setting up office workstations, coordinating office moves, doing wiring in labs, and troubleshooting issues around campus as they come up. We work through several hardware and software issues that involve replacing faulty computer parts, fixing software problems, and providing new solutions for the growing world of technology. My experience in desktop has been beneficial because I've worked on countless different issues that give me great hands-on experience in the field.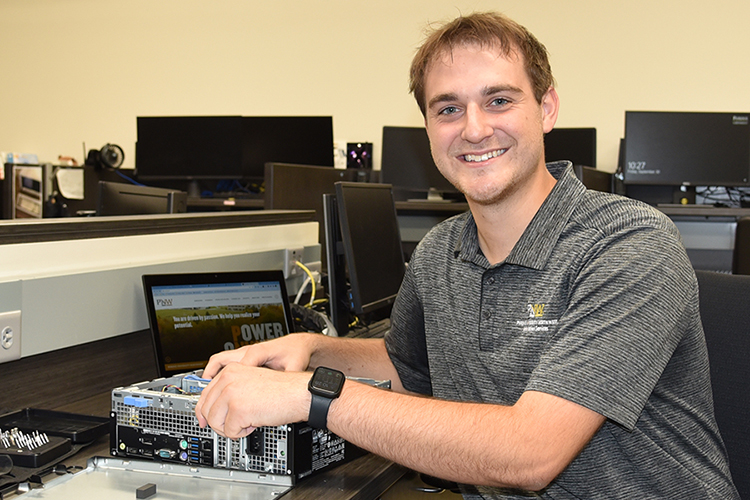 PNW activities/organizations/teams
I am currently a part of the Honors College at PNW. The Honors College has given me an incredible opportunity to be more involved in the community and has allowed me to go to a bunch of great places. I've also met so many lifelong friends through the Honors College that have helped me grow throughout my academic career.
Faculty and/or staff members who have helped you along your journey at PNW
While I haven't had too many "personal" or "1-on-1" relationships with many professors, there are some professors who I really enjoy and always go out of my way to try to take their classes. Gokarna Aryal, Roger Kraft, Nicolae Tarfuela, and Norma Elias are some fantastic professors that I've continually taken classes with because of how passionate they are about their respective subjects. They really go above and beyond to help you learn and I've never had a negative moment in their classes, and they are part of the reason why I enjoy what I'm learning so much.
Awards received at PNW
Throughout my years at PNW, I've received academic achievement scholarships, Dean's List, and Semester Honors.
What are your plans after graduation?
After graduation, I plan to work in a job that involves data science/data analysis. I want to combine my passion in computers and data to something I will thoroughly enjoy and get satisfaction out of. I think that seeing my observations and predictions be used for something bigger is a huge inspiration, and I hope to work further in the field in the upcoming future.
Final thoughts about your PNW education
I think that overall, PNW has been an amazing place that I have benefited from not only academically but also socially. I've learned a ton of new things, met a lot of amazing people, and had a lot of great experiences during my time here. Between the computer science and mathematics and statistics departments, I have learned so many things that will be incredibly beneficial to me when I begin my career in the near future.
Related Stories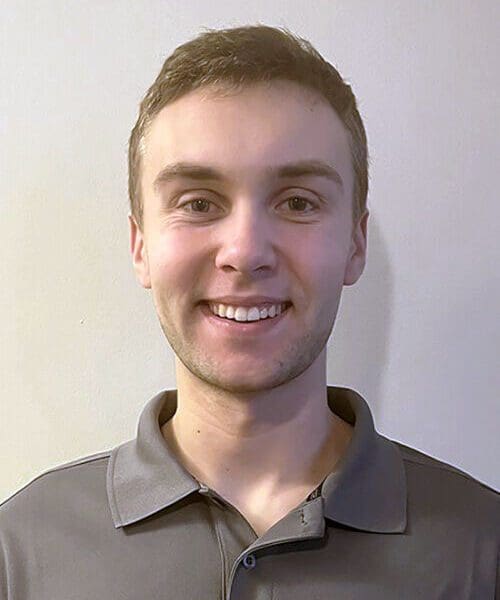 The School of Engineering is #PNWEngineeringProud of Thomas Stobbe. He will graduate in December 2023 with his bachelor's in mechanical engineering.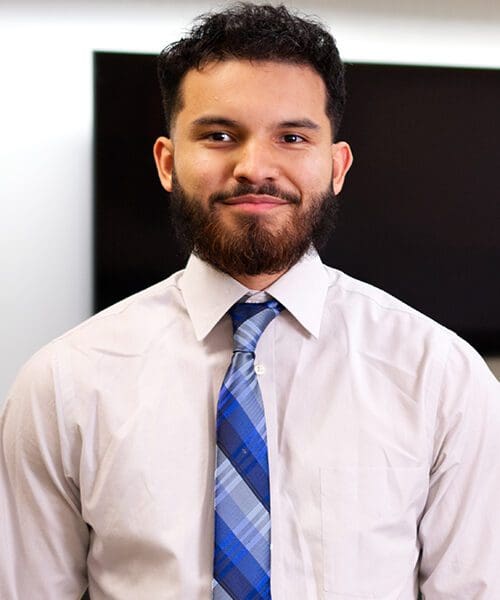 The School of Engineering is #PNWEngineeringProud of Mateo Garcia. He received his BSCmpE in May 2022 and will graduate in December 2023 with his master's in electrical and computer engineering.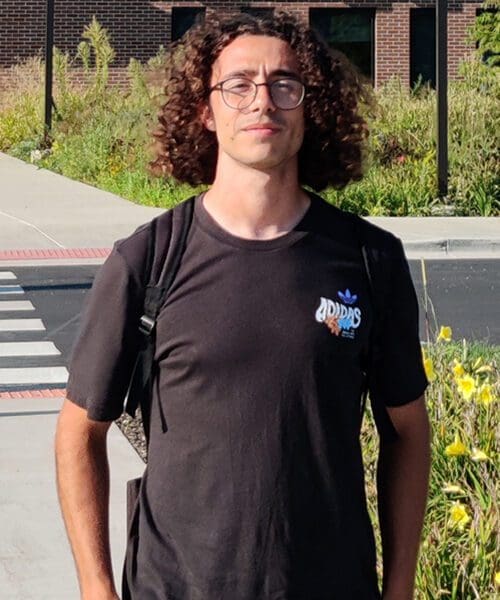 The School of Engineering is #PNWEngineeringProud of Pau Aran. He is a Computer Science student who will graduate in May 2023 with his bachelor's degree.