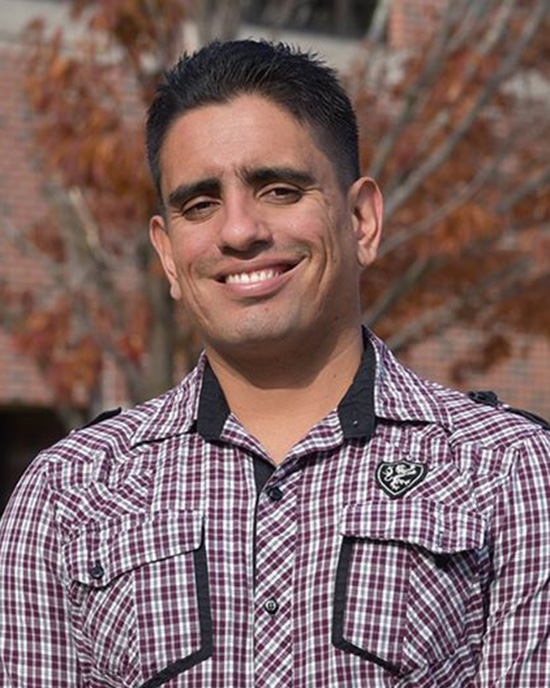 Hugo Cedeno
The School of Engineering at Purdue University Northwest is #PNWEngineeringProud of alumnus and current graduate student Hugo Cedeño!
January 2, 2020
Full Name:
Hugo Romeo Cedeño Cedeño
Hometown:
Portoviejo, Manabí, Ecuador
Bachelor's degree:
Bachelor of Science in Civil Engineering received from Escuela Superior Politécnica (ESPOL) in Guayaquil, Ecuador, in September 2010.
Master's degree you are currently working on at PNW:
Master of Science in Mechanical Engineering
Other PNW degrees received/in progress:
In 2014, I started my studies at PNW. In 2016, I received my Master of Business Administration with a concentration in Management of Information Systems. In the same year, I also completed successfully the requirements of my Master of Science in Civil Engineering and my Graduate Certificate in Engineering Project Management.
I graduated with my Master of Science in Mathematics in Fall 2019, and I expect to graduate with my Master of Science in Mechanical Engineering in Spring 2020.
Ph.D. degrees currently in progress:
I am currently working on a Ph.D. in Civil Engineering and a Ph.D. in Computational Science at Purdue University West Lafayette. I expect to graduate with both in Fall 2020. I graduated with my Master of Science in Mathematics in Fall 2019, and I expect to graduate with my Master of Science in Mechanical Engineering in Spring 2020.
Ph.D. degrees currently in progress:
I am currently working on a Ph.D. in Civil Engineering and a Ph.D. in Computational Science at Purdue University West Lafayette. I expect to graduate with both in Fall 2020.
Why did you choose your fields of study/majors?
After obtaining my bachelor's degree and before attending PNW, I worked in the industry as project supervisor for different engineering companies. Nowadays employers are not only looking for engineers with experience but also with a strong theoretical background in their field, thus having a graduate level degree has increasingly become the standard.
In my case, I was interested in applying for a managerial position in some engineering consulting firms, which require knowledge in management and accounting that are beyond traditional STEM fields. Therefore, I aimed for a master's degree in my original area and an MBA.
Along the way and thanks to the inspiration of several teachers and mentors that I had, my passion for learning developed a new goal of getting a Ph.D. in Civil Engineering. Additionally, in order to broaden my horizons further I decided to pursue a master's degree in Mathematics and another in Mechanical Engineering.
Why did you choose to attend PNW?
I chose PNW because it is a Purdue-affiliated campus that has accredited engineering programs and is conveniently located close to Chicago's metropolitan area, where professionals are in demand by a very active engineering industry. Also in Northwest Indiana itself, we have the steel industry, which offers many opportunities for engineers.
What has been your most rewarding academic experience at PNW?
Being able to do research and have scholarly papers published. I worked with amazing and very talented faculty from the College of Engineering and Sciences and the College of Humanities, Education, and Social Sciences doing field research and literature review with the aim of producing papers. All these prepared me for the intensive research that I am currently doing for my Ph.D.
Specific classroom projects/learning experiences at PNW that have been beneficial:
There were two courses, Traffic Management and Urban Transportation Systems Planning, that proved fundamental to begin my research experience since each one required to create from scratch a complete evaluation and improvement plan for the infrastructure and components of a real transportation network.
The projects from my Computational and Applied Statistics courses taught me how to collect, read, analyze and interpret data in order to create predictive models that can provide solutions for complex problems. In my Marketing, Strategic and Operations Management courses, I learned how to apply these models to run cost effective processes along the supply chain network of a company.
I also took several independent studies, and the ones in Spanish Architecture and Nonlinear Methods in Structural Dynamics taught me how to prepare the literature review and methodology of an engineering paper.
Activities at PNW:
Member of the Spanish Club
Co-president and member of the History Club
Member of the German Club
Member of the French Club
Member of Gamma Theta Kappa
Member of the PNW chapter of the International Business Honor Society Beta Gamma Sigma
Current job:
I am currently a Graduate Teaching Assistant in the Department of Political Science, Economics, World Languages and Culture at PNW where I teach basic level Spanish courses (from 101 to 202). I am also a Research Assistant at Purdue University West Lafayette where I am currently working on improvement of outdated engineering design codes.
How has PNW helped prepare you for your future?
PNW prepared me not only for my doctoral studies but also for my future career in the industry. I developed research skills and improved my ability to solve realistic problems that are faced by engineers and managers in the industry. I also learned how to collaborate with students and faculty that are actively involved in research, and this gave me the inspiration and determination to continue my education.
I am very grateful for the amazing educational experience I had at PNW. All that I learned here will prove valuable in any challenge that I could face in the future.
Faculty and/or staff members who have helped you along your journey at PNW:
From the Mechanical and Civil Engineering Department, I would like to thank:
Professor Chandramouli Viswanathan for guiding me in my first years as my advisor. His enthusiasm, passion and dedication in teaching always inspired me.
Professor Wubeshet Woldemariam for his mentoring and advising in the transportation research projects that I worked in. His work ethic and diligence helped me to improve my focus and learned the guidelines of how to conduct research.
Professor Niranjan Desai for his advising during the independent studies in which I worked with him. He is always available, easy to reach out and eager to directly help students clarifying doubts. His explanations are clear and comprehensive, also he always makes sure that students stay motivated.
Professor Shengyong Zhang for his support and mentoring as my advisor in the last year. I learned a lot while working under him when he offered me an opportunity to work as his TA. Thanks to him, I taught the lab portion of his kinematics class where students worked in many different machine design projects that tested 3D printed prototypes.
From the Mathematics, Statistics and Computer Science Department, I would like to thank:
Professor Anthony Elmendorf for reminding me of my passion for mathematics and guiding me the last two years as my advisor.
Professor Peter Turbek for his passionate teaching style that allowed me to enjoy his amazing lectures and made the advanced math courses less difficult for me. Also for his caring about the well-being of students.
Professor Gokarna Aryal and Professor Grethe Hystad for their assiduousness that helped me to learn so much about statistics, which proved valuable for my research afterwards. Their teaching combines the best of theoretical statistics with real life applications that use software to process data. I would like to also thank both for offering me the opportunity to be their grader on several occasions.
From Political Science, Economics, World Languages and Culture, I would like to thank:
Professor María Luisa García Verdugo for always believing in me since my first day at PNW and providing me with the best mentoring and advising. I would never be able to thank her enough for all the opportunities she offered me as a student, thanks to her I worked at the International Media Center for several years until I started teaching Spanish under her supervision. Teaching has been the most rewarding experience in my adult life, it helped me to develop many skills and share my passion for learning with students. Every accomplishment, every success I had in my academic life at PNW is in one way or another thanks to her.
Maribel Lopez for her continuous support in all these years. While working under her I learned from her constancy and hard work. She is very proactive and has a clear understanding of most administrative tasks on campus. Her charisma always motivated me to keep giving my best at work and her guidance was extremely helpful to get through what I needed to do every semester.
From the Office of Global Engagement, I would like to thank:
April Valentine and Janice Novosel for their help and advice as immigration officers. Being an international student makes things more complex for me and before attending PNW I was genuinely scared and worried about studying in a foreign country with a different culture and a language that wasn't my native one. I appreciate the time and dedication they put to answer any question or clarify any of my doubts no matter how difficult I made everything seem to be.
Brooke Hewson for all her hard work and mentoring of international students. As the leader of a fantastic team of global ambassadors she directed the efforts of providing a sense of community, comfort and global learning experience for international students. She also always considered and included me and other international students to be part of the many activities done by OGE, which helped me to feel at home.
Awards received at PNW:
I was inducted as a member of the International Business Honor Society Beta Gamma Sigma.
What is your next step after receiving your Ph.D.?
I want to become an engineering consultant and start my own firm.
Final thoughts about your PNW education:
The education I received at PNW not only made me knowledgeable but provided me with a wide variety of skills that include being analytical and careful with decisions. I definitely recommend the university to anybody interested in one of the academic programs.
Beyond that, PNW became my family and will always do my best to make them proud. I hope that it keeps growing and getting better, but remember to keep a balance between all the majors.
In today's world, STEM related majors had become in theory the most sought careers, but I recognize the importance and benefits of Business and Arts in the near future – by studying them you can become a well-rounded professional, a good communicator and writer.