PNW Motorsports Formula SAE
Formula SAE revolves around designing, funding, manufacturing and racing a formula style, open-wheel race car. Our organization encompasses engineering, technology, finance, marketing and many more majors. We are open to all students, whether you have a passion for cars, or if you are just looking for a fun, social, always active, resume building project.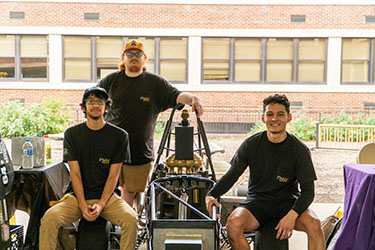 PNW Formula SAE Fundraiser
Our goal is to design, build and race a formula-styled race car and take it to compete on an international level with 100+ other universities in May of this year.
To continue as an organization, we need funding! These funds cover materials and components to build our car as well as travel expenses for the entire team. Please donate what you can, it is greatly appreciated.
Contact Us

President: Morgan Massey
Advisor: Masoud Mojtahed
General Email: PNW Motorsports
Follow Us