The Society of Innovators at Purdue Northwest Announce the 2023 Innovators Award Winners
October 10, 2023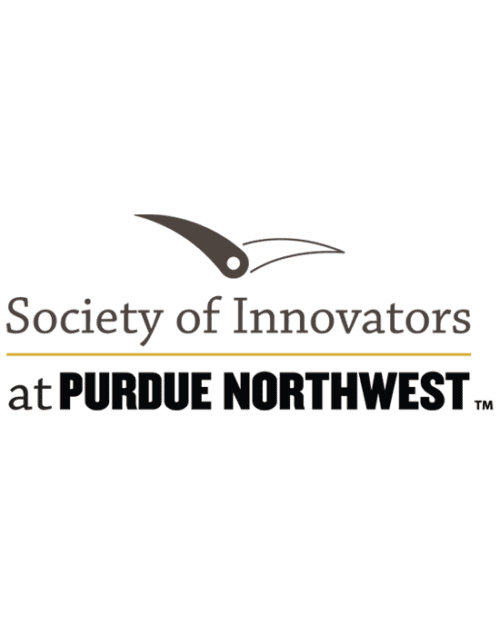 The Society of Innovators at Purdue Northwest has announced winners of the 2023 Innovators Awards. Winners will be inducted into the Society during the group's annual luncheon on Thursday, Oct. 19 at the Purdue Northwest campus in Westville, IN from 11:30 a.m. to 1:30 p.m. CST.
"This year will mark the 19th annual class of innovators inducted into the Society," said Jason Williams, assistant director of the Society of Innovators. "We believe that anyone can be an innovator and that innovation can come from anywhere. The Class of 2023 once again exemplifies this diversity of creativity and ingenuity taking place in our region year after year."
The selection committee examined and analyzed the innovation(s) each individual and team nominee was responsible for in order to guide final decision-making. An innovation needed to provide a new solution, benefit society and create measurable value. The Advocate for Innovation category recognizes individuals or organizations who embody the mission of the Society of Innovators to champion innovation in Northwest Indiana. To be eligible for induction, innovators must live or work in Northwest Indiana.
Each winner will be officially recognized and inducted into the Society of Innovators during the annual luncheon on Oct. 19. Registration is open for the 2023 Innovators Awards Luncheon. Individual tickets are $55 and tables of 10 may be purchased for $500. For more information and to register, please visit  pnw.edu/innovators-awards or by reaching out to Jason Williams at jawilliams@pnw.edu.
The Society of Innovators Class of 2023 includes:
Individual Inductee
Alejandra Alaniz (Valparaiso, Ind.) – Owner, Tracktable Lifestyle
Team Inductees
Coates, Inc. (Merrillville, Ind.)

Team Members: Catisha Toney, Lolita Wilson

Hammond Group (Hammond, Ind.)

Team Members: Thomas Wojcinski, Gordon Beckley, Richard Botts, Gary Dean Botts II, Enqin Gao, Perry Hedge, Perry Dewayne Hedge II, Daniel Loosemore, Terry Murphy, Pete Nikoloski, Andrew Reynolds, James Shearouse

PowderCoil Technologies (Crown Point, Ind.)

Team Members: Robert McShane, Maggie Beauchamp, Alexander Duchak, Janice Hickey, Parakh Kantawala, Jeremy Murray, Steve Murray
Advocate for Innovation Inductee
Northwest Indiana Forum (Portage, Ind.)

Team Members: Heather Ennis, Don Babcock, Erika Dombey, Brian Hittinger, Kay Nelson, Pete Novak, Tony Oss, Raeann Trakas
The 2023 Selection Committee included:
(Ken) Patrick Barry: Club Director, Gary, Boys & Girls Clubs of Greater Northwest Indiana (2020 Inductee)
Eric Beschinski: Business Advisor and Ecosystem Navigator, Northwest Indiana SBDC
Magesh Chandramouli: Professor, Computer Graphics Technology, Purdue Northwest (2020 Inductee)
Mont Handley: Associate Director, Commercialization and Manufacturing Excellence Center, Purdue Northwest
Kay Nelson: Environmental Affairs Director, NWI Forum (2008 Inductee)
Dushan Nikolovski: Director, Valparaiso University Innovation Hub
Mary Perren: Executive Assistant, Starke County Economic Development
Julie Rizzo: Founder & CEO, Recycled Granite™/Organic Granite™ (2011 Inductee)