Three PNW White Lodging Professional Selling Students Place in Top 1.5% of National Sales Competition
May 14, 2020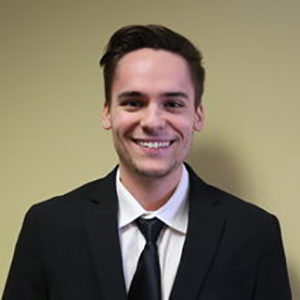 Purdue University Northwest (PNW) is honored to announce that three students, who are majoring in marketing with minors in sales, placed within the top 1.5% of the Spring 2020 RNMKRS (pronounced rainmakers) Virtual Sales Competition in April.
There were 1,400 college students from 49 schools who competed in the competition.
Purdue Northwest students Luke Hackett of Munster placed 2nd, Katie Wiening of Hammond placed 6th, and Tyler Asche of St. John placed 17th with guidance from their coach, Associate Professor of Marketing Claudia Mich from PNW's College of Business.
"This is our first time competing in the RNMKRS competition, which is itself only a year old," Mich said. "I am very proud of our students and their hard work."
RNMKRS was created in 2018 to leverage new, interactive AI technology to create and run free, mobile, virtual competition events for student-selling audiences nationwide. Students were tasked to role-play and sell to a BOT (robot) client named Alex, who was designed to learn from interaction and respond accordingly in real-time.
"The only way to succeed was to really get to know the client and his/her needs," Mich added. "Only then could students tailor the product presentation to the needs of the client."
"The competition helped my communication skills because talking to a bot on an app was very difficult at times," Wiening stated. "It also taught me adaptability because the bot was unable to pick up all the words I was speaking so I had to be able to restate the sales point quickly."
"With the advancements in technology, I believe the use of AI will become greater and greater," Hackett added. "So, already having experience selling to an AI could potentially help me in the future."
College of Business students are accustomed to competing in face-to-face competitions with peers and sponsors' representatives. This unique experience, in addition to a class-wide Zoom competition, was an entirely new challenge for these PNW students to learn digital selling skills that can be applied to real-world scenarios.
"I'd like to thank the university for providing us the opportunity to step out of our comfort zone and really put our skills to the test," Asche concluded.
For more about the hands-on exercises students are learning within the PNW College of Business White Lodging Professional Selling Lab, visit: https://www.pnw.edu/college-of-business/student-resources/white-lodging-professional-selling-lab/.