Vaccine Incentive Winner: Chris Perkins
October 14, 2021
We're talking to winners from PNW's Vaccine Incentive Program to learn more about what prompted them to get vaccinated!
Today, meet Chris Perkins – a Hobart resident studying Electrical Engineering Technology who plans to graduate in Spring 2022.
Why did you choose to get vaccinated against COVID-19 when you were eligible?
First and foremost, it's the right thing to do. I worked at Walmart when the pandemic started. I worked as an essential worker. It was very important to me to get the vaccine. I was in contact with the public every single day — hundreds of people.
I got lucky because I never got sick. It's been a rocky road for the world and it's the least you can do to do your part. It's not a hard thing to do. It's free. I won money for doing it!
What would you say to your peers to encourage them to get vaccinated?
It's the right thing to do. It's not painful. It doesn't cause anything crazy to happen. The science is there. If there's anyone we should trust, it's scientists. To me it was a no-brainer. Do it for the good of the country, the good of humanity, to keep yourself safe.
What benefit is there to being a vaccinated student body?
There were some nice things about being online, but we have a lab component for every single class I take. Being able to come together on campus and share ideas, it's so much easier in person.
Zoom lectures are 20-plus black boxes. It's frustrating. You don't know if anyone's listening to you. The whole reason colleges were created was so intellectuals could come together and share ideas. The only way for us to do that is get vaccinated and come back together.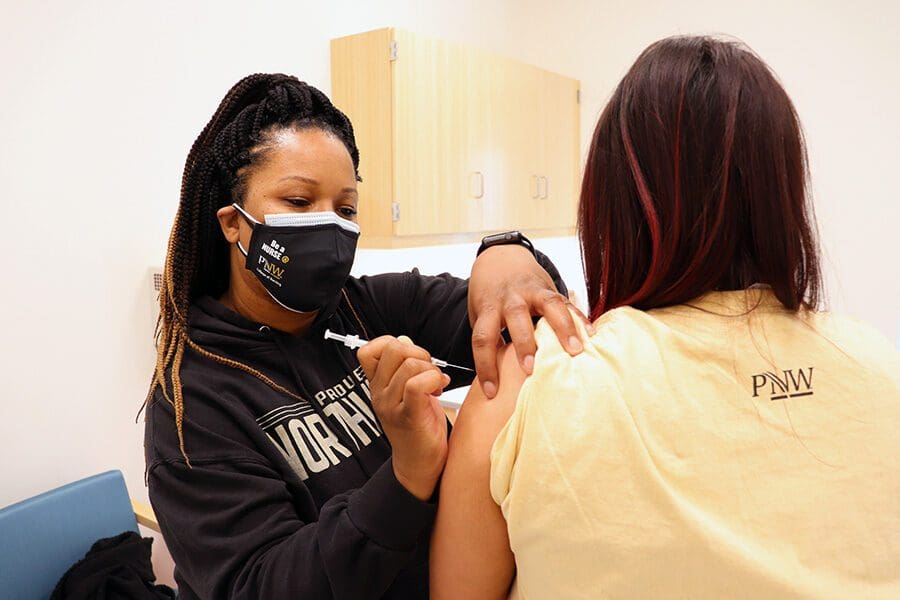 Vaccine Incentive Program
The single best way to protect you and your family from COVID-19 is by getting vaccinated. PNW students who choose to get vaccinated against COVID-19 can enter drawings for prizes including a $2,000 tuition credit!