Visiting international medical students and physicians grow skills at PNW summer seminar
August 4, 2023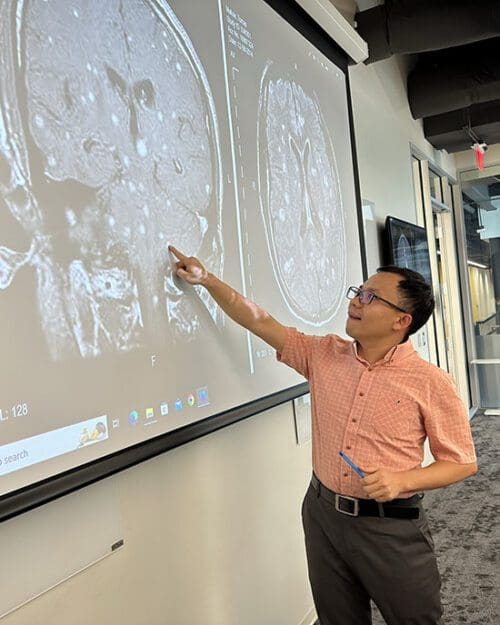 A cohort of visiting international medical students and physicians enhanced their academic knowledge, interpersonal investigation skills and critical thinking concerning complex health care issues through a month-long problem-based learning seminar with Dr. Ernest Talarico, visiting lecturer of Biological Sciences, at Purdue University Northwest (PNW).
Around 20 students from the Czech Republic, Vietnam and Malaysia spent July collaborating on exercises meant to test their discernment of wide-ranging issues focused on interdisciplinary healthcare and anatomical sciences, research for solutions and prescribe outcomes for health improvement. The students additionally participated in rotations at St. Mary Medical Center under the supervision of Dr. Thach Nguyen.
"I think this is a really great experience," says Lan Ly, a fifth-year medical student at Tan Tao University School of Medicine in Vietnam. "There are a lot of unexpected variables we could observe as a doctor. Dr. Talarico has really helped us improve how we analyze cases and to work well under pressure."
Talarico is a founding member of the medical advisory board and founder of the Center for Medical Education and Research at Nam Can Tho University Hospital in Vietnam. He is also director of the Southeast Asia Anatomy Project. In collaboration with Dr. Nguyen, they have hosted international medical students and physicians for summer seminars to benefit their current studies or pursuit of subsequent residency programs.
Dr. Nguyen is the vice provost, Board of Trustees member, and dean of the School of Medicine at Tan Tao University. He also serves as the director of Cardiology at St. Mary Medical Center in Hobart.
Dr. Talarico presented students with particular case studies, such as a couple experiencing infertility issues and a hiker with an injury and infection. Students were responsible for understanding the patients' histories, role-playing as interviewers to find out more information from patient actors and consulting with each other on potential causes for the observed problems. Any unfamiliar areas were labeled as "learning issues," which the students were assigned to research for homework and be prepared to recall or explain during the next sessions.
The students were responsible for exams on the case studies and tasked with final research presentations at the end of their seminar. Extra time was also spent with PNW's Anatomage tables that are used in Anatomy, Physiology and Nursing courses.
"Hopefully they take this back with them to their countries to improve the care of patients there and improve the education of future physicians. They learn how to approach a patient, interview them, take the history and find out what questions to ask. You have to remember that you are treating the total patient — it's not just treating signs and symptoms and doing tests."
Besides furthering their anatomical knowledge, Dr. Talarico says these exercises test students' resourcefulness in researching issues to deliver best outcomes for theoretical patients. It also exposes them to the methods, mannerisms and medical service implementation in American clinical settings. This contrasts with some clinical settings in Vietnam, for example, which has hospitals not nearly as resourced as American ones. It also builds the students' language skills for patient communication.
Man Nhu Lam, another fifth-year medical student at Tan Tao University, says the cohort at PNW provided a more intimate setting with plenty of 1:1 time with Dr. Talarico. She says her cohort in Vietnam can have up to 50 or more students and a competitive learning environment.
"In Vietnam, our case studies are usually focused on one department or specialty," she says, "but Dr. Talarico will have us consider other medical specialties so that we have to look at other perspectives."
More Summer Seminar Photos