A Passion for Others: Fall 2020 Graduate Kristen Leouses
December 7, 2020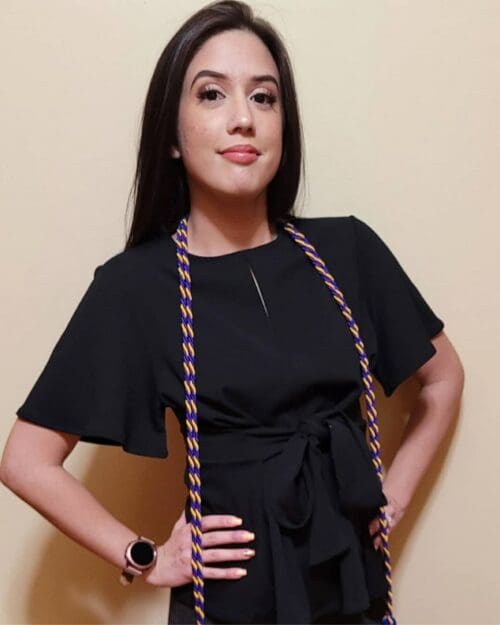 Passionate about helping others, Kristen Leouses '20 is looking forward to beginning her career as a social worker after graduation.
Her passion for others, inspired her to help coordinate the annual "Got Your Back Packs" community partnership event as part of the social work club. Leouses worked secure donations for the back packs which were provided to children removed from their homes and placed in foster care.
Leouses who served as social work club vice president, stated of the initiative, "During my time as Social Work Club VP, I along with my fellow officers, wanted to focus on making the social work club a productive resource to our community."
While at PNW, Leouses also completed a seven-month internship at Westville Correctional Facility, where she worked to develop her own life skills course with the help of the clients.
"It was one of the most difficult but humbling experiences I have ever had. I am so grateful to have been given the opportunity to learn there," Leouses said of the experience.
Following her internship, Leouses has also been instrumental in demonstrating for the advocacy of the health and safety of the inmates of the Westville Correctional Facility during the beginning of the COVID-19 outbreak.
Throughout the social work program Leouses had three mentors who inspired her and continued to push her along the way. Most of all she is thankful for the support they have provided to her and her fellow classmates.
"Thank you to Professor Robin Miller, Pam Saylor, and Hayley Stokar for your hard work, dedication and the unconditional support that you have given to me and my fellow classmates in the social work department."
Leouses is glad to have made so many meaningful connections with those in the social work program and is looking forward to beginning her career. She hopes to obtain a position working in crime justice or with at-risk youth. She also plans to continue her education and obtain a master's of social work.