Astronomy Center
The Calumet Astronomy Center is an ongoing collaboration between the Calumet Astronomical Society, the Lake County Parks and Recreation Department, and Purdue University Northwest.
Northwest Indiana Robotic Telescope
PNW's contribution to the CAC is the Northwest Indiana Robotic (NIRo) Telescope. NIRo has been in operation since 2010. We continue to work on revamping the PNW introductory astronomy courses, intermediate and upper-level physics courses and research opportunities for our physics undergraduates.
Community and Partners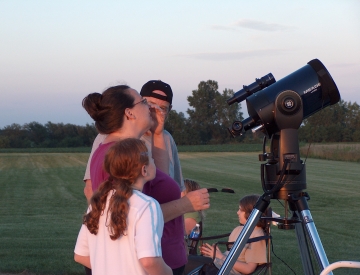 PNW astronomers collaborate with the CAS and LCPRD in community outreach projects, such as nighttime viewing sessions, public talks, and on-site, summer youth astronomy camps. Such programs have already met with success.
During its inaugural year, the LCPRD Youth Astronomy Camp saw 40 children from Lake and Porter counties in Indiana and Cook county in Illinois participate in four observing and informal education sessions organized by CAS members and PUC faculty at Buckley Homestead. Such programs will continue in the coming years.
Location
The CAC is located at LCPRD's Buckley Homestead County Park in Lowell, IN and is already the home of the CAS' Thomas Conway Observatory. The Thomas Conway Observatory was built by the steelworkers at USW/ArcelorMittal Burns Harbor Career Development Center.
Thomas Conway Observatory
Contact: CAS Info
Calumet Astronomical Society
Phone: 773-639-5491
Contact Us
Adam W. Rengstorf, Ph.D.
Interim Chair, Department of Chemistry and Physics and Associate Professor of Physics and Astronomy

Adam Rengstorf teaches all levels of physics lecture and lab, gen-ed, astronomy and upper-level astrophysics courses. He also oversees all observing campaigns and undergraduate research projects at NIRo Observatory.