Changing lives: Meet 2022 PNW graduate Jalyn A. Smith
December 22, 2022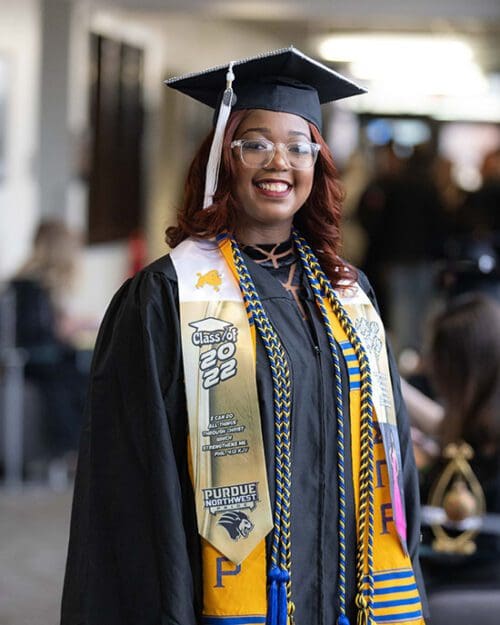 Inspired by her mother's career in social work, Jalyn A. Smith, '22, chose to major in the same field and will graduate with a bachelor of arts degree in Social Work from the College of Humanities, Education and Social Sciences at Purdue University Northwest.
The Glenwood, Illinois, native was excited to learn that she was named a Chancellor's Medallion recipient. This honor is presented to graduates who receive the highest grade point average in each academic college.
Smith made the most of her time at PNW as both a member of the Social Work Club and the Phi Alpha Honor Society for Social Workers. In addition, she was selected as the Social Work Student Liaison at PNW where she was responsible for collecting and sharing comments, questions and concerns from her fellow social work students and communicating them with faculty. She was also responsible for the formal dissemination of the faculty response.
She was able to gain valuable experience within her field by completing two internships – at the Lake County Government Center in Lake County, Indiana, assisting with orders of protection for victims of domestic violence, and at Homewood-Flossmoor High School in Homewood, Illinois, working under the school's social workers.
After graduation, Smith hopes to attend graduate school eventually becoming a licensed clinical social worker (LCSW). Long-term, she would like to help future social workers by teaching at the university level as either an adjunct faculty member or a professor.
How did you become interested in social work?
"I became interested in social work because of my mother who worked in the field. Growing up I watched as she worked for the State of Illinois in a social work capacity and that's what sparked my interest. Half of my family is in social work and half in criminal justice – the Smith family is social service to the core!"
What did you like most about your program in social work?
"The community. It was very welcoming and diverse. Social work is a sensitive field and you have to have a certain type of passion. The professors and students all had that passion and were very understanding and in tune with each other.
The professors in my major not only cared about the students' academic success, but also about us as individuals. When classes became difficult, they would remind us of all the people we are going to help and the lives we are going to change."
What did it mean to be named a Chancellor's Medallion recipient?
"It means all my hard work and commitment paid off – attending classes, raising my hand and asking questions, going to office hours, having internships. It means that I was noticed as someone who took my education seriously.
Everyone in my family has a master's degree or higher; however, I'm the first one to receive a Chancellor's Medallion!"
How do you think your involvement in campus organizations and activities helped define your success at PNW?
"All of those experiences, the clubs and internships, connected the textbooks to the real world. The things I was learning in class – skills, tools, assessments and communication, I was able to take all of those things into my internship and apply them while I was there. As a student liaison for the Social Work department I was able to stand in a leadership role."
What words of advice would you share with prospective students looking to attend PNW?
"Find your passion and pick a major in that field. Don't just get a degree in something where you'll have a job, get a degree in something you'll have a career in and will want to continue doing until you retire.
Was there anyone at PNW who inspired or encouraged you along the way?
"Professors Saylor and Miller definitely inspired me along the way. Whenever I felt overwhelmed, they would listen and encourage me to keep going. They were always humble and gracious. They noticed me as a person and pushed me academically – it was an amazing experience and I wouldn't trade it for the world."