College of Technology camp solidifies the art of modern construction
August 8, 2022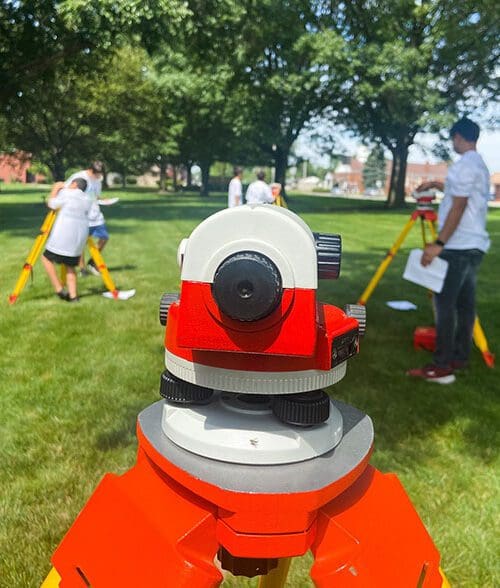 Purdue University Northwest's College of Technology and assistant professor of Construction Engineering and Management Technology Afshin Zahraee are building the foundations of a new generation of professionals with the Bridge Engineering Construction Summer Camp.
The week-long immersive camp, geared toward middle school and high school students, aims to promote the learning of construction materials, 3D design processes, surveying and more. The end goal involves designing and building a bridge that is both effective in cost and support. Furthermore, the camp allows students to get a head start in better understanding the field of construction.
"We want to spark interest at an earlier age and for kids to know there is so much more to construction than just the orange vests they see creating traffic for their parents," Zahraee says. "We want them to understand the different fields of construction and to understand there are jobs that are heavily computer-based, some that are based on being outside all the time, and others that are a mix. It's important for these students to know how expansive the field is."
In speaking on the importance of STEM camps like this one, Zahraee emphasized their need and aid in fostering children's career aspirations.
"Campers get a sneak peak of the field and the application of the hands-on portion that they may miss in some middle or high school courses that are theory-based, like physics and math," Zahraee says. "In getting these experiences, campers may become more interested in a STEM career path and realize ahead of time what the theory they will be understanding will be applied to."
PNW thanks the following camp sponsors for their continued support: Packaging Machinery Manufacturers Institute, Fiberforce, Smith Ready Mix, Hasse Construction, Indiana Ready Mix Concrete Association, Lehigh Hanson Concrete, Olthof Homes, and Ozinga.
"I am extremely proud to be a part of the PNW group putting together camps like this for youths," Zahraee says. "It is important to raise awareness and let kids know that the field is more than formulas and memorization. There is a world to be discovered and I am happy that we are serving the Northwest Indiana area and giving opportunities to kids to succeed now and later in life."
For more information about PNW's summer camps, visit pnw.edu/camps. To learn more about the College of Technology, visit pnw.edu/technology.