Community Health Nursing students enjoy in person return to Sojourner Truth House
November 5, 2021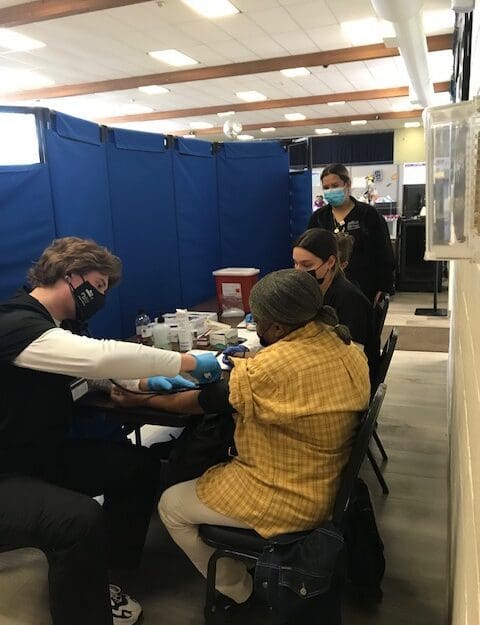 When the COVID-19 pandemic arrived in Northwest Indiana, a longtime Purdue University Northwest (PNW) partnership was paused to limit exposure.
Now with vaccines and consistent safety protocols in place, College of Nursing students enrolled in the Community Health Nursing course are once again earning clinical experience by visiting Sojourner Truth House, a homeless and at-risk women and children's day shelter in Gary.
Jodi Allen, Family Nurse Practitioner program coordinator and assistant professor of Nursing, oversees PNW's partnership with the shelter, a relationship that will enter its 24th year in 2022. She has been taking undergraduate and graduate nursing students to the shelter since 2015.
Sojourner Truth House provides social services for its clients, such as case manager meetings, educational classes, clothing, and food, with the ultimate goal of helping clients acquire housing and employment. PNW nursing students in the Community Health Nursing course have the chance to provide physicals and health screenings.
"They tend to love it because they really get to sit and chat with patients," Allen says.  "I consistently get feedback that it's one of their favorite rotations. They finally start to feel like a nurse. If you're doing true community health, you're somewhere in the community and typically working with underserved populations. It's a perfect marriage for them to apply what they have learned in a real-world environment."
Students conduct health screenings in a separate space to examine patients' vital signs, blood pressure, blood sugar, vision, cholesterol, and oxygen saturation, to name a few indicators.
Allen has staggered Community Health Nursing students in month-long rotations of four at a time. The students typically visit one day per week.
When the women recognize that we're from Purdue Northwest, they're excited to see us. When they see the Purdue Northwest logo (on nursing students' scrubs), they're more trusting in the care we're providing.




Nicholas Soucie, a fourth-year nursing student from St. John, Ind., has found his experience to be unlike any other clinical setting he's worked in thus far.
"A lot of people are stuck with the idea you have to work in a hospital, but that's not necessarily true," he says. "There's a lot you can do outside of the hospital setting. This class as a whole has opened my eyes to the multitude of avenues you can take with nursing."
The class so moved Ashley May, a fourth-year nursing student from Colorado, that she plans to line up similar volunteer opportunities in Indianapolis. She will graduate in December and move to Carmel, Ind., for a job at a progressive care unit.
"One of the things I found challenging was becoming invested in their stories, leaving, and not knowing what happens," she says. "So I'm constantly asking Jodi how are they doing, or are they getting treatment?"
Some clients do routinely show up, and others have an irregular attendance pattern.
"When they (patients) come into the hospital and they're not taking medication, some might assume they're noncompliant," May says. "In reality, they may not be able to afford medication or lack transportation. Working with these patients, we're able to find them a social worker or programs that can assist."
The discussions in the classroom and the work at Sojourner Truth House address the bigger picture of socioeconomic disadvantages to health care. A lecture will not prove effective compared to a holistic outlook on a patient's situation that tries to offer up what health improvements they can make at a certain time. The clinical experience requires students to think creatively on how to address nutrition, transportation access, scheduling, and more, Allen says.
Allen was also selected as a Scholarship of Engagement Fellow for the 2020-21 academic year as she continued researching medical care barriers for these at-risk patients, creating touchpoints at the shelter, and finding solutions to provide health care access.
"The role of nursing is to dig into that social deterrent of health. We miss it in key care settings because we worry about things that are acute. We are surrounded by communities that have health concerns we can positively affect, and that's a goal of the College of Nursing. A lot of universities would dream of having a community partnership like that."
The partnership remains strong, and it's evident in clients' enthusiasm when PNW nursing students visit.