Scholarships
PNW is a National Center of Academic Excellence in Cyber Defense Education. Students enrolled in our Computer Information Technology undergraduate program and MS Technology CIT Concentration graduate program are eligible for two special scholarship opportunities.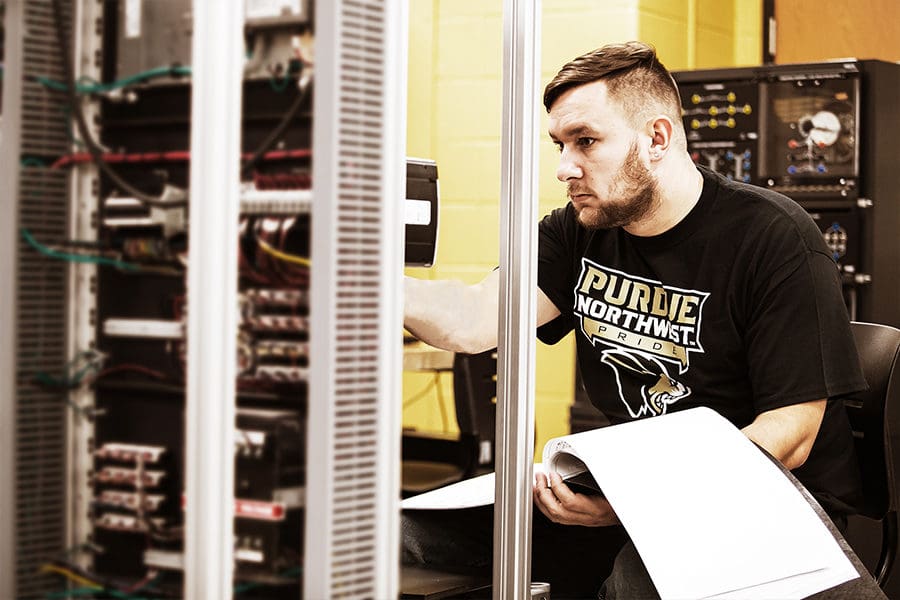 NSF CyberCorps Scholarship for Service
Applications are being accepted until June 10, 2022
This unique program is designed to recruit the next generation of information technology professionals to meet government cybersecurity needs.
Learn More About NSF CyberCorps SFS
Scholarship Package
Stipend: $25,000 per year for undergraduate and $34,000 per year for graduate.
Full tuition and education related fees.
Professional development allowance (travel, professional certification etc. (up to $6,000 per year).
A book allowance (up to $2,000 per year).
Click here: NSF CyberCorps Program Official Site – for full details regarding the NSF SFS program.
2022 PNW CyberCorps Online Application is currently open!
A two-page Letter expressing interest in the NSF CyberCorps Scholarship program that includes a statement that indicates an understanding of all obligations and commitments.
Three Recommendation letters from at least one Cybersecurity faculty member who is familiar with the student's background (others could be your employer and other faculty members who have taught your courses and/or supervised you).
Unofficial transcripts (official transcripts will be required for final candidates).
Current Resume.
Please download three (3) Forms before filling the online application form, click the following three items Application Check List, Recommendation Form, Obligation Sign Form
The 2022 PNW CyberCorps Online Application is open now
Application Deadline: June 10, 2022
CyberCorps®: Scholarship For Service (SFS)
The SFS program provides funds to colleges and universities for student scholarships in support of education in areas relevant to cybersecurity. In return for their scholarships, recipients must agree to work after graduation for the Federal Government or, subject to approval of the NSF program office and OPM, for a State, Local, or Tribal Government in a position related to cybersecurity for a period equal to the length of the scholarship.
During the scholarship period, the students will participate in meaningful summer internships. Doctoral students may be allowed to replace their summer internship with a research activity following a recommendation from their academic advisor and approval of the NSF program office. The program's goal is 100% placement in government cybersecurity positions, which can only be reached through active cooperation among all parties involved. While SFS student participants are responsible for their own job searches, the SFS program office, through the U.S. Office of Personnel Management (OPM), provides several tools to aid in the job search and organizes an annual job fair. PIs and SFS scholarship students are expected to participate actively with OPM to secure both a summer internship and permanent placement in a Federal executive agency, or subject to approval, in the state, local, or tribal government organization. A limited number of students may be placed in National Laboratories and Federally Funded Research and Development Centers (FFRDCs). This number is set by the NSF program office each year.
Students must also participate in other SFS activities such as research, conferences, workshops, and weekly seminar class. These activities are aimed at developing a community of practice that will enhance students' individual and collective skills in an area increasingly important to the security of the United States. OPM partners with NSF in this program by providing internship and placement assistance to SFS scholarship students, by coordinating students' transition into government employment, by monitoring students' compliance with program requirements, and by assessing whether the program helps meet the personnel needs of the Federal government for information infrastructure protection. Grantee institutions provide scholarship support to students who compete successfully in a selection process developed by the institution, who meet the SFS eligibility criteria, and who are confirmed by OPM as qualified for employment in a cybersecurity related position.
Eligibility Requirements
To be eligible for the CyberCorps Scholarship for Service program, a student must be a US citizen or lawful permanent resident. Students must be enrolled full time and be within three years of graduation with a GPA of at least 3.3 (for courses in PNW CIT Undergraduate Program Plan of Study) on a 4.0 scale (3.5 for graduate students for courses in PNW MS Technology, CIT Concentration Plan of Study). Additional program specific eligibility criteria are outlined below.
INSTITUTION
ELIGIBILITY CRITERIA
PNW
Undergraduate: a. Completion of all 100, 200 level courses that are listed in the first 4 semesters of the PNW CIT Plan of Study (PoS), b. receiving A for ITS250.
Graduate: Formally admitted to the M.S. of Technology, CIT Concentration, and completion of all pre-requisite courses.
The scholarships are awarded primarily based on a merit basis.
Obligation and Commitments
All selected scholars are required to sign a written commitment:
Upon graduation, serve federal executive Agency, or subject to approval by OPM, in the state, local, or tribal government for at least the number of years required by the NSF Scholarship for Service Program.
Attend NSF SFS Job fairs (e.g., January at DC) for summer internship and full time positions at government agencies.
Before graduation, at least 1 summer internship (>10 weeks long) at government agency.
Maintain minimal GPA of 3.3 (undergraduate in the Major program) or 3.5 (graduate).
Participate in all required PNW CyberCorps Program workshops and required activities.
Meet with the project team and the placement office at PNW to secure summer intern and full time placement.
Willing to take security clearance and background check required for federal, local, or tribal government employment.
Application Assessment and Selection
Applicant pre-screening, June 11, 2022
Candidate Interview, ranking, and selection, July 2022
Final Candidate Selection, July 2022
Scholar signs OPM Service Agreement and PNW Service Agreement, August 2022
Scholar candidates forwarded to OPM for approval, August 2022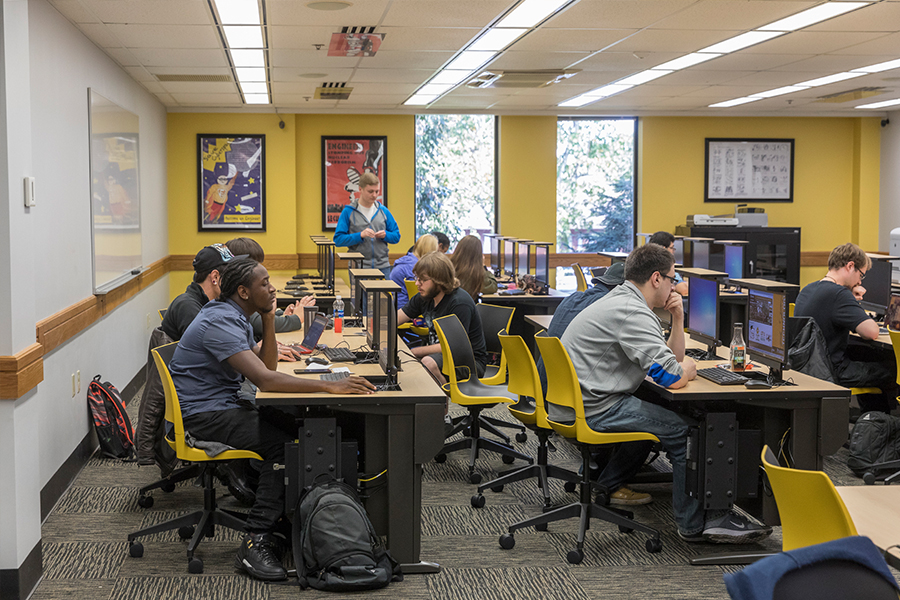 Department of Defense (DOD) Cyber Scholarship Program (CySP)
This scholarship is designed to encourage the recruitment of the nation's top cyber talent to help secure our nation against threats of information systems and networks.
The 2021 Applications are now closed
Expand for Details
"The Department of Defense (DoD) Cyber Scholarship Program (CySP) is authorized by Chapter 112 of title 10, United States Code, Section 2200. The purpose of the program is to support the recruitment of new cyber talent and the retention of current highly skilled professionals within the DoD cyber workforce. Additionally, this program serves to enhance the national pipeline for the development of cyber personnel by providing grants to institutions of higher education"
Rising community college, junior and senior undergraduates, master's and doctoral, who are U.S. citizens and are at least 18 years of age are eligible for consideration for the program. Students in the second year of a two-year degree program, who are continuing to a partner university to pursue a bachelor's degree are eligible to apply.
Full tuition, books, and required fees.
Stipend to cover room and board.

$20,000 for community college students
$25,000 stipend for undergraduate students
$30,000 stipend
APPOINTMENT AND HIRING AUTHORITIES
Chapter 112, title 10, United States Code anticipates that recipients of scholarships will participate in experiential learning assignments (called "internships" in the law) at the DoD Components and Agencies while completing their academic degree programs. There are a variety of hiring authorities across DoD and the determination will be made by those Agencies in conjunction with the CySP Program Office. (see solicitation Attachment C for more detail).
MINIMUM ELIGIBILITY FOR SCHOLARSHIP AND APPOINTMENT
You must be 18 years of age or older.
You must be a citizen of the United States at the time of application. Note, if family members are not U.S. Citizens, some DoD Agencies may be unable to process the applicant (student) to the security clearance level required. Every effort will be made to assign eligible students at an Agency without such restrictions.
You must be enrolled (or accepted for enrollment) in one of the identified NCAE-C colleges or universities listed in this announcement, or enrolled (or accepted for enrollment) at an institution selected by a NCAE-C as a collaborative partner for these purposes.
You must have

completed (or by August 2021 will have completed) at a minimum:

the first year of an associate's degree; or
first two years of an undergraduate degree program; or
a bachelor's degree; or
a master's degree

.

And be eligible to:

begin a second year of an associate's degree (with continuation to a 4-year degree program); or
begin either the third or fourth year of an undergraduate degree program; or
begin the first or second year of a Master's degree program; or
pursue doctoral studies

.

You must be pursuing a course of study and/or have a declared major in one of the scientific, technical, or managerial disciplines related to cyber or with a concentration in cybersecurity. (see solicitation for further detail on cyber security disciplines).
Ability to obtain a security clearance (see solicitation for further detail on fulfilling the necessary security requirements).
ACADEMIC SUFFICIENCY
Applicants must be recommended by their school for the scholarship.
The applicant is pursuing a course of study and/or has a declared major in one of the scientific, technical or managerial disciplines related to computer and network security that are enumerated under Section 4.E. (see solicitation).
As a community college or undergraduate student, the applicant has a 3.2 out of a 4.0 grade point average (GPA) or, as a graduate student, the applicant has a 3.5 GPA out of 4.0, or an analogous rank based on a comparable scale.
NCAE-Cs shall review the factors enumerated below and shall exclude from further evaluation and not recommend any candidate unable to achieve a minimum score of 2 points on a 5-point scale. Scale values range from:

Insufficient Potential (One),
Sufficient Potential (Two),
Average Potential (Three),
High Potential (Four), and
Superior Potential (Five)
.
Factors to be considered in arriving at the rating for "demonstrated potential" are:

The applicant's original transcript(s) from all institutions of higher education attended
The applicant's current Grade Point Average (GPA)
Academic honors, distinctions and awards
Letters of reference
KNOWLEDGE AND ABILITY
The NCAE-C shall use Attachment E, Student Endorsement and Ranking Form, to document its evaluation of each applicant meeting administrative and academic sufficiency requirements against the following competencies, using a 5-point scale of values, to assess and report on each of the six competencies below. The rating scale is:
No Knowledge or Ability (One)
Basic Knowledge or Ability (Two)
Intermediate Knowledge or Ability (Three)
Advanced Knowledge or Ability (Four)
Superior Knowledge or Ability (Five)
Evaluations of the following factors shall be based on the supplemental application material provided by the candidates, letters of reference, and any additional information provided by the applicant in response to NCAE-C requests made for this purpose.
Knowledge of the techniques of the information technology and/or information security (assurance) discipline, including encryption, access control, physical security, training, threat analysis, and authentication.
Knowledge of the human factors in the information technology and/or information security (assurance), including human computer interaction, design, training, sabotage, human error prevention and identification, personal use policies, and monitoring.
Ability to identify and analyze problems, distinguish between relevant and irrelevant information to make logical decisions, and provide solutions to individual and organizational problems.
Ability to consider and respond appropriately to the needs, feelings, and capabilities of different people in different situations; is tactful, compassionate and sensitive, and treats other with respect.
Ability to make clear and convincing oral presentations to individuals or groups; listens effectively and clarifies information as needed, facilitates an open exchange of ideas and fosters an atmosphere of open communication.
Ability to express facts and ideas in writing in a clear, convincing and organized manner appropriate to the audience and occasion.
The NCAE-C shall also provide in written paragraph form the reason for one of the following recommendations:
Highly Recommended
Recommended
Not Recommended
BASIC STUDENT OBLIGATIONS
Students selected to participate in the DoD CySP will be required to sign a written agreement obligating them to work for the DoD, as a civilian employee for one calendar year for each year of scholarship assistance.
Students will also be required to serve in internship positions, if timing permits, with the DoD organizations during the time they are receiving scholarship support until they complete the course of study provided for by the scholarship. These internships will be arranged by the DoD to occur during the summer or other breaks between school terms, as appropriate to the individual's circumstances and the institutions' calendar. The internship does not count toward satisfying the period of obligated service incurred by accepting the CySP scholarship.
Students will be required to formally accept or decline the scholarship with in 15 days of notification. Non-acceptance by this date will mean the scholarship will be offered to the next available student.
Students will be required to complete a security investigation questionnaire to initiate the process for a background investigation in preparation for their internships, if applicable, and as a condition of future employment with the DoD. Drug tests or other suitability processing will occur as appropriate. Students will also be required to sign an agreement stating that they will accept assignments requiring travel or change of duty stations as interns or employees. Individuals who voluntarily terminate employment during intern appointments or before the end of the period of obligated service required by the terms of Chapter 112, title 10, United States Code, will be required to refund the United States, in whole or in part, the cost of the educational assistance provided to them. Web pages have been provided in the Application Background and Application Package for review about security clearances to assist both PIs and the students in understanding these requirements before they apply.
Community College (pilot program) Undergraduate scholarship recipients will be required to maintain a 3.2 out of 4.0 grade point average or the equivalent; graduate students will be required to maintain an overall 3.5 out of a 4.0 grade point average, or equivalent. Failure to maintain satisfactory academic progress will constitute grounds for termination of financial assistance and termination of internship and/or employment appointment. Additionally, students who fail to complete the degree program satisfactorily or to fulfill the service commitment upon graduation shall be required to reimburse the United States, in whole or in part, the cost of the financial (scholarship) assistance provided to them. NCAE-Cs will be responsible for monitoring student progress and will notify the DoD CySP Program Manager should any student scholar fail to attain minimum academic standards required for continuing scholarship support.
Except for small achievements award, not to exceed $5,500 in an academic year, a student may not accept simultaneous remuneration from another scholarship or fellowship. The DoD CySP is a first pay scholarship program.
STUDENT APPLICATION PROCESS:
The CySP Student Application completely filled out (typed) and signed (Attachment D)
Separate sheet highlighting recognitions, honors and awards. You may attach a separate sheet of plain 8 ½" x 11" paper on which you record your responses or the continuations of your responses. On each such page, indicate your name.
Supplemental Academic Sufficiency Statement. You must complete the Statement of Academic Sufficiency supplement to the OF612, to which you must attach the following additional supplemental statements:
Resume a template has been provided in the application. Applicants are required to use the template.
One (1) Letter of Reference from a current faculty member who is fully knowledgeable of your potential for successful learning, your knowledge, and your ability. See remainder of application package for instructions about the content of this Letter of Reference. Letters must be on University letterhead and contain the full name and contact information of the faculty member (phone, email, and address).
One (1) additional Letter of Reference from either a current or former faculty member, or a current or former supervisor who is fully knowledgeable of your potential for successful learning, your knowledge, and your ability. See remainder of application package for instructions about the content of this Letter of Reference. Letters must be on official letterhead and contain the full name and contact information of the faculty member or current/former supervisor (phone, email, and address).
Official (certified) Transcripts from all the institutions of higher learning you have attended. Electronic transcripts may be accepted as long as they are certified by the institution. NOTE: University POCs processing applications for submission may open the transcripts.
Supplemental Competency Statement: Knowledge, Skills and Attributes: You must complete the OF612 Supplemental Competency Statement with narrative responses that describe the level of your attainment of the knowledge and ability factors indicated. See remainder of application package for instructions about the content of this supplemental statement.
Signature of the Supplemental Statement of General Academic and Employment Conditions. If you agree with the all of the academic and employment conditions required for your receipt of scholarship assistance and appointment under the CySP, and wish to be considered for it, you must sing the OF612 Supplemental Statement of General Academic and Employment Conditions, which the last page of the Attachment D, Student Application.
A National Need
Cybersecurity workforce development the key to ensuring the nation has adequate capacity to protect information and information systems. In 2017, the U.S. employed nearly 780,000 people in cybersecurity positions, with approximately 350,000 current cybersecurity openings, according to a national study by US National Institute of Standards and Technology.
Based on Global Information Security Workforce Study 2017, the increase of annual workforce demand in cybersecurity in North America is 21%, and it is projected by Cybersecurity Ventures that there will be 3.5 million unfilled cybersecurity jobs by 2021.
Contact Us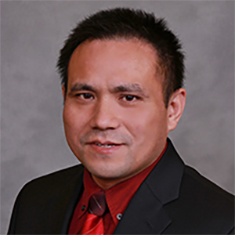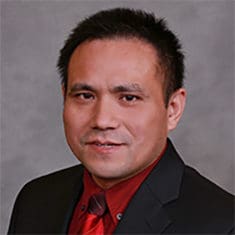 Professor, Computer Information Technology

---