Possibilities – Volume 1, Issue 1
August 22, 2022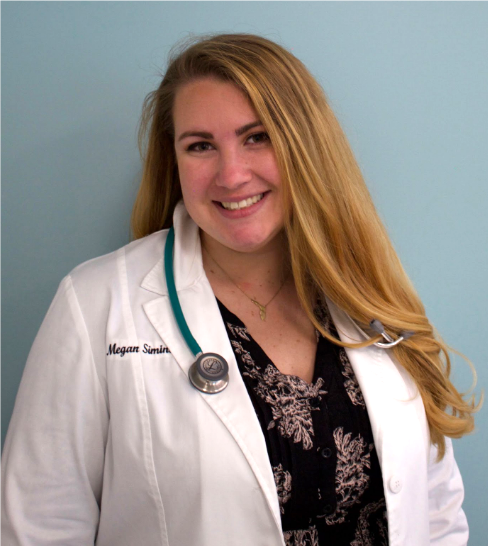 Volume 1, Issue 1 – August 22nd, 2022
The DAC, PNW's Access Center
Success starts with Access
Welcome to the DAC's first issue of Possibilities. Possibilities will highlight students, faculty, and staff that help make PNW an accessible and inclusive environment for all.
Volume 1, Issue 1 includes the following stories:
The DAC from a Student's Point of View – Megan Siminiski
Spotlight – Information about DAC
Faculty Focus – Erin Okamoto Protsman
How many spoons does it take to go to college?
The DAC From a Student's Point of View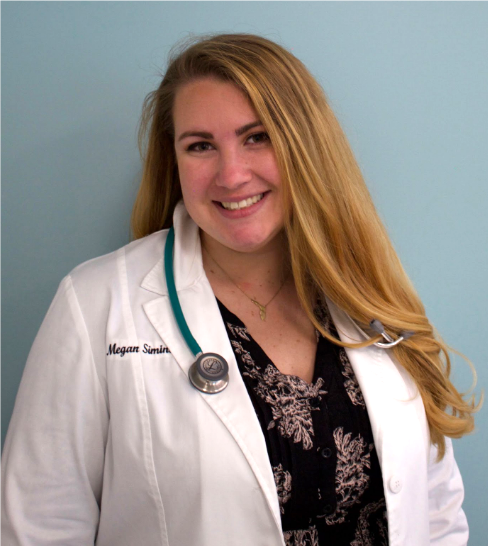 Megan Siminski* had always wanted to be a nurse, and actively pursued her dream for 11 years. In May 2021, Megan finally reached her goal. She graduated with a 3.83 GPA from PNW's College of Nursing.
Megan credits the DAC for where she is today – a nurse at Johns Hopkins All Children's Hospital, a pediatric acute care hospital in St. Petersburg, Florida.
"I would not have been as successful in my studies without the DAC," she said. "You guys not only gave me a place to take a test, but you took an interest in me, which gave me a break."
"I would not have been as successful in my studies without the DAC."




Without a doubt, Megan's journey was defined by hard work and perseverance, but she also experienced failure, anxiety and depression along the way.
Megan's college career started in the Fall of 2010 at the University of Central Florida. Her time at Central Florida, though, ended after two years when she was asked to leave because her GPA was too low. "I didn't understand what was going on. I was studying with students who were doing great, but I wasn't passing. I was throwing up before and after exams, and at times I couldn't breathe."
There was talk of Megan having a learning disability when she was in elementary school, but she was never evaluated because she had a high IQ and she was placed in the gifted program. After her Central Florida experience, Megan says she was not in a good spot and thought it would be wise to further delve into whether or not she had a learning issue. As it turned out, after working with a neuropsychologist, Megan was diagnosed with attention deficit hyperactivity disorder, and central auditory processing disorder.
Although Megan wanted to return to Central Florida, the university didn't re-admit her. Still wanting to work in the medical field, Megan enrolled at Florida Gulf Coast University where she shined and graduated with a psychology degree.
Nursing, though, was still on her mind, and it was Fall 2018 that Megan started PNW's program. As she did at Florida Gulf Coast, Megan connected with the office that works with students who have medical, mental health, physical, and learning concerns.
The DAC wrote an access plan for Megan with the accommodations of a quiet place to take a test, extended time to complete tests, and repeated or reworded explanations during class, among others.
"After my second or third test at PNW, I wasn't worried about how my accommodations would work," she said. "I had found my proper setting. I found that you can perform the way that you were meant to be."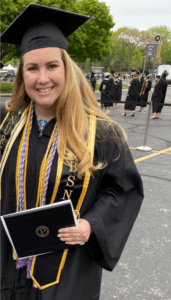 Megan shone at PNW outside the classroom too. She was a member of the Sigma Theta Tau Honor Society for Nursing, as well as Omicron Delta Kappa, an honorary society for collegiate leaders. She was active in student government, serving as vice president and a College of Nursing senator. She also served as treasurer and senior representative of PNW's Nursing Club, and worked as a supplemental instructor and tutor in the university's office of Student Academic Support.
All of Megan's great work was recognized during the university's annual Founder's Day celebration in 2021, when she was awarded the Outstanding Student award.
Congratulations, Megan!
*Megan Siminski has given the DAC permission to identify her.
Spotlight
As we continue to live in the constantly evolving COVID pandemic, one thing is clear.
Many students still are struggling.
Some are relearning how to attend school in-person and reestablish social connections after schools became 100 percent virtual. Others are still trying to catch up from difficulties adjusting to the abrupt school shut-downs in 2020. Financial hardships from lost work are at play for many students and their families. And many students are grieving loved ones lost to COVID, or are recovering from COVID themselves.
At the DAC, this has meant a noticeable uptick in students looking for help. In the Fall of 2019, the number of enrolled PNW students with documented disabilities registered with the DAC was 3.39 percent. By the Fall of 2021 this number had jumped to 5.3 percent, and as of the Spring 2022 semester, 5.77 percent of PNW students were receiving DAC services.
Most students registered with the DAC have the accommodation of taking exams in a reduced distraction environment, and these numbers also have climbed in the last few years. In the 2019-20 academic year, the DAC proctored 1,388 exams, and in 2021-22, the DAC proctored just under 2,000 exams.
Students receiving Compensatory Strategy Interventions in the DAC also have risen. Forty nine students sought this type of help in the Fall 2019 semester, compared with 240 students in Fall 2021. Also known as an intensive individualized form of academic coaching, students using this accommodation meet on a regular basis with DAC staff who work one-on-one with students to develop adaptive strategies to compensate for how their disabilities impact their learning and performance. These skills are necessary for adjusting to the rigor of college, academically, and socially as well as in life beyond college. When students have the support to learn and hone these skills, they tend to remain enrolled and finish their degrees.
The good news is that these accommodations, and many others offered at the DAC, help remove barriers to learning, and can empower students to show their true ability in school and in future endeavors.
Faculty Focus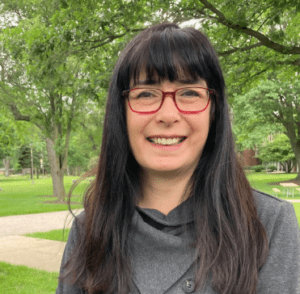 An integral part of Erin Okamoto Protsman's teaching approach is to create an environment where all students "feel a part of the classroom community.
I emphasize to my students that everyone has a voice, and what they have to say is important," she said. "I feel students learn more when they feel seen, heard, and respected. Students who feel included and valued have a better classroom and campus experience."
Protsman encourages students with a DAC Access Plan to meet with her to talk about how she can best implement their accommodations in her lessons and assignments. "I'm careful not to out anyone receiving these services, and I want to make sure students feel they have a stake in my classroom," she says.
Protsman says she's fascinated with different types of learning styles, and she uses any number of modalities in the classroom from lecturing and discussion, to group work and videos. She says she finds it helpful to be flexible if a student needs extra help, or a work-around to better understand. "This helps students learn, and it helps with retaining students at the university," she says. Protsman recalled an "incredible student" whose work markedly improved once closed captioning services were added to video presentations.
"I feel students learn more when they feel seen, heard, and respected. Students who feel included and valued have a better classroom and campus experience."




Calling the DAC "an amazing resource," Protsman says she relies on DAC staff to help her implement accommodations for students. Although many DAC students have similar accommodations, every student has his/her/their individual needs, and this is where guidance from the DAC comes in especially handy.
All of this contributes to students achieving success, according to Protsman. "I love teaching, and it's magic when a student connects what we're learning with real life."
Protsman started teaching at Purdue Calumet in 1997 as a teaching assistant while working on her Master's in Communication here. She became a limited term lecturer in 2002, and has been a continuing lecturer here since 2014.
How Many Spoons Does It Take to Go to College?
While the definition of an invisible disability is fairly straightforward, the concept is one that society still is trying to understand and accept.
As defined by the Invisible Disability Project (https://www.invisibledisabilityproject.org/), an invisible disability is one that "cannot be easily seen or measured and is often discounted or not respected." The majority of students receiving accommodations from the DAC live with invisible disabilities, and, like all students receiving accommodations, have submitted to the DAC documentation of their diagnoses from their qualified medical providers.
The majority of students receiving accommodations from the DAC live with invisible disabilities.




It's estimated that nearly 20 percent of all Americans live with an invisible disability, according to accessibility.com (https://www.accessibility.com/disabilities/invisible-disabilities). Chances are high that most of us know someone with such a condition. These conditions may take the form of diabetes, depression, anxiety, PTSD, attention deficit hyperactivity disorder, autoimmune diseases, organ transplants, traumatic brain injuries, chronic pain, and the list goes on. Symptoms of invisible disabilities, of course, widely vary between ailments and individuals, but there is a common thread. On any given day, it can take extraordinary amounts of energy to engage in activities of daily living, which includes participating in class.
Christine Miserandino, founder and administrator of www.butyoudontlooksick.com, lives with lupus and uses the imagery of a handful of spoons to describe how much the diagnosis has shaped her life. Her story goes like this: Imagine we all have a set number of spoons to start the day – say a dozen – and each spoon represents the choices we make all day, every day to get through the day. As Christine explains, " Most people start the day with(sic) unlimited amount of possibilities, and energy to do whatever they desire… For the most part, they do not need to worry about the effects of their actions."
However, if you're living with a disability, you may use up a good number of your spoons just to leave the house. Getting out of bed? That's one spoon. Taking a shower? That's one spoon. Getting dressed? That's one spoon. Making and eating breakfast? That's another spoon, or two. Accomplishing these seemingly simple tasks can be extremely debilitating and leave individuals with little or no energy to do what they've planned for the day. In the context of going to college, this could mean leveling the playing field by giving students accommodations, such as missing class on occasion, taking an exam in a distraction-reduced environment, or having an extended amount of time to take an exam or turn in an assignment.
But more than just offering accommodations, the DAC staff work with students on a one-to-one basis to create strategies to help them make the most of their abilities and shine.
On her website, Christine explains her own workaround: "I need to think about the weather, my temperature that day, and the whole day's plans before I can attack any one given thing. When other people can simply do things, I have to attack it and make a plan like I am strategizing a war. It is in that lifestyle, the difference between being sick and healthy."
Christine says she hopes her spoon analogy helps with understanding what it's like to live with a disability, and how much extra effort those living with a disability need to achieve a university diploma. And for those not living with a disability, Christine says she hopes her story gives people more insight into not taking life for granted.