First-gen Pride Microgrants
March 10, 2023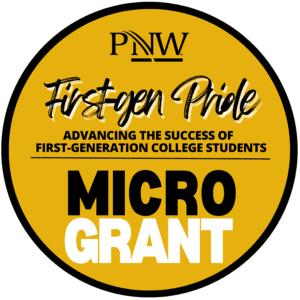 Good Morning PNW –
It is with great enthusiasm that I announce the creation of the first institutional microgrants targeted at advancing the success of first-generation college students.
TRIO and Educational Opportunity Programs is partnering with the Center for Faculty Excellence to engage faculty and staff in designing and implementing collaborative approaches to support the success of first-generation college students at Purdue University Northwest. First-generation student success is a collective responsibility which requires meaningful partnerships across the institution. The intent of these microgrants is to foster creative and innovative approaches for supporting PNW's first-generation college students.
Grant awards ranging from $500 – $3,000 will be considered for funding. Funding is available for projects to begin as early as May 15, 2023 and end no later than December 31, 2023. Full-time PNW faculty and staff who have an instructional role are eligible to apply for a microgrant. Applications are due Monday, April 3 by Noon (CT).
Learn more about the First-gen Pride Microgrant Program
Feel free to send questions to
Catalina Rodriguez, Assistant Vice Chancellor of Educational Opportunity Programs, at rodrigce@pnw.edu
Emily Hixon, Director of Center for Faculty Excellence at hixone@pnw.edu
Thank you,
Catalina Rodriguez
Assistant Vice Chancellor for Educational Opportunity Programs and Director, TRIO Student Support Services