Software Center
The PNW Software Center allows users to download and install software from a self-service software catalog without needing permission or assistance from Information Services.
The Software Center can be found on all Windows-based, PNW-owned computers that are managed by IS.  This software catalog contains many software titles, commonly used by PNW faculty and staff.  Software available in this catalog can be installed by all users, even those without administrative rights.  All software available should be considered free to use and install by all faculty and staff.
How To Use
Note: Software can only be installed from the Software Center when on the wired campus network, the campus wireless Eduroam network, or any other network when using a VPN connection. For MacOS, devices only need a stable network connection. VPN connection is not required.
You can search for Software Center by clicking on the Start button, clicking in the "Type here to search" box, typing in "Software Center", and clicking on the App.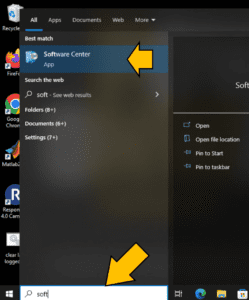 Click on the Windows Start Menu button and navigate to the Microsoft System Center folder.  Within this folder, open the Software Center.
Once the Software Center is open, click on Applications on the left menu bar.  All software available to install will be listed here.
Choose an application to install, then left-click on its icon.
Click on the Install button.  The software will download, then install.  During most installations, you will not need to interact with the program at all to finish the installation.  However, some applications may need you to answer simple questions in order to complete.
Apple computers can access Software Center by searching for it in the Applications Folder, Launchpad, or using Spotlight (Click the magnifying glass in the top right corner).
When you launch Software Center, you should be able to browse the available installs by clicking All. If required for a specific piece of software, you can log in using your Career Account username/password.
Logging into Software Center is not a requirement to install generally available software, only if instructed by Customer Service.