VPN
A virtual private network (VPN) allows you to join a private network using an existing public network by creating an encrypted tunnel between two hosts.
Establishing a VPN connection creates a secure tunnel between your off-campus computer or mobile device and the PNW network, allowing you to access services and resources that are configured to only allow access to devices on the PNW network.
When to Connect
You do not need to connect to the VPN to access the majority of PNW resources remotely.  You should always attempt to connect and use the resources that you need without the VPN first, and then only connect if you are unable to work without connecting.  This frees up space in the VPN for those that require it.
The following resources will require a VPN connection to access from off-campus (this list is not comprehensive):
Banner Admin Pages
Remote Desktop (to office workstations)
Receiving Microsoft Updates
Degree Works Administration Tools
Confluence
Cognos
You do not need a VPN connection to access these common resources (this list is not comprehensive):
E-Mail
Office Applications
MyPNW Portal
Brightspace
Success Factors
Google Drive
Ariba
Concur
Zoom
WebEx
How to Connect
PNW uses the Cisco Secure Client for VPN connections. Instructions on how to install the client and how to log in are found below. (NOTE: The Cisco AnyConnect VPN client will automatically update and merge with the Secure Client effective November 2023. Further updates and instructions on this new client will be coming to this page soon.)
Cisco Secure Client software is available through the Purdue IT CommunityHub page.
After logging in with your Purdue Login, click on the option for Antivirus and Security Software.
You will see options for Cisco AnyConnect for Personally Owned Computers and Cisco AnyConnect for University Owned Computers. You will be able to choose your operating system and download the software by following the prompts.
It will download a zipped folder to your computer. Unzip this folder and then install the software. If you need assistance with these directions, please contact the CSC at 219.989.2888 or via the Virtual Helpdesk.
Cisco VPN software is also available on many University-Owned Windows computers by going to the Microsoft Software Center in your Start Menu.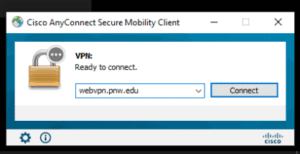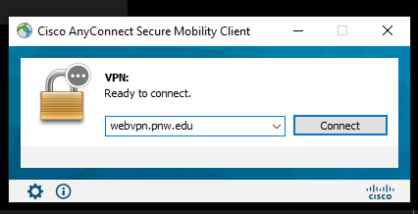 Secure Client can use a general portal to connect, or specialized portals for teams accessing specific tools and services.
The general portal is webvpn.pnw.edu.
Your username will be your career account username.  The password will be your 4 digit PIN, PUSH or the 6-digit code from your Duo authenticator app.
Any teams that use specialized portals will have that communicated to them directly.
Quit AnyConnect
In Finder use Go-> Go to Folder… to open this directory: /opt/cisco/anyconnect/profile where you will find one or more files that end in .xml
Copy the xml files to the Desktop or another folder, leaving no .xml files in this directory (You can also delete this file if you wish)
Start AnyConnect, type your VPN site and connect (The original VPN site will still show in the pre-filled list until you enter in this new site)
Quit AnyConnect and relaunch – you should now see the VPN site last entered either pre-filled in, or in the pulldown menu of choices.