Launching New Leaders
June 30, 2021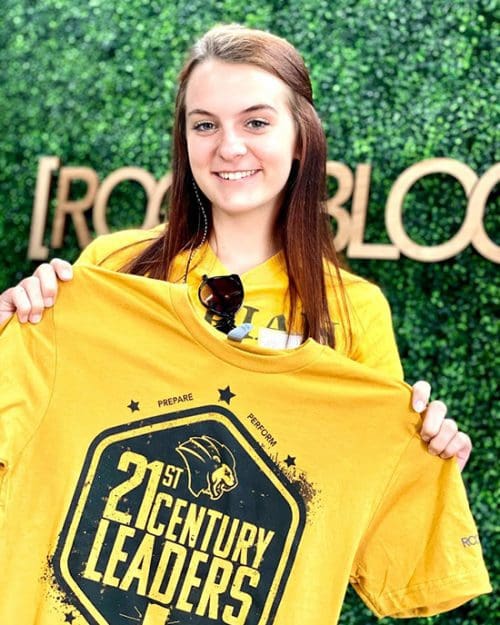 Screen-printing t-shirts, splashing into Lake Michigan, building deep bonds with new friends you've just met.
It sounds like the ideal summer experience, but it was just part of the agenda from a one-of-a-kind leadership initiative offered by Purdue University Northwest this June.
The 21st Century Scholars Summer Experience saw 12 college students from throughout the state come to PNW for a free, four-day campus program promoting leadership and student success. Participants from Marian University, Butler University, Valparaiso University and Purdue Northwest spent their days immersing themselves in topics ranging from networking to risk-taking in seminars led by the Leadership Institute at Purdue University Northwest.
"It was great to learn about different ways to improve as a leader," one participant said. "It was especially nice hearing staff talk about how it took a lot of failure and let downs to mold them into the person and leader they are today."
A Spectrum of Leadership Experiences
The classroom sessions and guest speakers were balanced with activities and outings, highlighting how one hallmark of leadership is being open to new experiences and finding inspiration in all areas. For some students, the trip to Indiana Dunes National Shoreline was their first time seeing Lake Michigan. For others, a business-etiquette luncheon hosted by PNW's White Lodging School of Hospitality Management offered a hands-on introduction to dining in a formal setting—and a delicious menu to boot.
The diverse experiences offered a spectrum of leadership insights, breaking down stereotypes and encouraging attendees to realize the different ways in which they are equipped to lead. In helping to grow the next generation of leaders, the initiative reinforced PNW's investment in the community and commitment to student success. It even rewarded the students for their participation, offering each one a $200 stipend upon completion of the program.
"Leadership is a mentality," one participant concluded. "It's something everyone can grow and develop within themselves." And like most things, it's easier with support from some great new friends.