Lionhearted Leaders: Shuhui (Grace) Yang
February 17, 2022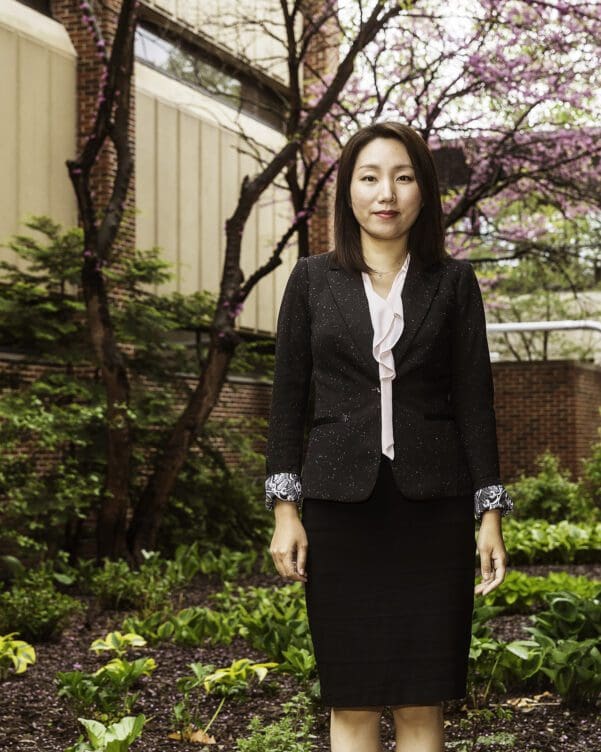 Shuhui Yang lifts students up to be successful researchers
Shuhui (Grace) Yang, professor of Computer Science and chair of Purdue University Northwest's (PNW) Department of Computer Science, tries to open many doors for her students to participate in different areas of research. This practice, she says, is the key to making them curious, lifelong learners.
"Research activity is very important to undergraduate education because it can help students develop critical thinking and so they can work independently," Yang says. "I do think computer science is a great field for this because it involves computational thinking, data analyzing, and problem-solving skills. This is how they work on real-world applications and use real-world tools."
Yang has made strong roots for student research opportunities in the recent past. She led PNW's first Research Experience for Undergraduates (REU) site, a National Science Foundation-sponsored program, supervising more than 30 students across the U.S., including PNW students. The REU site focused specifically on the topic of sustainable wireless communication.
An ever-growing field
Yang feels computer science is an important major for undergraduates to consider because of its far-reaching implications. More than just serving Computer Science students, Yang looks at the big picture and possibilities where computer science research can expand learning about other areas.
Deep learning or machine learning can build black box models trained to serve applications with big amount of data where making correct predictions generates values. She says deep learning research can make pivotal and crucial discoveries for people, such as using a deep learning model to process mammogram images for breast detection.
"It's very cool," Yang says. "You always get to stay with the most cutting-edge technology and very trendy topics."
Yang links her students in her classes, and in her role as faculty supervisor for Computer Science Club, to solve real-world problems for different clients. For example, nine Computer Science students are working on two external proposals for a local software company. If the input provides a better solution, a more formal collaboration may be sought. 
"Our mission is to build a computationally-empowered workforce by providing innovative instruction, and integrating cutting-edge research into our curriculum," Yang says. We assist the transformation of other disciplines and engage our greater community."
Making a habit
When Yang supervises undergraduate student researchers, they have often gone on to present at national and international conferences, even rubbing shoulders with doctoral candidate students. Although the competition may prove tough, Yang values the experience students gain more than anything.
"It helps them find their confidence," she says. "Not everyone will go on to a master's or Ph.D. program later, but we are still getting them ready for a career. This is a venue to give them a feeling of being in a professional community."
Some of Yang's past undergraduate researchers received more than 10 research awards from internal and external sources, and published more than 17 peer-reviewed articles in proceedings of International or National Conferences or professional journals.  
Keeping in line with her big picture view, Yang sees all these research opportunities as a routine practice for critical thinking well beyond a student's time at PNW.
"People need to have this lifelong learning habit to keep up with technology. We value our core education to help students develop their abilities, but it's not just what you learned from here — you will keep learning and keep adapting."