Lionhearted Leaders: Wubeshet Woldemariam
October 24, 2022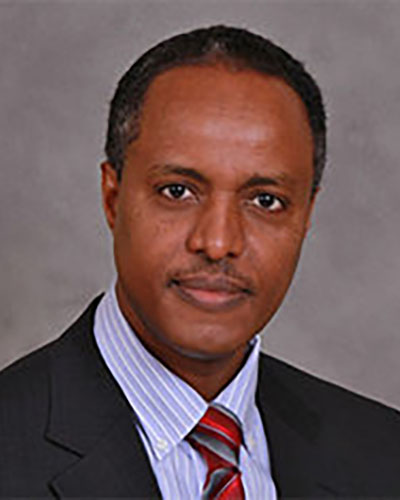 PNW's Lionhearted Leaders are faculty recognized for their exceptional work inside and outside the classroom.
Meet Wubeshet Woldemariam, assistant professor of civil engineering and a Lionhearted Leader in the Department of Mechanical and Civil Engineering.
---
What are your professional goals?
My professional goals are directed toward contributing to the development of Smart Cities by developing decision-making frameworks to help decision-makers address transportation-related problems and realize equitable and sustainable transportation.
What do you do in your research on Smart Cities?
Urban population is alarmingly increasing all over the world due to various factors, such as the high level of people's migration to cities in search of employment opportunities, causing high demand for transportation. Therefore, it is becoming challenging to address the high level of travel demand by increasing transportation supply, for example, by adding more lanes on roadways due to insufficient fund availability and space constraints.
One of the best solutions is to manage the transportation system in an effective way using technologies, i.e., develop Smart Cities that use technologies to collect specific data and utilize the data to solve transportation problems. For example, real-time, mobility-related data can help identify bottleneck areas, accident locations, etc., and help road users (such as drivers) and non-road users (e.g. communities) adjust or plan trips. This information is very vital to reduce congestion, accidents, fuel consumption, and environmental impacts of transportation, such as air and noise pollution.
My smart city research focuses on developing useful decision-making frameworks and tools to address transportation problems and realize sustainable and equitable transportation. I use system-level approaches to identify critical transportation network components so decision-makers could prioritize transportation projects considering the contribution of each network component for the network performance.
In addition, my decision-making framework considers various stakeholders (such as road users, transportation agencies, businesses, and communities) and specific transportation network performance measures defined by the stakeholders to address transportation sustainability and equity issues.
What motivates you to do your best?
I am highly motivated to contribute to my profession when I observe transportation-related problems impacting people's lives every day.
For example, according to the U.S. Bureau of Transportation Statistics, there were more than 42,000 fatalities in the U.S in 2021. These figures represent human beings who have lost their lives on highways. In addition, the negative economic impacts of these fatalities are very significant.