Local Memorial Service to be Held for Beloved History Lecturer Valentino Martinez
September 8, 2021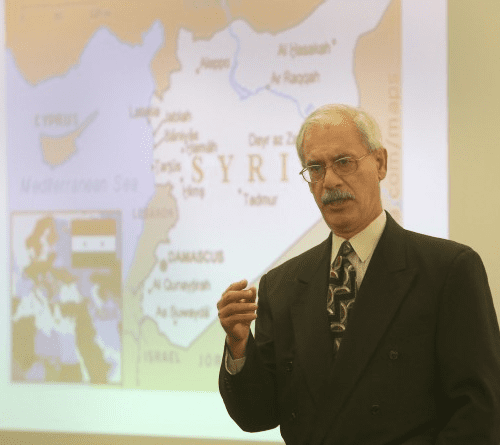 A local memorial service for Valentino Martinez, longtime continuing lecturer in History, will be held on Saturday, September 25 at the St. John Township Community Center in Schererville IN from 3 to 7 p.m.
Following a two-decade career in the State Department, Val taught courses in history, political science and international relations at Purdue University Calumet for 13 years. He inspired a generation of students to pursue new opportunities, and he helped many gain admission to law school and graduate school.
Here is coverage of a presentation Val gave in 2013 commenting on American foreign policy in the Middle East. As usual, his attire is impeccable.
Val grew up in the Region before joining the U.S. Army, studying at Indiana University and Princeton, and serving at State. His wife Nancy also worked at Purdue Calumet in Admissions. They moved to Arizona in 2014.
Val passed in Arizona on February 23, 2021.
The Department of History, Philosophy, Politics and Economics has named its Study Abroad scholarship in honor of Valentino Martinez.