NWI Forward: COVID-19 Questions with Leah Konrady
May 13, 2020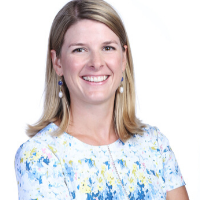 As the COVID-19 global health (and economic) crisis continues to wreak havoc on Northwest Indiana, business executives and community leaders alike are stepping up to help us adjust to a vastly changed landscape. 
In addition to online community conversations and educational workshops, our organizations reached out to a group of Northwest Indiana leaders that represent a wide variety of industries and roles. From shifting how their entire team does business to leading county-wide emergency responses, they are showing us a way forward.
NWI Forward is a collaborative effort between the Society of Innovators and Leadership Institute at Purdue Northwest.
COVID-19 Questions with Leah Konrady
Leah Konrady is President and CEO of One Region, a nonprofit, 501(c)3 that strives to grow population, attract and retain talent, and increase household income in Northwest Indiana. During this COVID-19 crisis, she is also serving as a Strategic Advisor to Konrady Plastics, a plastic parts machine shop and full-line distributor of plastic sheet, rod, and tube.
How has this crisis been similar to events like 9/11 or the 2008 recession and how is it different?
It was a different stress, but a similar stress. Now we're facing an unknown in terms of human health and the economy. It's so out of everybody's hands and everybody's knowledge of what it is, what's happening and how we can control it. It's very unique.
What short-term measures did you put in place to keep your business running?
At Konrady Plastics, we've been proactive yet reactive. We have been making the safeguards that go between a customer and a cashier, we started to make physician protection boxes. So we've really been adaptive in saying, okay, we carry this plastic and distributing and machining it is our core business. How do we fit into this crisis and be a part of the supply chain to prevent the spread of it?
What might be some of the lasting effects of this crisis?
I think we're going to see a lot of new norms as a society. Sneeze guards that go between a customer and cashier, washing our hands much more frequently, using hand sanitizer as soon as you walk into a business, less handshaking, less hugging. These safeguards are going to be an ongoing thing.
What is emerging from this crisis that gives you hope?
How business leaders have really come together to source locally. I think we're going to see the whole local supply chain and how critical that is. A new norm of wanting to work more within our community and peers and help one another. I think we'll value that higher as a community and as a society and as our business.