Patrick Keegan, Ph.D.
Assistant Professor of Education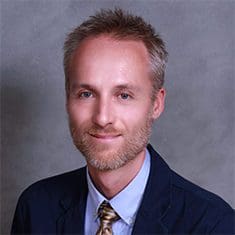 Introduction
Patrick Keegan is an assistant professor in the School of Education and Counseling. He teaches courses in elementary social studies methods and multicultural education.
Research Overview
Keegan's research focuses on youth civic engagement with racially, ethnically and linguistically diverse students, elementary social studies teacher preparation and theories of emotion and political participation. His publications appear in Theory and Research in Social Education, The High School Journal and The Urban Review.
In my free time, I enjoy cross country skiing, running long-distance races, hiking in the mountains and generally spending time outdoors.
Publications
Keegan, P. (2019). Migrant youth from West African countries enacting affective citizenship. Theory and Research in Social Education, 47(3), 347-373. DOI: 10.1080/00933104.2019.1611514
Keegan, P. (2017). Belonging, place, and identity: The role of social trust in developing the civic capacities of transnational Dominican youth. The High School Journal, 100(3), 203-222.
Marri, A., Michael-Luna, S., Cormier, M., & Keegan, P. (2014). Urban pre-service K–6 teachers' conceptions of citizenship and civic education: Weighing the risks and rewards. The Urban Review, 46(1), 63-85.
Previous Roles
Prior to coming to Purdue Northwest, Keegan was a visiting assistant professor at New York University where he directed a teacher residency program in the City School District of Albany, New York.