Saul Lerner, Ph.D.
Professor of History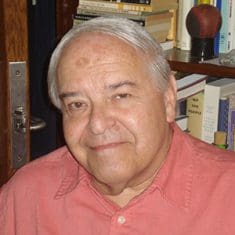 Introduction
Saul Lerner teaches history classes full time, as well as serves on a number of PNW committees.
Research Overview
Lerner's current research has involved how fraud and deceit have contributed to U.S. political decision making and how recent Supreme Court decisions have undermined our Constitution. Previous research areas have involved the holocaust, terrorism, piracy in the North Atlantic, inequality and poverty in U.S. history. These and other areas of research have sought to involve students.
Teaching Focus
Lerner's primary concern has been to develop concern, empathy and interest related to contemporary issues in my students. Viewing my students as the hope of the future, I am especially interested in providing them with both the knowledge and tools to address some of our most concerning national and international problems.
Previous Roles
Head, Department of History and Political Science, Purdue University Calumet, 1974-1986
Associate Dean of the Graduate School, Purdue University Calumet, 1986-1991
Honors Program Director, 1987-1993
Affirmative Action Officer, 1986-1991
Special Assistant to the Chancellor, Purdue University Calumet, 1986-1991
Honors Program Director, Purdue University Calumet, 1984-1993
Acting Dean of the School of General Studies, 1986-1991
Acting Dean of School of Liberal Arts and Sciences, Purdue University Calumet, 1998-2001
Head, Department of History, 1994-2007
Assistant Professor of History, Purdue University Calumet, 1967-1973
Associate Professor of History, Purdue University Calumet, 1974-1981
Professor of History, Purdue University Calumet, 1981-Present
Member of the Council of Faculty Delegates and the Faculty Senate for 40+ years
Associate Dean of the Graduate School, Purdue University Calumet, 1986-1991
Acting Dean of the School of General Studies, Purdue University Calumet, 1986-1991
Acting Dean of the School of Liberal Arts and Sciences, Purdue University Calumet, 1998-2001
Head, Department of History and Political Science, Purdue University Calumet, 1994-2007