PNW appoints Veera Gnaneswar Gude as NiSource-Meyer Charitable Foundation Professor
October 7, 2022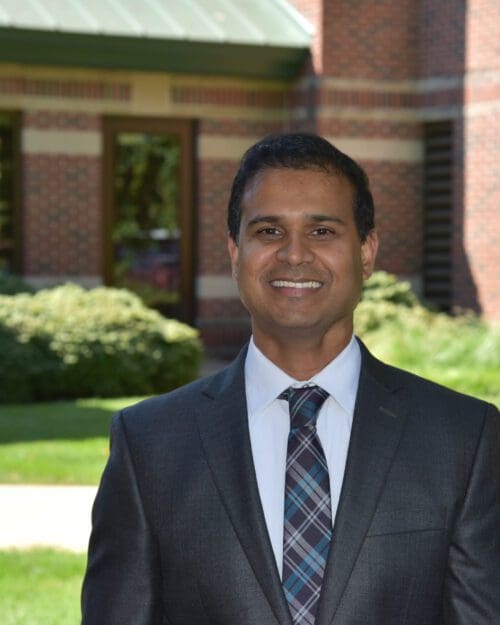 Purdue University Northwest (PNW) announced Veera Gnaneswar Gude as the NiSource-Meyer Charitable Foundation Professor of Energy and the Environment following approval today (10/7) by the Purdue University Board of Trustees.
Gude joined the Department of Mechanical and Civil Engineering at Purdue Northwest as a professor of Civil Engineering and director of the PNW Water Institute in Fall 2022. Previously, he had a distinguished career at Mississippi State University. Gude is a highly active and productive researcher in the environmental engineering field with significant national visibility. He has an impressive reputation for his work on energy-water-environment nexus, renewable energy and resource recovery from waste streams. He has published (authored and/or edited) eight books, over 100 peer-reviewed journal articles, 39 peer-reviewed conference proceedings, 20 book chapters and holds two patents. Gude has held several high-profile leadership positions in professional societies and has received many recognitions highlighting his contributions to research, engineering education and the environmental engineering profession.
Gude holds a bachelor's degree in Chemical Engineering Technology from Osmania University in India; a master's of Environmental Engineering from National University of Singapore; and a doctorate of Environmental Engineering from New Mexico State University.
"Professor Gude is an accomplished civil and environmental engineer with an extensive research record in the areas of water conservation and the environment," said Kenneth C. Holford, PNW provost and vice chancellor for Academic Affairs. "Given the importance of clean water globally for both consumption and manufacturing, as well as our close proximity to Lake Michigan, we are excited to have attracted Dr. Gude to Purdue Northwest to become the director of the PNW Water Institute. This is another example of Purdue Northwest taking active steps as a metropolitan-serving institution to address issues that are vitally important to the growth and success of this region of the country."
"I feel honored to receive this named professorship from Purdue University Northwest," said Gude. "This is a distinction bestowed upon me by the Purdue University Board of Trustees and I am thankful for that and to all who have been part of this recognition. It allows me to serve the Purdue University Northwest community and the civil engineering profession better."