PNW student entrepreneur works towards getting startup off the ground
April 7, 2023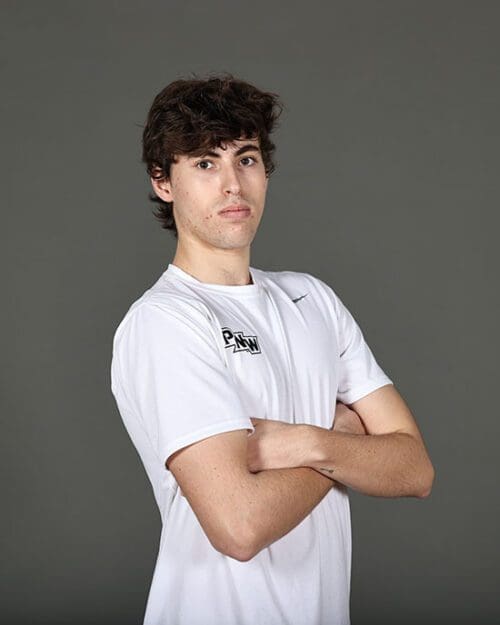 Luis Alvear, a fourth-year Computer Science major at Purdue University Northwest (PNW), presented his idea for an alternative ride-sharing platform at the 1 Million Cups Northwest Indiana meeting. The presentation was the first step towards Alvear getting his startup, AtoB, off the ground.
"It was an amazing experience," said Alvear. "It was my first opportunity to share the idea with an audience and it gave me a chance to learn from the experience for the future." While he acknowledged the audience was larger than he expected, Alvear, a member of the PNW men's tennis team, was happy to see some of his teammates, members of the athletic department and a few of his professors there to support him.
A native of Santander, Spain, Alvear grew up with a keen interest in computers and a love of numbers. He knew he wanted to study either engineering or finance and chose computer science based on the strong growth trend in the field. His experience as an international student led to his idea for the AtoB ride-sharing platform and a class assignment to build a platform with a database provided him the opportunity to bring his idea to life.
"There's a big problem with transportation in the U.S.," explains Alvear. "Gas prices are increasing, there are a ton of cars on the road, CO2 emissions are a problem and current platforms like Uber or Lyft are really expensive – especially for college students." Alvear noted there are over 1.4 million international students studying in the U.S., the majority don't have cars and renting a car is too expensive. His solution was to create a ride-sharing platform that would match drivers and riders going the same direction and provide a rate based on the overall cost of the trip. "By splitting the cost of each trip," explains Alvear. "AtoB lowers the price and provides an opportunity to expand a participant's social network and get to know someone who may become a friend."
Shuhui Grace Yang, professor and department chair of the Computer Science Department at PNW, referred Alvear to PNW's Commercialization and Manufacturing Excellence Center (CMEC).
"When I heard Luis' pitch, it was probably the best entrepreneur pitch I've heard from someone I haven't coached'," said Mont Handley, entrepreneur in residence and associate director of CMEC. "He was well-rehearsed and not only had the idea but coded it himself. The idea was well thought out and some of the features in the app were very commercially viable."
Handley helped Alvear refine his pitch and polish his presentation by advising him on what investors look for and what they don't like in a pitch presentation. He also suggested Alvear present at 1 Million Cups, a support organization for entrepreneurs where they pitch their ideas to each other and receive feedback. "Luis wowed a lot of people and received some great feedback," said Handley.
AtoB is patent pending and Alvear's next steps include raising money to improve the platform, developing it further over the summer and testing the platform in a small niche market between students.
Alvear is scheduled to graduate with a bachelor's degree in Computer Science and a minor in Statistics. His goal is to find a full-time position as a software engineer and continue working on AtoB. "PNW and CMEC have helped me boost this project," says Alvear. "I don't know if I would have gotten to this point without them."