PNW Students Receive First-Place Scriptwriting Awards
March 11, 2022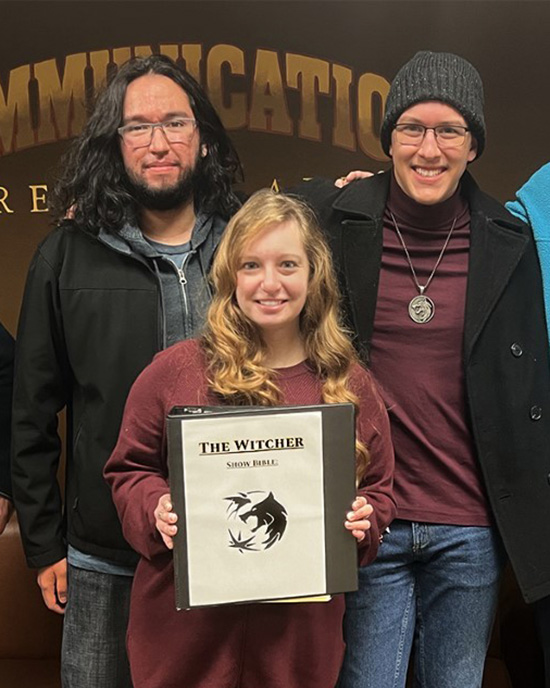 Five Purdue University Northwest students will receive first-place awards for their scriptwriting at the Broadcast Education Association's Festival of Media Arts convention in Las Vegas April 24-25. 
The students won best of festival and first place awards for their script in the student category based on the Netflix television show The Witcher – The Bard's Ballad.

The students are Lucas-Mario Dieguez, a 2021 graduate in communication with a concentration in broadcasting; Jesus Huerta, a senior communication major with a concentration in broadcasting; Dan Oliszewicz, a senior communication major with a concentration in broadcasting; Chelsey Rayne, a communication graduate student; and Carlos Reyes, a mathematics major with minors in broadcasting and theatre. 
Ken P. Bronowski, lecturer in communication, taught the class on short notice last August.
"These five students are natural storytellers," he said. "The verbal and visual dialogue was clear and descriptive throughout. When I finished the last sentence, I wanted to know what would happen next, and that's always a great sign that I'm holding something skillfully crafted: a solid story. I knew then that this was storytelling at a very high level." 
Oliszewicz said the group's major challenge was to decide on a program upon which to create the script. Once that was accomplished, the group got to work. 
"I think we would have dived into anything to get a first place," Oliszewicz said. "I think this group has a winning attitude, and that's what I love most about it." 
Reyes used his songwriting and singing abilities to include the "bard" character in the script. 
"I decided to write the songs," he said. "I did it on ukulele, and it was fun. I performed one in class." 
Rayne said the group worked well together. 
"I could not have asked for a better group of people to do this project with," she said.