Purdue Northwest Powers Onward with a Month of Homecoming Activities
March 31, 2021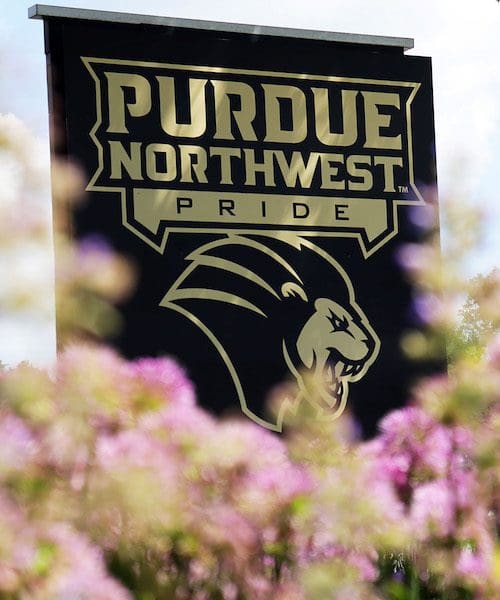 Purdue University Northwest's (PNW) students, faculty and staff have powered through this academic year and are ready to celebrate with Homecoming during the month of April. PNW will host a variety of activities — from food drives to fireworks displays.
"Homecoming has become one of the biggest celebrations of the year at PNW," said Ashley Gerodimos, executive director of the PNW Alumni Community and University Strategic Events. "It is unique in that activities are held throughout an entire month at both the Westville and Hammond campuses. Purdue Northwest's Homecoming is traditionally held early in the spring semester; this year we are celebrating in April to take advantage of the milder weather and opportunities to come together safely outside."
Free Fireworks Displays
The community is invited to participate in an exciting part of the PNW homecoming celebrations when the university hosts two "PNW Pride in the Sky" fireworks displays presented by Purdue Federal Credit Union. The events are scheduled for 8 p.m. Friday, April 9 at the Westville Campus, 1401 U.S. 421, and 8 p.m. Friday, April 30 at the Hammond Campus, 2300 173rd St. Guests are welcome to enjoy the fireworks in or near their cars while practicing social distancing protocols. All participants are required to follow the PNW Face Covering Protocol.
"PNW's fireworks displays really capture the celebratory atmosphere of Homecoming. It's the perfect event for all ages, and it gives everyone in the PNW community a chance to connect and enjoy each other's company in a socially distanced way," said Kat Markiewicz, assistant director of Student Engagement. "It's also an opportunity to engage with our surrounding communities in Hammond and Westville, and we're looking forward to having local families join in on the fun."
Opportunities to Support Students
Community members also are invited to participate in the PNW Community 5K Walk at 9 a.m. Saturday, April 10. Proceeds will benefit the Dean of Students Emergency Fund to help PNW students who are facing challenges due to the pandemic. Pre-registration is strongly recommended via pnw.edu/homecoming. Check-in begins at 8:15 a.m. at the Fitness and Recreation Center, 2320 173rd St., Hammond. The registration fee is $10 for students and $20 for alumni, faculty, staff and community members.
During the week of April 12, PNW will focus its efforts on alleviating students' food insecurity by filling the shelves of the PNW Food Pantry at both the Hammond and Westville campuses. As part of Philanthropy Week, the entire PNW community will rally together with a friendly competition to win the coveted "Chancellor's Cup." Last year's efforts, when Homecoming was held in February prior to the onset of the pandemic, saw an outpouring of support as a total of 3,762 food items was collected to benefit the recipients at both campuses.
Looking Ahead to PNW Day of Giving
PNW Day of Giving is April 28. This has been a year unlike any other, yet we continue to see our PNW Pride community unite, inspire one another and make a difference. Visit pnw.edu/day-of-giving to learn more about this opportunity to support students by helping them build meaningful connections, pursue their passions through strong academic programming and provide them with emergency assistance when needed.
Play Ball!
In accordance with the Great Lakes Intercollegiate Athletic Conference new fan and spectator policy for the spring sports season, Purdue University Northwest is excited to have spectators at home events.
The PNW Pride baseball team will host Wayne State University's Warriors at 3 p.m. Friday, April 30 at Dowling Park (located on JF Mahoney Drive, just north of I-80/94 on Kennedy Avenue, Hammond). PNW baseball fans are welcome to attend the game and all spectators are required to wear face coverings and maintain social distancing guidelines. Attendance will be limited to 250 individuals. 
Events Planned for PNW Students
Gerodimos noted that PNW's Homecoming celebration month includes multiple events and activities planned for current PNW students, who have persevered through a challenging year.
Since virtual learning via Zoom has been a key component for everyone since the pandemic began, the PNW Alumni Community sponsored an "Art of the Pride" contest for students to create an original Zoom background. Voting will take place during the month of April and the winning design will be posted on the PNW website for all students, faculty and staff to download for use throughout the year.
Other activities planned for students consist of a carnival, outdoor yard party, and a "Spring Forward Walk" that includes the unveiling of the Remembrance Garden at the Gabis Arboretum at Purdue Northwest.
"This year's celebration is particularly meaningful as we are a community of students, alumni, faculty, and staff who thrive off of interacting with each other," Gerodimos said. "The shared experiences that 'PNW HoCo 2021' will provide are going to be welcomed by our community, even as we practice social distancing."
View the latest event schedule here.