Purdue University Northwest Graduates Encouraged to Be Bold in Their Professional Careers
May 17, 2022
Purdue University Northwest (PNW) graduates should possess three key character traits — integrity, respect and courageousness — in order to be more successful in their careers and lives, keynote speaker Alfredo "Al" Sori, a 1989 PNW graduate, prescribed to the Class of 2022 on Sunday, May 15 at PNW's spring commencement ceremony.
Sori, who graduated from PNW with a bachelor's degree in construction management, was a longtime leader and manager of large-scale construction operations and industrial engineering projects with Kiewit, Inc. He most recently served as division manager of Kiewit subsidiary Mass Electric Transportation before retiring.
"When I graduated from this university 33 years ago, I remember having a great appreciation for my mom, who made sacrifices to make sure I obtained my degree," said Sori. Sori also recalled how his mother found a home for his family on Magoun Avenue in Hammond, which allowed him to easily commute to and from campus.
Sori noted his parents' own actions as examples that highlighted his three recommended character traits. Sori said his father exhibited incredible courage when he moved his family from Cuba to the U.S. nearly 56 years ago, "with only a few days of clothes and nothing else." Sori said his father, whose primary language was not English, became a proficient speaker in three years and rose in the ranks at Franciscan Health Hammond hospital.
"Often we avoid situations that frighten us, holding us back from our true potential. We can't be limited by things that intimidate us. Challenging yourself can help you overcome your fears and allow you to perform at higher levels than you ever thought were imaginable."
Sori also expanded upon integrity and respect as complementing traits that build cooperation, teamwork and respect.
"I have witnessed when a person incorporates integrity in their day-to-day lives, they always try to find the right thing to do, no matter how difficult of a situation they're in. Their actions are consistent with their words, and they are fully transparent.
"On the other hand, someone with true integrity knows that everyone deserves respect. By respecting the people we work with every day, it promotes trust and improves team morale in the workplace."
Sori closed by encouraging graduates to be bold going forward in their professional careers.
Remember to be courageous and don't let failure stop you. We all fail at some point, but it's how well we bounce back from failure that really matters




"Remember to be courageous and don't let failure stop you. We all fail at some point, but it's how well we bounce back from failure that really matters. Class of 2022, I challenge you to be thoughtful of these key character traits."
PNW's spring 2022 graduating class consists of 976 candidates, including 856 earning baccalaureate degrees and 120 earning master's degrees.
The university hosted an outdoor ceremony south of the Nils K. Nelson Bioscience Innovation Building on the Hammond campus.
Read more stories featuring PNW graduates and view the video recording of the ceremony at pnw.edu/commencement-live.
---
Chancellor's Medallion Recipients
Nine students were presented a Chancellor's Medallion during commencement for earning the highest grade point average in each of PNW's five academic colleges.
College of Business
Raymond Kosinski, Dyer, IN
Tyler Stoeger, Geneseo, IL
Summer Witvoet, Munster, IN
College of Engineering and Sciences
College of Humanities, Education and Social Sciences
Hannah Maurello, Munster, IN
College of Nursing
Nikoletta Kyriakakis, Munster, IN
College of Technology
Dakota Bailey, Hobart, IN
Travis McKinney, LaPorte, IN
Cody Snoreck, St. John, IN
---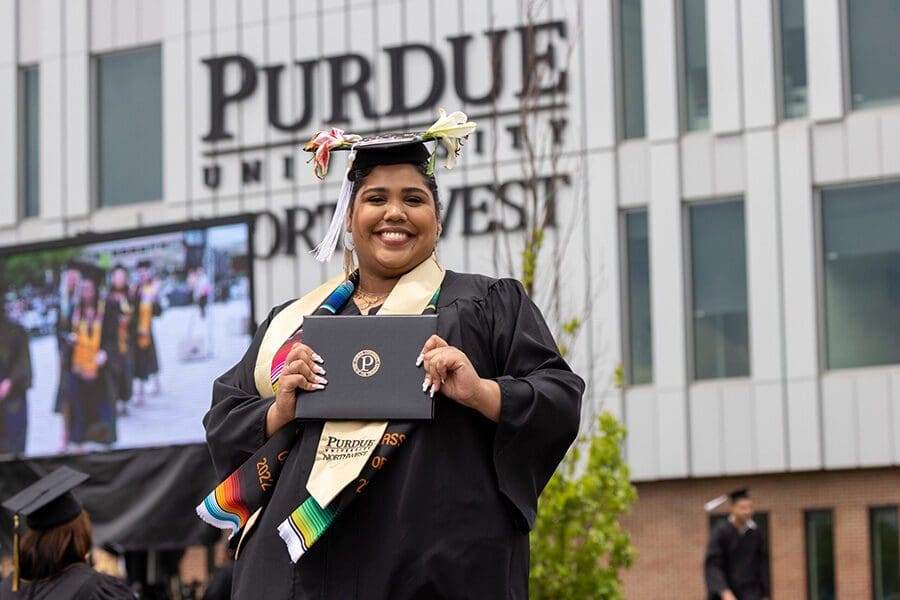 See Commencement Higlights
Want to experience Spring 2022 commencement again? See a full livestream of the ceremony as well as PNW graduates celebrating with friends and family!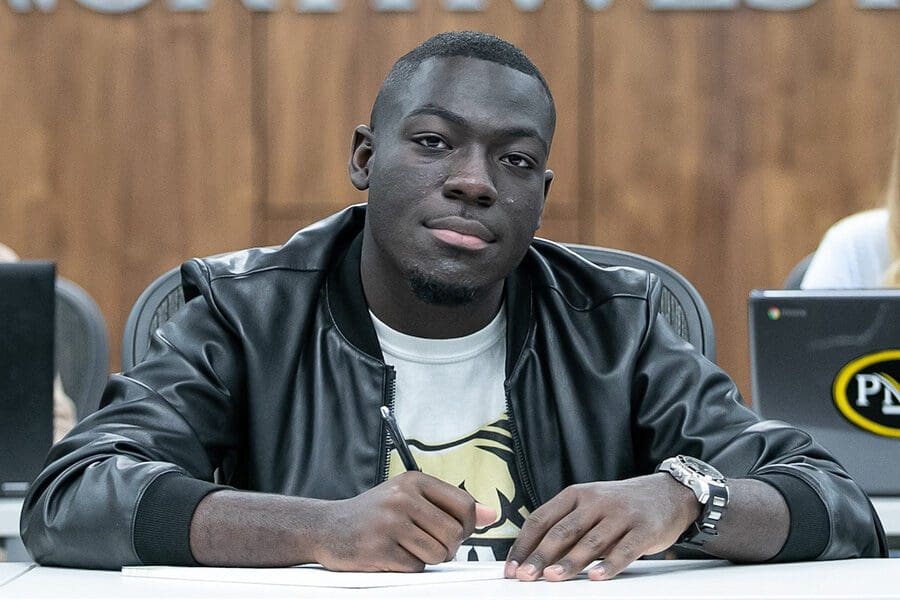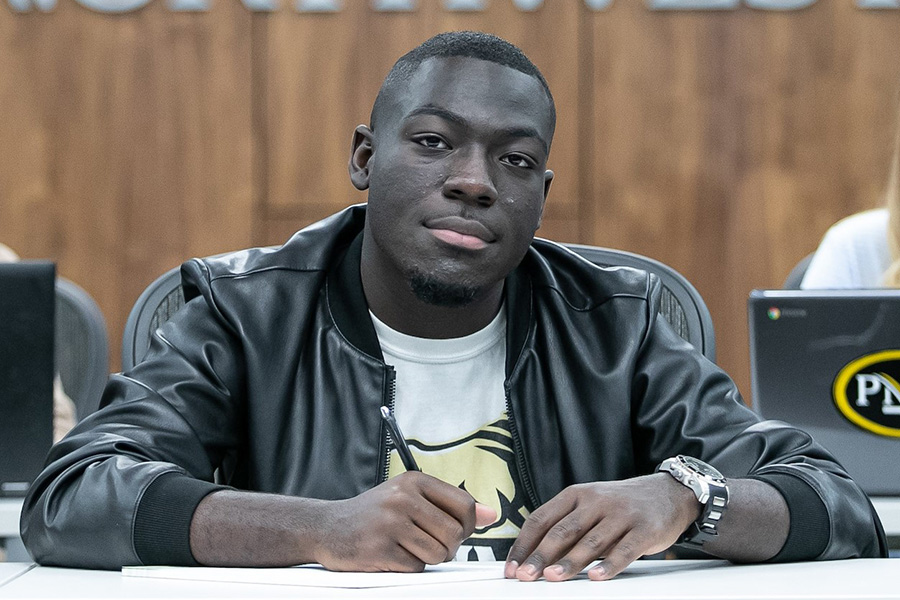 Meet the Spring 2022 Graduates
Discover what inspires our remarkable Spring 2022 graduates—and how they are Powering Onward to their futures.
List of Spring 2022 Graduates
| Full Name | Degree | College | City | State |
| --- | --- | --- | --- | --- |
| Maricar Logronio | MACC | Graduate School | Whiting | IN |
| Azamat Baigaliyev | MA | Graduate School | Hammond | IN |
| Matthew Barno | MA | Graduate School | Crown Point | IN |
| Michael Bazin | MA | Graduate School | Crown Point | IN |
| Elyse Claassen | MA | Graduate School | Crown Point | IN |
| Zhuldyz Nurmaganbetova | MA | Graduate School | Munster | IN |
| Kristen Powers | MA | Graduate School | East Chicago | IN |
| Chelsey Rayne | MA | Graduate School | Schererville | IN |
| Teela Sucacin | MA | Graduate School | Hammond | IN |
| Kelly Tiffany | MA | Graduate School | Hampton | VA |
| Mariah Cabrales | MBA | Graduate School | Munster | IN |
| Ashley Gerodimos | MBA | Graduate School | Munster | IN |
| Eric Giboyeaux | MBA | Graduate School | Hammond | IN |
| Linn Han | MBA | Graduate School | Whiting | IN |
| Amreen Hossain | MBA | Graduate School | Munster | IN |
| Chien-Hao Lien | MBA | Graduate School | Hammond | IN |
| Xintong Liu | MBA | Graduate School | Schererville | IN |
| Paul Money | MBA | Graduate School | Chesterton | IN |
| Prathik Nayar | MBA | Graduate School | Hammond | IN |
| Adam Powell | MBA | Graduate School | Griffith | IN |
| Meghan Sellers | MBA | Graduate School | Somonauk | IL |
| Anja Stanojcic | MBA | Graduate School | Houston | TX |
| Freddy Ulloa | MBA | Graduate School | Calumet City | IL |
| Neehal Vahora | MBA | Graduate School | Daly City | CA |
| Jose Villarreal | MBA | Graduate School | Munster | IN |
| Oriana White | MBA | Graduate School | Dyer | IN |
| Timeka Wright | MBA | Graduate School | East Chicago | IN |
| Bonnie Zellers | MBA | Graduate School | Hammond | IN |
| Aliya Adams | MS | Graduate School | Highland | IN |
| Nicolette Bizoukas | MS | Graduate School | Schererville | IN |
| Jessica Butler | MS | Graduate School | Whiting | IN |
| Wenliang Chen | MS | Graduate School | Hammond | IN |
| Ravali Cherukuri | MS | Graduate School | Hammond | IN |
| Szu Chi | MS | Graduate School | Hammond | IN |
| Vindhya Chunduri | MS | Graduate School | Hammond | IN |
| Bridget Dedelow | MS | Graduate School | Valparaiso | IN |
| Manoj Deveraneni | MS | Graduate School | Hammond | IN |
| Irina Dobre Paraschiv | MS | Graduate School | Addison | IL |
| Shawn Ebel | MS | Graduate School | Munster | IN |
| Zihao Fang | MS | Graduate School | Hammond | IN |
| Melanie Forbes | MS | Graduate School | Hebron | IN |
| Aditya Gandhi | MS | Graduate School | Lexington | MA |
| Leticia Garfio | MS | Graduate School | Munster | IN |
| Marcellus Hunt | MS | Graduate School | Dyer | IN |
| Gabriella Marques Pimenta Freitas | MS | Graduate School | Hammond | IN |
| Christina Moore | MS | Graduate School | Lake Village | IN |
| Mohamed Nasr | MS | Graduate School | Lowell | IN |
| Nicholas Packwood | MS | Graduate School | Crown Point | IN |
| Nicolette Paul | MS | Graduate School | Champaign | IL |
| Elijah Repke | MS | Graduate School | Chillicothe | IL |
| Kyle Riordan | MS | Graduate School | Crown Point | IN |
| Jiadong Shao | MS | Graduate School | Hammond | IN |
| Lauren Shaw | MS | Graduate School | Michigan City | IN |
| Yadwinder Sidhu | MS | Graduate School | Valparaiso | IN |
| Sidney Smith | MS | Graduate School | Warsaw | IN |
| Kaielle Sykes | MS | Graduate School | Phoenix | IL |
| Joshua Thomas | MS | Graduate School | Gary | IN |
| Maya Tobin | MS | Graduate School | Schererville | IN |
| Colleen Toorongian | MS | Graduate School | Valparaiso | IN |
| Nihaar Usu | MS | Graduate School | Hammond | IN |
| Preetham Chandra Vasarachettla Gandla | MS | Graduate School | Hammond | IN |
| Aarthi Viyyala | MS | Graduate School | Hammond | IN |
| Pawan Vohra | MS | Graduate School | Hammond | IN |
| Jessica Weaver | MS | Graduate School | Lebanon | IN |
| Jason Wyatt | MS | Graduate School | Valparaiso | IN |
| Changshi Yang | MS | Graduate School | Hammond | IN |
| Santosh Yedla | MS | Graduate School | Hammond | IN |
| Nargiza Amirova | MSED | Graduate School | Hammond | IN |
| Jessica Backus | MSED | Graduate School | Chicago | IL |
| Tuzdae Bartow | MSED | Graduate School | La Porte | IN |
| Cherie Cox | MSED | Graduate School | Lansing | IL |
| Valerie Graves | MSED | Graduate School | Schererville | IN |
| Dawn Jezuit | MSED | Graduate School | Saint John | IN |
| Shawnice Johns | MSED | Graduate School | Bloomington | IN |
| Kholby Klein | MSED | Graduate School | Lowell | IN |
| Jared Loper | MSED | Graduate School | Indianapolis | IN |
| Erin Lozano | MSED | Graduate School | La Porte | IN |
| Daison McKee | MSED | Graduate School | Lafayette | IN |
| Rachel Miller | MSED | Graduate School | Crown Point | IN |
| Malinda O'Neill | MSED | Graduate School | Crown Point | IN |
| Sonja Pierson | MSED | Graduate School | Portage | IN |
| Angelicah Shaver | MSED | Graduate School | Hobart | IN |
| Erik Shive | MSED | Graduate School | Highland | IN |
| Lindsey Stainko | MSED | Graduate School | Valparaiso | IN |
| Donna Todorovich | MSED | Graduate School | Schererville | IN |
| Araceli Torres-Mendoza | MSED | Graduate School | Hammond | IN |
| Kristin VarnHagen | MSED | Graduate School | Chesterton | IN |
| Brandon Magnusen | MSE | Graduate School | Schererville | IN |
| Rajneesh Singh | MSE | Graduate School | La Grange Park | IL |
| Abraham Aseme | MSECE | Graduate School | Merrillville | IN |
| Christy Benny | MSECE | Graduate School | Hammond | IN |
| Rahul Gupta | MSECE | Graduate School | Schaumburg | IL |
| Rohith Venkata Sai Kumar Potladurthy | MSECE | Graduate School | Hammond | IN |
| Jose Abarca Martinez | MSME | Graduate School | Hammond | IN |
| Alex Canuto | MSME | Graduate School | Hammond | IN |
| Jiajian Chen | MSME | Graduate School | Hammond | IN |
| Joel Godinez | MSME | Graduate School | Midlothian | IL |
| Congshan Mao | MSME | Graduate School | Hammond | IN |
| Yicheng Shan | MSME | Graduate School | Hammond | IN |
| Faizalbhai Vahora | MSME | Graduate School | Downers Grove | IL |
| Dunmeng Xu | MSME | Graduate School | Hammond | IN |
| Guangpei Zhang | MSME | Graduate School | Hammond | IN |
| Neal Buss | MSMSV | Graduate School | Schererville | IN |
| Ashayla Williams | MSMSV | Graduate School | Merrillville | IN |
| Rachel Broderick | MSN | Graduate School | Bartlett | IL |
| Pauthena Carter | MSN | Graduate School | Corinth | TX |
| Susan Coryell | MSN | Graduate School | Valparaiso | IN |
| Sandee Hayes | MSN | Graduate School | Naperville | IL |
| Courtney Jenkins | MSN | Graduate School | Chicago | IL |
| Takeysha Jones | MSN | Graduate School | Valparaiso | IN |
| Kelly Kallas | MSN | Graduate School | Griffith | IN |
| Jackie Lee | MSN | Graduate School | Schererville | IN |
| Tara Little | MSN | Graduate School | Bourbonnais | IL |
| Kristen Louck | MSN | Graduate School | Rensselaer | IN |
| Justin Mis | MSN | Graduate School | Chicago | IL |
| Michael Mrozinski | MSN | Graduate School | Tinley Park | IL |
| Kimberly Novicki | MSN | Graduate School | Sheridan | IL |
| Christina Ochoa | MSN | Graduate School | Hobart | IN |
| Stacey Rider | MSN | Graduate School | Chapin | SC |
| Angela Rojic | MSN | Graduate School | Batavia | IL |
| Katherine Sicinski | MSN | Graduate School | Cedar Lake | IN |
| Alessandra Smith | MSN | Graduate School | Kokomo | IN |
| Jill Yarosz | MSN | Graduate School | Valparaiso | IN |
| Melanie Forbes | P-MC | Graduate School | Hebron | IN |
| Dawn Jezuit | P-MC | Graduate School | Saint John | IN |
| Malinda O'Neill | P-MC | Graduate School | Crown Point | IN |
| James Hall | P-BC | Graduate School | Pasadena | TX |
| Gabriella Marques Pimenta Freitas | P-BC | Graduate School | Hammond | IN |
| Nicholas Packwood | P-BC | Graduate School | Crown Point | IN |
| Sidney Smith | P-BC | Graduate School | Warsaw | IN |
| Jacqueline Avalos | BS | College of Business | Hammond | IN |
| Hayley Edgcomb | BS | College of Business | Schererville | IN |
| Jamie Hutson | BS | College of Business | Hobart | IN |
| Samantha Kale-Foster | BS | College of Business | Schererville | IN |
| Briana Lopez | BS | College of Business | Hammond | IN |
| Harold Lozano | BS | College of Business | East Chicago | IN |
| Fabian Orozco | BS | College of Business | Highland | IN |
| Paxton Pittman | BS | College of Business | Cedar Lake | IN |
| Samantha Sabo | BS | College of Business | Hammond | IN |
| Emily Sarna | BS | College of Business | Cedar Lake | IN |
| Jacob Soules | BS | College of Business | Troy | MI |
| Cristian Vazquez | BS | College of Business | Whiting | IN |
| Andrew Wheeler | BS | College of Business | Valparaiso | IN |
| Summer Witvoet | BS | College of Business | Munster | IN |
| Monique Alvarado | BSA | College of Business | Hammond | IN |
| Cade Anderson | BSA | College of Business | Saint John | IN |
| Jackson Boldt | BSA | College of Business | Knox | IN |
| Nicole Burns | BSA | College of Business | Schererville | IN |
| Ryan Cetnar | BSA | College of Business | Schererville | IN |
| Jazmine Chairez | BSA | College of Business | Whiting | IN |
| Kiana Chandler | BSA | College of Business | Lowell | IN |
| Bridget Collins | BSA | College of Business | Lake Station | IN |
| Spencer Cox | BSA | College of Business | Lansing | IL |
| Kacey Cummins | BSA | College of Business | Saint John | IN |
| Caitlin Dillon | BSA | College of Business | Crown Point | IN |
| Tyler Edwards | BSA | College of Business | Lowell | IN |
| Nathaniel Emery | BSA | College of Business | Portage | IN |
| Zachary Eng | BSA | College of Business | Munster | IN |
| Alvaro Estrada | BSA | College of Business | Crete | IL |
| Guadalupe Garcia | BSA | College of Business | Crown Point | IN |
| Ernesto Garza | BSA | College of Business | Schererville | IN |
| Kayla Gentry | BSA | College of Business | Calumet City | IL |
| Andrea Gonzalez | BSA | College of Business | East Chicago | IN |
| Noemi Hernandez | BSA | College of Business | Hammond | IN |
| Ziyad Issa | BSA | College of Business | Griffith | IN |
| Dallas Jones | BSA | College of Business | Hammond | IN |
| Zachary Kierstead | BSA | College of Business | Portage | IN |
| Austin Lomax | BSA | College of Business | Griffith | IN |
| Kara Maggio | BSA | College of Business | Chesterton | IN |
| Taylor Martin | BSA | College of Business | Fort Wayne | IN |
| Dalin McCully | BSA | College of Business | Michigan City | IN |
| Caleb Moore | BSA | College of Business | Saint John | IN |
| Alaa Mroueh | BSA | College of Business | Griffith | IN |
| Akash Patel | BSA | College of Business | Schererville | IN |
| Elvira Rossi | BSA | College of Business | Saint John | IN |
| Grace Rudnick | BSA | College of Business | Cedar Lake | IN |
| Russell Seger | BSA | College of Business | Hammond | IN |
| Kyle Snyder | BSA | College of Business | Munster | IN |
| Andrew Vassar | BSA | College of Business | Highland | IN |
| Megan White | BSA | College of Business | Hobart | IN |
| Mitchell Witkowski | BSA | College of Business | Tinley Park | IL |
| Farida Akhmadullina | BSB | College of Business | Saint John | IN |
| Dena Alahmad | BSB | College of Business | Crown Point | IN |
| Brianna Alba | BSB | College of Business | Schererville | IN |
| Evgueni Alexandrov | BSB | College of Business | Cedar Lake | IN |
| Manuel Alfaro | BSB | College of Business | La Porte | IN |
| Zachary Anderson | BSB | College of Business | Schererville | IN |
| Maria Avila | BSB | College of Business | Griffith | IN |
| Tyler Bara | BSB | College of Business | Valparaiso | IN |
| Riley Beck | BSB | College of Business | Cedar Rapids | IA |
| Ryne Beckman | BSB | College of Business | Chesterton | IN |
| Gabrielle Bernal | BSB | College of Business | Cicero | IL |
| Allison Biancardi | BSB | College of Business | Griffith | IN |
| Alexander Bishop | BSB | College of Business | Litchfield | IL |
| Gregory Boyle | BSB | College of Business | Chicago | IL |
| Bailey Broelmann | BSB | College of Business | Munster | IN |
| Megan Brownlee | BSB | College of Business | Crown Point | IN |
| Vernon Caldwell | BSB | College of Business | Crown Point | IN |
| Kiana Chandler | BSB | College of Business | Lowell | IN |
| Gabriel Chavez | BSB | College of Business | Chicago | IL |
| Elias Christos | BSB | College of Business | Valparaiso | IN |
| Emilee Cobb | BSB | College of Business | Munster | IN |
| Drew Cohs | BSB | College of Business | Dyer | IN |
| Joshua Cooper | BSB | College of Business | New Carlisle | IN |
| Ryan Coughlin | BSB | College of Business | Monee | IL |
| Christian Danner | BSB | College of Business | Crown Point | IN |
| Cameron Davis | BSB | College of Business | La Porte | IN |
| Caitlin Dillon | BSB | College of Business | Crown Point | IN |
| David Duesing | BSB | College of Business | Cedar Lake | IN |
| Maya Dziepak | BSB | College of Business | Highland | IN |
| Rachel Edwards | BSB | College of Business | Gary | IN |
| Zachary Eng | BSB | College of Business | Munster | IN |
| Laurie Fisher | BSB | College of Business | Argos | IN |
| Theresa Florek | BSB | College of Business | Portage | IN |
| Brianna Fowler | BSB | College of Business | Chesterton | IN |
| Steven Fowler | BSB | College of Business | Highland | IN |
| Anthony Fumagalli | BSB | College of Business | Plainfield | IL |
| Merry Galindo | BSB | College of Business | Gary | IN |
| Kamren Gallas | BSB | College of Business | Crown Point | IN |
| Guadalupe Garcia | BSB | College of Business | Crown Point | IN |
| Evan Goodrich | BSB | College of Business | Gary | IN |
| Christopher Gordon | BSB | College of Business | Highland | IN |
| Salvador Granados | BSB | College of Business | Hammond | IN |
| Jacob Guglielmo | BSB | College of Business | Dyer | IN |
| Shadi Haddad | BSB | College of Business | Griffith | IN |
| Sydney Hanson | BSB | College of Business | Alma | MI |
| Ryan Heatherly | BSB | College of Business | Hobart | IN |
| Nataly Hernandez | BSB | College of Business | Saint John | IN |
| Alec Hewlett | BSB | College of Business | Hammond | IN |
| Brian Jacobs | BSB | College of Business | Chesterton | IN |
| James Jamroz | BSB | College of Business | Highland | IN |
| Samantha Janusz | BSB | College of Business | Highland | IN |
| Kaci Jasik | BSB | College of Business | Schererville | IN |
| Dylan Johnson | BSB | College of Business | Valparaiso | IN |
| Jacob Kamaski | BSB | College of Business | Griffith | IN |
| Lisa Kluga | BSB | College of Business | Lake Village | IN |
| Lillian Knapik | BSB | College of Business | Crown Point | IN |
| Haley Kosich | BSB | College of Business | Hobart | IN |
| Raymond Kosinski | BSB | College of Business | Dyer | IN |
| Oscar Lara | BSB | College of Business | Hammond | IN |
| Vasilina Lesiv | BSB | College of Business | Dyer | IN |
| Jacob Lublow | BSB | College of Business | Cedar Lake | IN |
| Nikolas Lucido | BSB | College of Business | Saint John | IN |
| Jon Luna | BSB | College of Business | Hebron | IN |
| Sebastian Luna | BSB | College of Business | Schererville | IN |
| Jackson Lund | BSB | College of Business | Big Rapids | MI |
| Brandon Maddaleni | BSB | College of Business | Crete | IL |
| Alexandria Magana | BSB | College of Business | Portage | IN |
| Anthony Mallidis | BSB | College of Business | Crown Point | IN |
| Reetam Mander | BSB | College of Business | Schererville | IN |
| Taylor Martin | BSB | College of Business | Fort Wayne | IN |
| Jorge Martinez | BSB | College of Business | Calumet City | IL |
| Moises Martinez | BSB | College of Business | Munster | IN |
| Dalin McCully | BSB | College of Business | Michigan City | IN |
| Jacob McGinley | BSB | College of Business | Kouts | IN |
| Milana Milankovic | BSB | College of Business | Dyer | IN |
| Katherine Minier | BSB | College of Business | Portage | IN |
| Ana Miroski | BSB | College of Business | Chesterton | IN |
| Caleb Moore | BSB | College of Business | Saint John | IN |
| Alaa Mroueh | BSB | College of Business | Griffith | IN |
| Alexis Munoz | BSB | College of Business | Dyer | IN |
| Lenora Neal | BSB | College of Business | Merrillville | IN |
| Brianna Nguyen | BSB | College of Business | Valparaiso | IN |
| Daniela Ocanas | BSB | College of Business | East Chicago | IN |
| Kody Parkham | BSB | College of Business | Merrillville | IN |
| Akash Patel | BSB | College of Business | Schererville | IN |
| Umang Patel | BSB | College of Business | Lansing | IL |
| Halen Paz | BSB | College of Business | Munster | IN |
| Kyle Peksenak | BSB | College of Business | La Porte | IN |
| Alejandro Perez | BSB | College of Business | Gary | IN |
| Caleb Pisowicz | BSB | College of Business | Schererville | IN |
| Nicole Powell | BSB | College of Business | Indianapolis | IN |
| Abigail Ramirez | BSB | College of Business | Valparaiso | IN |
| Alondra Ramos | BSB | College of Business | Valparaiso | IN |
| Gavin Richardson | BSB | College of Business | Valparaiso | IN |
| Maeve Riley | BSB | College of Business | Munster | IN |
| Christian Rivera | BSB | College of Business | Griffith | IN |
| Fernando Romero | BSB | College of Business | Hammond | IN |
| Dakota Ross | BSB | College of Business | Lowell | IN |
| Elvira Rossi | BSB | College of Business | Saint John | IN |
| Bryan Rucinski | BSB | College of Business | Hammond | IN |
| Valerie Russell | BSB | College of Business | Chesterton | IN |
| Logan Ryan | BSB | College of Business | Crown Point | IN |
| Joshua Rey Sardon | BSB | College of Business | La Porte | IN |
| Dusko Sasic | BSB | College of Business | Schererville | IN |
| Dalton Schaefer | BSB | College of Business | North Judson | IN |
| Lauren Skeen | BSB | College of Business | Trail Creek | IN |
| Kyle Snyder | BSB | College of Business | Munster | IN |
| Christian Steffek | BSB | College of Business | Cedar Lake | IN |
| Tyler Stoeger | BSB | College of Business | Geneseo | IL |
| Andrew Stolz | BSB | College of Business | Chesterton | IN |
| Kyle Stowers | BSB | College of Business | Valparaiso | IN |
| Tyler Thomas | BSB | College of Business | Highland | IN |
| Matthew Torres | BSB | College of Business | Hammond | IN |
| John Trollsas | BSB | College of Business | Hammond | IN |
| Pedro Valerio | BSB | College of Business | Whiting | IN |
| Daniel Van Kley | BSB | College of Business | Demotte | IN |
| Andrew Vassar | BSB | College of Business | Highland | IN |
| Jaime Velazques | BSB | College of Business | East Chicago | IN |
| Joncarlo Villasenor | BSB | College of Business | Lake Station | IN |
| Lamont White | BSB | College of Business | Hammond | IN |
| Jacob Widowfield | BSB | College of Business | Schererville | IN |
| Jalen Williams | BSB | College of Business | Schererville | IN |
| Fernando Zepeda | BSB | College of Business | Chesterton | IN |
| Zaiqing Zhao | BSB | College of Business | Hammond | IN |
| Taylor McGrath | Certificate | College of Business | Steger | IL |
| Akash Patel | Certificate | College of Business | Schererville | IN |
| Joshua Phillips | Certificate | College of Business | Gary | IN |
| Paxton Pittman | Certificate | College of Business | Cedar Lake | IN |
| Emily Sarna | Certificate | College of Business | Cedar Lake | IN |
| Jacob Soules | Certificate | College of Business | Troy | MI |
| Christina Abbassi | BS | College of Engineering & Sciences | Schererville | IN |
| Haneen Abdulla | BS | College of Engineering & Sciences | Crown Point | IN |
| Dina Altameemi | BS | College of Engineering & Sciences | Crown Point | IN |
| Daniel Arellano | BS | College of Engineering & Sciences | Munster | IN |
| Miguel Benitez | BS | College of Engineering & Sciences | Hammond | IN |
| Trevor Boyd | BS | College of Engineering & Sciences | Lansing | IL |
| Ashley Bravo | BS | College of Engineering & Sciences | Chicago | IL |
| Jennifer Burgos | BS | College of Engineering & Sciences | Hammond | IN |
| Taylor Calhoun | BS | College of Engineering & Sciences | Portage | IN |
| Antonio Chapa | BS | College of Engineering & Sciences | Portage | IN |
| Jake Cuevas | BS | College of Engineering & Sciences | Valparaiso | IN |
| Venkata Devarapalli | BS | College of Engineering & Sciences | Hammond | IN |
| Elysia Escobedo | BS | College of Engineering & Sciences | Dyer | IN |
| Austin Fant | BS | College of Engineering & Sciences | Saint John | IN |
| Alexandria Filipello | BS | College of Engineering & Sciences | Crete | IL |
| Maxwell Garcia | BS | College of Engineering & Sciences | Crown Point | IN |
| Raul Garrido Garcia | BS | College of Engineering & Sciences | Merrillville | IN |
| Daniel Gertz | BS | College of Engineering & Sciences | Hebron | IN |
| Bradley Gomez | BS | College of Engineering & Sciences | Hammond | IN |
| Ayana Gray | BS | College of Engineering & Sciences | Merrillville | IN |
| Maximilian Grisolano | BS | College of Engineering & Sciences | Valparaiso | IN |
| Felicia Hovey | BS | College of Engineering & Sciences | Rolling Prairie | IN |
| Courtney Jackson | BS | College of Engineering & Sciences | Portage | IN |
| Ilija Kocoski | BS | College of Engineering & Sciences | Crown Point | IN |
| Nicole Kondratenko | BS | College of Engineering & Sciences | Crown Point | IN |
| Jonathan Lameter | BS | College of Engineering & Sciences | La Grange | IL |
| Morgan Lestinsky | BS | College of Engineering & Sciences | La Porte | IN |
| Ana Lopez | BS | College of Engineering & Sciences | Trail Creek | IN |
| Alexander Lowther | BS | College of Engineering & Sciences | Chesterton | IN |
| Anthony Luttrell | BS | College of Engineering & Sciences | La Porte | IN |
| Autumn Maiden | BS | College of Engineering & Sciences | Schererville | IN |
| Aleydis Maldonado | BS | College of Engineering & Sciences | Hammond | IN |
| Brett Malmquist | BS | College of Engineering & Sciences | Schererville | IN |
| Micah Medema | BS | College of Engineering & Sciences | Saint John | IN |
| Sara Moss | BS | College of Engineering & Sciences | Michigan City | IN |
| Joanna Munoz | BS | College of Engineering & Sciences | Chicago | IL |
| Madison Murphy | BS | College of Engineering & Sciences | Chicago | IL |
| Ekenechukwu Nwannunu | BS | College of Engineering & Sciences | Saint John | IN |
| Victoria Paige | BS | College of Engineering & Sciences | Gary | IN |
| Gianna Palumbo | BS | College of Engineering & Sciences | Lockport | IL |
| Christian Paris | BS | College of Engineering & Sciences | Crown Point | IN |
| Celine Parra | BS | College of Engineering & Sciences | Crown Point | IN |
| Tracy Perezchica | BS | College of Engineering & Sciences | Munster | IN |
| Claire Powers | BS | College of Engineering & Sciences | Michigan City | IN |
| Joseph Richard | BS | College of Engineering & Sciences | Munster | IN |
| Nicole Richardson | BS | College of Engineering & Sciences | La Porte | IN |
| Samantha Rodriguez | BS | College of Engineering & Sciences | Hammond | IN |
| Ricky Schrombeck | BS | College of Engineering & Sciences | Rensselaer | IN |
| Madison Schultz | BS | College of Engineering & Sciences | Lafayette | IN |
| Daisy Segura | BS | College of Engineering & Sciences | Joliet | IL |
| Sydney Smith | BS | College of Engineering & Sciences | Gary | IN |
| Nicholas Solich | BS | College of Engineering & Sciences | Hobart | IN |
| Reannah Soto | BS | College of Engineering & Sciences | Merrillville | IN |
| Nesreen Srour | BS | College of Engineering & Sciences | Hammond | IN |
| Kaela Stence | BS | College of Engineering & Sciences | La Porte | IN |
| Jack Strimel | BS | College of Engineering & Sciences | Munster | IN |
| Kristin Swartz-Schult | BS | College of Engineering & Sciences | La Porte | IN |
| Nicholas Szala | BS | College of Engineering & Sciences | Munster | IN |
| Leslie Thomas | BS | College of Engineering & Sciences | Wanatah | IN |
| Angelo Turla | BS | College of Engineering & Sciences | Beecher | IL |
| Stevan Vuckovic | BS | College of Engineering & Sciences | Lowell | IN |
| Gena Wallzs | BS | College of Engineering & Sciences | Crown Point | IN |
| Wendy Wells | BS | College of Engineering & Sciences | Portage | IN |
| Michaela Werner | BS | College of Engineering & Sciences | Worth | IL |
| Rachel Wilkening | BS | College of Engineering & Sciences | Hebron | IN |
| Cailee Wilkinson | BS | College of Engineering & Sciences | Saint John | IN |
| Alyssa Woods | BS | College of Engineering & Sciences | Dyer | IN |
| Jacob Yang | BS | College of Engineering & Sciences | Crown Point | IN |
| Antionette Yasko | BS | College of Engineering & Sciences | La Porte | IN |
| Nathaniel Yong | BS | College of Engineering & Sciences | Portage | IN |
| Jazmin Gonzalez | BSCH | College of Engineering & Sciences | Chicago | IL |
| Bailey Rutkowski | BSCH | College of Engineering & Sciences | South Bend | IN |
| Ryan De St Jean | BSCE | College of Engineering & Sciences | Crown Point | IN |
| Daniel Dugan | BSCE | College of Engineering & Sciences | Merrillville | IN |
| Noah Dujmovich | BSCE | College of Engineering & Sciences | Valparaiso | IN |
| Josue Espinoza | BSCE | College of Engineering & Sciences | Berwyn | IL |
| Thomas Garcia | BSCE | College of Engineering & Sciences | Hammond | IN |
| Yasir Hoca | BSCE | College of Engineering & Sciences | Palos Hills | IL |
| Nathaniel Kaczka | BSCE | College of Engineering & Sciences | Munster | IN |
| Kevin Lonero | BSCE | College of Engineering & Sciences | Orland Hills | IL |
| Christo Mitrakis | BSCE | College of Engineering & Sciences | Munster | IN |
| Michael Popp | BSCE | College of Engineering & Sciences | Rensselaer | IN |
| Jeremy Ross | BSCE | College of Engineering & Sciences | Matteson | IL |
| Alec Schaar | BSCE | College of Engineering & Sciences | Elkhart | IN |
| Guadalupe Tirado | BSCE | College of Engineering & Sciences | East Chicago | IN |
| Mark Toney | BSCE | College of Engineering & Sciences | Orland Park | IL |
| Mateo Garcia | BSCE | College of Engineering & Sciences | East Chicago | IN |
| Remington Hess | BSCE | College of Engineering & Sciences | Valparaiso | IN |
| Kyle Knight | BSCE | College of Engineering & Sciences | Orland Park | IL |
| Daniel Ormond | BSCE | College of Engineering & Sciences | Oak Forest | IL |
| Arturo Ruiz | BSCE | College of Engineering & Sciences | Hammond | IN |
| Jansen Tan | BSCE | College of Engineering & Sciences | Merrillville | IN |
| Jacob Tietz | BSCE | College of Engineering & Sciences | Mokena | IL |
| Juan Alvarado | BSEE | College of Engineering & Sciences | Chicago | IL |
| Matthew Bull | BSEE | College of Engineering & Sciences | Valparaiso | IN |
| Jason Centeno | BSEE | College of Engineering & Sciences | Hammond | IN |
| Cameron Chapman | BSEE | College of Engineering & Sciences | Valparaiso | IN |
| Kameron Howard | BSEE | College of Engineering & Sciences | Knox | IN |
| Ryan McCormack | BSEE | College of Engineering & Sciences | Valparaiso | IN |
| Calvin Mudeyideyi | BSEE | College of Engineering & Sciences | Noblesville | IN |
| Brooklyn Radtke | BSEE | College of Engineering & Sciences | North Judson | IN |
| Julio Reyes | BSEE | College of Engineering & Sciences | Crown Point | IN |
| Fernando Rosas | BSEE | College of Engineering & Sciences | Lowell | IN |
| David Schaller | BSEE | College of Engineering & Sciences | Frankfort | IL |
| Gabriel Silva | BSEE | College of Engineering & Sciences | Valparaiso | IN |
| Joshua Thomas | BSEE | College of Engineering & Sciences | Crown Point | IN |
| Jacob Wagner | BSEE | College of Engineering & Sciences | Valparaiso | IN |
| Mahmood Abdulqader Almoairek | BSME | College of Engineering & Sciences | Hammond | IN |
| Mohammad Baydoun | BSME | College of Engineering & Sciences | Michigan city | IN |
| Derrick Bourg | BSME | College of Engineering & Sciences | Tinley Park | IL |
| Tyler Brooks | BSME | College of Engineering & Sciences | Hammond | IN |
| Ricardo Campos | BSME | College of Engineering & Sciences | Schererville | IN |
| Riley Cruse | BSME | College of Engineering & Sciences | Highland | IN |
| Kevin Davis | BSME | College of Engineering & Sciences | Lockport | IL |
| Erich Fischer | BSME | College of Engineering & Sciences | La Porte | IN |
| Mitchell Gajda | BSME | College of Engineering & Sciences | Homer Glen | IL |
| Michael Gal | BSME | College of Engineering & Sciences | Palos Hills | IL |
| Zachary Gertzen | BSME | College of Engineering & Sciences | Portage | IN |
| Hannah Gross | BSME | College of Engineering & Sciences | Schererville | IN |
| Tannor Hurst | BSME | College of Engineering & Sciences | Frankfort | IL |
| Yasmeen Jojo-Cunningham | BSME | College of Engineering & Sciences | Mishawaka | IN |
| Cristian Jongkind | BSME | College of Engineering & Sciences | La Porte | IN |
| Corrine Lawrence | BSME | College of Engineering & Sciences | La Porte | IN |
| Caleb Lopez | BSME | College of Engineering & Sciences | New Carlisle | IN |
| Adam Manering | BSME | College of Engineering & Sciences | La Porte | IN |
| Aneri Patel | BSME | College of Engineering & Sciences | Munster | IN |
| Kevin Ronquillo | BSME | College of Engineering & Sciences | Crown Point | IN |
| Zaid Salah | BSME | College of Engineering & Sciences | Tinley Park | IL |
| Ahsan Shafi | BSME | College of Engineering & Sciences | Crown Point | IN |
| Caleigh Smith | BSME | College of Engineering & Sciences | Hammond | IN |
| Geovany Tello | BSME | College of Engineering & Sciences | Hammond | IN |
| Darko Tomeski | BSME | College of Engineering & Sciences | Portage | IN |
| Saige Addison | BA | College of Humanities, Education, and Social Sciences | Valparaiso | IN |
| Kara Aloisio | BA | College of Humanities, Education, and Social Sciences | Yorkville | IL |
| Dylan Arrington | BA | College of Humanities, Education, and Social Sciences | Lansing | IL |
| Brittany Baker | BA | College of Humanities, Education, and Social Sciences | Schererville | IN |
| Chloe Barnes | BA | College of Humanities, Education, and Social Sciences | Hammond | IN |
| Joshua Beauduy | BA | College of Humanities, Education, and Social Sciences | Schererville | IN |
| Anissa Belghozlane | BA | College of Humanities, Education, and Social Sciences | Chesterton | IN |
| Andre Bell | BA | College of Humanities, Education, and Social Sciences | Indianapolis | IN |
| Markiesha Bell | BA | College of Humanities, Education, and Social Sciences | Hammond | IN |
| Joseph Bermudez | BA | College of Humanities, Education, and Social Sciences | Munster | IN |
| Natasha Boilek | BA | College of Humanities, Education, and Social Sciences | Highland | IN |
| Jocelyn Bonilla | BA | College of Humanities, Education, and Social Sciences | Hammond | IN |
| Delia Booker | BA | College of Humanities, Education, and Social Sciences | Griffith | IN |
| Andrew Bowman | BA | College of Humanities, Education, and Social Sciences | Griffith | IN |
| Russel Brodhacker | BA | College of Humanities, Education, and Social Sciences | La Porte | IN |
| Peter Brunker | BA | College of Humanities, Education, and Social Sciences | Whiting | IN |
| Ethan Bukowski | BA | College of Humanities, Education, and Social Sciences | Schererville | IN |
| Alecksey Bustos | BA | College of Humanities, Education, and Social Sciences | Hammond | IN |
| Andrew Byrnside | BA | College of Humanities, Education, and Social Sciences | Chesterton | IN |
| Deja Cain | BA | College of Humanities, Education, and Social Sciences | Hobart | IN |
| Andrea Calderon | BA | College of Humanities, Education, and Social Sciences | Gary | IN |
| Anita Camacho | BA | College of Humanities, Education, and Social Sciences | Lowell | IN |
| Alyssa Carpenter | BA | College of Humanities, Education, and Social Sciences | Munster | IN |
| Anisa Carter-Bey | BA | College of Humanities, Education, and Social Sciences | Hammond | IN |
| Kristin Carullo | BA | College of Humanities, Education, and Social Sciences | Valparaiso | IN |
| Rachel Cervantes | BA | College of Humanities, Education, and Social Sciences | Merrillville | IN |
| Cristian Chavez | BA | College of Humanities, Education, and Social Sciences | Highland | IN |
| Hope Ciarrocchi | BA | College of Humanities, Education, and Social Sciences | Schererville | IN |
| Ashleigh Claudio | BA | College of Humanities, Education, and Social Sciences | Chesterton | IN |
| Charmaine Connell | BA | College of Humanities, Education, and Social Sciences | Munster | IN |
| Tariya Cooper | BA | College of Humanities, Education, and Social Sciences | Crete | IL |
| Reya Coppie | BA | College of Humanities, Education, and Social Sciences | Hammond | IN |
| Jennifer Corral | BA | College of Humanities, Education, and Social Sciences | Hammond | IN |
| Alexis Creviston | BA | College of Humanities, Education, and Social Sciences | Crown Point | IN |
| Madison Dornack | BA | College of Humanities, Education, and Social Sciences | Crown Point | IN |
| Michael Edington | BA | College of Humanities, Education, and Social Sciences | Hammond | IN |
| Jaden Erracho | BA | College of Humanities, Education, and Social Sciences | Crown Point | IN |
| Stephen Fedor | BA | College of Humanities, Education, and Social Sciences | Portage | IN |
| Julia Fleszewski | BA | College of Humanities, Education, and Social Sciences | Crown Point | IN |
| Olivia Foster | BA | College of Humanities, Education, and Social Sciences | Valparaiso | IN |
| Jake Franovich | BA | College of Humanities, Education, and Social Sciences | Crown Point | IN |
| Megan Garrity | BA | College of Humanities, Education, and Social Sciences | Flossmoor | IL |
| Collin Gee | BA | College of Humanities, Education, and Social Sciences | Crown Point | IN |
| Kirstin Gee | BA | College of Humanities, Education, and Social Sciences | Crown Point | IN |
| Ariana Gill | BA | College of Humanities, Education, and Social Sciences | Crown Point | IN |
| Alyssa Glinski | BA | College of Humanities, Education, and Social Sciences | Cedar Lake | IN |
| Kyrstyn Glover | BA | College of Humanities, Education, and Social Sciences | Chesterton | IN |
| Luz Gonzalez | BA | College of Humanities, Education, and Social Sciences | East Chicago | IN |
| Marisa Gorski | BA | College of Humanities, Education, and Social Sciences | Schererville | IN |
| Erika Guerrero | BA | College of Humanities, Education, and Social Sciences | Hammond | IN |
| Fernando Gutierrez | BA | College of Humanities, Education, and Social Sciences | Highland | IN |
| Shirin Gutierrez | BA | College of Humanities, Education, and Social Sciences | Portage | IN |
| Jacob Hale | BA | College of Humanities, Education, and Social Sciences | Lowell | IN |
| Ashley Hardesty | BA | College of Humanities, Education, and Social Sciences | Union Mills | IN |
| Justin Harrell | BA | College of Humanities, Education, and Social Sciences | Demotte | IN |
| Destiny Hernandez | BA | College of Humanities, Education, and Social Sciences | Merrillville | IN |
| Raymond Hilbrich | BA | College of Humanities, Education, and Social Sciences | Schererville | IN |
| Jesus Huerta | BA | College of Humanities, Education, and Social Sciences | Hammond | IN |
| Le'Vana Jackson | BA | College of Humanities, Education, and Social Sciences | Hammond | IN |
| Sharice Jackson | BA | College of Humanities, Education, and Social Sciences | Crown Point | IN |
| Kmarchai Jones | BA | College of Humanities, Education, and Social Sciences | Gary | IN |
| Laura Joseph | BA | College of Humanities, Education, and Social Sciences | Portage | IN |
| Mikaela Karolzak | BA | College of Humanities, Education, and Social Sciences | Valparaiso | IN |
| Sonia Kincaid | BA | College of Humanities, Education, and Social Sciences | Chesterton | IN |
| Samantha Landeros | BA | College of Humanities, Education, and Social Sciences | Hammond | IN |
| Kevin Lee | BA | College of Humanities, Education, and Social Sciences | Munster | IN |
| Mark Lewis | BA | College of Humanities, Education, and Social Sciences | Buchanan | MI |
| Alexis Lockhart | BA | College of Humanities, Education, and Social Sciences | Crete | IL |
| Amanda Lukasiewicz | BA | College of Humanities, Education, and Social Sciences | Highland | IN |
| Corinne Lynema | BA | College of Humanities, Education, and Social Sciences | Holland | MI |
| Leslie Martinez | BA | College of Humanities, Education, and Social Sciences | Hammond | IN |
| Montana Martinez | BA | College of Humanities, Education, and Social Sciences | Hammond | IN |
| Silvia Martinez | BA | College of Humanities, Education, and Social Sciences | Munster | IN |
| Carissa Matovina | BA | College of Humanities, Education, and Social Sciences | Lowell | IN |
| Jasmine Maxwell | BA | College of Humanities, Education, and Social Sciences | Hammond | IN |
| Kirsten Mazzaro | BA | College of Humanities, Education, and Social Sciences | Crown Point | IN |
| Taylor McGrath | BA | College of Humanities, Education, and Social Sciences | Steger | IL |
| Fabian Mendoza | BA | College of Humanities, Education, and Social Sciences | Hammond | IN |
| Jasmine Mendoza | BA | College of Humanities, Education, and Social Sciences | Hammond | IN |
| Julio Mendoza | BA | College of Humanities, Education, and Social Sciences | Hammond | IN |
| Nicole Miller | BA | College of Humanities, Education, and Social Sciences | Valparaiso | IN |
| Angelica Mix | BA | College of Humanities, Education, and Social Sciences | Hammond | IN |
| Megan Mullaney | BA | College of Humanities, Education, and Social Sciences | Hammond | IN |
| Kelly Murphy | BA | College of Humanities, Education, and Social Sciences | Crown Point | IN |
| Jessica Murray | BA | College of Humanities, Education, and Social Sciences | Hammond | IN |
| Jessica Nawrocki | BA | College of Humanities, Education, and Social Sciences | Hammond | IN |
| Kiara Negron | BA | College of Humanities, Education, and Social Sciences | Chicago | IL |
| Daniel Oliszewicz | BA | College of Humanities, Education, and Social Sciences | Orland Park | IL |
| Natalie Padilla-Rios | BA | College of Humanities, Education, and Social Sciences | Hammond | IN |
| Shauna Pates | BA | College of Humanities, Education, and Social Sciences | Munster | IN |
| Claudia Pena | BA | College of Humanities, Education, and Social Sciences | Merrillville | IN |
| Milagros Perez | BA | College of Humanities, Education, and Social Sciences | East Chicago | IN |
| Kortney Persuhn | BA | College of Humanities, Education, and Social Sciences | Valparaiso | IN |
| Jacob Pinter | BA | College of Humanities, Education, and Social Sciences | New Carlisle | IN |
| Samantha Press | BA | College of Humanities, Education, and Social Sciences | Hammond | IN |
| Damari Ramos | BA | College of Humanities, Education, and Social Sciences | Merrillville | IN |
| Drew Ramos | BA | College of Humanities, Education, and Social Sciences | Chesterton | IN |
| Mariah Ramos | BA | College of Humanities, Education, and Social Sciences | Hammond | IN |
| Requita Ramson | BA | College of Humanities, Education, and Social Sciences | Hammond | IN |
| Joshua Regan | BA | College of Humanities, Education, and Social Sciences | Union Mills | IN |
| Maggie Reichersamer | BA | College of Humanities, Education, and Social Sciences | Hammond | IN |
| Dillon Richmond-Walter | BA | College of Humanities, Education, and Social Sciences | Valparaiso | IN |
| Fiona Riley | BA | College of Humanities, Education, and Social Sciences | Munster | IN |
| Jordan Roberts | BA | College of Humanities, Education, and Social Sciences | Whiting | IN |
| Alexander Rood | BA | College of Humanities, Education, and Social Sciences | La Porte | IN |
| Liliann Rosas | BA | College of Humanities, Education, and Social Sciences | Hammond | IN |
| Charles Rosiar | BA | College of Humanities, Education, and Social Sciences | Valparaiso | IN |
| Natalia Salazar | BA | College of Humanities, Education, and Social Sciences | Munster | IN |
| Lauren Samano | BA | College of Humanities, Education, and Social Sciences | Chicago | IL |
| Brooke Sanders | BA | College of Humanities, Education, and Social Sciences | Dyer | IN |
| Migdalia Santos | BA | College of Humanities, Education, and Social Sciences | Lansing | IL |
| Tiffany Schoof | BA | College of Humanities, Education, and Social Sciences | Kingsford Heights | IN |
| Destiny Sepulveda | BA | College of Humanities, Education, and Social Sciences | Hammond | IN |
| Serenity Serrano | BA | College of Humanities, Education, and Social Sciences | Gary | IN |
| Claudia Soto | BA | College of Humanities, Education, and Social Sciences | Hammond | IN |
| Sarah Stancik | BA | College of Humanities, Education, and Social Sciences | Schererville | IN |
| Jocelyn Story | BA | College of Humanities, Education, and Social Sciences | Chicago | IL |
| Joseph Sullivan | BA | College of Humanities, Education, and Social Sciences | Mundelein | IL |
| Brianna Surowiec | BA | College of Humanities, Education, and Social Sciences | Lowell | IN |
| Lauren Tatum | BA | College of Humanities, Education, and Social Sciences | Hammond | IN |
| Olivia Taylor | BA | College of Humanities, Education, and Social Sciences | Cedar Lake | IN |
| Tashara Travis | BA | College of Humanities, Education, and Social Sciences | Dyer | IN |
| Jo'Niqua Turner | BA | College of Humanities, Education, and Social Sciences | Hammond | IN |
| Giovanna Urbina | BA | College of Humanities, Education, and Social Sciences | Hammond | IN |
| Cristal Vazquez | BA | College of Humanities, Education, and Social Sciences | Crown Point | IN |
| Alex Vega | BA | College of Humanities, Education, and Social Sciences | Calumet City | IL |
| Abigail Velchek | BA | College of Humanities, Education, and Social Sciences | La Porte | IN |
| Alyssia Verlinden | BA | College of Humanities, Education, and Social Sciences | Hammond | IN |
| Anna Wachowski | BA | College of Humanities, Education, and Social Sciences | Crown Point | IN |
| Carla Wallace | BA | College of Humanities, Education, and Social Sciences | Hammond | IN |
| Michelle Watkins | BA | College of Humanities, Education, and Social Sciences | Schererville | IN |
| Tiffany White | BA | College of Humanities, Education, and Social Sciences | Lowell | IN |
| Ta'day Whitehead | BA | College of Humanities, Education, and Social Sciences | Gary | IN |
| Kailee Wicks | BA | College of Humanities, Education, and Social Sciences | Gary | IN |
| MaryJane Williams | BA | College of Humanities, Education, and Social Sciences | Hobart | IN |
| Michael Williams | BA | College of Humanities, Education, and Social Sciences | Hammond | IN |
| Thomasina Wilson | BA | College of Humanities, Education, and Social Sciences | Highland | IN |
| Kelsie Zuklin | BA | College of Humanities, Education, and Social Sciences | Highland | IN |
| Brooke Barnes | BLS | College of Humanities, Education, and Social Sciences | Westville | IN |
| Brittany Bennett | BLS | College of Humanities, Education, and Social Sciences | Portage | IN |
| Kelley Deyarmin | BLS | College of Humanities, Education, and Social Sciences | Portage | IN |
| Emily Fletcher | BLS | College of Humanities, Education, and Social Sciences | Valparaiso | IN |
| Jyrus Freels | BLS | College of Humanities, Education, and Social Sciences | Evansville | IN |
| Felicia Garcia | BLS | College of Humanities, Education, and Social Sciences | Portage | IN |
| Karly Hatchett | BLS | College of Humanities, Education, and Social Sciences | Kouts | IN |
| Lauryn Haymer | BLS | College of Humanities, Education, and Social Sciences | Hammond | IN |
| Miloni Hernandez | BLS | College of Humanities, Education, and Social Sciences | Griffith | IN |
| Khaylan Johnson | BLS | College of Humanities, Education, and Social Sciences | Merrillville | IN |
| Rebecca Krahn | BLS | College of Humanities, Education, and Social Sciences | Schererville | IN |
| Cindi Lenz | BLS | College of Humanities, Education, and Social Sciences | La Porte | IN |
| Zachary Lloyd | BLS | College of Humanities, Education, and Social Sciences | Valparaiso | IN |
| Heidi Lynn | BLS | College of Humanities, Education, and Social Sciences | Valparaiso | IN |
| Madison Marsh | BLS | College of Humanities, Education, and Social Sciences | Hammond | IN |
| Jonathan Mojica | BLS | College of Humanities, Education, and Social Sciences | East Chicago | IN |
| Hannah Morrow | BLS | College of Humanities, Education, and Social Sciences | La Porte | IN |
| Stephanie Munoz | BLS | College of Humanities, Education, and Social Sciences | Highland | IN |
| Jasmin Najera | BLS | College of Humanities, Education, and Social Sciences | Michigan City | IN |
| Jessica Ott | BLS | College of Humanities, Education, and Social Sciences | La Porte | IN |
| Jennifer Rakoczy | BLS | College of Humanities, Education, and Social Sciences | Hammond | IN |
| Leopold Sawyers | BLS | College of Humanities, Education, and Social Sciences | Hammond | IN |
| Tiffany Stokes | BLS | College of Humanities, Education, and Social Sciences | Hammond | IN |
| James Warzyniak | BLS | College of Humanities, Education, and Social Sciences | Crown Point | IN |
| Stepheny Weaver | BLS | College of Humanities, Education, and Social Sciences | Westville | IN |
| Erica West | BLS | College of Humanities, Education, and Social Sciences | Saint John | IN |
| Porsche Williams | BLS | College of Humanities, Education, and Social Sciences | Portage | IN |
| Brandon Young | BLS | College of Humanities, Education, and Social Sciences | La Porte | IN |
| Samantha Zaborowski | BLS | College of Humanities, Education, and Social Sciences | Munster | IN |
| Lailah Abdulla | BS | College of Humanities, Education, and Social Sciences | Portage | IN |
| Brenda Arguelles | BS | College of Humanities, Education, and Social Sciences | Oak Lawn | IL |
| Zachery Berrier | BS | College of Humanities, Education, and Social Sciences | Crown Point | IN |
| Bailey Bristley | BS | College of Humanities, Education, and Social Sciences | Hobart | IN |
| Aaron Dobson | BS | College of Humanities, Education, and Social Sciences | Valparaiso | IN |
| Jasmine Esparza | BS | College of Humanities, Education, and Social Sciences | Highland | IN |
| Serina Feliciano | BS | College of Humanities, Education, and Social Sciences | East Chicago | IN |
| Amanda Gemeinhart | BS | College of Humanities, Education, and Social Sciences | Valparaiso | IN |
| Asia Gray | BS | College of Humanities, Education, and Social Sciences | Merrillville | IN |
| Daizha Hunter | BS | College of Humanities, Education, and Social Sciences | Hammond | IN |
| Jeff Imhof | BS | College of Humanities, Education, and Social Sciences | Valparaiso | IN |
| Kathryn Keen | BS | College of Humanities, Education, and Social Sciences | Michigan City | IN |
| Destiny Kinnard | BS | College of Humanities, Education, and Social Sciences | Hammond | IN |
| Ashley Lakomek | BS | College of Humanities, Education, and Social Sciences | Saint John | IN |
| Madison Laux | BS | College of Humanities, Education, and Social Sciences | Michigan City | IN |
| Kristen Levendowski | BS | College of Humanities, Education, and Social Sciences | Westville | IN |
| Elizabeth Lopez | BS | College of Humanities, Education, and Social Sciences | Whiting | IN |
| Hannah Maurello | BS | College of Humanities, Education, and Social Sciences | Munster | IN |
| Micaela McCarthy | BS | College of Humanities, Education, and Social Sciences | Highland | IN |
| Marcela Mejia | BS | College of Humanities, Education, and Social Sciences | Hammond | IN |
| Kristina Merriman | BS | College of Humanities, Education, and Social Sciences | Plymouth | IN |
| Sara Miller | BS | College of Humanities, Education, and Social Sciences | Highland | IN |
| Kathleen Mustic | BS | College of Humanities, Education, and Social Sciences | Kouts | IN |
| Kamry Salrin | BS | College of Humanities, Education, and Social Sciences | Union Mills | IN |
| Jennifer Seeburger | BS | College of Humanities, Education, and Social Sciences | Valparaiso | IN |
| Karissa Senisais | BS | College of Humanities, Education, and Social Sciences | Munster | IN |
| Emily Simpson | BS | College of Humanities, Education, and Social Sciences | Valparaiso | IN |
| Miranda Sims | BS | College of Humanities, Education, and Social Sciences | Dyer | IN |
| Danielle Stegall | BS | College of Humanities, Education, and Social Sciences | Osceola | IN |
| Ariana Stojancevich | BS | College of Humanities, Education, and Social Sciences | Saint John | IN |
| Shelby Takacs | BS | College of Humanities, Education, and Social Sciences | Westville | IN |
| Anh Tran | BS | College of Humanities, Education, and Social Sciences | Whiting | IN |
| Portia Wilkerson | BS | College of Humanities, Education, and Social Sciences | Calumet City | IL |
| Stephen Fedor | Certificate | College of Humanities, Education, and Social Sciences | Portage | IN |
| Silvia Martinez | Certificate | College of Humanities, Education, and Social Sciences | Munster | IN |
| Taylor McGrath | Certificate | College of Humanities, Education, and Social Sciences | Steger | IL |
| Alexander Rood | Certificate | College of Humanities, Education, and Social Sciences | La Porte | IN |
| Natalia Salazar | Certificate | College of Humanities, Education, and Social Sciences | Munster | IN |
| MaryJane Williams | Certificate | College of Humanities, Education, and Social Sciences | Hobart | IN |
| Angelica Adams | BSN | College of Nursing | Huntley | IL |
| Sade' Adams | BSN | College of Nursing | Calumet City | IL |
| Christine Addison | BSN | College of Nursing | Griffith | IN |
| Oluyemi Adeagbo | BSN | College of Nursing | Chicago | IL |
| Aleksandrina Aleksandrov | BSN | College of Nursing | Wesley Chapel | FL |
| Alma Alvarado | BSN | College of Nursing | Chicago | IL |
| Kelsey Amelse | BSN | College of Nursing | Wausau | WI |
| Brandi Anderson | BSN | College of Nursing | Rochelle | IL |
| Hannah Anderson | BSN | College of Nursing | Chicago | IL |
| Amber Atkinson | BSN | College of Nursing | Chicago | IL |
| Megan Baczewski | BSN | College of Nursing | Lake in The Hills | IL |
| Kevin Baker | BSN | College of Nursing | Chicago | IL |
| Lisset Barrios | BSN | College of Nursing | Aurora | IL |
| Kristen Berdine | BSN | College of Nursing | Valparaiso | IN |
| Dianette Berrios | BSN | College of Nursing | Montgomery | IL |
| Mignon Berry | BSN | College of Nursing | Columbus | OH |
| Monica Bialek | BSN | College of Nursing | Orland Park | IL |
| Chelsey Bjelland | BSN | College of Nursing | Sycamore | IL |
| Lisa Blankenberger | BSN | College of Nursing | Rosedale | IN |
| Gina Brinckerhoff | BSN | College of Nursing | Palatine | IL |
| Madison Brown | BSN | College of Nursing | Rensselaer | IN |
| Ewelina Budz | BSN | College of Nursing | Worth | IL |
| Bridget Byker | BSN | College of Nursing | Geneva | IL |
| Kelli Canul | BSN | College of Nursing | Valparaiso | IN |
| Jonathan Castellanos Hernandez | BSN | College of Nursing | Prospect Heights | IL |
| Hanna Chaudhry | BSN | College of Nursing | Arlington Heights | IL |
| Ashley Chervinko | BSN | College of Nursing | Saint Charles | IL |
| Jong Cho | BSN | College of Nursing | Northbrook | IL |
| Tenna Christensen | BSN | College of Nursing | North Aurora | IL |
| Megan Christiansen | BSN | College of Nursing | Chicago | IL |
| Joseph Cieck | BSN | College of Nursing | Huntley | IL |
| Shavon Conkle | BSN | College of Nursing | Grayslake | IL |
| Lauren Coon | BSN | College of Nursing | Sycamore | IL |
| Lissette Corona | BSN | College of Nursing | Mundelein | IL |
| Salud Correa | BSN | College of Nursing | Wheeling | IL |
| Kayla Corsi | BSN | College of Nursing | Frankfort | IL |
| Erin Crawford | BSN | College of Nursing | Fort Wayne | IN |
| Sandra Cruz | BSN | College of Nursing | Berwyn | IL |
| Nadine Justine Danan | BSN | College of Nursing | Waukegan | IL |
| Abigail Davis | BSN | College of Nursing | Medaryville | IN |
| Kristin Deal | BSN | College of Nursing | Mishawaka | IN |
| Kristyne Devine | BSN | College of Nursing | Dyer | IN |
| Thomas DiGrazia | BSN | College of Nursing | Lockport | IL |
| Lisa Donnelly | BSN | College of Nursing | Frankfort | IL |
| Adrianne Dorn | BSN | College of Nursing | Deforest | WI |
| Lynel Duffy | BSN | College of Nursing | Indianapolis | IN |
| Sarah Eagan | BSN | College of Nursing | Munster | IN |
| Rebekka Eakins | BSN | College of Nursing | Orland Park | IL |
| Codi Eckles | BSN | College of Nursing | Valparaiso | IN |
| Amber Ellis | BSN | College of Nursing | Demotte | IN |
| Natasha English | BSN | College of Nursing | Schererville | IN |
| Teresa Esquivel | BSN | College of Nursing | Orland Park | IL |
| Ashley Farmer | BSN | College of Nursing | Lake Villa | IL |
| Brandi Fasel | BSN | College of Nursing | Portage | IN |
| Sean Fennell | BSN | College of Nursing | Elgin | IL |
| Jessica Filian | BSN | College of Nursing | Vernon Hills | IL |
| Karla Fiscus | BSN | College of Nursing | Pimento | IN |
| Jasmine Foster | BSN | College of Nursing | Dolton | IL |
| Kristen Franks | BSN | College of Nursing | Brownsburg | IN |
| Christie Fraveletti | BSN | College of Nursing | Lombard | IL |
| Casaundra Freitag | BSN | College of Nursing | South Bend | IN |
| Meagan Fuechtmann | BSN | College of Nursing | Bartlett | IL |
| Angela Gaines | BSN | College of Nursing | Portage | IN |
| Katelyn Gallagher | BSN | College of Nursing | Chicago | IL |
| Alyssa Irene Galvez | BSN | College of Nursing | Fishers | IN |
| Claudia Galvez | BSN | College of Nursing | Oak Lawn | IL |
| Jordan Garcia | BSN | College of Nursing | Merrillville | IN |
| Michelle Gardner | BSN | College of Nursing | South Holland | IL |
| Jill Garza | BSN | College of Nursing | New Haven | IN |
| Julie Ann Gegantenio | BSN | College of Nursing | Skokie | IL |
| Emily Geiger | BSN | College of Nursing | Columbia City | IN |
| Kelsey Gilboy | BSN | College of Nursing | Lockport | IL |
| Madeleine Gnezda | BSN | College of Nursing | Dyer | IN |
| Jenny Gogal | BSN | College of Nursing | Schererville | IN |
| Angela Gonzalez | BSN | College of Nursing | Cedar Lake | IN |
| Elizabeth Gonzalez | BSN | College of Nursing | Elmwood Park | IL |
| Elizabeth Grande | BSN | College of Nursing | Schaumburg | IL |
| Andrea Graveen | BSN | College of Nursing | Merrill | WI |
| Tiera Griffin | BSN | College of Nursing | University Park | IL |
| Tonya Gudell | BSN | College of Nursing | Crawfordsville | IN |
| Jania Harris | BSN | College of Nursing | Chicago | IL |
| Breanne Harvey | BSN | College of Nursing | Portage | IN |
| Emily Hauptmann | BSN | College of Nursing | Pleasant Prairie | WI |
| Klara Hausenfleck | BSN | College of Nursing | Rensselaer | IN |
| Deanna Haverty | BSN | College of Nursing | Chicago | IL |
| Danielle Hayes | BSN | College of Nursing | Newburgh | IN |
| Raylene Hedrick | BSN | College of Nursing | Gary | IN |
| Emily Henke | BSN | College of Nursing | Lowell | IN |
| Samantha Henry | BSN | College of Nursing | Saint John | IN |
| Jacob Hicks | BSN | College of Nursing | Fennville | MI |
| Meaghan Hillier | BSN | College of Nursing | Highland | IN |
| Rachel Hogan | BSN | College of Nursing | Hoffman Estates | IL |
| Jamilah Hopson | BSN | College of Nursing | Columbus | OH |
| Kelsie Howe | BSN | College of Nursing | Demotte | IN |
| Kristin Hunter | BSN | College of Nursing | West Bend | WI |
| Andrew Ingram | BSN | College of Nursing | Demotte | IN |
| Yadira Jaber | BSN | College of Nursing | Tinley Park | IL |
| Katie Jacobson | BSN | College of Nursing | Antioch | IL |
| Joanna Jahntz | BSN | College of Nursing | Wheaton | IL |
| Christopher Jesionowski | BSN | College of Nursing | Minooka | IL |
| Dauda Jimoh | BSN | College of Nursing | Indianapolis | IN |
| Veronica Johnson | BSN | College of Nursing | Highland | IN |
| Joan Jones | BSN | College of Nursing | Matteson | IL |
| Sherry Jones | BSN | College of Nursing | Hobart | IN |
| Monica Jurisch | BSN | College of Nursing | Grafton | WI |
| Nancy Kadiri | BSN | College of Nursing | Peoria | IL |
| Amanie Kahok | BSN | College of Nursing | Chicago | IL |
| Tara Keen | BSN | College of Nursing | DeKalb | IL |
| Jasmine Kidd | BSN | College of Nursing | La Porte | IN |
| George Kinas | BSN | College of Nursing | Niles | IL |
| Jillian Kirn | BSN | College of Nursing | Monee | IL |
| Madeline Klauer | BSN | College of Nursing | Hebron | IN |
| Shaina Knowles | BSN | College of Nursing | Merrillville | IN |
| Alyssa Kondziela | BSN | College of Nursing | Kenosha | WI |
| Joshua Korecky | BSN | College of Nursing | Hoffman Estates | IL |
| Kylie Kowalski | BSN | College of Nursing | Yorkville | IL |
| Sara Krautkramer | BSN | College of Nursing | Marathon | WI |
| Jourdan Kufahl | BSN | College of Nursing | Wausau | WI |
| Nikoletta Kyriakakis | BSN | College of Nursing | Munster | IN |
| Danielle Lagreco | BSN | College of Nursing | Schererville | IN |
| Olamide Lamidi | BSN | College of Nursing | DeKalb | IL |
| Laura Landrigan | BSN | College of Nursing | Fort Wayne | IN |
| Brittany Landwer | BSN | College of Nursing | Spring Grove | IL |
| Nastassia Lapatsentava | BSN | College of Nursing | Chicago | IL |
| Heidi Larmon | BSN | College of Nursing | Oklahoma City | OK |
| Alfred Lavire | BSN | College of Nursing | Naperville | IL |
| Carolyn Lawrence | BSN | College of Nursing | Chicago | IL |
| Jennifer Lawrence | BSN | College of Nursing | Appleton | WI |
| Norma Lazaro | BSN | College of Nursing | Elmwood Park | IL |
| Giedre Lazauskas | BSN | College of Nursing | Oak Lawn | IL |
| April Leggett | BSN | College of Nursing | Chicago | IL |
| Nicole Leverett | BSN | College of Nursing | Bloomington | IL |
| Katrina Lewil | BSN | College of Nursing | Chicago | IL |
| Nicolette Lewis | BSN | College of Nursing | Crown Point | IN |
| Faith Linden | BSN | College of Nursing | Valparaiso | IN |
| Alicia Lindsey | BSN | College of Nursing | Saint Joseph | IL |
| Rhonda Link | BSN | College of Nursing | Portland | IN |
| Iman Little | BSN | College of Nursing | Chicago | IL |
| Irvin Lopez | BSN | College of Nursing | Chicago | IL |
| Hannah Lovesky | BSN | College of Nursing | Tinley Park | IL |
| Jiang Luo | BSN | College of Nursing | Naperville | IL |
| Briley Malenky | BSN | College of Nursing | Portage | IN |
| Carla Marcheschi | BSN | College of Nursing | Crown Point | IN |
| Deborah Martin | BSN | College of Nursing | Batavia | IL |
| McKenna Martin | BSN | College of Nursing | Westville | IN |
| Faith Marvel | BSN | College of Nursing | Wanatah | IN |
| Aya Massoud | BSN | College of Nursing | Palatine | IL |
| Erin Maurer | BSN | College of Nursing | Gridley | IL |
| Erin May | BSN | College of Nursing | Saint Charles | IL |
| Katherine Mcardle | BSN | College of Nursing | Wauconda | IL |
| Danielle McCormack | BSN | College of Nursing | Sugar Grove | IL |
| Peyton McDonough | BSN | College of Nursing | Cedar Lake | IN |
| Taylor Merriwether | BSN | College of Nursing | Chicago | IL |
| Jenna Milcarek | BSN | College of Nursing | Michigan City | IN |
| Victoria Miles | BSN | College of Nursing | Portage | IN |
| Cheyenne Miller | BSN | College of Nursing | Camargo | IL |
| Stacey Molina | BSN | College of Nursing | Joliet | IL |
| Aira Moore | BSN | College of Nursing | Hammond | IN |
| Ishairy Morales | BSN | College of Nursing | Elgin | IL |
| Andrew Morris | BSN | College of Nursing | Valparaiso | IN |
| Kathryn Morrison | BSN | College of Nursing | Saint Charles | IL |
| Jessica Mullin | BSN | College of Nursing | Plainfield | IL |
| Heather Mulqueeny | BSN | College of Nursing | Palos Park | IL |
| Toni Murphy | BSN | College of Nursing | Michigan City | IN |
| NaCasha Neal | BSN | College of Nursing | Aurora | IL |
| Cristina Newton | BSN | College of Nursing | Naperville | IL |
| Tayla Nidey | BSN | College of Nursing | Greenwood | IN |
| Elizabeth Nielsen | BSN | College of Nursing | Arlington Heights | IL |
| Thomas Nienow | BSN | College of Nursing | Wausau | WI |
| Amanda Noblett | BSN | College of Nursing | Schererville | IN |
| Abigail Nolan | BSN | College of Nursing | Lafayette | IN |
| Jennifer Noreiko | BSN | College of Nursing | Sycamore | IL |
| Rita Ocampo | BSN | College of Nursing | Schererville | IN |
| Mistura Ogbara | BSN | College of Nursing | University Park | IL |
| Caroline Orzel | BSN | College of Nursing | Highland | IN |
| William Padolina | BSN | College of Nursing | North Aurora | IL |
| Vanessa Pain | BSN | College of Nursing | Kingston | IL |
| Cristina Palomo | BSN | College of Nursing | Bolingbrook | IL |
| Kimberly Parker | BSN | College of Nursing | Joliet | IL |
| Lottie Parker | BSN | College of Nursing | Flossmoor | IL |
| Alannah Pascolla | BSN | College of Nursing | Sleepy Hollow | IL |
| Jessica Patenaude | BSN | College of Nursing | Minooka | IL |
| Jasmyn Patterson | BSN | College of Nursing | Rockford | IL |
| Jessica Pazik | BSN | College of Nursing | Munster | IN |
| Giselle Perez | BSN | College of Nursing | Summit Argo | IL |
| Kara Philip | BSN | College of Nursing | Lockport | IL |
| Laurie Provance | BSN | College of Nursing | Seneca | IL |
| Chotiros Pullarp | BSN | College of Nursing | Naperville | IL |
| Bridget Radl | BSN | College of Nursing | Deforest | WI |
| Lordes Raguindin | BSN | College of Nursing | Schererville | IN |
| Erynn Reed | BSN | College of Nursing | Portage | IN |
| Jacqueline Rigsby | BSN | College of Nursing | Westmont | IL |
| Samantha Rivera | BSN | College of Nursing | Hammond | IN |
| Morgan Roberts | BSN | College of Nursing | Cedar Lake | IN |
| Melicah Beatriz Rodriguez | BSN | College of Nursing | Dyer | IN |
| Anna Rogers | BSN | College of Nursing | Cudahy | WI |
| Amy Rolniak | BSN | College of Nursing | Lowell | IN |
| Savanna Rusch | BSN | College of Nursing | New Lenox | IL |
| Jaryd Russell | BSN | College of Nursing | Portage | IN |
| Alicia Samano | BSN | College of Nursing | Chicago | IL |
| Mariah Sanders | BSN | College of Nursing | La Porte | IN |
| Luis Santoyo | BSN | College of Nursing | Glen Ellyn | IL |
| Larissa Sardon | BSN | College of Nursing | La Porte | IN |
| Sarah Schoof | BSN | College of Nursing | La Porte | IN |
| Megan Schultz | BSN | College of Nursing | Valparaiso | IN |
| Brett Sealy | BSN | College of Nursing | Tinley Park | IL |
| Maria Serna-Sanchez | BSN | College of Nursing | Woodridge | IL |
| Isaac Shaffer | BSN | College of Nursing | Union Mills | IN |
| Jessica Sherman-Corbett | BSN | College of Nursing | Champaign | IL |
| Emily Shine | BSN | College of Nursing | West Warwick | RI |
| Amanda Shively | BSN | College of Nursing | Portage | IN |
| Cassandra Smith | BSN | College of Nursing | Crown Point | IN |
| Jordyn Soffa | BSN | College of Nursing | La Porte | IN |
| Justyna Sowa | BSN | College of Nursing | Hickory Hills | IL |
| Sharrieh Sparkman | BSN | College of Nursing | Merrillville | IN |
| Abigail Stelnicki | BSN | College of Nursing | Inverness | IL |
| Andrea Storey | BSN | College of Nursing | Matteson | IL |
| Tamara Sweet | BSN | College of Nursing | Richton Park | IL |
| Brett Szabo | BSN | College of Nursing | Saint John | IN |
| Maureen Szafarowicz | BSN | College of Nursing | Wauconda | IL |
| Angelina Tkachenko | BSN | College of Nursing | Wheeling | IL |
| Gina Tomasello | BSN | College of Nursing | West Dundee | IL |
| Maritza Urenda | BSN | College of Nursing | Cicero | IL |
| Alvin Uy | BSN | College of Nursing | Chicago | IL |
| Tanya Vargas | BSN | College of Nursing | Lombard | IL |
| Sheryl Victa | BSN | College of Nursing | Skokie | IL |
| Ciera Voorhees | BSN | College of Nursing | Manteno | IL |
| Emily Vorst | BSN | College of Nursing | Fair Oaks | IN |
| Alicia Walczynski | BSN | College of Nursing | Valparaiso | IN |
| Denise Warner | BSN | College of Nursing | Lafayette | IN |
| Daisy Webb | BSN | College of Nursing | Dyer | IN |
| Amanda Wendt | BSN | College of Nursing | DeKalb | IL |
| Laramie Whitis | BSN | College of Nursing | Columbus | IN |
| Jessica Williams | BSN | College of Nursing | Winamac | IN |
| Madison Williams | BSN | College of Nursing | Braceville | IL |
| Michael Williams | BSN | College of Nursing | Chicago | IL |
| Kathryn Wilson | BSN | College of Nursing | Lafayette | IN |
| Judith Wszolek | BSN | College of Nursing | Valparaiso | IN |
| Lubwaan Yoruw | BSN | College of Nursing | Elgin | IL |
| Tricia Zitarelli | BSN | College of Nursing | Gary | IN |
| Erick Acosta | BS | College of Techology | Hobart | IN |
| Cade Albers | BS | College of Techology | Westville | IN |
| James Alston-Butler | BS | College of Techology | Gary | IN |
| Dakota Bailey | BS | College of Techology | Hobart | IN |
| Ryan Barry | BS | College of Techology | Crown Point | IN |
| Samuel Berg | BS | College of Techology | Dyer | IN |
| Kaitlyn Boyd | BS | College of Techology | Valparaiso | IN |
| Kelly Carr | BS | College of Techology | Valparaiso | IN |
| Austin Chentnik | BS | College of Techology | Valparaiso | IN |
| Kevin Church | BS | College of Techology | Crown Point | IN |
| Bartlomiej Cias | BS | College of Techology | Dyer | IN |
| Gabriel Cipkar | BS | College of Techology | Crown Point | IN |
| Hector Cossyleon | BS | College of Techology | Whiting | IN |
| Joseph Cruz | BS | College of Techology | Crown Point | IN |
| Justin Deboer | BS | College of Techology | Dyer | IN |
| Sydney DeBoer | BS | College of Techology | Munster | IN |
| Logan Duvall | BS | College of Techology | Cedar Lake | IN |
| Bradley Eaton | BS | College of Techology | Union Mills | IN |
| Kevin Ebisi | BS | College of Techology | Merrillville | IN |
| Luis Erazo Tuarez | BS | College of Techology | Hammond | IN |
| Scott Filippini | BS | College of Techology | Westville | IN |
| Michael Flores | BS | College of Techology | Valparaiso | IN |
| Mia Flory | BS | College of Techology | Crown Point | IN |
| Jason Gadomski | BS | College of Techology | Griffith | IN |
| Erick Gallardo | BS | College of Techology | Calumet City | IL |
| German Gallarzo | BS | College of Techology | Hammond | IN |
| Adrian Garcia | BS | College of Techology | Chicago | IL |
| Catalina Garcia | BS | College of Techology | Hammond | IN |
| Jorge Garcia | BS | College of Techology | Hammond | IN |
| Leo Garcia | BS | College of Techology | Crown Point | IN |
| Thomas Gervase | BS | College of Techology | Munster | IN |
| Wardell Glass | BS | College of Techology | Merrillville | IN |
| Diego Gomez | BS | College of Techology | Hobart | IN |
| Brenden Grogan | BS | College of Techology | Munster | IN |
| Luis Gutierrez | BS | College of Techology | Crown Point | IN |
| Lucas Heffelfinger | BS | College of Techology | Hobart | IN |
| Ashley Henningfield | BS | College of Techology | Hobart | IN |
| Kegan Hensley | BS | College of Techology | Highland | IN |
| Corey Herma | BS | College of Techology | Valparaiso | IN |
| Miguel Hernandez | BS | College of Techology | Hammond | IN |
| Sergio Hernandez | BS | College of Techology | East Chicago | IN |
| Noah Hertlein | BS | College of Techology | Wheaton | IL |
| Timothy Hughes | BS | College of Techology | Merrillville | IN |
| Trevor Isaacs | BS | College of Techology | Hobart | IN |
| Alexandria Janas | BS | College of Techology | La Porte | IN |
| Michael Jascoviak | BS | College of Techology | Hobart | IN |
| Nenad Jasnic | BS | College of Techology | Valparaiso | IN |
| Tianxiang Jiang | BS | College of Techology | Hammond | IN |
| Stephen Kamps | BS | College of Techology | South Holland | IL |
| Uroosa Khan | BS | College of Techology | Munster | IN |
| Dexx King | BS | College of Techology | Hobart | IN |
| Steven Kirby | BS | College of Techology | Hammond | IN |
| Cole Kistler | BS | College of Techology | Demotte | IN |
| Bogdan Kovacevic | BS | College of Techology | Dyer | IN |
| Eric Krumm | BS | College of Techology | Brownsburg | IN |
| Sebastian Kwiatek | BS | College of Techology | Orland Park | IL |
| Jeremy Kwit | BS | College of Techology | Homer Glen | IL |
| Jonte Lane | BS | College of Techology | Hobart | IN |
| Tyler Laughead | BS | College of Techology | Crown Point | IN |
| Kyle LeVan | BS | College of Techology | Dyer | IN |
| Nathan Lewis | BS | College of Techology | Valparaiso | IN |
| Biao Li | BS | College of Techology | Valparaiso | IN |
| Matthew Locher | BS | College of Techology | Crown Point | IN |
| Amanda Logan | BS | College of Techology | Tinley Park | IL |
| Alicia Lopez | BS | College of Techology | Saint John | IN |
| Kyle Lowery | BS | College of Techology | Chesterton | IN |
| Jennifer Lubotina | BS | College of Techology | Hebron | IN |
| Joshua Macki | BS | College of Techology | Saint John | IN |
| Kyle Madsen | BS | College of Techology | Schererville | IN |
| Madilyn Mayernik | BS | College of Techology | Chesterton | IN |
| Gavin McCoy | BS | College of Techology | Crown Point | IN |
| Robert McEvilly | BS | College of Techology | Alsip | IL |
| Aaron McFarland | BS | College of Techology | Highland | IN |
| Travis McKinney | BS | College of Techology | La Porte | IN |
| Jeffrey Michner | BS | College of Techology | Highland | IN |
| Mitchell Mills | BS | College of Techology | Saint John | IN |
| Ryan Milly | BS | College of Techology | CROWN POINT | IN |
| Carlos Minero | BS | College of Techology | Chicago | IL |
| Raemere Mitchell | BS | College of Techology | Merrillville | IN |
| Sawyer Newman | BS | College of Techology | Crown Point | IN |
| Liam Ochi | BS | College of Techology | Hammond | IN |
| Jose Ochoa | BS | College of Techology | La Porte | IN |
| Riley O'Hare | BS | College of Techology | Highland | IN |
| Patrick Olenik | BS | College of Techology | Crown Point | IN |
| Tyler Owens | BS | College of Techology | La Porte | IN |
| Christopher Perkins | BS | College of Techology | Indianapolis | IN |
| David Peters | BS | College of Techology | Highland | IN |
| Adrienne Petty | BS | College of Techology | Schererville | IN |
| Joshua Phillips | BS | College of Techology | Gary | IN |
| Mateusz Plachta | BS | College of Techology | Schiller Park | IL |
| Robert Ploense | BS | College of Techology | Hammond | IN |
| Braden Regier | BS | College of Techology | Chesterton | IN |
| Carson Rhodes | BS | College of Techology | Valparaiso | IN |
| Eugene Rogers | BS | College of Techology | Merrillville | IN |
| Eduardo Rosales Rodriguez | BS | College of Techology | Hammond | IN |
| Christopher Ruiz | BS | College of Techology | Schererville | IN |
| Giovanny Sanchez | BS | College of Techology | Lake Station | IN |
| Vito Santino | BS | College of Techology | Highland | IN |
| Griffin Scott | BS | College of Techology | Crown Point | IN |
| Andrew Scurlock | BS | College of Techology | Saint John | IN |
| Daniel Silva | BS | College of Techology | Highland | IN |
| Matthew Slade | BS | College of Techology | Griffith | IN |
| Andrew Smith | BS | College of Techology | Griffith | IN |
| Rex Smith | BS | College of Techology | Medaryville | IN |
| Cody Snoreck | BS | College of Techology | Saint John | IN |
| Jonathan Sorenson | BS | College of Techology | Saint John | IN |
| Luke Stanich | BS | College of Techology | Dyer | IN |
| Halle Stork | BS | College of Techology | Stanwood | MI |
| Matthew Strong | BS | College of Techology | Walkerton | IN |
| Matthew Tabaczynski | BS | College of Techology | Munster | IN |
| Lila Upshaw | BS | College of Techology | Portage | IN |
| Garret VanDerNoord | BS | College of Techology | Crown Point | IN |
| Joseph Vavrek | BS | College of Techology | Valparaiso | IN |
| Jennifer Villanueva | BS | College of Techology | Merrillville | IN |
| Ryan Walker | BS | College of Techology | Dyer | IN |
| Zachary Wall | BS | College of Techology | Highland | IN |
| Ayessa Weems | BS | College of Techology | East Chicago | IN |
| Jacob Welch | BS | College of Techology | Valparaiso | IN |
| Chad Whitfield | BS | College of Techology | Chesterton | IN |
| Angenee Williams | BS | College of Techology | Gary | IN |
| Isun Williams | BS | College of Techology | Crete | IL |
| Catherine Winn | BS | College of Techology | Lake Station | IN |
| Jakub Wrobel | BS | College of Techology | Dyer | IN |
| Brayden Wynsma | BS | College of Techology | Crown Point | IN |
| Alec Zaharis | BS | College of Techology | Highland | IN |
| Philip Zuehlke | BS | College of Techology | South Bend | IN |
| | | | | |