Recognizing Our Graduates
December 20, 2022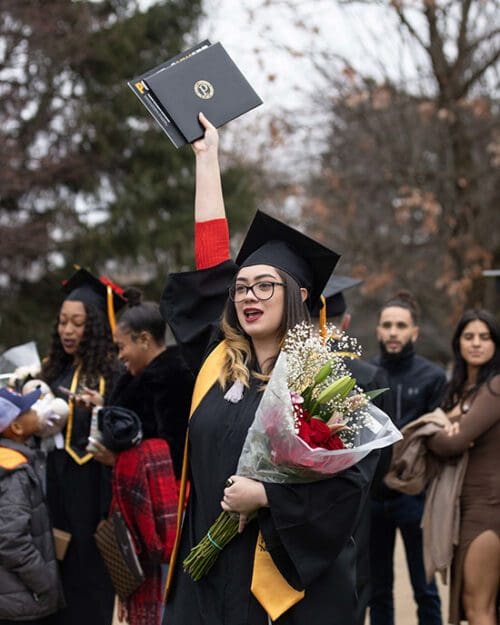 Purdue University Northwest proudly celebrates the graduates who received their degrees during two commencement ceremonies on Dec. 10, 2022. PNW Pride was in abundance as these new alumni showed off diplomas and posed with friends and family.
A total of 833 candidates were eligible to receive PNW degrees, including 638 baccalaureate degrees, 193 master's degrees and two doctoral degrees.
Congratulations to our summer and fall 2022 graduates! We are excited to welcome you to the Purdue University Northwest alumni community, and we wish you the best as you build your lives and careers.
---
Chancellor's Medallion Recipients
Commencement included presentation of a Chancellor Medallion to the graduating students in each of the university's five academic colleges with the highest grade point average.
College of Business
Jaylene Haugland (Cedar Lake, Indiana)
College of Engineering and Sciences
College of Humanities, Education and Social Sciences
Jalyn Smith (Glenwood, Illinois)
College of Nursing
 Elias Covarrubias (Highland, Indiana)
College of Technology
Lucas D'Antonio (Oak Forest, Illinois)
Fall 2022 Commencement
Look back at Fall 2022 commencement with photo highlights and videos of the commencement livestreams.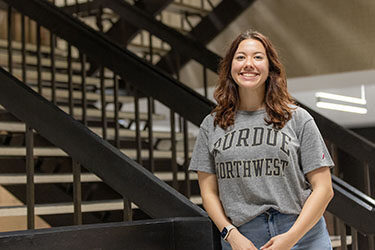 Meet Our Fall 2022 Graduates
Discover what inspires our remarkable Fall 2022 graduates—and how they are Powering Onward to their futures.
Graduate Listings
| Full Name | DEGREE | COLLEGE | CITY | STATE |
| --- | --- | --- | --- | --- |
| Corinne Djuric | DNP | Graduate Professional | Cedar Lake | IN |
| Denise Friesema | DNP | Graduate Professional | Saint John | IN |
| Myisha Adams | MSN | Graduate Studies | Oak Lawn | IL |
| Ese Adiman | MSN | Graduate Studies | Calumet City | IL |
| Amma Afriyie-Bonsu | MSN | Graduate Studies | Olympia Fields | IL |
| Monica Alvarez | MSN | Graduate Studies | Griffith | IN |
| Holden Andrade | MSN | Graduate Studies | Flossmoor | IL |
| Susan Appleton | MSN | Graduate Studies | Lafayette | IN |
| Crystal Bardeson | MSN | Graduate Studies | Schererville | IN |
| Jeremy Batterbee | MS | Graduate Studies | Merrillville | IN |
| Michelle Belusic | MSN | Graduate Studies | Peoria | AZ |
| Crystal Berns | MSED | Graduate Studies | Valparaiso | IN |
| Zackery Bevins | MA | Graduate Studies | Lake Village | IN |
| Chris Biag | MSN | Graduate Studies | Plainfield | IL |
| Jacalyn Brabbs | MSED | Graduate Studies | Hammond | IN |
| Michele Brosius | MSED | Graduate Studies | Griffith | IN |
| Laura Castrejon | MSN | Graduate Studies | Portage | IN |
| Joy Catizone-Dieguez | MSN | Graduate Studies | Griffith | IN |
| Yi-Ching Chen | MACC | Graduate Studies | Hammond | IN |
| Szu Chi | MS | Graduate Studies | Hammond | IN |
| Han Claggett | MSN | Graduate Studies | Lake In The Hills | IL |
| Melodie Cline | MSN | Graduate Studies | Kokomo | IN |
| Olivia Cooley | MSN | Graduate Studies | Uniondale | IN |
| Maeve Cucolotto | MS | Graduate Studies | Chicago | IL |
| Tamira Davis | MSN | Graduate Studies | Chicago | IL |
| Jen DeFauw | MSN | Graduate Studies | Valparaiso | IN |
| Edward Dridi | MBA | Graduate Studies | Chicago | IL |
| Melissa Evers | MSN | Graduate Studies | Griffith | IN |
| Adriana Garcia | MACC | Graduate Studies | Hammond | IN |
| Christina Goetter | MSN | Graduate Studies | Pewaukee | WI |
| Sue Goldamer | MSN | Graduate Studies | Milwaukee | WI |
| Yazmin Gonzalez | MSN | Graduate Studies | Mount Prospect | IL |
| Brandon Goodman | MSN | Graduate Studies | Noblesville | IN |
| Kari Goodman | MSN | Graduate Studies | Rensselaer | IN |
| Olivia Griffin | MSN | Graduate Studies | Hillside | IL |
| Ashley Herman | MSN | Graduate Studies | Oconomowoc | WI |
| Gladys Hernandez | MSN | Graduate Studies | Hammond | IN |
| Amy Hirsch | MSN | Graduate Studies | Hilliard | OH |
| Phillip Howard | MBA | Graduate Studies | Valparaiso | IN |
| Dawn Jezuit | MSED | Graduate Studies | Saint John | IN |
| Jennifer Kennedy | MSN | Graduate Studies | Sturtevant | WI |
| Amy Kirby | MSN | Graduate Studies | Valparaiso | IN |
| Marjan Kostadinov | MBA | Graduate Studies | Chicago | IL |
| Michelle Kurzhal | MSN | Graduate Studies | Lake In The Hills | IL |
| Nikki Laas | MSN | Graduate Studies | Crown Point | IN |
| Shelby Lathrop | MSN | Graduate Studies | Urbana | IL |
| Xintong Liu | MBA | Graduate Studies | Schererville | IN |
| Irene Lopez | MSN | Graduate Studies | Crown Point | IN |
| Kristen Lynch | MSN | Graduate Studies | Rochester | IN |
| Khalid Majdi | MBA | Graduate Studies | Hammond | IN |
| Lorna Marcus | MSN | Graduate Studies | Valparaiso | IN |
| Asta Mockute | MSN | Graduate Studies | Wheaton | IL |
| Julie Norman | MSN | Graduate Studies | Schererville | IN |
| Niki Paul | MSED | Graduate Studies | Champaign | IL |
| Kristin Peura | MSN | Graduate Studies | Kenosha | WI |
| Zach Pflaum | MSED | Graduate Studies | Cedar Lake | IN |
| Andrea Pickett | MSN | Graduate Studies | Blue Island | IL |
| Kerry Pieper | MSN | Graduate Studies | Carmel | IN |
| Sonja Pierson | MSED | Graduate Studies | Valparaiso | IN |
| Tiffany Rice | MSN | Graduate Studies | Elkhart | IN |
| Cecilia Rich | MS | Graduate Studies | Highland | IN |
| Kyle Riordan | MS | Graduate Studies | Crown Point | IN |
| Allison Savini | MSN | Graduate Studies | Bourbonnais | IL |
| Carolyn Schaffer | MSN | Graduate Studies | Frankfort | IL |
| Gurpreet Singh | MSN | Graduate Studies | Westville | IN |
| Heather Smith | MSN | Graduate Studies | Evansville | IN |
| Veronica Smith | MSN | Graduate Studies | Hammond | IN |
| Heather Sparks | MSN | Graduate Studies | Columbia City | IN |
| Kaielle Sykes | MSED | Graduate Studies | Phoenix | IL |
| Saswot Thapa | MSME | Graduate Studies | Branford | CT |
| Courtney Tibbot | MSED | Graduate Studies | La Porte | IN |
| Colleen Toorongian | MS | Graduate Studies | Chassell | MI |
| Elizabeth Vasquez | MSN | Graduate Studies | Dyer | IN |
| Kelsey Wagoner | MSN | Graduate Studies | Plymouth | IN |
| Bianca White | MSN | Graduate Studies | Stoughton | WI |
| Ashayla Williams | MSMSV | Graduate Studies | Merrillville | IN |
| Laura Williamson | MSN | Graduate Studies | Chicago | IL |
| Jenelle Wilson | MSN | Graduate Studies | Bettendorf | IA |
| Areen Zahraee | MS | Graduate Studies | Naperville | IL |
| Anthony Acevedo | BSB | College of Business | Hammond | IN |
| Juan Bonilla | BSB | College of Business | Hammond | IN |
| Ryan Boyd | BSB | College of Business | Gary | IN |
| Rachel Edwards | BSB | College of Business | Gary | IN |
| Nicholas Enochs | BSB | College of Business | Munster | IN |
| Micah Hescott | BSB | College of Business | Saint John | IN |
| Natasha Krska | BSB | College of Business | Saint John | IN |
| Alyssa Lehman | BSB | College of Business | Westville | IN |
| Bridget Liden | BSA | College of Business | Dyer | IN |
| Jennifer Melton | BSB | College of Business | Valparaiso | IN |
| Nadia Milner | BSB | College of Business | Hobart | IN |
| Collin Riddle | BSB | College of Business | Munster | IN |
| Paige Sudicky | BS | College of Business | Hammond | IN |
| Spencer Summers | BSB | College of Business | Valparaiso | IN |
| Sydnie Camacho | BS | College of Engineering & Sci | Hobart | IN |
| Felicia Hovey | BS | College of Engineering & Sci | La Porte | IN |
| Erin Lewis | BS | College of Engineering & Sci | Merrillville | IN |
| Gabriella Zwoll | BS | College of Engineering & Sci | Schererville | IN |
| Akinfolaju Akinsola | BA | College of Hu, Ed & Soc Sci | Dolton | IL |
| Brady Albert | BA | College of Hu, Ed & Soc Sci | Westville | IN |
| Haley Alexander | BLS | College of Hu, Ed & Soc Sci | South Bend | IN |
| Tamara Allen | BA | College of Hu, Ed & Soc Sci | Hammond | IN |
| Brenda Arguelles | BS | College of Hu, Ed & Soc Sci | Oak Lawn | IL |
| Deja Leonni Cain | BA | College of Hu, Ed & Soc Sci | Hobart | IN |
| Andrea Calderon | BA | College of Hu, Ed & Soc Sci | Gary | IN |
| Betsaida Fernandez | BLS | College of Hu, Ed & Soc Sci | Highland | IN |
| Alyssa Glinski | BA | College of Hu, Ed & Soc Sci | Cedar Lake | IN |
| Jacob Hale | BA | College of Hu, Ed & Soc Sci | Lowell | IN |
| Lauryn Haymer | BLS | College of Hu, Ed & Soc Sci | Shorewood | IL |
| Jason Hoskins | BA | College of Hu, Ed & Soc Sci | Hammond | IN |
| Sammar Issa | BA | College of Hu, Ed & Soc Sci | Merrillville | IN |
| Levana Jackson | BA | College of Hu, Ed & Soc Sci | Mishawaka | IN |
| Kmarchai Jones | BA | College of Hu, Ed & Soc Sci | Gary | IN |
| Momnah Khan | CERT | College of Hu, Ed & Soc Sci | Munster | IN |
| Destiny Nugent | BA | College of Hu, Ed & Soc Sci | Lake Station | IN |
| Jessie Ott | BA | College of Hu, Ed & Soc Sci | La Porte | IN |
| Kiersten Schaffer | BA | College of Hu, Ed & Soc Sci | Hammond | IN |
| Tiffany Stokes | BLS | College of Hu, Ed & Soc Sci | Hammond | IN |
| Joe Sullivan | BA | College of Hu, Ed & Soc Sci | Mundelein | IL |
| Samuel Wagner | BLS | College of Hu, Ed & Soc Sci | Munster | IN |
| Vanessa Aguilera Flores | BSN | College of Nursing | Carpentersville | IL |
| Stephanie Allegretti | BSN | College of Nursing | Grayslake | IL |
| Alexa Arms | BSN | College of Nursing | Marysville | OH |
| Ruvicela Arteaga | BSN | College of Nursing | Plainfield | IL |
| Nicholas Balistreri | BSN | College of Nursing | Schaumburg | IL |
| Srijana Baral Lamichhane | BSN | College of Nursing | Reading | PA |
| Monica Bayle-Gomez | BSN | College of Nursing | Schaumburg | IL |
| Erica Beam | BSN | College of Nursing | Frankfort | IN |
| Marissa Berth | BSN | College of Nursing | Rhinelander | WI |
| Anna Bratko | BSN | College of Nursing | Rolling Meadows | IL |
| Allison Buss | BSN | College of Nursing | Channahon | IL |
| Laura Cazares | BSN | College of Nursing | Oak Forest | IL |
| Lisa Chlipala | BSN | College of Nursing | Downers Grove | IL |
| TJ Dahlke | BSN | College of Nursing | Schofield | WI |
| Miranda Daugherty | BSN | College of Nursing | Dixon | IL |
| Crystal Denney | BSN | College of Nursing | Morristown | IN |
| Tom DiGrazia | BSN | College of Nursing | Lockport | IL |
| Jessica Dominguez | BSN | College of Nursing | Aurora | IL |
| Taylor Dorman | BSN | College of Nursing | Chicago | IL |
| Beth Doyle | BSN | College of Nursing | Oak Lawn | IL |
| Rebecca Doyle | BSN | College of Nursing | Tinley Park | IL |
| Melissa Egbert | BSN | College of Nursing | Grabill | IN |
| Nicholas Galvan | BSN | College of Nursing | Burbank | IL |
| Emily Geiger | BSN | College of Nursing | Columbia City | IN |
| Jessica Gomez | BSN | College of Nursing | Griffith | IN |
| Paul Gonzalez | BSN | College of Nursing | Portage | IN |
| Cody Haacker | BSN | College of Nursing | South Elgin | IL |
| Cammi Hanish | BSN | College of Nursing | Park Falls | WI |
| Sheila Harris | BSN | College of Nursing | Troy | OH |
| Nicole Hayes | BSN | College of Nursing | Lindenhurst | IL |
| Nancy Hilger | BSN | College of Nursing | Oswego | IL |
| Tonya Jackson | BSN | College of Nursing | Flossmoor | IL |
| Alexandra Jones | BSN | College of Nursing | Schererville | IN |
| Julija Kasetaite | BSN | College of Nursing | Willowbrook | IL |
| Ayrica Keller | BSN | College of Nursing | Jasonville | IN |
| Michele Kolalis-Lamoureux | BSN | College of Nursing | Homer Glen | IL |
| Ognjen Kolundzija | BSN | College of Nursing | Mount Prospect | IL |
| Courtney Kraus | BSN | College of Nursing | Lombard | IL |
| Melissa Laporte | BSN | College of Nursing | Rothschild | WI |
| Lauren Lind | BSN | College of Nursing | New Lenox | IL |
| Jose Luna | BSN | College of Nursing | Pearland | TX |
| Karen Luna | BSN | College of Nursing | Chicago | IL |
| Angel Mary | BSN | College of Nursing | Mount Prospect | IL |
| Andrea Massow | BSN | College of Nursing | Portage | IN |
| Coreen Mcneiley | BSN | College of Nursing | Dyer | IN |
| Lindsey Miller | BSN | College of Nursing | South Elgin | IL |
| Matthew Miller | BSN | College of Nursing | South Elgin | IL |
| Alondra Morfin Lopez | BSN | College of Nursing | Highland | IN |
| Blake Nance | BSN | College of Nursing | Chicago | IL |
| Carole Navarro | BSN | College of Nursing | Fort Wayne | IN |
| Kristin Ortiz | BSN | College of Nursing | Joliet | IL |
| Melissa Ortiz | BSN | College of Nursing | Lyons | IL |
| Karen Pacella | BSN | College of Nursing | Orland Park | IL |
| Roseline Pius-Alonee | BSN | College of Nursing | Chicago | IL |
| Antonina Polonski | BSN | College of Nursing | Glenview | IL |
| Karina Prado | BSN | College of Nursing | Plainfield | IL |
| Michael Ridenour | BSN | College of Nursing | Noblesville | IN |
| Megan Rivera | BSN | College of Nursing | Cary | IL |
| Diana Roza | BSN | College of Nursing | Glenview | IL |
| Cory Rylko | BSN | College of Nursing | Kirkland | IL |
| Brittany Rzepka | BSN | College of Nursing | Berwyn | IL |
| Valerie Sampram | BSN | College of Nursing | Lansing | IL |
| Angie Sansone | BSN | College of Nursing | Villa Park | IL |
| Nicole Skoczen | BSN | College of Nursing | Plainfield | IL |
| Emily Smith | BSN | College of Nursing | Forsyth | IL |
| Kay Smith | BSN | College of Nursing | Dekalb | IL |
| Brianna Spence | BSN | College of Nursing | West Lafayette | IN |
| Erin Stafford | BSN | College of Nursing | Glen Ellyn | IL |
| Diana Stanila | BSN | College of Nursing | Morton Grove | IL |
| Alanna Sterling | BSN | College of Nursing | Sycamore | IL |
| Amelia Stuart | BSN | College of Nursing | Channahon | IL |
| Syeda Tariq | BSN | College of Nursing | Springfield | IL |
| Jessica Tatar | BSN | College of Nursing | Palos Hills | IL |
| Abigail Todd | BSN | College of Nursing | Peoria | IL |
| Nathalie Torres | BSN | College of Nursing | Westchester | IL |
| Yvette Uribe-Diaz | BSN | College of Nursing | Cicero | IL |
| Bianca Vargas | BSN | College of Nursing | Burbank | IL |
| Tanya Vargas | BSN | College of Nursing | Lombard | IL |
| Loukia Verhage | BSN | College of Nursing | Michigan City | IN |
| Seoma Virgo | BSN | College of Nursing | Evanston | IL |
| Mitchell Vitzthum | BSN | College of Nursing | Saint Charles | IL |
| Moe Weiner | BSN | College of Nursing | Wilmette | IL |
| Jacob Stewart | BS | College of Technology | Valparaiso | IN |
| John Unmisig | BS | College of Technology | Merrillville | IN |
| Philip Zuehlke | BS | College of Technology | South Bend | IN |
| Full Name | DEGREE | COLLEGE | CITY | STATE |
| --- | --- | --- | --- | --- |
| Karen Abad Navarrete | MBA | Graduate Studies | Northridge | CA |
| Saly Abulail | MSED | Graduate Studies | Merrillville | IN |
| Tamim Abulhassan | MSED | Graduate Studies | Merrillville | IN |
| Danielle Allen | MSN | Graduate Studies | Downers Grove | IL |
| Katie Allen | MSN | Graduate Studies | Mosinee | WI |
| Basim Almutairi | MSME | Graduate Studies | Merrillville | IN |
| Ali Al-Salem | MSME | Graduate Studies | Chicago | IL |
| Diana Arreci | MS | Graduate Studies | Berwyn | IL |
| Anna Basham | MSN | Graduate Studies | Manteno | IL |
| Madhuri Batchu | MS | Graduate Studies | Aurora | IL |
| Maaz Bawazir | MSECE | Graduate Studies | Chicago | IL |
| Jhalon Beeks | MA | Graduate Studies | Merrillville | IN |
| Sowbhagya Laxmi Bheemarthi | MS | Graduate Studies | Hammond | IN |
| Jennifer Birchfield | MA | Graduate Studies | Michigan City | IN |
| Al Blackwell | MBA | Graduate Studies | Munster | IN |
| Paige Bohling | MACC | Graduate Studies | Olathe | KS |
| Rachel Boncela | MSED | Graduate Studies | Chesterton | IN |
| Paul Buron | MBA | Graduate Studies | Hammond | IN |
| Celeste Chapko | MSED | Graduate Studies | Crown Point | IN |
| Wenliang Chen | MS | Graduate Studies | Hammond | IN |
| Harshini Cherala | MS | Graduate Studies | Hammond | IN |
| Szymon Cias | MSME | Graduate Studies | Dyer | IN |
| Cathy Cohrs | MSN | Graduate Studies | Carol Stream | IL |
| Jose Corrales | MBA | Graduate Studies | Schererville | IN |
| Joe Cullinan | MS | Graduate Studies | Valparaiso | IN |
| Mia Dal Santo | MS | Graduate Studies | Griffith | IN |
| Rachel Dalton | MSN | Graduate Studies | New Richmond | WI |
| Britney Daniels | MSN | Graduate Studies | Chicago | IL |
| Nallely De la Torre Escalera | MS | Graduate Studies | Crown Point | IN |
| Jim Dedelow | MBA | Graduate Studies | Munster | IN |
| Shanmukhanath Dereddy | MS | Graduate Studies | Hammond | IN |
| Hareesh Devulapalli | MS | Graduate Studies | Hammond | IN |
| Brooke Dewhirst | MSN | Graduate Studies | Floyds Knobs | IN |
| Naga Sai Vignesh Dhulipalla | MS | Graduate Studies | Hammond | IN |
| Kenesha Drummond | MSN | Graduate Studies | Country Club Hills | IL |
| Ogochukwu Duruiheme | MSME | Graduate Studies | Hammond | IN |
| Meagan Edwards | MSED | Graduate Studies | Franklin | IN |
| Janelle Elwood | MBA | Graduate Studies | Valparaiso | IN |
| Ron Evans | MBA | Graduate Studies | Hammond | IN |
| Zihao Fang | MS | Graduate Studies | Hammond | IN |
| Danielle Fouladi | MSN | Graduate Studies | Crown Point | IN |
| Tyler Goldsberry | MS | Graduate Studies | Crown Point | IN |
| Sravani Gorremuchu | MSECE | Graduate Studies | Hammond | IN |
| Sydney Green-All | MSN | Graduate Studies | Mulberry | IN |
| Sharon Greene-Hughes | MSN | Graduate Studies | Calumet Park | IL |
| Sara Haddadin | MBA | Graduate Studies | Chesterton | IN |
| Louise Helferty | MS | Graduate Studies | Chicago | IL |
| Emily Higley | MSME | Graduate Studies | Dyer | IN |
| Amanda Huff | MSN | Graduate Studies | Chicago | IL |
| Elizabeth Huston | MBA | Graduate Studies | Yale | MI |
| Kane Huynh | MS | Graduate Studies | Merrillville | IN |
| Eryn Jacobson | MSN | Graduate Studies | Skokie | IL |
| Melissa Jones | MBA | Graduate Studies | Hobart | IN |
| Luke Karas | MA | Graduate Studies | Hammond | IN |
| Jayanth Karupothula | MS | Graduate Studies | Hammond | IN |
| Norena Kazmierczak | MSED | Graduate Studies | Valparaiso | IN |
| Osman Khan | MS | Graduate Studies | Villa Park | IL |
| Bridget Kick | MSN | Graduate Studies | Evansville | IN |
| Barb Klinner | MSN | Graduate Studies | Wausau | WI |
| Udaykiran Konka | MS | Graduate Studies | Hammond | IN |
| Carrie Kooy | MSN | Graduate Studies | Wheatfield | IN |
| Satya Phalani Krishna Reddy Kovvuri | MS | Graduate Studies | Hammond | IN |
| Lauren LaBlance | MS | Graduate Studies | Chicago | IL |
| Madeleine Lamb | MS | Graduate Studies | Chelsea | MI |
| Julie Larson | MA | Graduate Studies | Highland | IN |
| Tsuki Niu Liang | MS | Graduate Studies | Whiting | IN |
| Xiaofan Liu | MSECE | Graduate Studies | Hammond | IN |
| Jennifer Lute | MS | Graduate Studies | Trail Creek | IN |
| Charansai Maddineni | MS | Graduate Studies | Hammond | IN |
| Tiffany Martin | MSN | Graduate Studies | Lafayette | IN |
| Melissa Meunier-Thompson | MSN | Graduate Studies | De Pere | WI |
| Dallas Milligan | MA | Graduate Studies | Munster | IN |
| Zakir Ali Mohammad | MSME | Graduate Studies | highland | IN |
| Abdul Rahman Mohammed | MSECE | Graduate Studies | Chicago | IL |
| Gufran Mohammed | MSME | Graduate Studies | Highland | IN |
| Kareem Mohammed | MSME | Graduate Studies | Chicago | IL |
| Kene Mozea | MBA | Graduate Studies | Hammond | IN |
| Olonbayar Munkhdash | MACC | Graduate Studies | Schererville | IN |
| Jessica Munsie | MSED | Graduate Studies | Highland | IN |
| Anu Nandagopal | MBA | Graduate Studies | Mason | OH |
| Adith Narayan | MS | Graduate Studies | Hammond | IN |
| Alec Nirtaut | MBA | Graduate Studies | Cedar Lake | IN |
| Sruthi Nutakki | MS | Graduate Studies | Guntur District | IA |
| Janki Patel | MSN | Graduate Studies | Niles | IL |
| Ajay Reddy Perkit | MS | Graduate Studies | Hammond | IN |
| Nicholas Phillips | MBA | Graduate Studies | Valparaiso | IN |
| Leticia Ramirez | MBA | Graduate Studies | Chicago | IL |
| Tanya Rizo | MBA | Graduate Studies | Griffith | IN |
| Orren Roberts | MBA | Graduate Studies | Suwanee | GA |
| Humberto Rodriguez | MBA | Graduate Studies | Saint John | IN |
| John Rosser | MSME | Graduate Studies | Portage | IN |
| Jack Rupp | MS | Graduate Studies | Cedar Lake | IN |
| Ewelina Rzeznik | MSN | Graduate Studies | Wheeling | IL |
| Diane Schneider | MA | Graduate Studies | Fort Myers | FL |
| Molly Setzekorn | MS | Graduate Studies | Evansville | IN |
| Muzammil Shaik | MSECE | Graduate Studies | Highland | IN |
| Lucas Skowronski Stolze | MBA | Graduate Studies | Hammond | IN |
| Karley Spriggs | MS | Graduate Studies | Griffith | IN |
| Melinda Stallworth | MSN | Graduate Studies | Chicago | IL |
| Samantha Strauch | MBA | Graduate Studies | Cedar Lake | IN |
| Deepthi Talluri | MSME | Graduate Studies | Sunnyvale | CA |
| Marilyn Thomas | MSED | Graduate Studies | Gary | IN |
| Shelley Tinnel | MSN | Graduate Studies | Demotte | IN |
| Aishwarya Tiruchinapalli Rajender | MS | Graduate Studies | Hammond | IN |
| Missy Tull | MSN | Graduate Studies | Clinton | IL |
| Chukwunedum Uzor | MSME | Graduate Studies | Hammond | IN |
| Harsha Neeraj Varanasi | MSECE | Graduate Studies | Hammond | IN |
| Keanu Vasquez | MSECE | Graduate Studies | ROMEOVILLE | IL |
| Dwayne Washington | MBA | Graduate Studies | Hammond | IN |
| Molly Whiting | MSN | Graduate Studies | East Peoria | IL |
| Hannah Wiesemann | MS | Graduate Studies | Highland | IN |
| Zinzi Williams | MBA | Graduate Studies | Merrillville | IN |
| Ryan Wilson | MACC | Graduate Studies | Griffith | IN |
| India Woodson | MSN | Graduate Studies | Hobart | IN |
| Maria Yepez | MBA | Graduate Studies | Chicago | IL |
| Anran Zhou | MS | Graduate Studies | Tallahassee | FL |
| Mia Ainscough | BSB | College of Business | Dyer | IN |
| Enbethaq Alhakeem | BSB | College of Business | Highland | IN |
| Carly Anderson | BS | College of Business | Crown Point | IN |
| Sam Aurelio | BSA | College of Business | Saint John | IN |
| Sam Aurelio | BSB | College of Business | Saint John | IN |
| Brittany Barnard | BSB | College of Business | Kokomo | IN |
| Dillon Black | BSA | College of Business | Schererville | IN |
| Marta Bustos | BSA | College of Business | Valparaiso | IN |
| Kenneth Castro | BSB | College of Business | Chicago | IL |
| Ish Contreras | BSB | College of Business | Joliet | IL |
| Nathan Cook | BSA | College of Business | Lowell | IN |
| Nathan Cook | BSB | College of Business | Lowell | IN |
| Parker Darnstaedt | BSB | College of Business | Crown Point | IN |
| Danielle De Boer | BSA | College of Business | Saint John | IN |
| Alexander Decker | BSA | College of Business | Hobart | IN |
| Alexander Decker | BSB | College of Business | Hobart | IN |
| Mya Dixon | BSB | College of Business | Lynwood | IL |
| Leron Doss | BSB | College of Business | Burbank | IL |
| Daniel DuBois | BSB | College of Business | Demotte | IN |
| Meghan Eldridge | BSA | College of Business | Chesterton | IN |
| Alvaro Estrada | BSA | College of Business | Crete | IL |
| Brooke Feagin | BSB | College of Business | Gary | IN |
| Robert Flanagan-Seels | BSB | College of Business | Munster | IN |
| Matthew Florida | BSB | College of Business | Saint John | IN |
| Brianna Fowler | BSB | College of Business | Westville | IN |
| Antonio Garcia | BSB | College of Business | Griffith | IN |
| Gerardo Garibay | BSB | College of Business | Munster | IN |
| Elias Gerodemos | BSB | College of Business | Crown Point | IN |
| Elias Gerodemos | BSA | College of Business | Crown Point | IN |
| Fabian Gonzalez | BSA | College of Business | Calumet City | IL |
| Jacob Gorman | BSB | College of Business | Schererville | IN |
| Megan Granados | BSB | College of Business | Highland | IN |
| Heather Haas | BSB | College of Business | Lowell | IN |
| Jaylene Haugland | BSA | College of Business | Cedar Lake | IN |
| Danny Hurtado | BSB | College of Business | Gary | IN |
| Lex Johnson | BSB | College of Business | Valparaiso | IN |
| Adam Jongkind | BSA | College of Business | La Porte | IN |
| Krishna Kapote | BSB | College of Business | Chesterton | IN |
| Madison Kobitka | BSB | College of Business | Hobart | IN |
| Madeline Kubaszyk | BSB | College of Business | La Porte | IN |
| Nicholas Lane | BS | College of Business | Valparaiso | IN |
| Leo Lin | BSB | College of Business | Schererville | IN |
| Anthony Mallidis | BSB | College of Business | Crown Point | IN |
| Kyle Malone-Codozor | BSB | College of Business | Indianapolis | IN |
| Julia Mansour | BS | College of Business | Munster | IN |
| Tristen Manuszak | BSB | College of Business | La Porte | IN |
| Eric Martinez | BSB | College of Business | Munster | IN |
| Evan Michner | BSB | College of Business | Highland | IN |
| Noah Mitcheltree | BSB | College of Business | Griffith | IN |
| Jeremy Mudro | BSA | College of Business | Munster | IN |
| Valerie Myszak | BSB | College of Business | Hammond | IN |
| Justin Olesek | BS | College of Business | Crown Point | IN |
| Justice Orosz | BS | College of Business | Valparaiso | IN |
| Erin Paskewicz | BSA | College of Business | Munster | IN |
| Julianna Phelps | BS | College of Business | Wheatfield | IN |
| Olivia Porter | BSB | College of Business | Hammond | IN |
| Filip Radojcic | BSB | College of Business | Crown Point | IN |
| Amanda Reyes | BS | College of Business | Hammond | IN |
| Tyara Robinson | BSB | College of Business | Bolingbrook | IL |
| Ryan Russell | BSB | College of Business | Schererville | IN |
| Kayla Schneider | BSB | College of Business | Westville | IN |
| Paige Seely | BSB | College of Business | Chesterton | IN |
| Jayraj Sharma | BS | College of Business | Merrillville | IN |
| Torii Sheriff | BSB | College of Business | Hobart | IN |
| Michael Siegel | BSB | College of Business | Crown Point | IN |
| Milan Stanisic | BSB | College of Business | Enola | PA |
| Allyson Stills | BSB | College of Business | Valparaiso | IN |
| Katelyn Swistek | BSB | College of Business | Trail Creek | IN |
| Sara Timmons | BSB | College of Business | Portage | IN |
| Brianna Tomaszewski | BSB | College of Business | Hammond | IN |
| Joseph Tracy | BSB | College of Business | Chesterton | IN |
| Emily Uelman | BSA | College of Business | Schererville | IN |
| Nicole Uzcategui | BSB | College of Business | Doral | FL |
| Nicole Uzcategui | BSA | College of Business | Doral | FL |
| Jose Villarruel | BSB | College of Business | Valparaiso | IN |
| Douglas Visnack | BSB | College of Business | Saint John | IN |
| Tyler Whalen | BSB | College of Business | Crown Point | IN |
| Megan White | BSB | College of Business | Hobart | IN |
| Drucilla Williams | BSB | College of Business | Gary | IN |
| Isabella Wolski | BSA | College of Business | Munster | IN |
| Torre Yancy | BSB | College of Business | Gary | IN |
| Joseph Zidich | BSB | College of Business | Hammond | IN |
| Xymon Aesquivel | BSEE | College of Engineering & Sciences | Munster | IN |
| Collin Allen | BSME | College of Engineering & Sciences | Hobart | IN |
| Saleh Alshammari | BSME | College of Engineering & Sciences | Berwyn | IL |
| Jon Andershock | BSCE | College of Engineering & Sciences | Chesterton | IN |
| Brittney Arsenault | BSCE | College of Engineering & Sciences | Crown Point | IN |
| Payton Bailey | BSCE | College of Engineering & Sciences | Portage | IN |
| Marina Banjoff | BS | College of Engineering & Sciences | Chesterton | IN |
| Will Boukal | BSEE | College of Engineering & Sciences | Lansing | IL |
| Maggie Brosman | BS | College of Engineering & Sciences | Hammond | IN |
| Cameron Coleman | BS | College of Engineering & Sciences | Chicago | IL |
| Martha Correa | BSCMPE | College of Engineering & Sciences | Merrillville | IN |
| Anna Cruz | BS | College of Engineering & Sciences | Munster | IN |
| Erika Cruz | BS | College of Engineering & Sciences | Midlothian | IL |
| Anne Cunningham | BSME | College of Engineering & Sciences | New Lenox | IL |
| Adam Cymerman | BSME | College of Engineering & Sciences | Schererville | IN |
| Dani Demko | BS | College of Engineering & Sciences | Portage | IN |
| Molly DeValkenaere | BS | College of Engineering & Sciences | Whiting | IN |
| Marcos Jose Diaz Gutierrez | BS | College of Engineering & Sciences | Hammond | IN |
| Ryan Disselkoen | BSME | College of Engineering & Sciences | Grant Park | IL |
| Anthony Dunlap | BS | College of Engineering & Sciences | Dahinda | IL |
| Michelle Foster | BS | College of Engineering & Sciences | Valparaiso | IN |
| Aveni Gabino | BS | College of Engineering & Sciences | Munster | IN |
| Thomas Garcia | BSCE | College of Engineering & Sciences | Hammond | IN |
| David Gill | BSEE | College of Engineering & Sciences | Hammond | IN |
| Emily Glover | BS | College of Engineering & Sciences | Crown Point | IN |
| David Gordian | BS | College of Engineering & Sciences | Valparaiso | IN |
| Aaron Greichunos | BSME | College of Engineering & Sciences | Highland | IN |
| Nichole Haddad | BS | College of Engineering & Sciences | Chicago | IL |
| Michael Haddadin | BSCE | College of Engineering & Sciences | Dyer | IN |
| Katelyn Hadu | BS | College of Engineering & Sciences | Crown Point | IN |
| Nate Hartford | BS | College of Engineering & Sciences | Crown Point | IN |
| Jonathan Heins | BSME | College of Engineering & Sciences | Valparaiso | IN |
| Angelica Hernandez | BSCE | College of Engineering & Sciences | Blue Island | IL |
| Alexis Herrera | BSME | College of Engineering & Sciences | Chicago | IL |
| Regan Ingram | BS | College of Engineering & Sciences | Crown Point | IN |
| Henry Ipema | BSEE | College of Engineering & Sciences | Hammond | IN |
| Christine Jackson | BS | College of Engineering & Sciences | Chesterton | IN |
| Shandan Johnson | BS | College of Engineering & Sciences | Lowell | IN |
| Loukas Karallas | BS | College of Engineering & Sciences | Michigan City | IN |
| Ankurpreet Kaur | BS | College of Engineering & Sciences | Portage | IN |
| Vincent Kennedy | BSCE | College of Engineering & Sciences | Hammond | IN |
| Daniel Kepich | BSCE | College of Engineering & Sciences | Western Springs | IL |
| Dejan Kloth | BSME | College of Engineering & Sciences | Whiting | IN |
| Thomas Larkin | BSCMPE | College of Engineering & Sciences | Lowell | IN |
| Kim Mabunay | BS | College of Engineering & Sciences | Schererville | IN |
| Daina Maleiska | BS | College of Engineering & Sciences | Lemont | IL |
| Mya Methner | BS | College of Engineering & Sciences | Michigan City | IN |
| Bryanna Moonen | BS | College of Engineering & Sciences | Waukesha | WI |
| Maria Napoles | BS | College of Engineering & Sciences | Cedar Lake | IN |
| Nicholas Ochoa | BSEE | College of Engineering & Sciences | Munster | IN |
| Isra Odeh | BS | College of Engineering & Sciences | Highland | IN |
| Noah Osearo | BS | College of Engineering & Sciences | Dyer | IN |
| Gisselle Padilla | BS | College of Engineering & Sciences | Hammond | IN |
| Gia Pawlak | BS | College of Engineering & Sciences | Merrillville | IN |
| Mikey Plaut | BS | College of Engineering & Sciences | Dyer | IN |
| Ean Plude | BS | College of Engineering & Sciences | Merrillville | IN |
| Julia Prather | BS | College of Engineering & Sciences | La Porte | IN |
| Aaron Ramirez | BS | College of Engineering & Sciences | Hobart | IN |
| Kj Randell | BSCE | College of Engineering & Sciences | Merrillville | IN |
| Amanda Rich | BS | College of Engineering & Sciences | Valparaiso | IN |
| Emaniee Richardson | BS | College of Engineering & Sciences | Hammond | IN |
| Abigail Rodriguez | BS | College of Engineering & Sciences | Highland | IN |
| Luis Rodriguez | BSEE | College of Engineering & Sciences | Griffith | IN |
| Samantha Rodriguez | BS | College of Engineering & Sciences | Hammond | IN |
| Edgar Rosales | BSCE | College of Engineering & Sciences | Hammond | IN |
| Joe Salazar | BSME | College of Engineering & Sciences | Highland | IN |
| Lu Xi Scherf | BS | College of Engineering & Sciences | Michigan City | IN |
| Lauren Schuh | BSEE | College of Engineering & Sciences | Gary | IN |
| Mya Seaton | BS | College of Engineering & Sciences | Hammond | IN |
| Alex Senyuk | BSEE | College of Engineering & Sciences | River Grove | IL |
| Alyssa Sharkey | BS | College of Engineering & Sciences | Lowell | IN |
| Allison Smith | BS | College of Engineering & Sciences | Union Mills | IN |
| Dylan Stearn | BSME | College of Engineering & Sciences | Huntingtown | MD |
| Nathan Stevens | BSCE | College of Engineering & Sciences | Schererville | IN |
| Ryan Sullivan | BS | College of Engineering & Sciences | Wanatah | IN |
| Cinthia Tafolla | BSEE | College of Engineering & Sciences | Gary | IN |
| Lily Toney Laballiere | BS | College of Engineering & Sciences | Highland | IN |
| Brittney Troup | BS | College of Engineering & Sciences | Chesterton | IN |
| Stevan Vuckovic | BS | College of Engineering & Sciences | Lowell | IN |
| Sara Wenzel | BS | College of Engineering & Sciences | Crown Point | IN |
| Cameron Wickersham | BS | College of Engineering & Sciences | Westville | IN |
| Lola Williamson | BS | College of Engineering & Sciences | Flossmoor | IL |
| Phil Zobel | BSEE | College of Engineering & Sciences | Cedar Lake | IN |
| Noah Aguilera | BA | College of Humanities, Education & Social Sciences | Crown Point | IN |
| Diego Alanis | BA | College of Humanities, Education & Social Sciences | Munster | IN |
| Jenna Al-Sharif | BA | College of Humanities, Education & Social Sciences | Whiting | IN |
| Bri Alvarez | BA | College of Humanities, Education & Social Sciences | Munster | IN |
| V Archuleta | BA | College of Humanities, Education & Social Sciences | Merrillville | IN |
| Rey Arevalos | BA | College of Humanities, Education & Social Sciences | Hammond | IN |
| Dylan Arrington | BA | College of Humanities, Education & Social Sciences | Lansing | IL |
| Ethan Berdine | BA | College of Humanities, Education & Social Sciences | Crown Point | IN |
| Amanda Beristain | BA | College of Humanities, Education & Social Sciences | Hammond | IN |
| Delia Booker | BA | College of Humanities, Education & Social Sciences | Griffith | IN |
| Kristy Bosvay | BS | College of Humanities, Education & Social Sciences | Dyer | IN |
| Caitlin Brady | BA | College of Humanities, Education & Social Sciences | Crown Point | IN |
| Sieanna Caldwell | BLS | College of Humanities, Education & Social Sciences | Plymouth | IN |
| Blake Carden | BLS | College of Humanities, Education & Social Sciences | Morocco | IN |
| Christian Certa | BLS | College of Humanities, Education & Social Sciences | Greenwood | IN |
| Taylor Chandler | BA | College of Humanities, Education & Social Sciences | Schererville | IN |
| Kayla Chestang | BA | College of Humanities, Education & Social Sciences | Hammond | IN |
| Jaydah Cobb | BA | College of Humanities, Education & Social Sciences | Merrillville | IN |
| Deonna Crosby | BS | College of Humanities, Education & Social Sciences | Crete | IL |
| Antonio Cruz | BS | College of Humanities, Education & Social Sciences | Merrillville | IN |
| Destynee Davis | BS | College of Humanities, Education & Social Sciences | Gary | IN |
| Rafael De Jesus Diaz | BA | College of Humanities, Education & Social Sciences | Hammond | IN |
| Gina Delgrosso | BA | College of Humanities, Education & Social Sciences | Hobart | IN |
| Gabrielle Dillard | BS | College of Humanities, Education & Social Sciences | Valparaiso | IN |
| Chamachia Dixon | BA | College of Humanities, Education & Social Sciences | Hammond | IN |
| Madison Dornack | BA | College of Humanities, Education & Social Sciences | Crown Point | IN |
| Tashona Dowdell | BA | College of Humanities, Education & Social Sciences | Schererville | IN |
| Jennipher Durham | BS | College of Humanities, Education & Social Sciences | La Porte | IN |
| Erik Echeverria | BA | College of Humanities, Education & Social Sciences | Hammond | IN |
| Gretchen Escalera Martinez | BA | College of Humanities, Education & Social Sciences | Crown Point | IN |
| Emily Feliciano | BA | College of Humanities, Education & Social Sciences | Hammond | IN |
| Nerissa Fezler | BA | College of Humanities, Education & Social Sciences | Cedar Lake | IN |
| Brittny Fonte | BA | College of Humanities, Education & Social Sciences | Hebron | IN |
| Victoria Gall | BS | College of Humanities, Education & Social Sciences | Saint John | IN |
| felicia Garcia | BLS | College of Humanities, Education & Social Sciences | Portage | IN |
| Mauricio Garcia | BA | College of Humanities, Education & Social Sciences | Valparaiso | IN |
| Lex Gardner | BS | College of Humanities, Education & Social Sciences | Gary | IN |
| Emily Gonzales | BA | College of Humanities, Education & Social Sciences | Griffith | IN |
| Morgan Greathouse | BS | College of Humanities, Education & Social Sciences | Highland | IN |
| Alex Gutierrez | BS | College of Humanities, Education & Social Sciences | Valparaiso | IN |
| Lany Hagy | BA | College of Humanities, Education & Social Sciences | Valparaiso | IN |
| Anjelina Haro | BS | College of Humanities, Education & Social Sciences | Munster | IN |
| Emily Havlin | BA | College of Humanities, Education & Social Sciences | Cedar Lake | IN |
| Mikayla Hayes | BA | College of Humanities, Education & Social Sciences | Munster | IN |
| Tim Howard | BA | College of Humanities, Education & Social Sciences | South Bend | IN |
| Michelle Howes | BA | College of Humanities, Education & Social Sciences | Saint John | IN |
| Sundo Hwang | BA | College of Humanities, Education & Social Sciences | Hammond | IN |
| Dave Isom | BS | College of Humanities, Education & Social Sciences | Crown Point | IN |
| Crystal James | BLS | College of Humanities, Education & Social Sciences | Gary | IN |
| Lakesha Joseph | BLS | College of Humanities, Education & Social Sciences | Portage | IN |
| Cortney Kelley | BLS | College of Humanities, Education & Social Sciences | Lake Village | IN |
| Miya Kennedy | BA | College of Humanities, Education & Social Sciences | Whiting | IN |
| Antonio Kocoski | BS | College of Humanities, Education & Social Sciences | Dyer | IN |
| Courtney Kohlman | BA | College of Humanities, Education & Social Sciences | Schererville | IN |
| Emily Kozina | BA | College of Humanities, Education & Social Sciences | Lowell | IN |
| Diamond Lavender | BS | College of Humanities, Education & Social Sciences | Gary | IN |
| Alyssa Lies | BS | College of Humanities, Education & Social Sciences | Long Beach | IN |
| Madison Linzy | BS | College of Humanities, Education & Social Sciences | Valparaiso | IN |
| Noelle Long | BA | College of Humanities, Education & Social Sciences | Munster | IN |
| Delayna Macak | BA | College of Humanities, Education & Social Sciences | Saint John | IN |
| Nicole Maurer | BA | College of Humanities, Education & Social Sciences | Lakemoor | IL |
| Selena Michko | BA | College of Humanities, Education & Social Sciences | Dyer | IN |
| Laura Mielke | BA | College of Humanities, Education & Social Sciences | Hamlet | IN |
| Meghan Miller | BA | College of Humanities, Education & Social Sciences | La Porte | IN |
| Grace Moore | BS | College of Humanities, Education & Social Sciences | Demotte | IN |
| Courtney Morton | BA | College of Humanities, Education & Social Sciences | Highland | IN |
| Sarah Moyer | BA | College of Humanities, Education & Social Sciences | Crown Point | IN |
| Tulga Naranbaatar | BA | College of Humanities, Education & Social Sciences | Hammond | IN |
| Faith Norem | BA | College of Humanities, Education & Social Sciences | Knox | IN |
| Ivan Nunez | BA | College of Humanities, Education & Social Sciences | Chicago | IL |
| Alyssa Okeley | BA | College of Humanities, Education & Social Sciences | Knox | IN |
| Jessica O'Kelly | BA | College of Humanities, Education & Social Sciences | Valparaiso | IN |
| Christina Palma | BA | College of Humanities, Education & Social Sciences | Wheatfield | IN |
| Andria Pataky | BA | College of Humanities, Education & Social Sciences | Wanatah | IN |
| Tae Phillips | BA | College of Humanities, Education & Social Sciences | Highland | IN |
| Zak Pizer | BA | College of Humanities, Education & Social Sciences | Highland | IN |
| Alexandra Plata | BA | College of Humanities, Education & Social Sciences | Hammond | IN |
| Lindsey Polito | BA | College of Humanities, Education & Social Sciences | Schererville | IN |
| Michael Rich | BLS | College of Humanities, Education & Social Sciences | Highland | IN |
| Laura Riggle | BA | College of Humanities, Education & Social Sciences | Portage | IN |
| Krystal Rigoni | BLS | College of Humanities, Education & Social Sciences | Hebron | IN |
| Kathryn Rochefort | BA | College of Humanities, Education & Social Sciences | Valparaiso | IN |
| Ashley Roof | BS | College of Humanities, Education & Social Sciences | Valparaiso | IN |
| Charles Rosiar | BA | College of Humanities, Education & Social Sciences | Valparaiso | IN |
| Abigail Ruiz | BA | College of Humanities, Education & Social Sciences | Hammond | IN |
| Makayla Satterfield | BA | College of Humanities, Education & Social Sciences | Hobart | IN |
| Nicole Schmidt | BA | College of Humanities, Education & Social Sciences | Hebron | IN |
| Megan Schmittel | BA | College of Humanities, Education & Social Sciences | Munster | IN |
| Hannah Shetlar | BS | College of Humanities, Education & Social Sciences | Crown Point | IN |
| Jalyn Smith | BA | College of Humanities, Education & Social Sciences | Chicago Heights | IL |
| Daniela Sosa | BA | College of Humanities, Education & Social Sciences | Saint John | IN |
| Francesca Spero | BS | College of Humanities, Education & Social Sciences | Valparaiso | IN |
| Tiffani Steinhagen | BA | College of Humanities, Education & Social Sciences | Elkhart | IN |
| Naser Taharwah | BA | College of Humanities, Education & Social Sciences | Crown Point | IN |
| Joshua Taylor | BA | College of Humanities, Education & Social Sciences | Gary | IN |
| Kayla Thompson | BS | College of Humanities, Education & Social Sciences | Crown Point | IN |
| Stephanie Tipold | BLS | College of Humanities, Education & Social Sciences | Valparaiso | IN |
| Brigitte Trinidad | BLS | College of Humanities, Education & Social Sciences | Portage | IN |
| Rayven Vaughn | BS | College of Humanities, Education & Social Sciences | Hammond | IN |
| Jenna Wadding | BA | College of Humanities, Education & Social Sciences | Chesterton | IN |
| La-Wedia Washington | BA | College of Humanities, Education & Social Sciences | Lansing | IL |
| Sam Weller | BLS | College of Humanities, Education & Social Sciences | Valparaiso | IN |
| Samantha Wesley | BA | College of Humanities, Education & Social Sciences | Chesterton | IN |
| Ahkeya White | BA | College of Humanities, Education & Social Sciences | Portage | IN |
| Melinda White | BLS | College of Humanities, Education & Social Sciences | Gary | IN |
| Kassidy Wilbourn | BLS | College of Humanities, Education & Social Sciences | North Judson | IN |
| Jasmine Williams | BA | College of Humanities, Education & Social Sciences | Michigan City | IN |
| Matt Woodbury | BA | College of Humanities, Education & Social Sciences | Kouts | IN |
| Holly Yager | BA | College of Humanities, Education & Social Sciences | Kouts | IN |
| Mia Yoshikane | BS | College of Humanities, Education & Social Sciences | Hammond | IN |
| Kimberly Young | BA | College of Humanities, Education & Social Sciences | Michigan City | IN |
| Jamaica Abad | BSN | College of Nursing | Munster | IN |
| Christhyl Abad | BSN | College of Nursing | Munster | IN |
| Saly Abulail | BSN | College of Nursing | Highland | IN |
| Tinu Adesida | BSN | College of Nursing | Elgin | IL |
| Megan Androwski | BSN | College of Nursing | Naperville | IL |
| Bianca Aragones | BSN | College of Nursing | Miramar | FL |
| Erica Arndt | BSN | College of Nursing | Owen | WI |
| Vicky Arreola | BSN | College of Nursing | Elgin | IL |
| Godfrey Aspirin | BSN | College of Nursing | Des Plaines | IL |
| Cassie Avila | BSN | College of Nursing | Gurnee | IL |
| Argenta Ballazhi | BSN | College of Nursing | Schaumburg | IL |
| Emma Barnett | BSN | College of Nursing | Griffith | IN |
| Jennifer Baron | BSN | College of Nursing | Oregon | WI |
| Angela Barrera | BSN | College of Nursing | Chicago | IL |
| Emily Beretta | BSN | College of Nursing | Chicago | IL |
| Amy Bevers | BSN | College of Nursing | Heyworth | IL |
| Aliveya Bishop | BSN | College of Nursing | Hammond | IN |
| Kalie Bock | BSN | College of Nursing | Palos Hills | IL |
| Savannah Bohlen | BSN | College of Nursing | Winfield | IN |
| Graysen Bormet | BSN | College of Nursing | Plainfield | IL |
| Sierra Boszor | BSN | College of Nursing | Munster | IN |
| Stephanie Bowen | BSN | College of Nursing | Crown Point | IN |
| Sarah Bowser | BSN | College of Nursing | Columbia City | IN |
| Jose Bravo | BSN | College of Nursing | Downers Grove | IL |
| Vaughn Brigham | BSN | College of Nursing | Rolling Meadows | IL |
| Briseida Bustamante | BSN | College of Nursing | Cicero | IL |
| Aiza Butt | BSN | College of Nursing | Algonquin | IL |
| Alexis Cain | BSN | College of Nursing | Dyer | IN |
| Joan Calixto | BSN | College of Nursing | Palos Heights | IL |
| Yesenia Canchola | BSN | College of Nursing | East Chicago | IN |
| Elizabeth Cashman | BSN | College of Nursing | Shrewsbury | MA |
| Sendy Castaneda | BSN | College of Nursing | Elmhurst | IL |
| Nicole Castillo | BSN | College of Nursing | Oak Lawn | IL |
| Jessika Castillo-Rivera | BSN | College of Nursing | Munster | IN |
| Rumbi Chidavaenzi | BSN | College of Nursing | Roselle | IL |
| Ewelina Chrapczynski | BSN | College of Nursing | Streamwood | IL |
| Abi Chrudimsky | BSN | College of Nursing | Portage | WI |
| Kayla Colbert | BSN | College of Nursing | Lansing | IL |
| Lexie Conger | BSN | College of Nursing | Merrillville | IN |
| Anna Contreras | BSN | College of Nursing | Homewood | IL |
| Dania Corredor | BSN | College of Nursing | Indianapolis | IN |
| Hector Cortes | BSN | College of Nursing | Lisle | IL |
| Lee Covarrubias | BSN | College of Nursing | Highland | IN |
| Enedina Covarrubias | BSN | College of Nursing | Highland | IN |
| Nadia Creamer | BSN | College of Nursing | Arlington Heights | IL |
| Mathieu Creighton Caraway | BSN | College of Nursing | Chicago | IL |
| Ryan Czarnecki | BSN | College of Nursing | Crown Point | IN |
| Richard Danan | BSN | College of Nursing | Streamwood | IL |
| Glen Davidson | BSN | College of Nursing | Elgin | IL |
| Brianna Davignon | BSN | College of Nursing | Terre Haute | IN |
| Marisa Day | BSN | College of Nursing | Valparaiso | IN |
| Karen DeCort | BSN | College of Nursing | Aurora | IL |
| Olivia Deja | BSN | College of Nursing | Highland | IN |
| Kim DeLaTorre | BSN | College of Nursing | Summit Argo | IL |
| John Diller | BSN | College of Nursing | Goshen | IN |
| Sydney Dinan | BSN | College of Nursing | Schererville | IN |
| Starlight Domrese | BSN | College of Nursing | Cary | IL |
| Abigail Doss | BSN | College of Nursing | Hammond | IN |
| Tay Dove-Zoladz | BSN | College of Nursing | Chicago | IL |
| Amber Duerlinger | BSN | College of Nursing | Terre Haute | IN |
| Erin Elder | BSN | College of Nursing | Hammond | IN |
| Taylor Elliott | BSN | College of Nursing | Mosinee | WI |
| Shavongh Evans | BSN | College of Nursing | La Porte | IN |
| Taylor Fabian | BSN | College of Nursing | Portage | IN |
| Britney Fijut | BSN | College of Nursing | Crown Point | IN |
| Emily Finch | BSN | College of Nursing | Lafayette | IN |
| Anna Flores | BSN | College of Nursing | Plainfield | IN |
| Kristen Franks | BSN | College of Nursing | Brownsburg | IN |
| Alli Franzese | BSN | College of Nursing | Northbrook | IL |
| Jackie Frye | BSN | College of Nursing | Highland | IN |
| Amanda Garcia | BSN | College of Nursing | Hammond | IN |
| Jacquelene Garcia | BSN | College of Nursing | Merrionette Park | IL |
| Jocelyne Garcia | BSN | College of Nursing | Merrionette Park | IL |
| Marlene Garcia | BSN | College of Nursing | Hammond | IN |
| Meghann Garcia | BSN | College of Nursing | La Porte | IN |
| Toni Garrett | BSN | College of Nursing | Michigan City | IN |
| Nkechi Geoffrey-Owowo | BSN | College of Nursing | Lynwood | IL |
| Violet Gerodemos | BSN | College of Nursing | Schererville | IN |
| Lexis Gibrick | BSN | College of Nursing | Evanston | IL |
| Johnny Gilchrist | BSN | College of Nursing | Northbrook | IL |
| Caleb Goggins | BSN | College of Nursing | Chicago | IL |
| Samantha Gomez | BSN | College of Nursing | Highland | IN |
| Stephanie Gonder | BSN | College of Nursing | Tinley Park | IL |
| Julia Grabow | BSN | College of Nursing | Roscoe | IL |
| Valerie Grilli | BSN | College of Nursing | Mokena | IL |
| Joseph Halloran | BSN | College of Nursing | Elk Grove Village | IL |
| Tammy Hamilton | BSN | College of Nursing | Indianapolis | IN |
| Natalia Hankus | BSN | College of Nursing | Rolling Meadows | IL |
| Shannyn Hardin | BSN | College of Nursing | Riverdale | IL |
| Jessica Harrell | BSN | College of Nursing | Worth | IL |
| Lauren Harstad | BSN | College of Nursing | Bloomington | IL |
| Laurie Hayes | BSN | College of Nursing | Valparaiso | IN |
| Emilee Haynes | BSN | College of Nursing | Cary | IL |
| Kim Heenan | BSN | College of Nursing | New Lenox | IL |
| Andy Hermanek | BSN | College of Nursing | Crown Point | IN |
| Diane Hernandez | BSN | College of Nursing | Plainfield | IL |
| Stan Herrera | BSN | College of Nursing | Munster | IN |
| Amy Hochberg | BSN | College of Nursing | Arlington Heights | IL |
| Autumn Holland | BSN | College of Nursing | Homer Glen | IL |
| Kaitlyn Holmgren | BSN | College of Nursing | Hanna | IN |
| Lisa Hughes | BSN | College of Nursing | Lemont | IL |
| Kayla Hull | BSN | College of Nursing | Asheville | NC |
| Melanie Jackson | BSN | College of Nursing | Evanston | IL |
| Miranda Jacobson | BSN | College of Nursing | Sycamore | IL |
| Julian Jalomo | BSN | College of Nursing | Blue Island | IL |
| Mindy Jarboe | BSN | College of Nursing | Mahomet | IL |
| Rachel Johnson | BSN | College of Nursing | Saint John | IN |
| Kyla Jones | BSN | College of Nursing | Addison | IL |
| Lori Jones | BSN | College of Nursing | Chesterton | IN |
| Nathaniel Jordan | BSN | College of Nursing | Arlington Heights | IL |
| Shartrise Julkes-Brown | BSN | College of Nursing | Gary | IN |
| Abby Justice | BSN | College of Nursing | Anderson | IN |
| Bee Kachingwe | BSN | College of Nursing | Fishers | IN |
| Brook Kidd | BSN | College of Nursing | Howe | IN |
| Eugenia Kim | BSN | College of Nursing | Aurora | IL |
| Natalie Klancer | BSN | College of Nursing | Valparaiso | IN |
| Ashley Knerler | BSN | College of Nursing | Crown Point | IN |
| Ashley Kralik | BSN | College of Nursing | Chesterton | IN |
| Kathleen Krieger | BSN | College of Nursing | Darien | IL |
| Jhoana La Rosa | BSN | College of Nursing | South Elgin | IL |
| Jena Leach | BSN | College of Nursing | La Crosse | IN |
| Audrey Lee | BSN | College of Nursing | Glenview | IL |
| Doretha Lewis | BSN | College of Nursing | Lansing | IL |
| Marissa Leydet | BSN | College of Nursing | Mosinee | WI |
| Vernie Liaw | BSN | College of Nursing | Valparaiso | IN |
| Jami Lidinsky | BSN | College of Nursing | Huntley | IL |
| Adrienne Linzemann | BSN | College of Nursing | Berwyn | IL |
| Tiara Lockwood | BSN | College of Nursing | Highland | IN |
| Sharon Lowe | BSN | College of Nursing | Brook | IN |
| Tiziana Mariotti | BSN | College of Nursing | Streamwood | IL |
| Lauren Marrie | BSN | College of Nursing | Crown Point | IN |
| Riley May | BSN | College of Nursing | Lombard | IL |
| Danielle McCormack | BSN | College of Nursing | Montgomery | IL |
| Jessica McDaniel | BSN | College of Nursing | Chicago | IL |
| Heather McKeon | BSN | College of Nursing | Chicago | IL |
| Claudia Menig | BSN | College of Nursing | Westmont | IL |
| Ember Minix | BSN | College of Nursing | Knox | IN |
| Cherise Miskell | BSN | College of Nursing | Chicago | IL |
| Taylor Mlynski | BSN | College of Nursing | Portage | IN |
| Onyeka Mozea | BSN | College of Nursing | Hammond | IN |
| Jennifer Mulvihill | BSN | College of Nursing | Portage | IN |
| Jamie Murphy | BSN | College of Nursing | Hinckley | IL |
| Sara Musavi | BSN | College of Nursing | Hoffman Estates | IL |
| Paola Navarrete | BSN | College of Nursing | East Chicago | IN |
| Tina Nobbe | BSN | College of Nursing | Libertyville | IL |
| Joyce Obiri Bempong | BSN | College of Nursing | Plainfield | IL |
| Abby O'Loughlin | BSN | College of Nursing | Wisconsin Rapids | WI |
| Ifeoma Onwumelu | BSN | College of Nursing | Dolton | IL |
| Anastasia Osarenkhoe | BSN | College of Nursing | Carmel | IN |
| Brittney Osby | BSN | College of Nursing | Valparaiso | IN |
| Laura Pankowski | BSN | College of Nursing | Hammond | IN |
| Petya Panova | BSN | College of Nursing | Algonquin | IL |
| Mirela Petkovic | BSN | College of Nursing | Crown Point | IN |
| Morgan Pickens | BSN | College of Nursing | Highland | IN |
| Shannon Pienkowski | BSN | College of Nursing | Brookfield | IL |
| Brittney Pila | BSN | College of Nursing | Downers Grove | IL |
| Emma Ponio | BSN | College of Nursing | Kenosha | WI |
| Maribel Porras | BSN | College of Nursing | La Porte | IN |
| Caisa Pritchard | BSN | College of Nursing | Scottsdale | AZ |
| Jessica Quezada | BSN | College of Nursing | Chicago | IL |
| Gabriella Ramirez | BSN | College of Nursing | Crown Point | IN |
| Niki Randon | BSN | College of Nursing | La Porte | IN |
| Madeline Retherford | BSN | College of Nursing | West Dundee | IL |
| Cynthia Rico | BSN | College of Nursing | Morris | IL |
| Daisy Rivera | BSN | College of Nursing | Plainfield | IL |
| Saraea Robertson | BSN | College of Nursing | Genoa | IL |
| Detra Robinson | BSN | College of Nursing | McCordsville | IN |
| Kimberly Robledo | BSN | College of Nursing | Aurora | IL |
| Jessica Rodriguez | BSN | College of Nursing | Merrillville | IN |
| Brian Rojas | BSN | College of Nursing | Hammond | IN |
| Marcelo Romero | BSN | College of Nursing | Cicero | IL |
| Siomara Romo | BSN | College of Nursing | Chicago | IL |
| Jaryd Russell | BSN | College of Nursing | Portage | IN |
| Adrienne Sallee | BSN | College of Nursing | Noblesville | IN |
| Deneen Sarlas | BSN | College of Nursing | Tinley Park | IL |
| Maggie Seizys | BSN | College of Nursing | Long Beach | IN |
| Kristin Servey | BSN | College of Nursing | Valparaiso | IN |
| Kara Sherman | BSN | College of Nursing | Crown Point | IN |
| Madison Simac | BSN | College of Nursing | Chesterton | IN |
| Collin Snediker | BSN | College of Nursing | Phoenix | AZ |
| Daniel Solis | BSN | College of Nursing | Portage | IN |
| Julita Soliszko | BSN | College of Nursing | Yorkville | IL |
| Henry Stanley | BSN | College of Nursing | Highland | IN |
| Jennifer Stasieluk | BSN | College of Nursing | New Lenox | IL |
| Sean Stevens | BSN | College of Nursing | Fort Wayne | IN |
| Dorota Strojna | BSN | College of Nursing | Lake Villa | IL |
| Berenice Tablas | BSN | College of Nursing | Palatine | IL |
| Rada Tanasijevic | BSN | College of Nursing | Schererville | IN |
| Sarah Taylor | BSN | College of Nursing | Plainfield | IN |
| Sally Tecpanecatl | BSN | College of Nursing | West Chicago | IL |
| Diane Teng | BSN | College of Nursing | Arlington Heights | IL |
| Jessica Tharpe | BSN | College of Nursing | La Porte | IN |
| Veronica Thompson | BSN | College of Nursing | Chicago | IL |
| Jenn Tohtz | BSN | College of Nursing | Chesterton | IN |
| Dejanae Turner | BSN | College of Nursing | Chicago | IL |
| Shelby Vandall | BSN | College of Nursing | South Bend | IN |
| Nicole Varela | BSN | College of Nursing | Gibson City | IL |
| Harriet Vibar | BSN | College of Nursing | Chicago | IL |
| Abigail Vicente | BSN | College of Nursing | Hoffman Estates | IL |
| Angelica Villanueva | BSN | College of Nursing | Portage | IN |
| Sarah Wagner | BSN | College of Nursing | Woodridge | IL |
| Karena Walker | BSN | College of Nursing | Hammond | IN |
| Theresa Weinschrott | BSN | College of Nursing | Noblesville | IN |
| Ashley Whitman | BSN | College of Nursing | Chicago | IL |
| Latanya Williams | BSN | College of Nursing | Chicago | IL |
| Sami Wirth | BSN | College of Nursing | Winfield | IL |
| Anna Wojtowicz | BSN | College of Nursing | Roselle | IL |
| Szymon Wozniak | BSN | College of Nursing | Highland | IN |
| Lana Wynn | BSN | College of Nursing | Morocco | IN |
| Lubwaan Yoruw | BSN | College of Nursing | Elgin | IL |
| Brittany Zavala | BSN | College of Nursing | Chicago Heights | IL |
| Tommy Zhang | BSN | College of Nursing | Schererville | IN |
| Jen Zirngibl | BSN | College of Nursing | Arlington Heights | IL |
| Justine Zirngibl | BSN | College of Nursing | Arlington Heights | IL |
| Hunter Zukley | BSN | College of Nursing | Munster | IN |
| Charles Aboni | BS | College of Technology | Chicago | IL |
| Laith Ahmad | BS | College of Technology | Chicago | IL |
| David Bacon | BS | College of Technology | Gary | IN |
| Jeremy Booker | BS | College of Technology | Valparaiso | IN |
| Jacob Chimitt | BS | College of Technology | Valparaiso | IN |
| Michael Crider | BS | College of Technology | Schererville | IN |
| Lucas D'Antonio | BS | College of Technology | Oak Forest | IL |
| Miguel Flores Cepeda | BS | College of Technology | Hammond | IN |
| Ryan Frederick | BS | College of Technology | Lowell | IN |
| Luis Gutierrez | BS | College of Technology | Crown Point | IN |
| Edward Jelinek | BS | College of Technology | Hobart | IN |
| Justin Kersey | BS | College of Technology | Wheatfield | IN |
| Jacob Lindahl | BS | College of Technology | Valparaiso | IN |
| Michael Markovich | BS | College of Technology | Munster | IN |
| Christopher Miller | BS | College of Technology | Crown Point | IN |
| Rachel Morris | BS | College of Technology | Valparaiso | IN |
| Adrienne Petty | BS | College of Technology | Joliet | IL |
| Anthony Price | BS | College of Technology | Schererville | IN |
| Scott Segally | BS | College of Technology | Griffith | IN |
| Joseph Shapiro | BS | College of Technology | Griffith | IN |
| Zakris Shmagranoff | BS | College of Technology | Munster | IN |
| Pedro Solorzano | BS | College of Technology | Hammond | IN |
| Paige Spiegel | BS | College of Technology | Highland | IN |
| Laith Srour | BS | College of Technology | Hammond | IN |
| David Staggs | BS | College of Technology | Gary | IN |
| Karli Swanson | BS | College of Technology | Crown Point | IN |
| Tylor Torres-Regnier | BS | College of Technology | Hobart | IN |
| Yuhao Wan | BS | College of Technology | Hammond | IN |
| Hao Xu | BS | College of Technology | Hammond | IN |
| Syed Zaidi | BS | College of Technology | Dyer | IN |