Student Spotlight: Gardenia Alvarez
April 14, 2021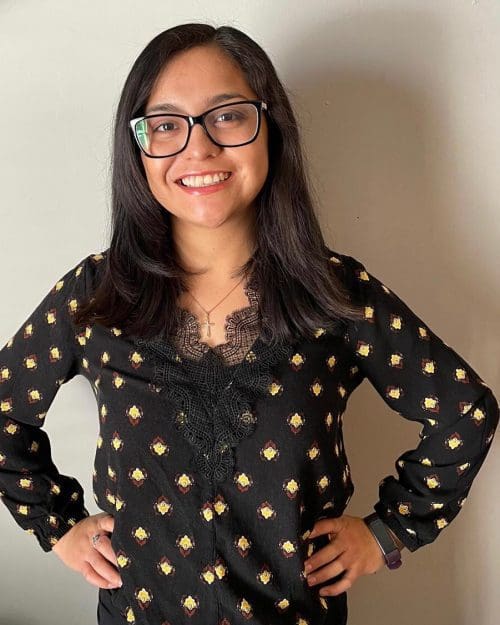 Gardenia Alvarez of Hammond, Ind. originally visited Purdue University Northwest on a tour as a high school senior. She was immediately drawn to the cozy atmosphere and quickly knew PNW was going to be the best fit in terms of higher education. "PNW feels like home," she says. "The class sizes are smaller, and I'm able to learn more and develop better relationships with professors and classmates."
Alvarez entered PNW knowing she inevitably wanted to work with families and give back to her community. She pursued a Bachelor of Arts degree in Human Development and Family Studies, which she earned in 2019. Today, Alvarez is working to achieve a Master of Science degree in Couple and Family Therapy (CFT).
"This program at PNW is really prestigious," states Alvarez. "I knew when getting accepted that I would get the education I needed in terms of applying research, practice and theory."
PNW has tremendously impacted my life for the better in terms of the person I am now. I'm really proud of that.
Creating Connections
The connection with peers and professors that Alvarez established has been beneficial to her overall success. She is currently a graduate assistant under the leadership of Megan Murphy, professor and director of the CFT program. In this role, Alvarez frequently interacts with prospective graduate students. "If I have any questions," she remarked, "I contact Dr. Murphy. She's always willing to help. Even as an undergraduate student, I used to schedule meetings with her so I could learn about applying to the master's program. She guided me through the entire process, and I'm thankful for her ongoing mentorship."
In addition to the human connection, Alvarez has utilized the Counseling Center at Purdue Northwest. This free resource offers confidential mental health services to currently enrolled students. She began utilizing this resource as a freshman to work through personal matters at the time. "I'm actually still going to therapy at PNW as a graduate student," she added. "It's really helpful because therapy can be expensive, and I don't have to worry about cost. Not having that extra burden and being able to get the assistance I need to be successful is really helpful."
Planning Ahead
After achieving a master's degree in December 2021, Alvarez plans to work toward licensure as a marriage and family therapist. Her goal is to open a private practice and pursue a doctorate degree. "I've been a student for about six years," Alvarez concluded, "both in undergraduate and graduate programs, and PNW has tremendously impacted my life for the better in terms of the person I am now. I'm really proud of that."
The achievement of a master's degree from the CFT program prepares students to be successful clinicians, researchers and scholars.