The art of technology: Meet 2022 PNW graduate Jacob Lindahl
December 14, 2022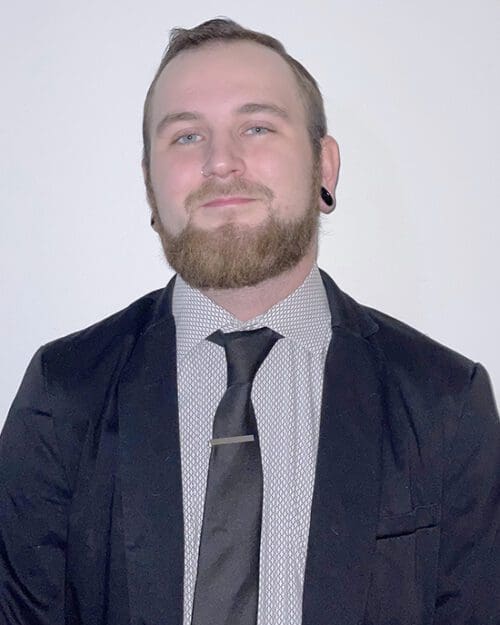 Jacob Lindahl, '22, will earn a bachelor's degree in Computer Graphics Technology from the College of Technology at Purdue University Northwest (PNW) in December.
A combination of being artistically inclined and a deep interest in music led Lindahl to set up a small business in high school designing logos for bands. By the time he graduated high school, he had built a portfolio of more than 40 logos. Looking into college majors, Lindahl decided computer graphics technology sounded like a promising area of study.
The Valparaiso native presented his senior project at Technology Day in Spring 2022. An annual event, Technology Day, gives graduating students in the College of Technology the opportunity to display their capstone projects.
Lindahl's capstone project grew out of an idea he had while using an online music database, collection management and marketplace application. He created a social feature to work within the app, like a message board, which sorts music into different genres and allows users to post photos and see other users' collections within a specific genre. He quickly realized the feature could apply to a variety of other fields, like books or movies. Lindahl is currently seeking a U.S. patent for his project.
After graduation, Lindahl is anxious to get out into the workforce and start a career in his field, eventually becoming a project manager. He is currently applying for User Experience (UX) positions and ideally, would like to combine his technology skills with his love of music for a position at Sirius XM Broadcasting Company.
How did you become interested in computer graphics technology?
"When I started at PNW, I looked into the program and thought it sounded interesting. I figured it had to do with what I was already doing – graphic design. On the first day of my first computer graphics technology class, the professor walked into class and basically said if you think this is graphic design- it's not. I thought okay but this is still kind of interesting and I stuck with it. During my second semester, I was introduced to UX design and that was when I really knew what I wanted to do."
What did you like most about PNW?
"Being able to learn more about what I became passionate about – computer graphics technology. The classes are small, personal and hands-on, you're able to build connections with your classmates and professors. If you have questions you can actually talk to the professors."
Did you have a pivotal experience while attending PNW?
"Two group projects in my UX classes were pivotal in helping me gain valuable experience as a leader and learning how to work well with a diverse group of people. It taught me how to make sure everyone's voice in the group is heard and their contributions are acknowledged."
What words of advice would you share with prospective students looking to attend PNW?
"Learn time management and don't procrastinate. Also, always try to push yourself to think outside of the box."
Was there anyone at PNW who inspired or encouraged you along the way?
Associate professor, Computer Information Technology and Graphics
"I really enjoyed the way Dr. Roller taught, specifically the UI and UX classes. He ran the UX program like a company, so I got used to working fast and efficiently, which prepared me for the business world. He always provided honest feedback and explained things in a way that helped me understand. He's definitely one of the best professors I've had."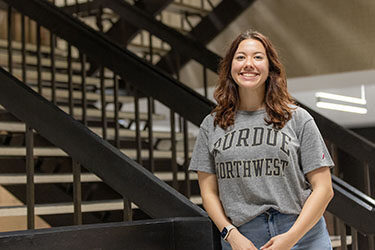 Meet Our Fall 2022 Graduates
Discover what inspires our remarkable Fall 2022 graduates—and how they are Powering Onward to their futures.